Cricketers are loved beyond measure in India, and what makes them so great is not just their game, but also how well they treat their competitors. 
Here are a few examples of sportsmanship and humility displayed by Indian cricketers, which never fail to make us proud.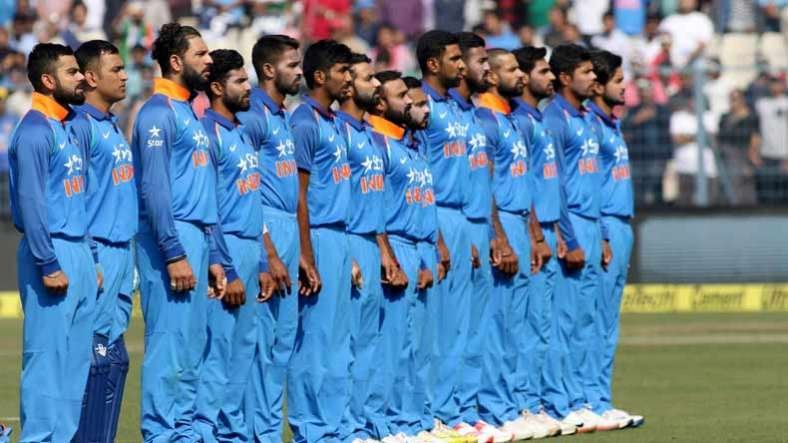 1. MS Dhoni reverses dismissal of Ian Bell by withdrawing team's appeal after a controversial run-out (2011).
Indians were playing against England on their home ground and right before lunch, Ian Bell hit a delivery for a 4. Not realizing that it wasn't a boundary, he walked off the pitch and was given a run-out, much to the displeasure of the audience.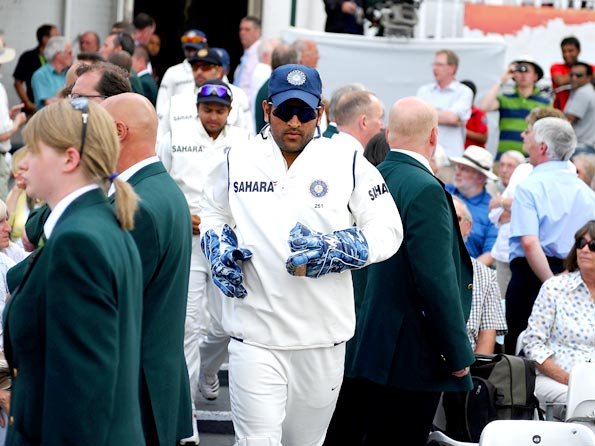 When the two teams returned after lunch, there were boos for Dhoni, which soon turned into cheers as people saw Ian returning to the pitch. Dhoni had reversed his decision as he realized it was natural for the English batsman to get confused. Later, he got standing ovation for the same.
2. Team India calls Afghanistan players to pose for the 'squad photograph' after defeating them in one-off Test (2018).
Afghanistan's debut in international Test cricket wasn't as rosy as they would have preferred, because they lost on the second day, itself.
However, realizing the importance of the match for the visiting side, captain Ajinkya Rahane graciously called them for a 'team photograph' with the trophy. 
3. Gracious Gambhir gives his 'Man of the Match' award to Virat Kohli as the latter hits his first ODI century (2009).
The ODI clash between India and Sri Lanka saw a third-wicket stand of 224 to help India chase target of 316. Gambhir scored 150 and was rightly given the 'Man of the Match' title.
However, in a pleasant surprise, he gave the award to Kohli, who had scored his maiden ODI ton that day.
4. MS Dhoni requests Sourav Ganguly to lead India on the last day of his final Test (2008).
While people still haven't stopped comparing these two legends, Dhoni showed how much he respects his predecessor Ganguly, when he requested him to lead the team on the last day of his final Test in 2008.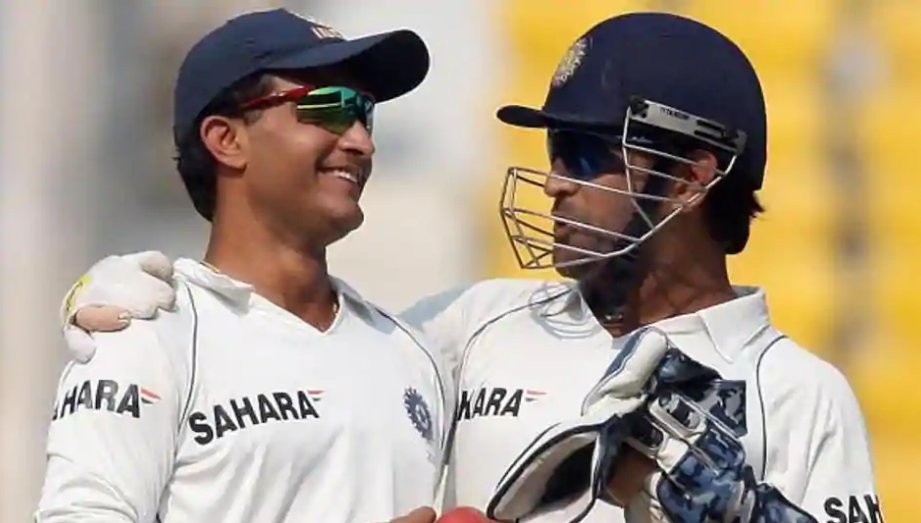 5. Gundappa Vishwanath withdraws appeal against English batsman Bob Taylor and reverses his dismissal (1980).
India were playing their historic 'Golden Jubilee Test' in Mumbai, when English wicket-keeper Bob Taylor was given caught behind by the umpire. But Indian skipper GR Vishwanath did not think the batsman had nicked and neither did the fielders.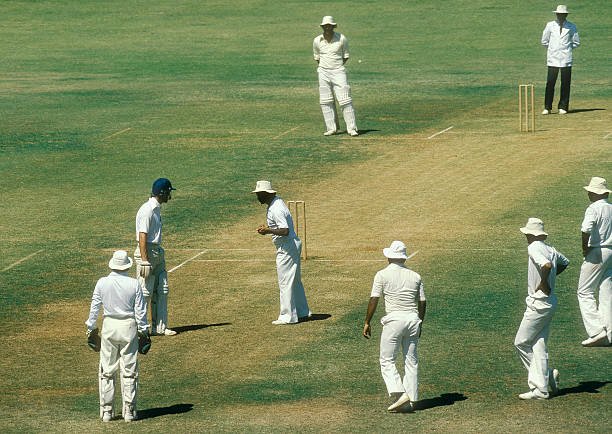 Displaying great example of sportsmanship, he went to the umpire and told him he wants to withdraw the appeal, before calling Taylor back. Taylor returned and led his team to victory but in a way, India also won that day.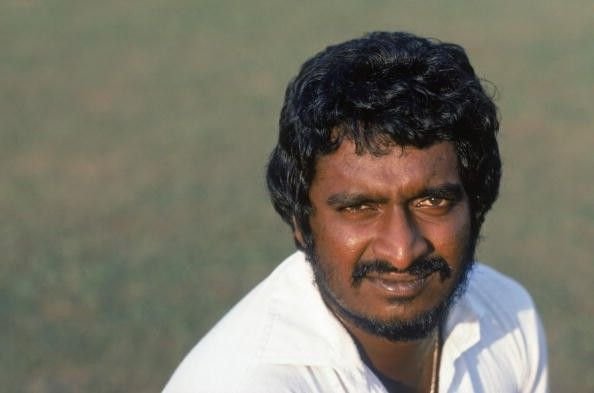 6. Tendulkar and Sehwag give a second life to Thirimanne after Mankading, because 'that's the way we are' (2012).
'Mankading' happens when the non-striker, standing beyond the crease, is run-out by the bowler before his delivery. The batsman in this case, was Sri Lanka's Thirimanne and the bowler, R Ashwin.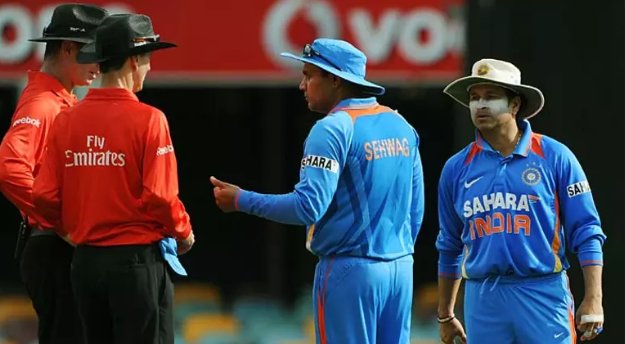 When asked by the umpire if the Indian side would want to reconsider the decision, captain Sehwag and Sachin decided to reverse it. Sehwag later said:
If we appealed and umpire gave him out, then somebody will criticise that, you know, that was not spirit of the game. It's soft, but that's the way we are.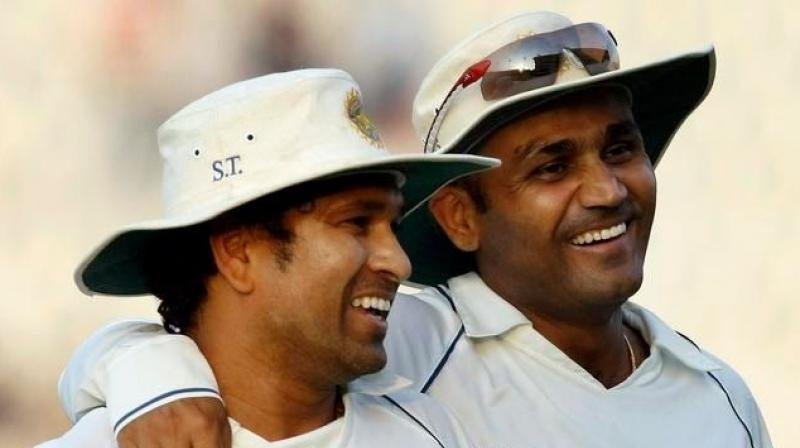 7. MS Dhoni plays physio to Faf du Plessis, as the South African suffers injury during the match (2015).
The heat in India was proving to be too intense for the touring South African side and even though, Faf du Plessis scored a century, you could clearly see him struggling. At one point, he pulled his hamstring and fell on the ground.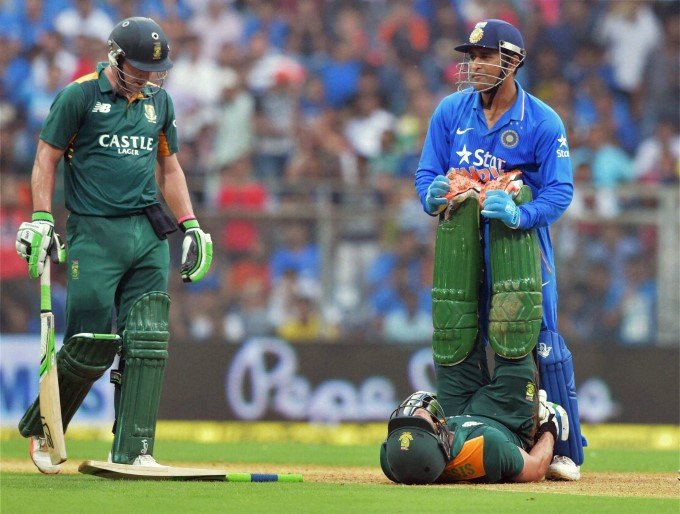 That was when Dhoni ran and helped him do some basic stretches to relieve the pain. Three years on, this image remains a symbol of sportsmanship in cricket. 
8. Virat Kohli says words of encouragement to 23-year-old Aiden Markram after he gets dismissed for 94 (2018).
Known for being highly competitive and aggressive, we saw a softer side of Virat when he ran to South Africa's Markram after the young batsman got dismissed for 94. Makram later said that Virat told him that he 'played well' and was 'unlucky to get out'.
9. Virat gifts his bat to Mohammad Amir, in a friendly gesture that is appreciated on both sides of the border (2016).
In the run-up to the much anticipated encounter between the two sides, Virat Kohli gifted his bat to Pakistan bowler Mohammad Amir, showing the spirit fitting of the captain of the Indian national side. 
10. Team India sends a signed jersey to Shahid Afridi after his retirement (2017).
In a heartwarming gesture, the Indian cricket team signed a jersey with Virat Kohli's name and gifted it to Shahid Afridi to honour him after his retirement.
As mentioned in the tweet, the jersey also had the message- 'always a pleasure playing against you'.
For the last point, I have a special moment that I find really heartwarming. This time, it wasn't an Indian cricketer or the team. This time, it was the audience. 
In the historic match played in 1999, Pakistan won by 12 runs. As they sealed the deal, the 'knowledgeable' Chennai crowd starting applauding them and taking a cue, the visiting team did a round of the stadium to thank the spectators for their sporting spirit.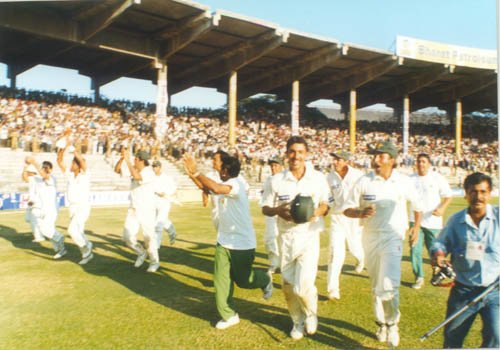 The beauty of sports lies in sportsmanship, its charm is in treating the competitors well.