"Tu six nahi marega," said Sachin to his batting partner.
"Agar Saqlain aaya toh zarur marunga," said the man batting on 295.
It was a Test match and if you think about it, the greatest batsman in history had given some sound advice. After all, he had reached most of his milestones with gorgeously placed singles. But Saqlain Mushtaq did come on to bowl. 5 runs short of a triple century, Virender Sehwag stepped out and the sound of ball hitting the bat echoed through the stadium in Multan. 
Moments later, he bumped fists with Sachin, undid his helmet and raised his bat to a well deserved standing ovation. With a monumental six he became the first Indian to score a triple hundred in Tests. 'The Sultan of Multan' was born on 29th March, 2004.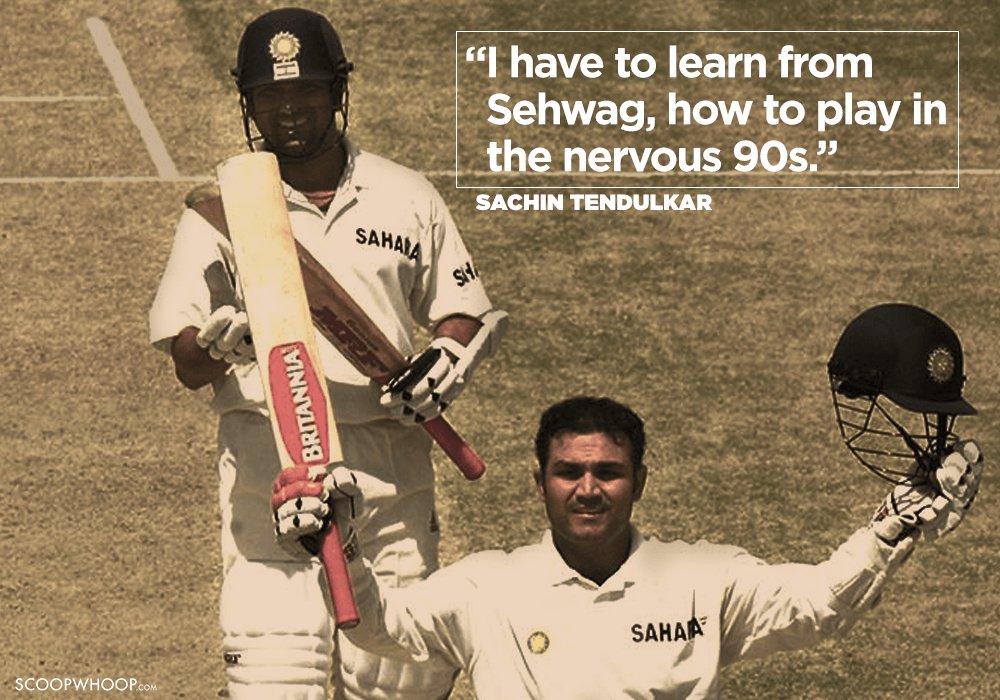 The audacity of it, was what mesmerized everyone. It was a Test match for god's sake, and he was so close to a milestone no Indian had touched before. But he still did it in his style. The simple yet destructive style of Viru. I would like to think that his nickname isn't just short for his name but also embodies the term 'veer' which means brave or fearless, because that's how he played throughout his career.
It was only a matter of time before he would get a double century in ODIs as well. Of course it came after his idol had reached the milestone. The idol who had stopped him from retiring after being dropped in 2007. 
But the fateful evening of 8th December, 2011 against the West Indies was inevitable. A brilliant 219 off just 149 balls. He got another Test triple ton in April of 2008. This time he hurt the pride of the Proteas. What was even more impressive is that he scored this 300 in just 278 balls, the fastest in history. But this was expected of him.
His records speak of his domination on the 22 yard strip. I remember India playing the Aussies in Chennai in October of 2004. While the men from Down Under only scored 235 in their 1st innings, Shane Warne was in his element. This was the match where Warne became the leading wicket taker in Tests. One really had to strategise on how to down the wizard of spin. 
But at the crease was Virender Sehwag, not strategising, just playing. He scored a wonderful 155 with 21 boundaries and no sixes. It wasn't his usual slaughtering display, but a beastly brutality of the most beautiful form. He was unstoppable.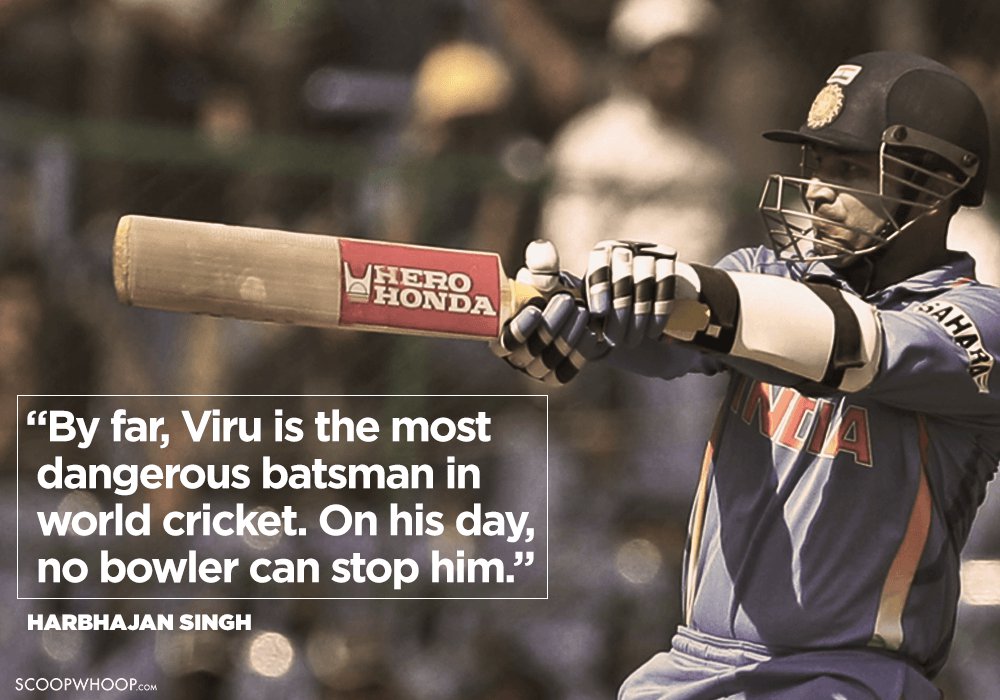 Let's forget the stats now. Let's forget the runs. Let us talk about the man, the player behind the helmet. When you talk of great players you always try to decipher what possibly went on inside that cranium of theirs. 
But in the case of Sehwag, it was simple. So simple that it was difficult for us to comprehend. He purely followed the mantra of see ball, hit ball. You may plan and think ahead as much as you want, but believe you me, pulling off 'simple' is the most difficult thing there is.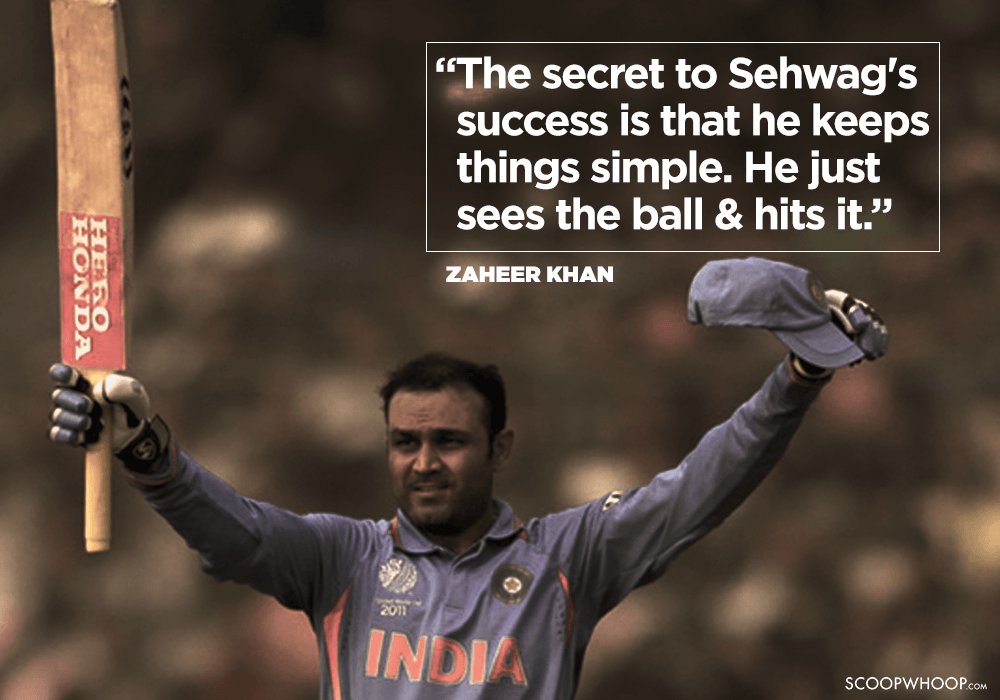 I think having his wits about him comes naturally to the man. Even now, when it comes to tweets, he is no less talented. His Twitter bouts with British journalist Piers Morgan have garnered quite an audience. Ironically, the Englishman was an audience to Viru's greatness once.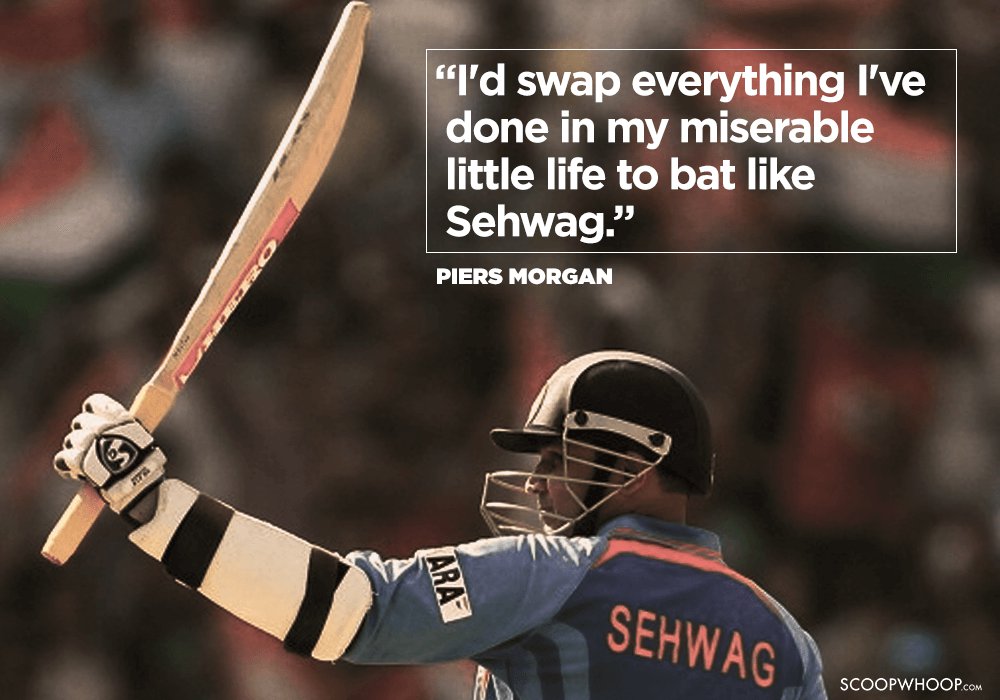 I know we all miss Sachin Tendulkar, but we found a match winner in Virat. We miss Dravid, but we found a dependable stroke player in Rahane. We miss Kumble, but we have Ashwin. The new generation looks promising. No, they will not replace these greats but the duties could surely be taken up. But as far as Sehwag is concerned, he was a game changer. That wasn't a duty, it was a talent. One only he possessed.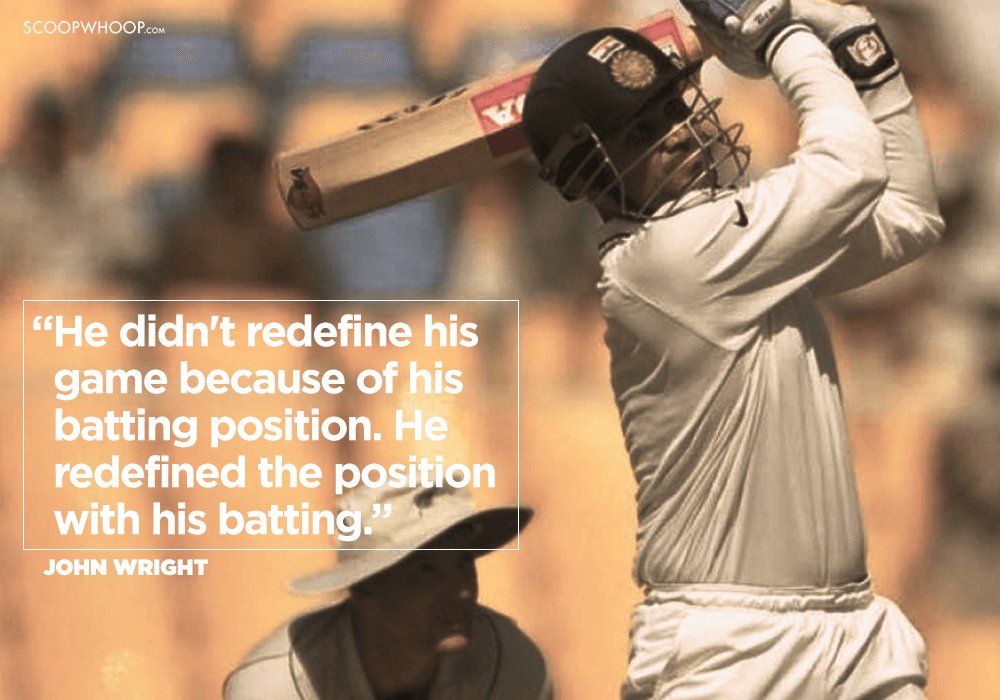 He was pegged as a pinch hitter, a slogger, when he first arrived on the scene. He went on to become one of the game's greatest openers. Fearless in his approach, humble in victory & failure. The ever smiling and by far the most entertaining batsman in the history of cricket. And that's all he cared about. He went out there, not over thinking, not feeling an ounce of the pressure regularly dropped on him. He did not play for records, he did not play for glory or the spotlight. He SIMPLY PLAYED!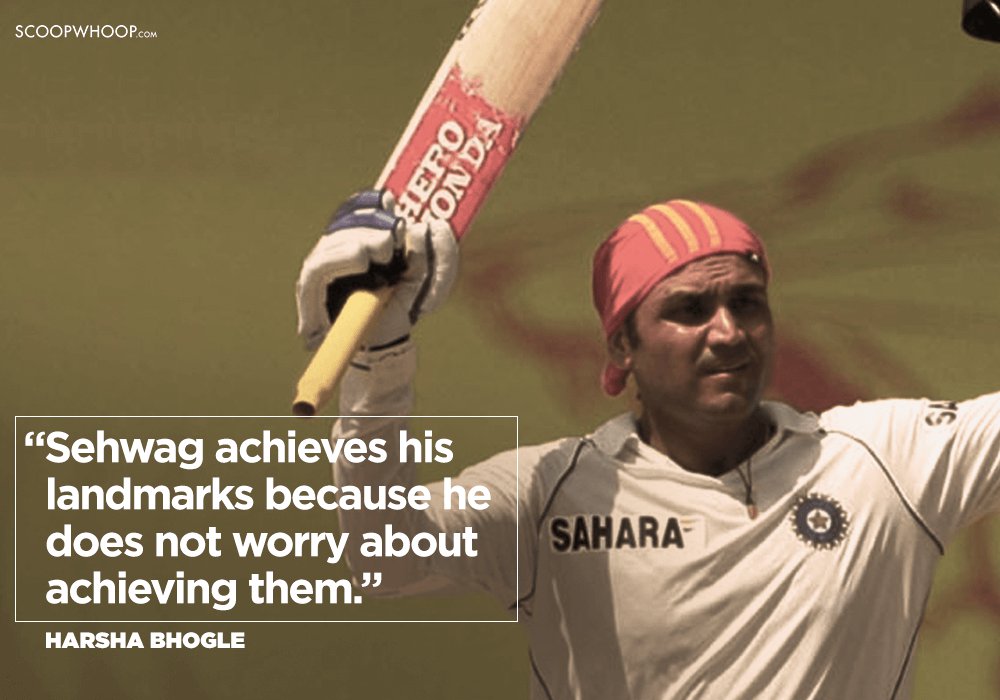 Thank you Viru, for the wonderful memories. Have a happy 39th!