When India declared innings at 622 this morning, our scorecard looked like this: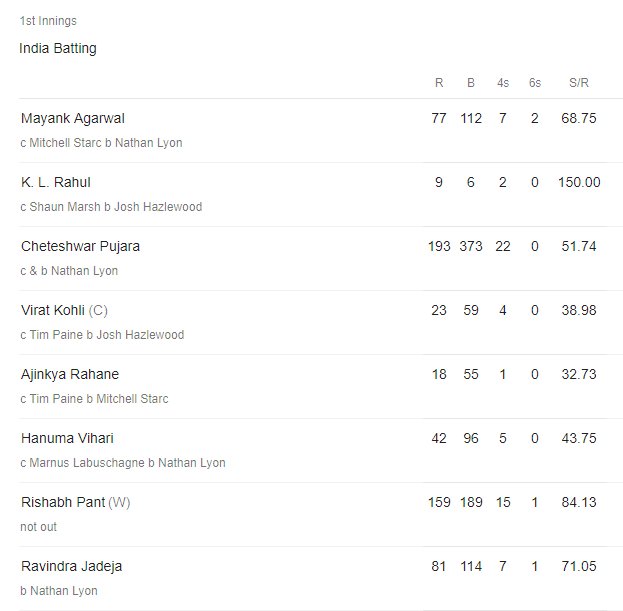 Going by the numbers, India is in a dominating position and if the team continues to stay on top, it has a very good chance of winning the series against Australia. 
It will be the first in history. 
It's hard to contain the excitement, I know, but we will talk about the victory when it comes. For now, let us look at all the stats and records resulting from India's mammoth score of 622. 
The total
1. India becomes the visiting side with the highest number of 600 or more scores, at SCG. The team has done it 3 times now, in contrast to 2 by England and 1 by West Indies. 
2. 622 is India's second highest innings total on Australian soil. Before this, they scored 705/7d in 2004.
3. In terms of runs, 622 is India's 5th highest innings total on foreign soil.
4. 4 of India's highest Test innings in Australia, have been scored in Sydney.
Pant-Jadeja partnership
5. The 204-run partnership between Rishabh Pant and Ravindra Jadeja is the highest 7th wicket partnership on Australian soil.
6. This is also the 6th highest for 7th wicket by any Indian pair against any opposition. 
7. Also, this was the highest 7th wicket stand by an Indian pair against Australia and the second highest 7th wicket stand in an overseas Test.
Rishabh Pant's individual records 
8. With his unbeaten 159*, Pant has become the first Indian and second visiting wicketkeeper to score a Test century in both England and Australia.
9. He is also now the first Indian wicketkeeper to score a Test century in Australia and the highest scoring in an overseas Test. 
10. His 159* is also the third highest by an Indian wicketkeeper in Tests. The other two being MS Dhoni's 224 and Budhi Kunderan's 192.
Cheteshwar Pujara's individual records
11. With 1258 deliveries, Pujara has now faced the most deliveries by a visiting batsman in a series with 4 or fewer Test matches in Australia.
12. He now stands third on the list of batting for most number of hours in a Test series by an Indian. He has batted for 1868 minutes.
13. With his 193, Pujara has become the 8th Indian batsman to get dismissed in 190s in Tests.
14. His score is also the sixth highest by an Asian batsman in Australia.
India is currently leading 2-1 in the series and backing of such stats should only give them more confidence to go out there and seal the deal.