Neena Varakil stole the limelight from her more fancied compatriots to bag the gold in women's long jump as India won six medals in the second leg of the Asian Grand Prix Athletics Meet in Jiaxing (China).
World junior record holder javelin thrower Neeraj Chopra qualified for the IAAF World Championships in London in August though he took a silver today, the same colour of medal he won in the first leg on April 24.
Neena produced the best jump of 6.37m in the sixth and final round to clinch the gold. Chinese Xu Xiao Ling also had a best effort of 6.37m but she had to settle for a silver on count back.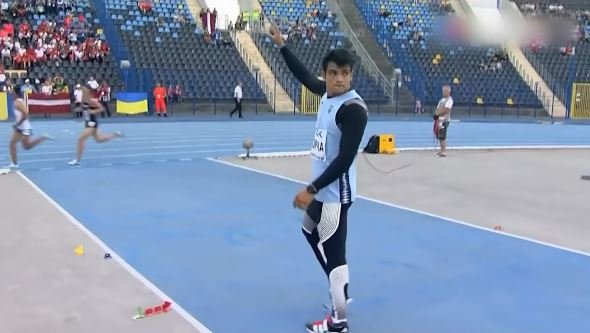 Neena's best three jumps were 6.37m, 6.32m and 6.32m while Ling had 6.37m. 6.32m and 6.22m.
25-year-old Neena from Kerala had won a silver in women's long jump in the first leg at another Chinese city of Jinhua on April 24 with an effort of 6.46m. She has a personal best of 6.66m which she did last year.
Besides Neena's gold, India won four silver medals through Manpreet Kaur (women's shot put), Neeraj Chopra (men's javelin), Dutee Chand (women's 100m) and Tintu Luka (women's 800m), and a bronze through Om Prakash Karhana (men's shot put).
First leg gold medallist Manpreet Kaur had to settle for a silver this time in the women's shot put as she could only throw the iron ball to a distance of 17.46m today. The gold in this event was won by Bian Ka of China (18.03m).
Manpreet had recorded a national record and world-leading effort of 18.86m while winning the gold in the first leg. She had qualified for the World Championships with that effort.
Meanwhile, Neeraj did better than his first GP show though he still ended up with a silver. He also qualified for the World Championships as he threw the iron spear to a distance of 83.32m.
The entry mark for the men's javelin event for the World Championships stands at 83m.
Chao-Tsun Cheng of Chinese Taipei clinched the gold in the event with an effort of 86.92m. This was Chen's gold as he had also won the event in the first leg with an effort of 84.72m.
19-year-old Chopra had a personal best of 86.48m, a junior world record, which he did en route to winning the gold in the Junior World Championships last year.