It's weird that kids these days see him as an actor who does sporadic wrestling appearances. There was a time when it was the exact opposite. Most know him as Dwayne 'The Rock' Johnson. Some know him as just 'The Rock'. Very few know him as Rocky Maivia. A combination of his grand dad (Peter Maivia) and dad's (Rocky Johnson) ring names.
He is the first third-generation wrestler.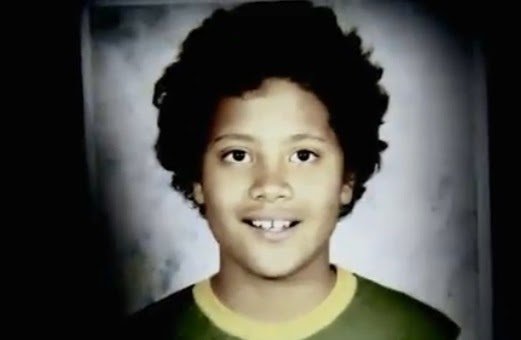 But a lot had happened in the lead up to that moment. 
He moved towns a lot because his dad's job. It made him 'the new kid' everywhere. Which meant there was a lot of bullying. 
He did not have a very settled childhood. With his father on the move and him being the only kid, there was hardly anyone to look up to. It wasn't a surprise that he got involved with the wrong kind of friends.
He became part of a theft ring and by the time he turned 17,  he had been arrested 8 or 9 times!
There was no doubt that he was troubled. His only recluse was his genetic gift of being an athlete. So while he worked tourists for stealing money and jewellery, he also worked out. He would never stop pumping iron and putting his physical abilities to the test.
Soon, it was time for him to straighten up. His father encouraged him to pursue American football. Dwayne's prowess and built made him a complete package on the pitch. He played through school and college. 
Eventually, he became a professional. Deep down, however, he knew his hard work wasn't paying off and an injury-hampered career saw him get released.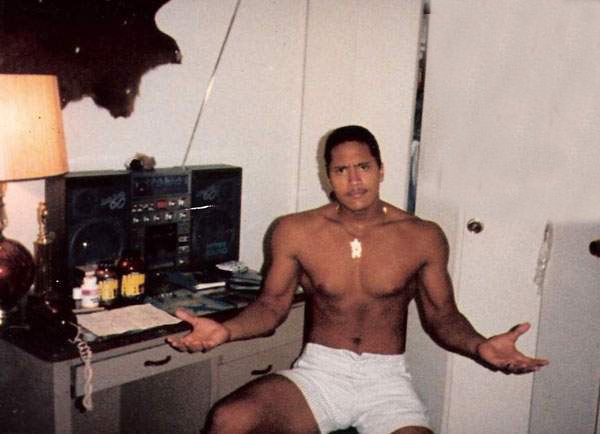 It was then that he saw his future elsewhere. Not in Hollywood. Somewhere else, where he was meant to be, something he was born to do. And very soon he would be bred to do it too.
As he remembers it:
"I got a call from the head coach of the team that cut me, Calgary Stampeders. He said he wanted me back and I told him 'I'll think about it.'"
Rocky Johnson told his son that he would train him, but he needed 200% commitment. Dwayne was ready.
One thing led to another and he found himself in the squared circle, with tassles and all. It was 1996. His first match came at Survivor Series, where he was the sole survivor, winning an 8-man tag team elimination match. 
Some way to announce himself!
He was part of many factions from that moment on. He changed his looks and gimmicks too. But he was always Rocky. The only thing he could not garner was audience support. He was still inexperienced, but he had a glorious spark in him. His climb seemed inevitable. 
He was already going toe-to-toe with big names.
He had called himself the People's Champion, but the people remained hostile. Chants of "Rocky Sucks!" and "Die Rocky, die!" greeted him across arenas.
During his first Wrestlemania, the grandest stage of them all, he was amazing. But 20,000 people still booed him. 
An injury pushed him to the sidelines. When he returned, he asked CEO Vince McMahon for 2 minutes of one-on-one time with the crowd. He realised that it was not him they hated, not his character. 
His message to the people was simple. Like him or hate him, he did not suck.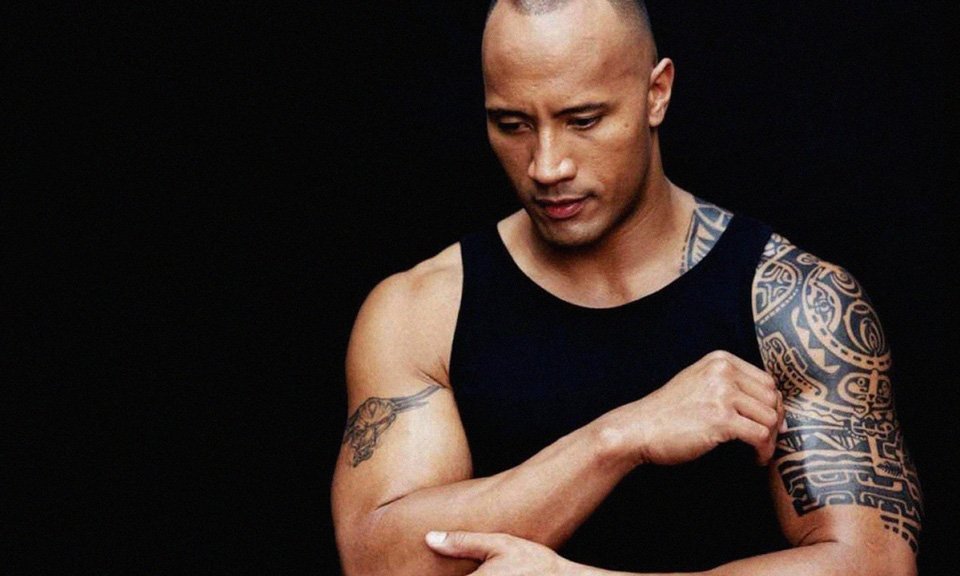 And just like that, Rocky Maivia was dead. 'The Rock' was born. From that moment on, he became the most electrifying performer in sports entertainment. He became himself.
His in-ring abilities awed even his haters. Especially with moves like Rock Bottom and People's Elbow, which was termed as the most electrifying move in sports entertainment. It really was.
Him standing over his opponent, throwing his elbow pad into the crowd, running from rope to rope and then dropping that elbow right on the chest. He turned a simple move into something so glamorous. From "If you smell what the Rock is cooking" to "Just Bring It", his catch phrases forever remain catchy too.
It's because of men like him that WWE is called sports entertainment. The Rock is the perfect blend of both.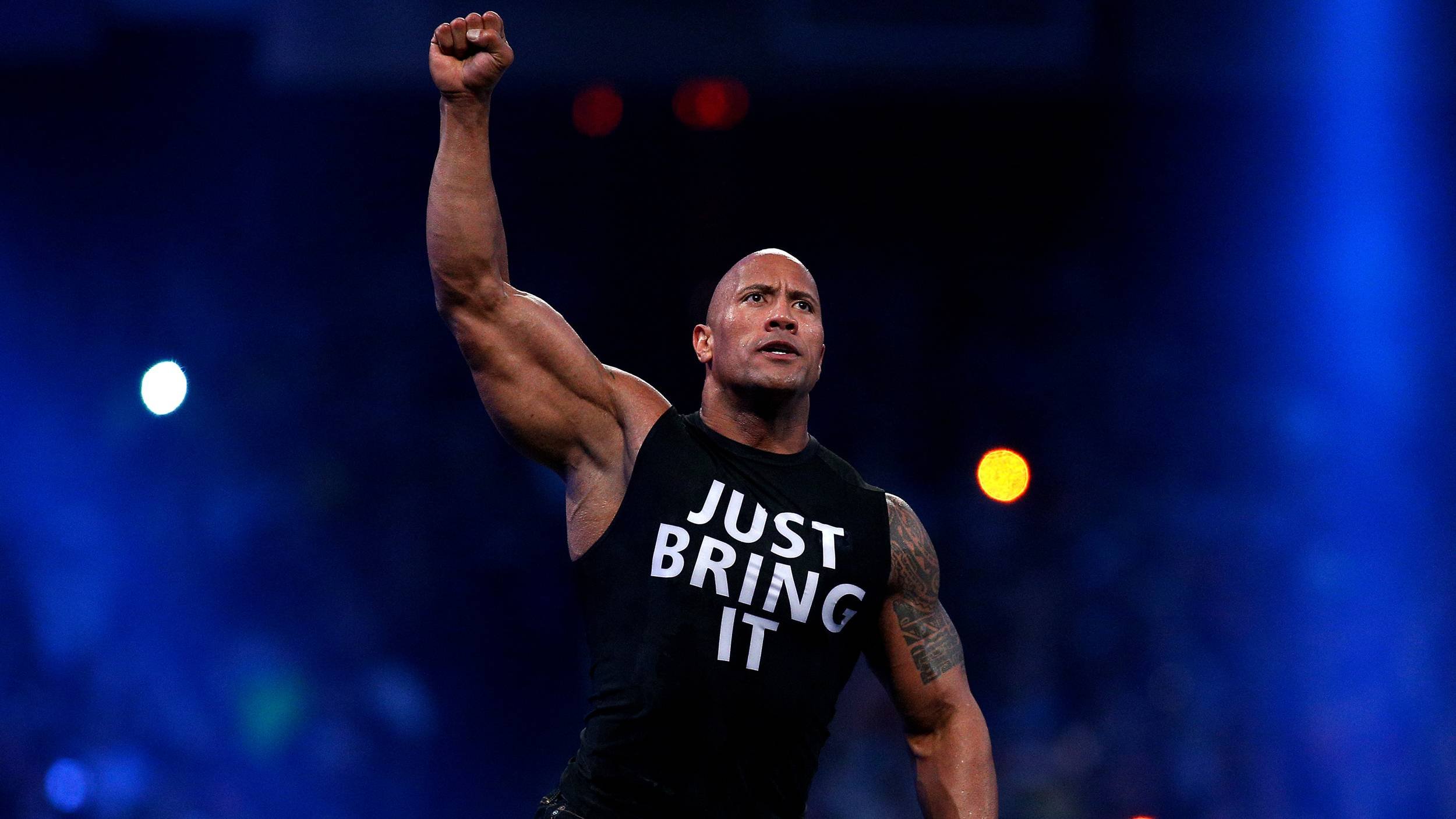 A year before he made his wrestling debut, he had $7 in his pocket. And now, you know how far he has come.
You know him as a movie star. But he was always a wrestler first. He entered that ring and he fought his demons. That theft-ring punk kid, the broken football career, the millions who booed him. He fought, until he became a champion – The People's Champion.
And now all you hear whenever he returns to the ring are crazy cheers and chants of "Rocky! Rocky!"