I'm just some dude from India. I'm fine with that until I make my name.
Going into his first main Grand Slam singles tie, Sumit Nagal from Jhajjar (Haryana) was aware about his underdog status and he knew what it means to be starting his Majors career against Roger Federer. 
Calling Federer his 'God', Sumit said 'sometimes it's not about winning or losing. It's just the experience. It's playing someone who has won 20 Grand Slams'.
Now that the match is over, we can call it the correct approach because Sumit defeated Federer 6-4 in the first set. With this, he became the first Indian ever to win a set against Federer in any level of professional tennis. Let that sink in! He also the youngest Indian to qualify for a Grand Slam singles main draw in 25 years.
It wasn't an easy road for the Indian, though. He was just 3 games away from facing an exit in the qualifiers before he pulled an outstanding comeback against Joao Menezes.
From that point on, he won 6 out of 7 games and got his place in the main draw against the crowd favourite and his inspiration, Federer.
What Sumit Nagal has won here at #USOpen :
3 Qualifying matches
A set against Federer & breaking him twice
Overall $90,000 in prize money (64 lacs+)
35 ATP points
Lacs of supporters with his style of play & the spirit
Proud of you @nagalsumit | More power to you pic.twitter.com/yyk2NArqXW

— India_AllSports (@India_AllSports) August 27, 2019
He is vary of using the term 'idol' for the legend, though. When asked about it, he said:
If you watch Federer and what he's doing with the ball and then you try to do the same, you're just going to break your racquets. It's never going to happen. That's why he's not my idol. Just too good. That's how I see it.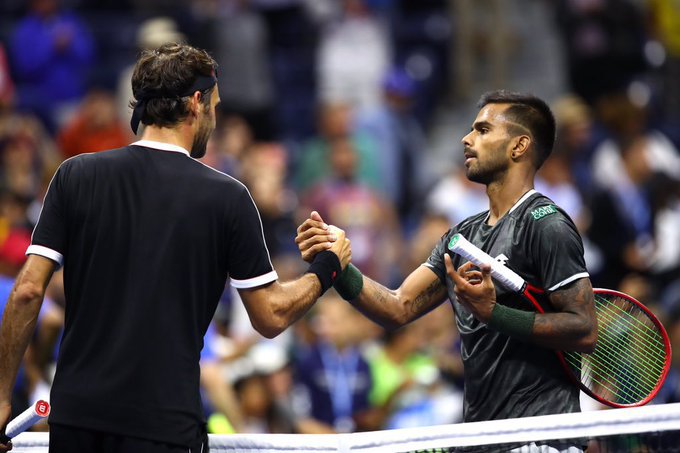 Sumit, though, seems set to achieve big things – at least when you look at how the past few months have panned out for him. His ranking in April this year, was 350. Within 4 months he cut it short by half almost after reaching 5 Challenger semi-finals in 2 months.
Previously, he won the Wimbledon boys' doubles title with Vietnamese partner Nam Hoang Ly, becoming the sixth Indian to do so. This was after former doubles number 1 Mahesh Bhupati inducted him in his Apollo Mission 2018 program in 2007. 
I was just talking to Sumit Nagal of India after he advanced through #USOpen qualies and he said he really wanted to have the chance to draw Roger Federer and… he got his wish!!

— Randy Walker (@TennisPublisher) August 23, 2019
Only 10 years old at the time, Sumit was confident of his game and recollects the time when he grabbed Bhupati's hand and asked him to notice his style of play. That, he says, changed his life.
I was hitting with the other kids and there was a moment where I went to Mahesh and said 'Mr. Bhupathi, could you please look at my game?' I knew who he was, so I grabbed his hand and asked him to look at my game. That's the one line that changed my life. If I didn't tell him this, I would not be sitting here right now.
There was no looking back for Sumit from that point on, even though he suffered some major injuries on the way. As for future, he says he wants to be the one who shifts focus from cricket to tennis in India.
My goal in tennis is to do really well. Not just being No. 80 or 90 in the world, so people aren't saying that India is only good at cricket. People don't say it's an amazing tennis country anymore and I want to be the one that changes that.
He has played only one match and people are already talking about him. We have no doubt that he will achieve what he has set his eyes on. 
*Also, NAGAL not NADAL*.
All quotes taken from US Open website.