A few months ago, a domestic T20 match in South Africa got a lot of attention thanks to a remarkable scoreboard in the first innings.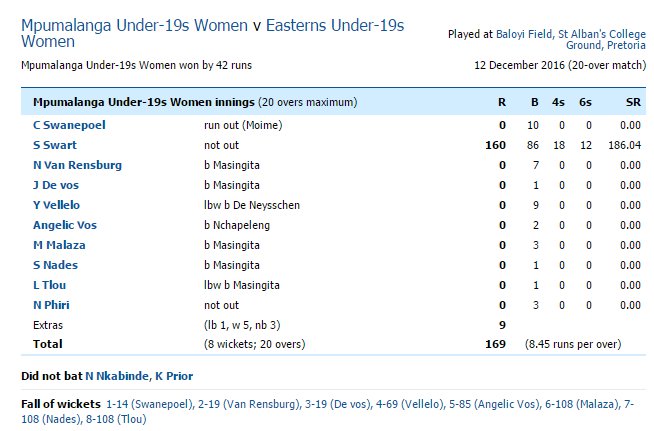 Mpumalanga's Shania-Lee Swart took the phrase 'one woman show' too seriously as she hammered 160 out of her team's total of 169. The other 9 were extras. 
Cricket is an interesting game. And Swart's magnificent solo effort (she also took two wickets in the same match) was one of the strangest scorecards ever. Over the course of history, though, the game has given us many truly bizarre scorecards. Here's a look at some of them.
1. South Africa Women v Bermuda Women, 2008
This is a scorecard for binary aficionados. There's nothing apart from 0s and 1s. South Africa made a short work of the chase as their opening batswoman O.V Anderson hit 4 boundaries in 4 balls to win the match.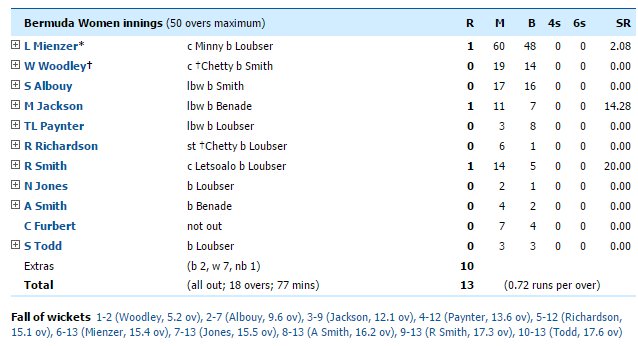 2. Warwickshire v Hampshire, 1922
Greatest follow-on ever. 
India might have the most memorable 'come from behind' victory in a Test match, but as far as statistics are concerned, this one takes the cake. Hampshire were shot down for 15 when replying to Warwickshire's 223.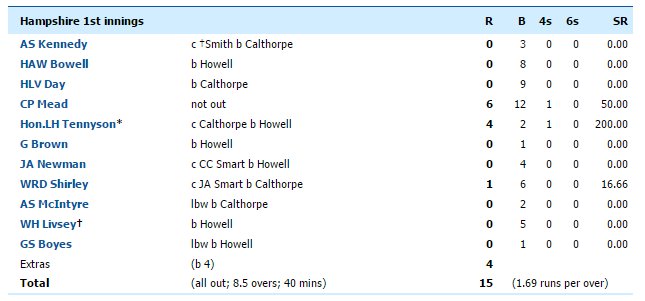 When following-on, a new Hampshire side turned up as they racked up 521. Asked to chase 314, Warwickshire could only manage 158 and lost the match.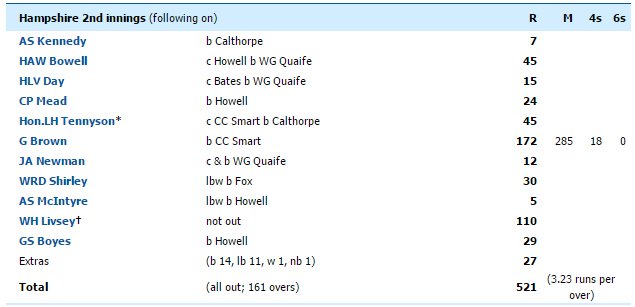 3. Australia v England, 1950
Premature declarations.
Who would think of declaring when at 68/7 and still 160 behind the opponent's total. England did the unthinkable after a thunderstorm had made the Brisbane pitch almost impossible to bat on.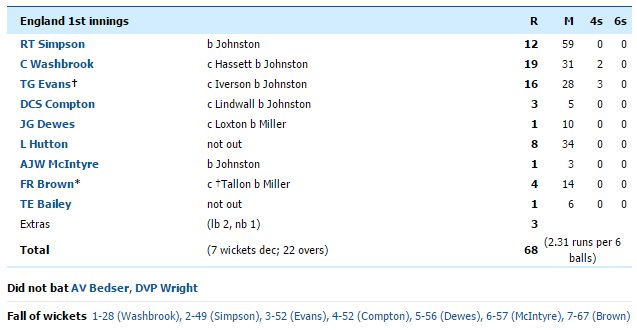 Australia then one-upped them and declared their own second innings at 32/7. England were given a target of 193, which they could not chase and were dismissed for 122.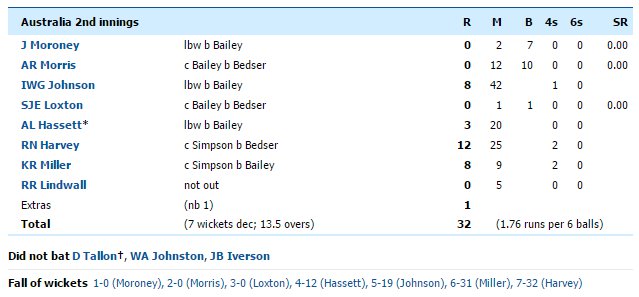 4. Glamorgan v Worcestershire, 1977
Another solo effort. 
Glenn Turner carried his bat and made 141 as rest of the batting line-up collapsed around him in a team total of 169. The second highest scorer was No. 10 Norman Gifford, who made 7 runs. Luckily for Worcestershire, they didn't get a chance to bat a second time around and managed a draw.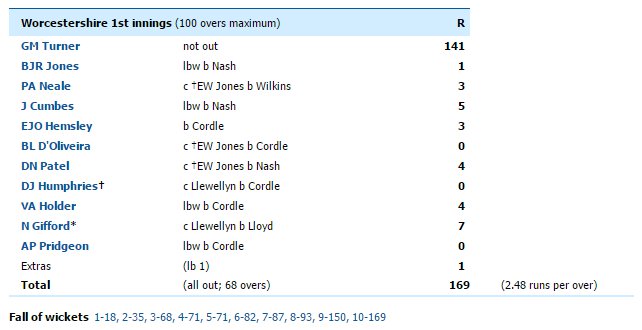 5. England v The Bs, 1810
All out for 6.
I don't know what was going on in the minds of early 19th-century cricket administrators in England, but they decided to have a match against a team of players whose surnames started with a B. The Bs had a good first innings, scoring 137 and securing a 37-run lead. They couldn't add much to that lead, as they crumbled to 6 all out. Yes, six. 5 of those came from two batsmen whose name didn't start with a B. Probably some last minute replacements.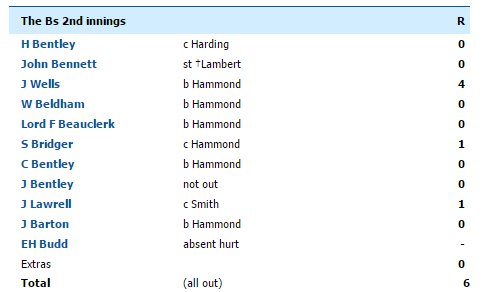 6. Hindus v Rest, 1943
India also wasn't particularly great with the way they made their teams. In the Pentangular tournament, teams were created on the basis of the players' religion. In one such match, the legendary Vijay Hazare scored 309 when his team scored only 387 in reply to the Hindus' 581. The second highest score was by his brother Vivek, with whom he shared a 300-run partnership. Vivek made 21 of those.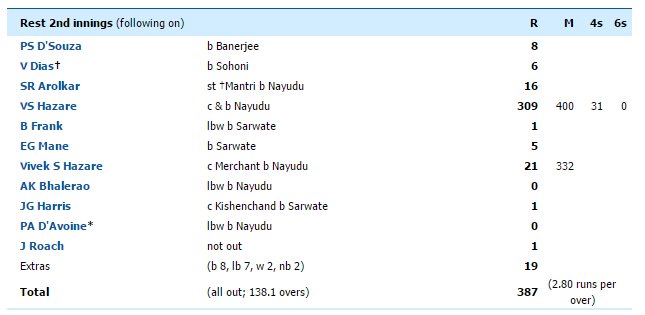 7. Pakistan Railways v Dera Ismail Khan, 1964
Winning by an innings and 851 runs. 
This match was Dera Ismail Khan's first-class debut. And it couldn't have gotten any worse. Pakistan Railways was a decent first-class side and they batted for 172 overs, scored 2 centuries, a double century and a triple century to put up a mammoth 910 for 6.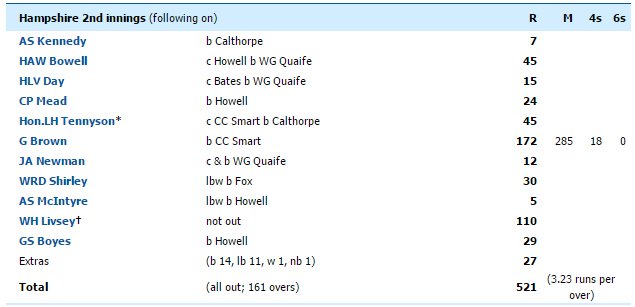 That wasn't the end of Dera's woes. That they batted badly would be an understatement. Put together, their two innings had 2 double-digit scores, 11 ducks and 59 runs.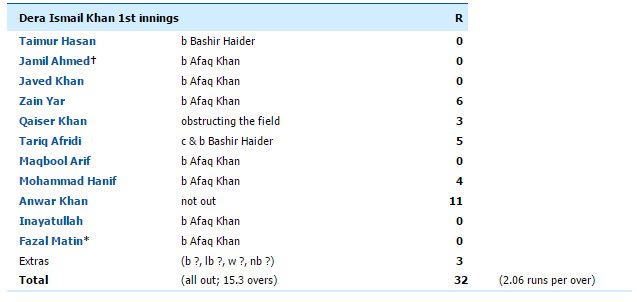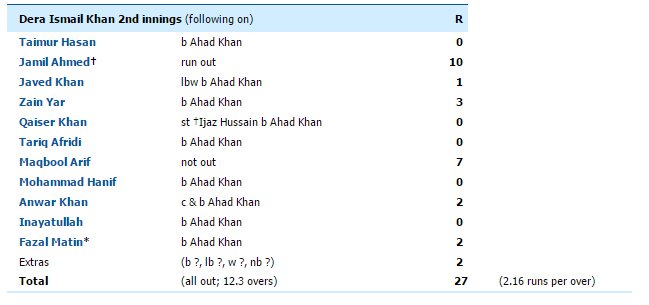 8. Windward Islands v Leeward Islands. 2015
Declaration before lunch.
Leeward Islands were tottering at 24 for 7 in the 19th over on the first day of the match. Instead of sticking around and adding a few more, skipper Steve Liburd decided to give his bowlers a go in the first session itself. In hindsight, it wasn't the best decision as Windward Islands romped home to victory in under two days. 

9. Rajshahi Division v Chittagong Division, 2014
From 77/6 to 675/9 dec.
Here's a scorecard that the Leeward Islands would not like to look at. The Rajshahi Division side were 77 for 6 at lunch on the first day. Then Farhad Reza and Sunzamul Islam added 347 for the sevent wicket. After Islam fell for 172, Reza added another 224 with No. 10 Muktar Ali before being dismissed for 259. ali hit 168 off 148, hitting 16 sixes.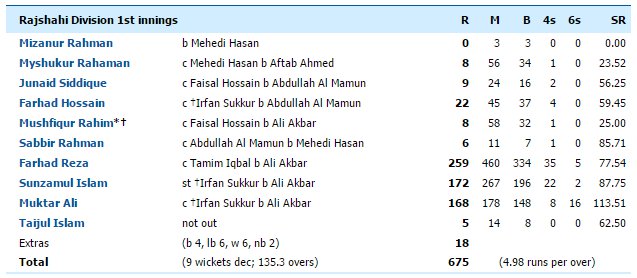 Oh Cricket, thou art a funny game!