"Where there's a will, there's a way", the proverb has been literally proven true by this Egyptian Paralmypian who lost his arms in a train accident when he was 10 years old.
Ibrahim Hamadtou, the table tennis player without arms, qualified for the Paralympics for the first time by finishing second in the African championships and his journey is the stuff of legend.
The Egyptian uses his toes to toss the ball while serving and holds the racket in his mouth. Despite this, he is able to keep pace with his opponents. It is a truly a marvelous sight — one that will inspire all watchers.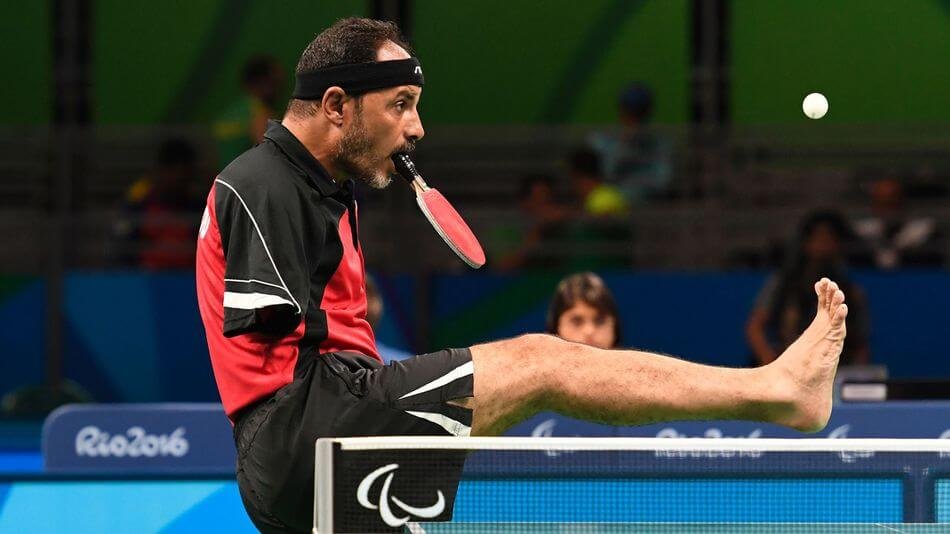 The Egyptian athlete's "dream came true" when he made his entry into Paralympics this year.
Hamadtou lost to Great Britain's David Wetherill 11-5, 11-7, 11-5 in the first round but for his sheer perseverance and conviction, he is already a legend.
In a statement to Paralympics website, Hamadtou had said,"The disability is not in arms or legs, the disability is to not persevere in whatever you would like to do." 
"I want to tell everybody that nothing is impossible, and everybody should work hard for what you love and what you think is good for yourself." 
Watch the "legend" play at the Paralympics 
Hamadtou was already an internet sensation after International Table Tennis Federation's YouTube channel posted a video on him, "Nothing is Impossible", two years ago.  The video that went viral takes us through his inspiring story where he shares his passion and love for the sport.
He has made a mark for himself and once again shown us that nothing is indeed impossible.
(Feature image source: AFP)