If you happened to pass by the Cricket Club of India in Mumbai on Tuesday, you might have thought an international cricket match was on. Though it was just a warm-up game ahead of the ODI series between India and England, it was also Mahendra Singh Dhoni's swansong as captain. 
After what was a celebratory game, Yuvraj Singh got Dhoni — who's been more and more reticent to appear before a camera — to give a short video interview. He later shared it on social media. 
In a video that is going viral on social media, Dhoni offered words of comfort to his die-hard fans still coming to terms with his decision to sign off as India captain. He promised that he would continue to play the aggressive brand of cricket that made him what he is today.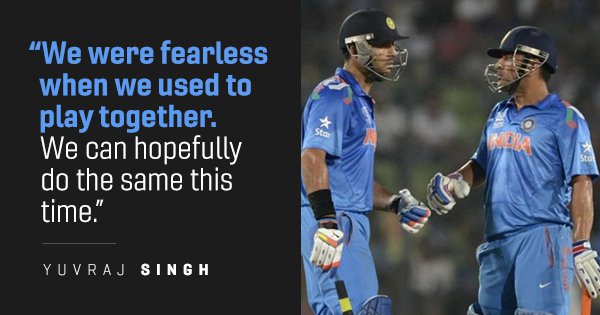 The perfect finish may have eluded him, as his team lost by three wickets, but Dhoni, in a video chat with Yuvraj Singh, assured that he would continue to hit those trademark sixes if they are to be hit.
"If they bowl in my areas, the right areas and the situation permits I would look to hit sixes," Dhoni told long-time teammate Yuvraj.
Dhoni's stint at the helm had more ups than downs, and he called it amazing.
"The journey has been good, fantastic… It's good to have players like you (looking at Yuvraj), the job becomes much more easier. And enjoyed my 10 years, hopefully I will enjoy more whatever I have."
Referring to Yuvraj's six consecutive sixes in the inaugural World T20, Dhoni said, "Thanks to you I witnessed the six sixes from the best seat."
Dhoni was at the non-striker's end while Yuvraj bludgeoned Stuart Broad.
Watch the video here:
(with PTI inputs)