When he was born, his legs were too frail. He could not walk properly till he turned and walking long distances was out of the question. People teased him and bullied him, little did they know that years down the line, the man would become an international phenomenon.
The only catch is, it was many many years down the line. Although Fauja had developed a fondness for running by the time he grew up, he had to stop because of the partition in 1947.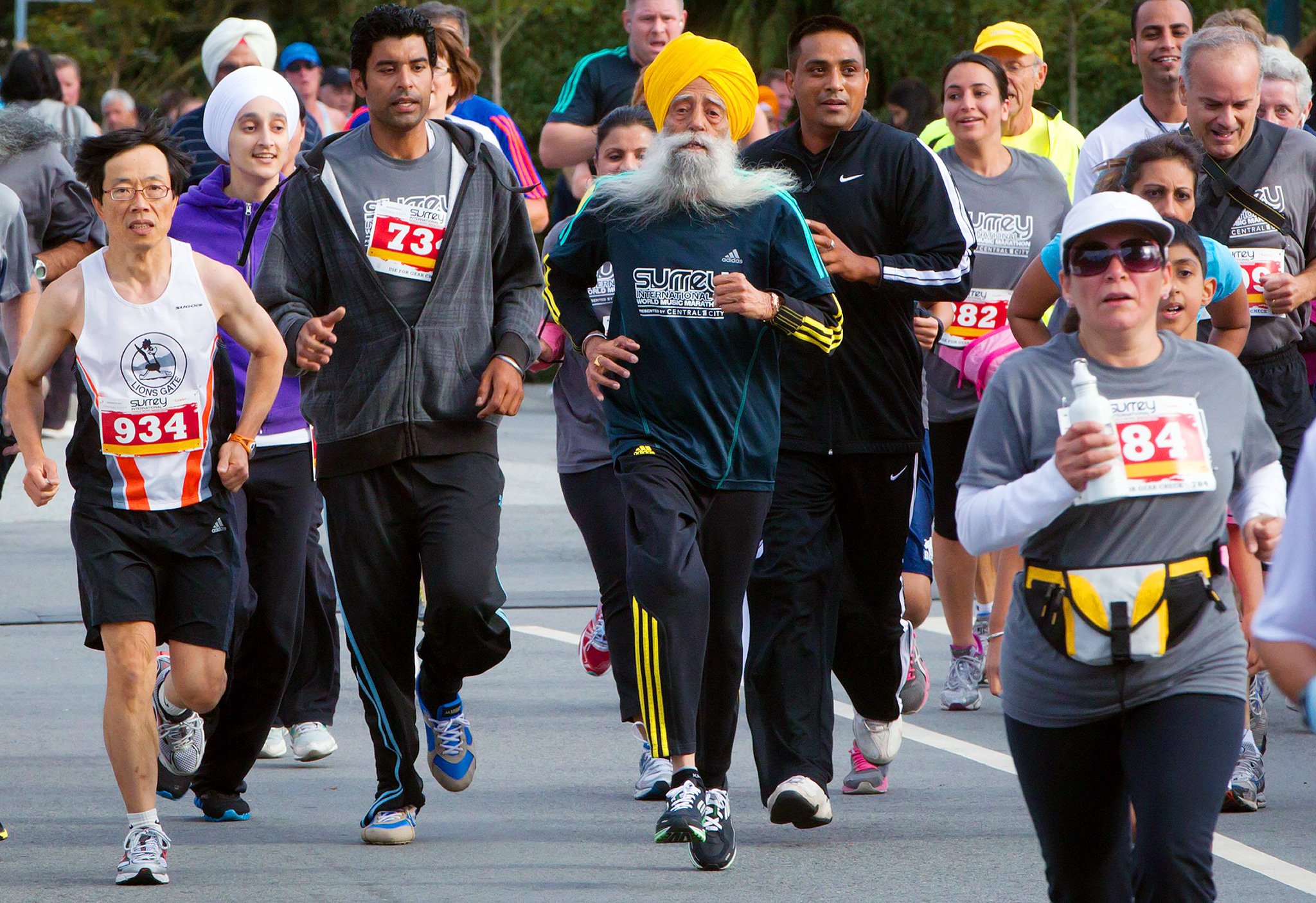 Fauja and his wife, Gian, had 6 kids, 3 girls and as many boys. Years went by and some of their kids soon went abroad to start their lives, while his 5th son Kuldip, settled down in Punjab. Fauja and his Gian stayed with him. 
In 1992 however, Gian died and Fauja had barely recovered from that when 2 years later, in 1994, Kuldip passed away as well. Fauja was already 83 by then, but he knew he had to start over. So he moved to London to stay with his son Sukhjinder.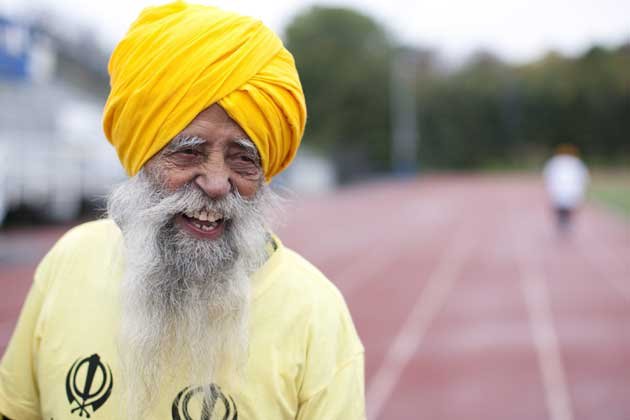 In 2000, Fauja heard about the London marathon. The announcement perhaps took him back to his childhood days in Bias Pind. When he was teased for being to frail or when he started running around the village once his legs allowed him to.
He may have grown old, but his heart was young. He wasn't just reminiscing, he was planning. 89 years young, Fauja Singh decided to take part in the London Marathon.
Although his coach, Harmander Singh, did not believe that Fauja was serious, the old man's persistence made him believe that he was up for it. The two ran side by side. 26 miles, 6 hours & 54 minutes later, Fauja Singh completed his 1st ever marathon, aged 89.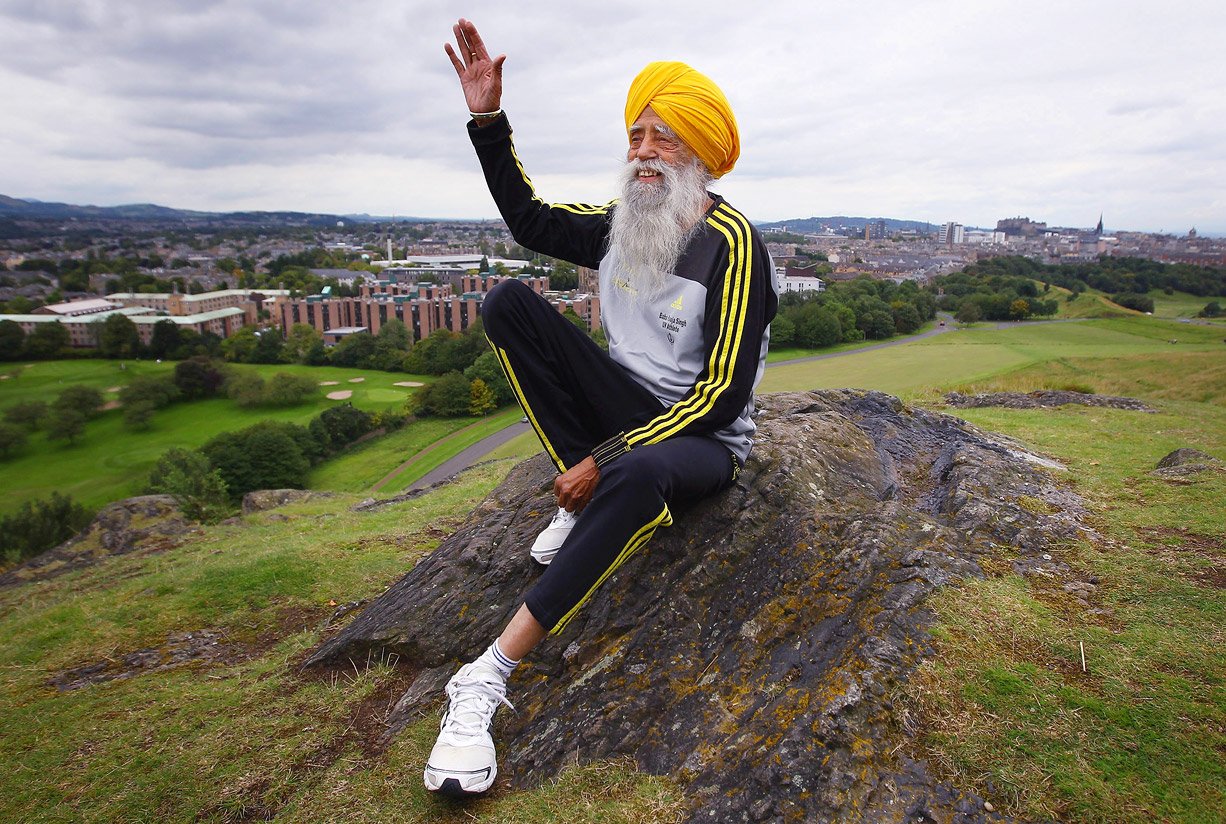 He took part in the same marathon a year later. The record for ages 90 and above was 7 hours 52 minutes, Fauja finished in 6 hours 55 minutes. 
In 2003, Toronto, he finished a 42.5 km race in 5 hours 4 minutes. He was already 92 by then. A total of 15 marathons and half marathons between 2000 and 2011 saw him become the oldest marathoner on the planet.
In October, 2011, he became the first 100-year-old man to complete a marathon. His exploits since that fateful London Marathon in 2000 to his last run in 2013 Hong Kong, had earned him celebrity status.
Fauja featured in ads for Peta, due to his commitment to vegetarianism, and even brands like Adidas.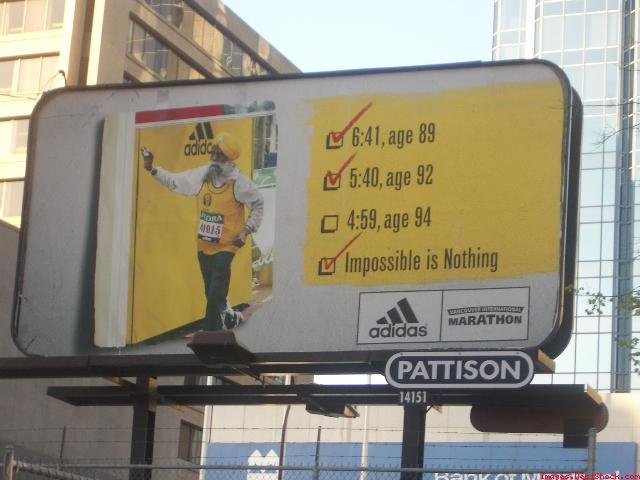 Fauja even carried the torch at the 2004 and 2012 Olympics in Athens & London respectively.
His professional retirement came at 102, when he decided that he was not fit enough to run anymore. But by then he had defied countless odds. Post retirement, Fauja ran one more race, back in his homeland; the Mumbai Marathon in 2016, aged 104. 
It is just ironic that he could not feature in the Guinness Book of World Records because he couldn't produce a birth certificate. 1911 was a long time ago, and getting birth certificates under British Raj was no easy task.
He was born on 1st April, and aptly so, he fooled those who teased him as a kid and the whole world that thought age could be a barrier.
There was a book written on him by Khushwant Singh and it was aptly titled – Turbaned Tornado.