Unless you have been living under a rock, you know that Serena Williams recently lost the US Open final to 20-year-old Naomi Osaka in a highly controversial final. 
As the debate over Serena's behaviour continues, Australian cartoonist Mark Knight has started a new discussion on social media with his caricature of the American tennis legend. 
My toon in today's @theheraldsun on #SerenaWilliams @usopen pic.twitter.com/didwtQg1R5

— Mark Knight (@Knightcartoons) September 10, 2018
Many of Serena's supporters and friends, jumped in to defend her and called out the racial nature of the cartoon. 
Well done on reducing one of the greatest sportswomen alive to racist and sexist tropes and turning a second great sportswoman into a faceless prop. https://t.co/YOxVMuTXEC

— J.K. Rowling (@jk_rowling) September 10, 2018
Whatever you think of the Serena Williams situation, I think we can all agree that this cartoon is disgusting. Erasing Naomi Osaka's blackness alongside a grossly racialised caricature of Serena, invoking racist stereotypes, is obscene. https://t.co/Z09T7rt5tt

— Anna Kessel (@Anna_Kessel) September 10, 2018
Irrespective of whether you think she was in the wrong, this cartoon's response & it's embrace of lazy, racist stereotyping (not to mention the whitewashing of Naomi Osaka & the judge) highlights the issues that #SerenaWilliams perennially faces: racism & misogynoir. https://t.co/PjoQK5vHdC

— Andy Duncan (@DynamiteDuncan) September 10, 2018
This obviously isn't the most offensive aspect of the the Serena Williams cartoon but: if it isn't sexist or racist then why is Naomi Osaka, who is Japanese and Haitian, portrayed as a white woman with a blonde ponytail? pic.twitter.com/TpFGyMBJuE

— Katy Stoll (@katystoll) September 10, 2018
The racist cartoon of Serena Williams perpetuates the "angry Black woman stereotype" and also the brute caricature which is usually used to demonize Black men. The whitewashing of Osaka is an attempt to criminalize Serena as if she's stealing from a white woman. pic.twitter.com/UxeihWYTdp

— Brotha B (@BlakeDontCrack) September 10, 2018
Designer Masaba Gupta also wrote a post, slamming the cartoonist, and said that she is 'done with the exaggeration of black women in shape, form & mannerism'.
While some people agreed with what Masaba had to say, others had a totally different opinion about what happened in the match and her depiction in the cartoon.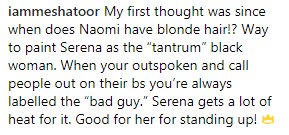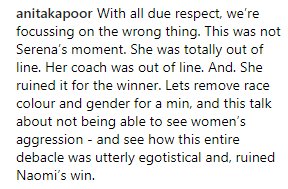 A lot of people on Twitter were also of the opinion that the cartoon wasn't racist.
Mark Knight's cartoon was legitimate, appropriate commentary on Serena Williams' childish, overbearing tantrum. It was NOT racist. @Knightcartoons is Australia's best cartoonist. We need fearless artists like him poking fun at the powerful for health of our democracy, society.

— NickMcCallum7 (@NickMcCallum7) September 11, 2018
The world has gone Crazy over the Serena Williams cartoon depicting her having a Collossal Tantrum at the U.S. Open, which incidentally, she did. The accusation is that the artist has used a racist depiction of her. He has depicted her as an Angry Child and nothing more!!

— David Nash (@davenash01) September 11, 2018
This is why I hate the world today. How the hell is this cartoon drawing of Serena Williams carrying on like a fool racist? So what, now people who are of colour cant be depicted in a cartoon drawing in a comedic sense? Give me a freaking break pic.twitter.com/1esHhsXNvs

— Lockie (@lockie_wells) September 11, 2018
I mean she was acting like a toddler. The cartoon depicts an exaggerated version of her disrespectful behavior. It's literally only perceived as racist and sexist because she's black. What does that make you? Treating people differently by race is exactly what your doing.

— Axiom (@AxiomHorseMusic) September 11, 2018
I think you need to take a chill pill. @serenawilliams acted like a spoilt brat and was called out for it. She then had a hissy-fit to boot. The cartoon was spot-on depicting her ridiculous behaviour.

— Mark Wroblewski (@MarkWroblewskiA) September 11, 2018
Serena's verbal altercation with the umpire during the match was followed by divided reactions, with some people supporting her behaviour, while others accusing her of being wrong and stealing Osaka's spotlight.
Discussions and debates around this topic don't seem to be ending any time soon.