As a kid, I played cricket in gullies or neighborhood parks at best. For backdrop, we had Sharma uncle ka ghar and for boundary, the farthest car. 
Safe to assume, that was the case for most people brought up in urban areas.  
Now, how is this for a match location?
As mentioned in the tweet, that's Nanga Parbat, the ninth highest mountain in the world which graces the horizon in Pakistan.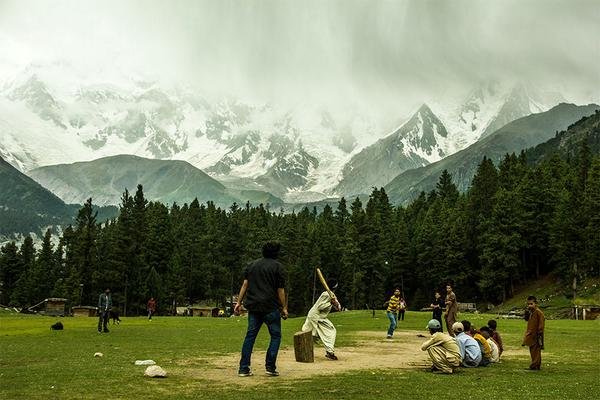 But just when I thought there is nothing that can beat this view, people started a face-off, sharing beautiful pictures of cricket fields and pitches from across the world and now I want to take a leave from work to go outside and play. 
Ireland is called 'Emerald Isle' for a reason that is abundantly clear here. 
And then there is 'God's own country'.
I would be useless as a fielder if my surroundings were so beautiful. 
Sending the ball to chase the sun. 
Don't know what place this is, but it will more than work for a backdrop. 
No wonder this one is a tourist location in Sri Lanka.
And then comes the famous Dharamsala Stadium, located on the foot of Himalayas. 
The originators of cricket enjoying the game in the valley. 
The tweet does not mention the tea estates of which country, but it doesn't matter either. 
How do these people concentrate on the match, is my question.