Be it Tests or T20s or ODIs, Virat Kohli has been in prolific form in this year. To sum it up, he had an impressive World T20, followed it with a dream performance in the IPL, made two double hundreds in Tests and bossed ODIs. He has aggregated 2277 runs this year in international cricket from 34 matches which is the sixth most by an Indian in a calendar year. India still have three more Tests this year against England, so he has a chance of breaking Rahul Dravid's Indian record of scoring most runs in a calendar year.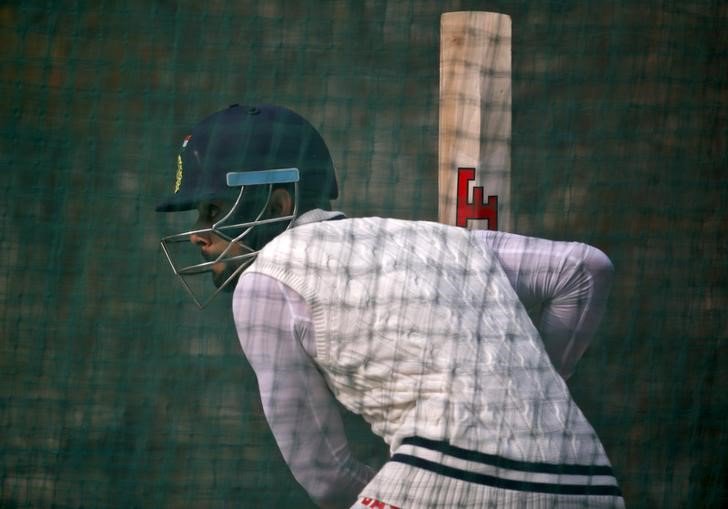 The Test skipper scored 248 runs in his 50th Test match as India lead 1-0 lead in the ongoing series against England. This number is also a record – for the most by an Indian in his career's 50th Test match. It's like everything he does turns into a milestone. So the comparisons with Sachin Tendulkar are inevitable. While that debate is pretty close when it comes to analysing ODI cricket, the real intrigue lies in comparing their Test careers. But we've added more context – a statistical comparison of Kohli with the other greats of the game in Tests after their careers' first 50 matches – because the sport is more than just one batsman.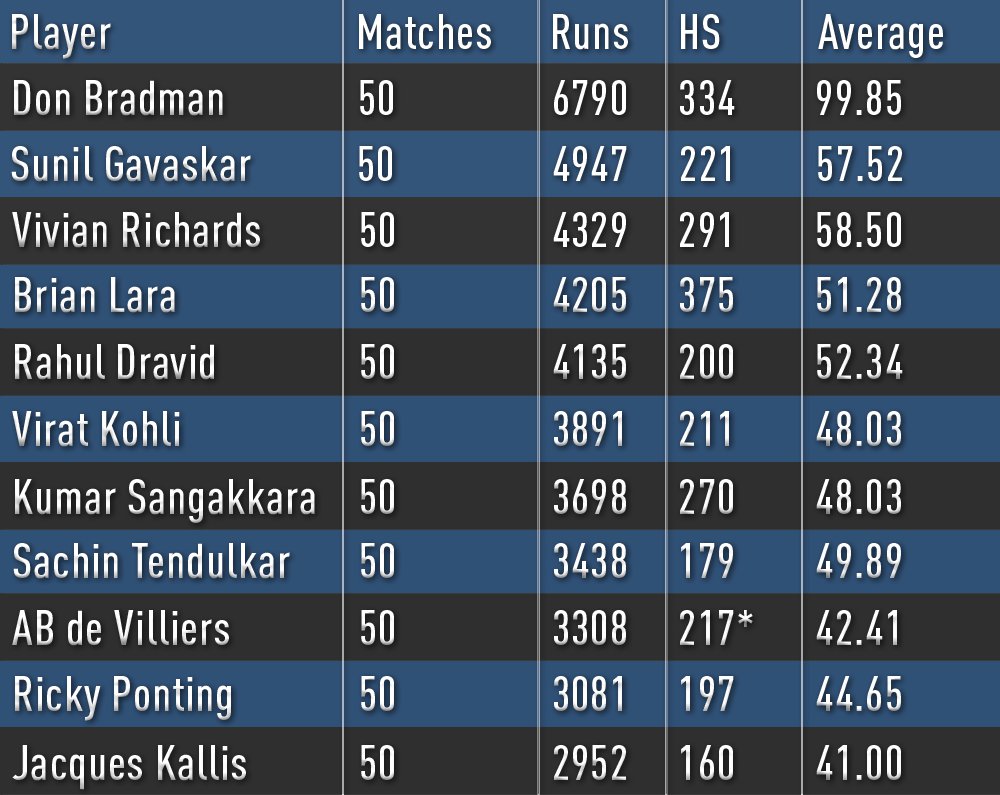 All these batsmen played their best cricket against different bowlers, in different eras, in different conditions and with different facilities but the thing that stands out is their consistency. Only AB de Villiers, Ricky Ponting and Jacques Kallis averaged below 45 among legends in their first 50 Tests.
Also, the only cricketer in the history of the game to have played 200 Tests is behind Virat Kohli in this list. He is the highest run-getter in the Test cricket. If Sachin can add more than 12,000 runs from 150 Tests then Kohli can certainly aim at about adding at least 10,000 more.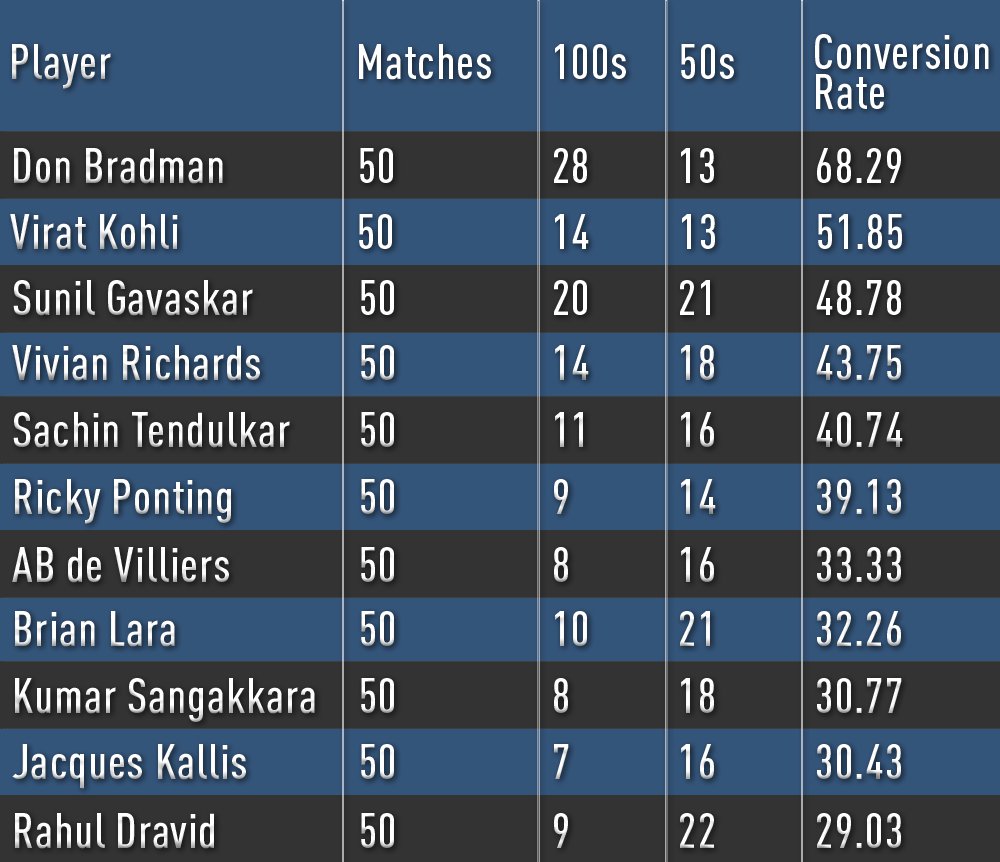 One can't necessarily say that the best batsman from this list is the one who has the most runs after 50 Tests. So let's look at the conversion rate from fifties to hundreds. Virat Kohli is at the second place with a conversion rate of 51.85%. Here's more: he is the only batsman along with Don Bradman to have the conversion rate above 50%. Special? Certainly.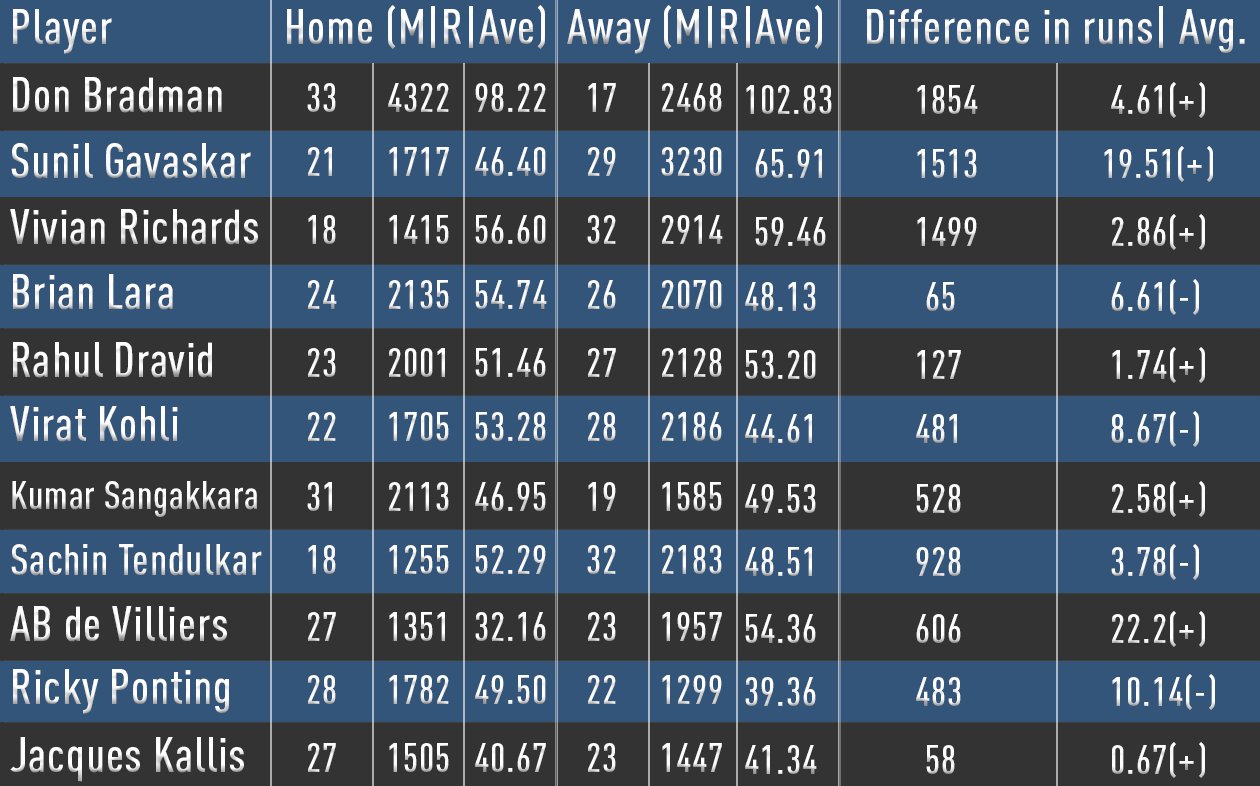 Bradman, Brian Lara and Dravid are the only batsmen in the list to score 2000-plus runs from career's first 50 Tests home and away. Don Bradman scored most runs at home from his career's first 50 Tests so his difference in runs between home and away is the most among all while Brian Lara has the least difference. But it's not a secret that it's the away runs that eventually matter.
And Kohli has the most negative average difference (8.67): a clear indication that if Kohli wants to be on the list of greats at the end of his career, then he needs to score overseas as prolifically as he is at home
[Note: Average difference = Away average – Home average]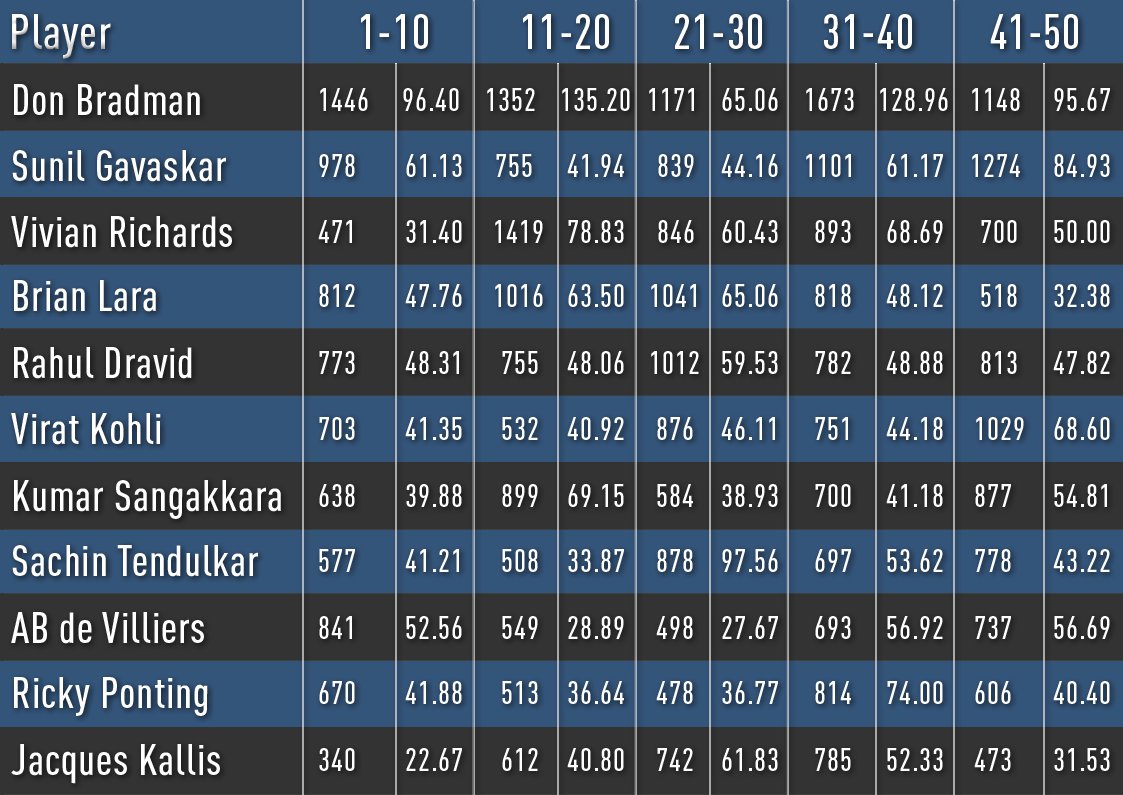 Kohli's average – third best in the fifth category of this list (41-50 Tests) – clearly suggests that he is in the starting phase of his career's peak and if he can score runs like this in next four or five years then he can catch up to some of these legends.
The last bit of data analysed is the ICC Test ranking after these players' first 50 Tests – which indicates that Kohli is the fourth player to have a rank below five at this juncture.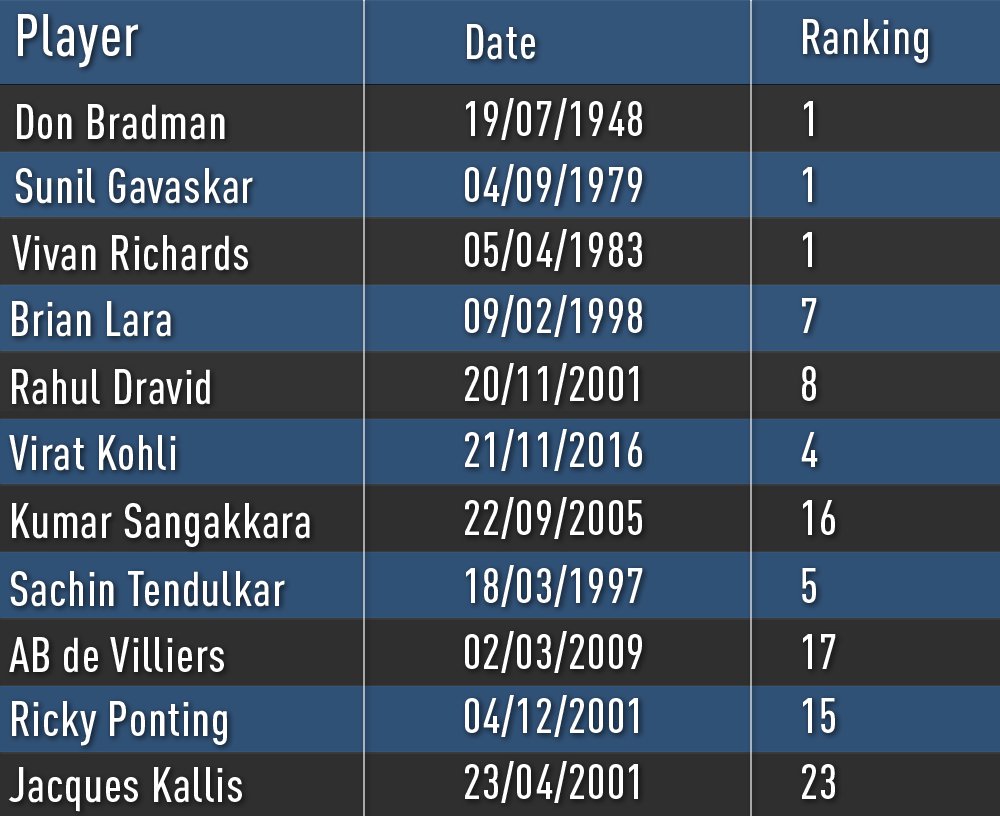 Note: Players who have been compared with Virat Kohli in this article are selected by the writer.