There are many ways of looking this. 
How big a deal are you going to make out of it? Is our forgiveness even required? Maybe it's just about how Mithali reacts to the incident, if she does at all. Maybe Kohli was just too excited to congratulate her. Maybe he wanted to be the first one to do it. After all, she is his counterpart. He's on holiday right now and maybe the urgency of it all led to the slip up.
But honestly, how serious an offence do you think it is that Virat Kohli congratulated Mithali Raj but accidentally uploaded a photograph of her teammate Poonam Raut instead? After all, we live in a world that is weirdly dictated by social media now.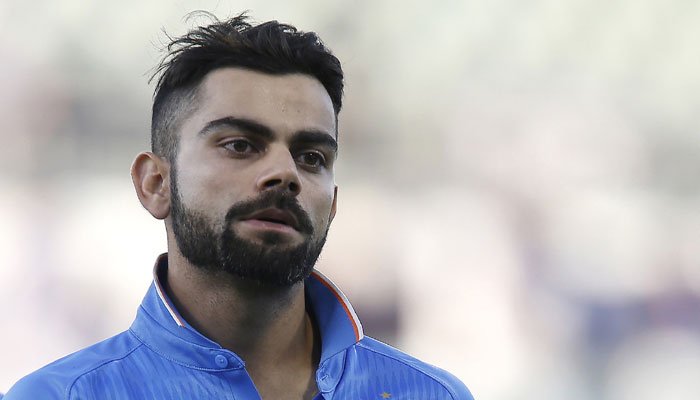 For the uninformed, Mithali broke the world record for highest runs in women's ODI on Thursday after surpassing Charlotte Edwards's record of 5992 runs. Mithali also became the first woman to cross 6000 ODI runs. The feat is magnificent and something we should all be proud of.
There is no doubt in saying that Virat was extremely proud too. He knows what it's like to break records. But was it Google's fault that it returned Poonam Raut's image when he was searching for Mithali?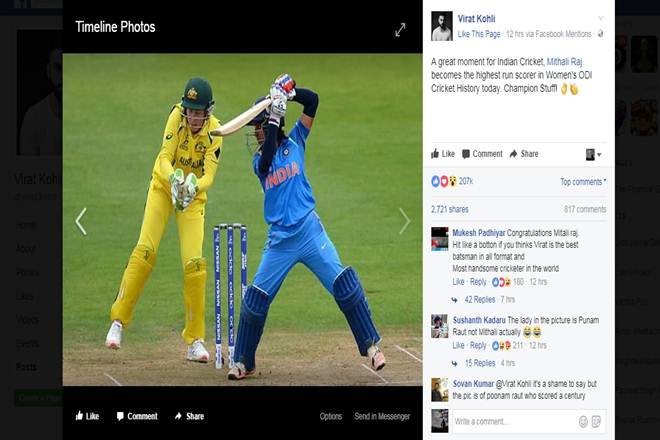 You can't question the intention behind it. He is genuinely proud of her. And to be fair, you can't really see Poonam's face in the photo. But would anyone every mistake Rohit Sharma or Shikhar Dhawan for Kohli? 
Mithali stands out just as much as Virat does. It takes you back to the interview where she was asked who her favourite male player was. She asked the journalist whether a male cricketer had ever been asked who his favourite female cricketer was?
She was implying that the women's format needs more recognition. Virat's motives can't be questioned but he is our captain, just like Mithali is. It's incidents like this that perhaps makes the women's team feel sidelined. 
Virat was of course made aware of the goof up and he removed the post from Facebook. His tweet doesn't carry a photograph, just the message and hence is still up. 
A great moment for Indian Cricket, @M_Raj03 becomes the highest run scorer in Women's ODI Cricket History today. Champion Stuff! 👌👏

— Virat Kohli (@imVkohli) July 12, 2017
At the end of the day, it was an honest mistake. If any of us would've posted the wrong image, it would not have been reported but just made fun of by our friends. 
But then again, Kohli is not just anybody. There are eyes on him at all times. We have expectations and his job demands that he lives up to them. The man rarely disappoints and that is probably why the smallest of his mistakes makes headlines.