With FC Pune City trailing 0-1 against Rising Students Club in the Indian Women's League (IWL) semifinal, head coach Kalpana Dass brought on Senorita Nongluph before half time. No one would question the decision though – Senorita had scored an absolute beauty against Aizawl in the previous game. Timing her run perfectly, she had delicately poked the ball into the back of the net in a 4-0 rout. With the team's back to the walls in the semis, Senorita could be the answer.
The striker pressed from the beginning. Whenever the ball was played into her feet, she swivelled on it with ease. When she moved forward, it was in a languid gait, nudging the ball past a defender's flying foot at the last moment. On one occasion, she broke forward, rode a challenge and almost scored before the goalkeeper intercepted. 
Rising Students scored soon after to seal the match but after the final whistle, many students gathered in front of Senorita to ask for her autograph. Senorita looked at Dass, asking her what to write on the pieces of paper in the outstretched palms of the kids. This was the first time she was signing something for a fan. Because Senorita herself, is just a kid. She is just 12-years-old.
Here's some perspective: India's most popular female footballer Bembem Devi won her first AIFF Woman Footballer of the Year, Senorita wasn't even born. Still, she played against Bembem in a game against Eastern Union. Bembem later said: "She reminds me of myself." 
FC Pune City's oldest player is 38 and amid this, is Senorita. Her coach says Senorita plays with her phone like it is a toy car and loves fairy lights – like many other 12-year-olds. But when she starts talking, she comes across as a sharp and smart footballer. Her answers are detailed and sometimes she runs out of breath while trying to finish a sentence in excitement.
"The coach has told me to study the opponents before I go in and then play my game; I don't think of them as seniors but just as players who are my age. That's when I told myself that I won't be afraid and will just go there and prove myself," she told ScoopWhoop News after the match.
But there was a stage when Senorita was afraid. 
In a match against Manipur, she was roughed up and got a blow to her face – an incident that rattled her. 
"Sometimes she'd get injured, cry and say I don't want to play anymore – so I had to motivate her a bit – making her realise how good she could be. And some people just have that ability – they are born as footballers. I found that in her. It was my responsibility to protect her from injury as well as give her enough chances to play and develop. So we used to use her for a few minutes at the end of the game and she was training with the seniors anyway. We used to expose her in matches so that her fear of playing against the seniors would slowly go away," Dass, who first saw Senorita in an open college tournament three years ago, said.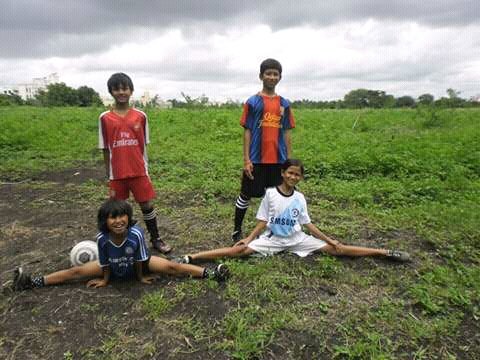 Equipped with an AFC A license, Dass is perfectly placed to groom the youngster. Having captained the Tamil Nadu team and played for India in the sub-juniors, Dass gave up the sport due to a lack of facilities. So she knows what's needed to motivate girls to continue playing the sport.  
"Her instructions would be to stand on one side of the pitch, receive the ball and pass it to a teammate. No dribbling because then you'll get smashed. We did this till she got strong enough and her mind was also ready to play. Then she started playing properly – dribbling, becoming more involved and scoring as well. Even in this tournament a lot of people were asking me – why do you want to risk playing such a young girl, but I was bold enough, I know the ability in her," Dass said. 
But Dass can only do this with total support from Senorita's parents, who are both teachers in Pune. Her father Chirup Pamthiev has played in Santosh Trophy and coaches kids in football in the evenings. 
"She always wanted to play, so I said, play. Initially other family members would say worrisome things – why are you sending her to play at such a young age? Why football? But now their mindset has changed. Am I worried about whether she'll get hurt? No, I'm not. The only worry is that she will miss games if she's hurt, not about the injury itself. Am I worried about her career? No, she can play for as long as she wants and she can do other things as well. I don't see this as a problem," Chirup said in a telephonic interview from Pune.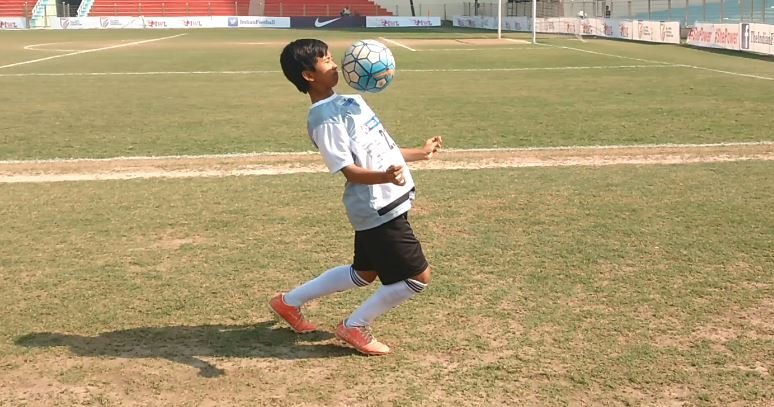 Senorita's commitment to the sport deserves such support. She wakes up at 5 am every morning, goes to train, then heads to school which starts at 7.20 AM. After she's back home by 1.30 PM, she studies till 4 PM and heads to train again. Then she's back home, watches TV and is tucked in bed by 9.30 PM. 
Senorita says she loves it, but then adds: "It is kind of hard."
"My parents take care of food – I am not allowed any junk. No soft drinks as well. Yes, it's annoying sometimes when the family is eating and drinking and I am given milk," Senorita admitted.
Senorita has been brought up in Pune since her family moved there a decade ago. 
Her free time is spent juggling the ball and shooting is her favourite drill. But like most kids at 12, she hates weights.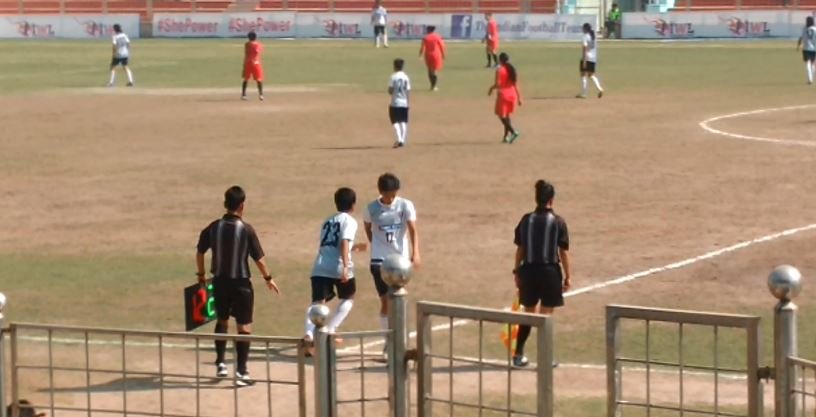 "I think I've got the same level that most Indian players have, it's just that I lack physical strength. But my dribbling and scoring – that's good for me. I'm working on my strength and my shooting and placing. I don't like weights and lifting," she after a quick glance at Dass, who was standing beside her during the interview. 
The Meghalaya-born striker is one of the finest stories to have come out of the newly formed Indian Women's League – as Senorita has gone from kicking and fetching a ball at the age of six while playing with her brother – to becoming a footballer in her own right. It's a journey that has taken just six years, but is already looking like one that might last a lot longer.