When Yashasvi Jaiswal moved to Mumbai as a 11-year-old kid, he had no one to go to for help, no roof above his head and no food to eat. 
So now that he stands as the youngest player to hit a double hundred in List-A cricket, he has a lot to take pride in. 
Mumbai's Yashasvi Jaiswal becomes the latest Indian batsman to hammer a List A double-hundred! 👏

Not long ago, the 17-year-old was serving street food to make ends meet. Here's his story 🔽pic.twitter.com/t2o784DNnf

— ESPNcricinfo (@ESPNcricinfo) October 16, 2019
Mumbai batsman Yashasvi scored 203 runs from 154 balls against Jharkhand, helping his side win the match by 38 runs. 
Hailing from Bhadohi, Uttar Pradesh, Yashasvi came to Mumbai in 2012 with a dream of becoming a cricketer. However, he soon realised that things were going to be more difficult than he had anticipated.
Yashasvi Jaiswal just hit a spectacular double hundred for Mumbai against a Jharkhand attack that included Varun Aaron, Shahbaz Nadeem and Anukul Roy, his third hundred in five Vijay Hazare matches.
Seriously one to watch! pic.twitter.com/2SsWuKmLNb

— Joy Bhattacharjya (@joybhattacharj) October 16, 2019
Speaking to Hindustan Times, Yashasvi told that his struggles started when he couldn't find a place to stay in the new city.
Finding a place to stay was the hard part. I used to sleep in a dairy in Kalbadevi but they asked me to move out as I couldn't help them much with the daily work. My parents requested my uncle to help me. I stayed at his place for a few days but it wasn't big enough so he too had to ask me to find a different place.
Chasing his cricketing dreams, Yashasvi Jaiswal sold pani puri at nights, stayed with groundsmen inside a tent, minus a loo, basin & drinking water at Azad Maidan ..
At 17 with a List A double century for Mumbai, he's on his way .. 👍👇pic.twitter.com/NYxLePTZnY

— Rahul Dev Official (@RahulDevRising) October 18, 2019
His uncle who couldn't keep Yashasvi at his home, did refer him to the Muslim United Club where they provided him with a place to live inside a tent.
Yashasvi stayed in those tents for 3 years, while doing some odd jobs to keep himself afloat. This ranged from selling paani puri to working as a ball boy.
I was staying in a tent alright but I had no money to buy food. So I started selling paani puri during Ram Leela. I also did scoring, became a ball boy even when I was not asked to. Basically, I did everything through which I could earn money.
Things finally became a little better for Yashasvi when a former junior cricketer and currently a coach – Jwala Singh – spotted him hitting List-A bowlers and was left awed. 
Jwala Singh was so impressed, he offered Yashasvi to stay at his place.
The determination and temperament separated him from the rest. And when I heard his story, it reminded of my own. Still, it was not an easy choice to ask someone to stay at your own place but I took the call.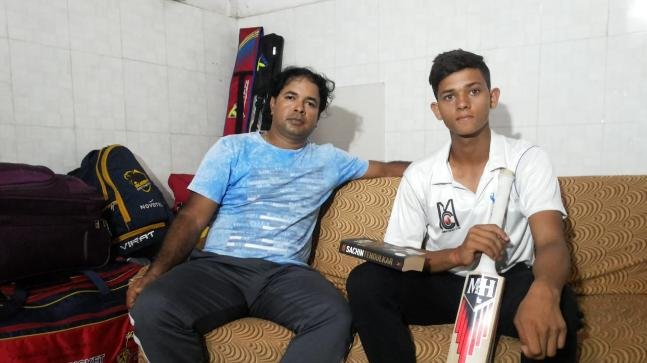 Following which, Yashasvi got a call-up for India's Under-19 team and Mumbai's Vijay Hazare squad. And safe to say, he hasn't let down the selectors. 
He was the player of the tournament at the 2018 ACC Under-19 Asia Cup which India went on to win. As for List-A cricket, the result is in front of everyone.
Yashasvi Jaiswal, who at 17 yrs, made a List A double century today for Mumbai, had hit an unbeaten 319 and then in same match claimed 13/99 for Anjuman Islam High School (Fort) against Raja Shivaji Vidyamandir (Dadar) in a Giles Shield schools match in Jan 2014, then aged 12 yrs

— Mohandas Menon (@mohanstatsman) October 16, 2019
Talking about the pressures of playing at a high level, Yashasvi had once said:
I know I will score and take wickets. For me, whether I get the next meal or not, that's important.
As he makes new records, we hope he never has to face similar struggles again. Only onwards and upwards from here.