This article was published on 19 September, 2017.
As far as cricket is concerned, 2007 did not start well for India. We were knocked out in the group stages of the ODI World Cup. Our worst performance in any World Cup. The fans couldn't bear to accept that. The infuriated ones burnt posters and effigies and even stoned the houses of the cricketers. A dark shadow was looming over Indian cricket. 
It was time to define how our future would be. Questions were raised about whether we could fight back from this. Whether we could claim our rightful place again. If we could climb again. 
Down but not done yet, the Indian team set out on a mission to reclaim the hearts of its billion worshippers.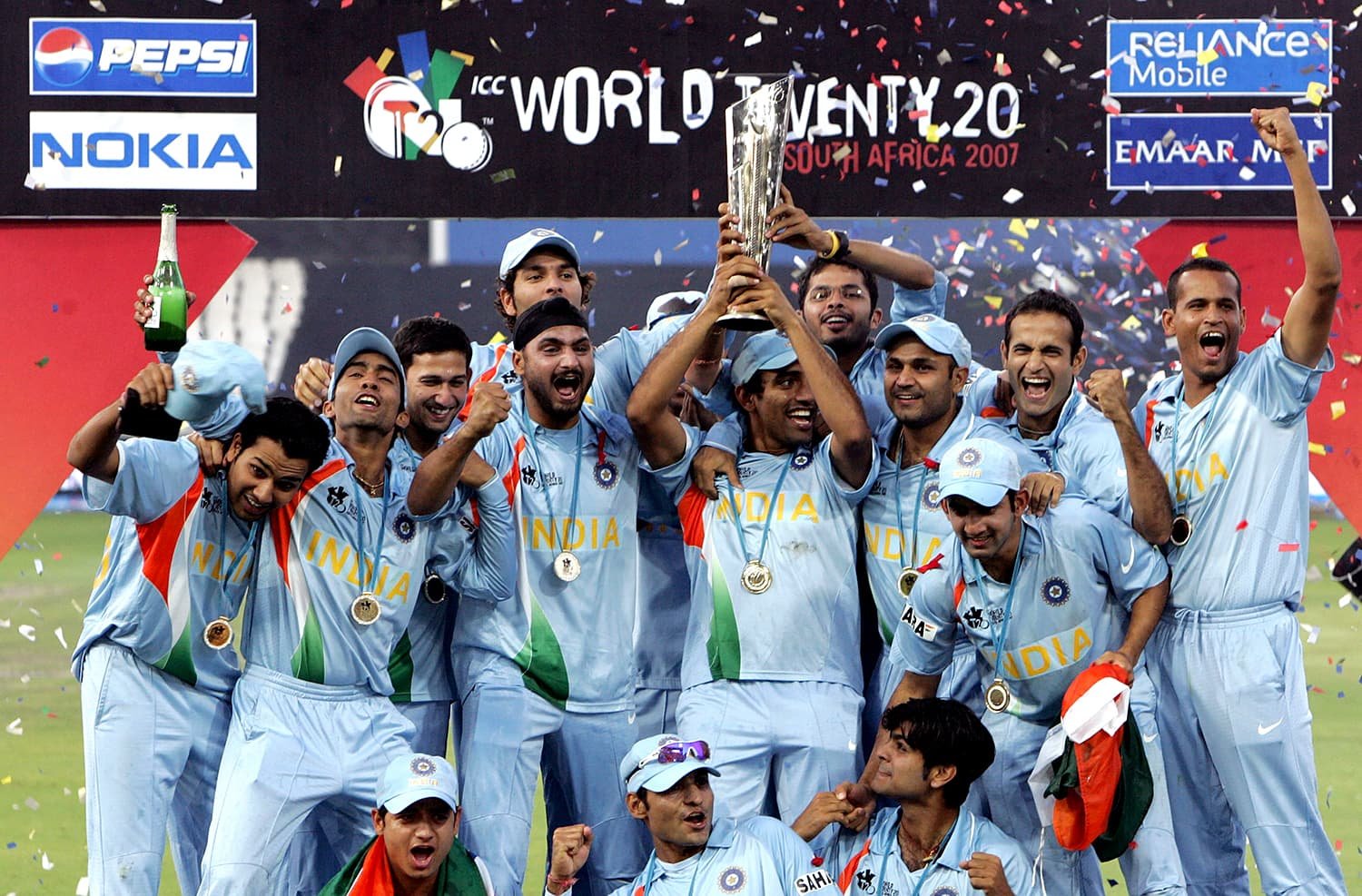 The place – South Africa. The tournament – the inaugural World T20.
It was the perfect opportunity for the men to prove their mettle. And they did. They got the trophy home. But it isn't always about reaching the summit. It's also about how we got there.
There were some fine moments on India's road to glory. The last-over victory against Pakistan in the final, the bowl out against the same opponents in the first match, Yuvraj's innings against Australia, Rohit Sharma's innings against England… It's a treasure trove of great memories.
But there was one particular memory that really stood out. One that came against England in the group stages. One that everyone who witnessed it will never forget.
India were at 155/3 when Yuvraj came in to bat. It was the 17th over. In the 18th over, Flintoff decided to bowl. He gave away 12 runs which may have frustrated him and he had a verbal spat with Yuvi.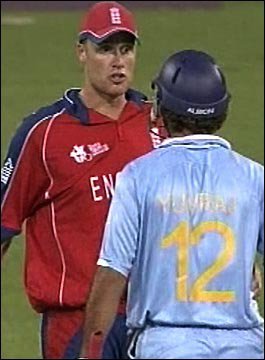 Yuvi was of course not impressed. Flintoff said whatever he had to and then went off to field at the boundary. Yuvraj has always been known for his cool demeanour. But whatever Freddie said to him evidently angered the southpaw.
The young Stuart Broad was to face the brunt of Yuvi's fire. He pitched the first ball up a bit, Yuvraj bent his knee a little and whacked it into the stands on the leg-side. It travelled over a 100 meters. Ravi Shastri in the commentary box said, "I think those words with Flintoff charged him up a bit." 
He was absolutely right. And poor Broad would be turned into an example by the maestro. The next 5 balls had the same result. All of them sailed over the rope. The best part about it was the inevitable result that Yuvi somehow seemed to know.
After every ball, all of us at home kept thinking – "Naah, he can't hit the next one for 6."
But he did. There are so many people who will now read about it or watch it on YouTube, but there were so many of us who were lucky enough to watch it live. It remains one of our greatest World Cup moments. One can never forget the 6th ball, hoping that somehow, anyhow, Yuvi just whacks it out of the park. 
He also scored the fastest fifty in T20 history, off just 12 balls. But to be honest, no one cared about that. The talking point was just one – 6 balls, 6 sixes.
It was a lesson for Freddie Flintoff and a memory for us.
Every fan remembers where they were watching from when Yuvraj Singh set the roof on fire. Not just us, even the great Sachin Tendulkar, who had just retired from T20 cricket and wasn't able to witness it from the stands, remembers exactly what he did when he watched from home the man he calls 'Superstar' destroy the English bowlers.
Complete video of @sachin_rt talking about @YUVSTRONG12 marking 10 year's of 6X6 pic.twitter.com/sBaTwQCHly

— Sachinist.com (@Sachinist) September 19, 2017
This video was first uploaded exclusively on Sachin Tendulkar's app – 100mb