The controversial world's cheapest smartphone, Freedom 251, which startled tech enthusiasts across the world is finally up for grabs. Ringing Bells CEO Mohit Goel has promised that the Rs 251 smartphone will be ready to ship from 30 June, and the 2 lakh units will be shipped by July 4.
Meanwhile, ahead of the phone's delivery, Indian Express has launched the first look of the new Freedom 251.
This is what we gathered from the first look:
The phone comes in two colours: all black, and a black-white variant. 
The prototype device showed an Adcom logo above the display covered by a white fluid and a Freedom 251 logo imprinted on the back panel. The actual device though just has the name Freedom 251 written at the back of the phone.
As for the specifications, here's a quick recap:
The new Freedom 251, sports a qHD 4-inch display with 960×540 pixels resolution and runs Android KitKat. 
The phone has 8GB internal memory which can be expanded to 32GB with a micro SD card.
The smartphone will be equipped with a 3.2MP rear camera and a 0.3MP front camera for clicking selfies.
The phone has 1,450 mAh battery, but we can't complain much because of the low price.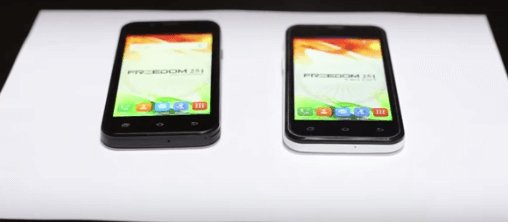 Only winners of a lucky draw will get their hands on Freedom 251 and the company said it will organise a media event 'soon' to announce the lucky draw.
The company claims it received a total of 7.5 crore registrations from across India and out of them, over 2.8 crore registrations were from UP and close to 2 crore from Bihar.
Explaining how the lucky draw will work, Goel said: 
We will give away 10,000 units in every state. We decided to hold a lucky draw because many people had registered for multiple phones. We want to bring it down to one phone per person." 
The lucky draw winners will most likely be announced within two days.