US-based online retail giant Amazon has launched its 'Prime' subscription programme in India to woo customers with free one-day delivery as it looks to stay ahead of competitors like Flipkart and Snapdeal.
Interestingly, Amazon Prime's launch in India also takes place at a day when Flipkart and Myntra just announced they were buying Jabong, which will further fuel the rivalry between the two major e-commerce sites.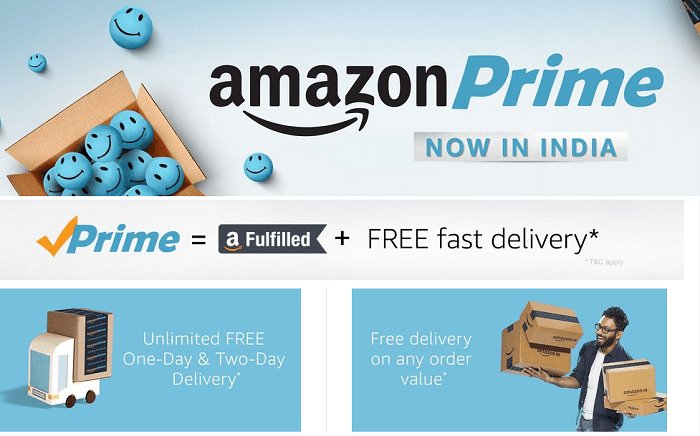 Calling it a valued service, Flipkart's former Chief Product Officer Punit Soni, who quit the company this year, took to Twitter to talk about Amazon Prime:
Amazon nailed it with Prime. Nothing like a high value loyalty service to keep your users. Killer feature.

— punitsoni (@punitsoni) July 26, 2016
If I was forced to invest all my money in one company today, it would be Amazon.

Killer instinct, incredibly long view, deep product/tech— punitsoni (@punitsoni) July 26, 2016
Here are its salient features:
Amazon.in will offer free one-day and two-day deliveries to 'Prime' members in over 100 cities as well as early access to its exclusive offers as it aims to build a base of loyal customers in the country.
Further, Prime Video, which will include Amazon original TV series and movies besides other Indian and global content, is also expected to be launched as a part of this service later.

Amazon Prime will be available for a free trial period of 60 days to allow Indian shoppers to experience the programme. The service is available for introductory annual subscription fee of Rs 499.
Prime will also allow members in 20 cities to choose same-day, morning or scheduled delivery at a fee of Rs 50 per order on over 10,000 products. These deliveries usually cost Rs 150.
Amazon.in has revamped online and app experience to allow customers to seamlessly discover and choose Prime products. Amazon has witnessed a 250 per cent year-on-year growth in bringing new sellers on board in India. It has over 85,000 sellers on its platform here.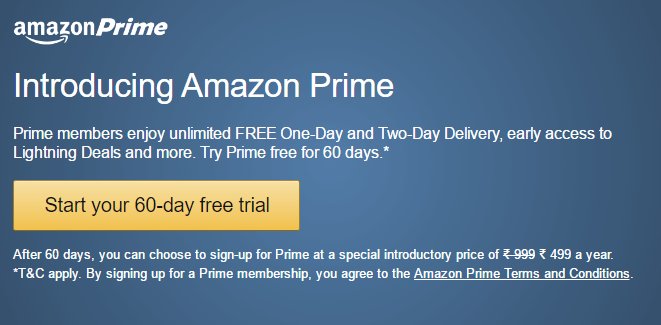 Amazon Prime comes to India almost three years after its global launch. Prime has been a major driver of repeat purchases for Amazon in the US.
While Amazon does not disclose the number of Prime members, reports suggest there are over 60 million members in the US. Amazon is betting big on the burgeoning e-commerce market in India. Recently, its chief Jeff Bezos had said the company will invest $3 billion in India, taking its total investment committed here to over $5 billion.
"We are very excited to bring Prime to our customers in India. With Prime, guaranteed one-day delivery becomes an everyday experience instead of an occasional indulgence, and with no minimum purchases, it provides unlimited convenience all year long," Amazon India VP and Country Head Amit Agarwal said.