You need to reach a certain level of genius if you want to fool others. That's especially true around this time of the year, when everyone you know is jumping on the April 1st bandwagon. Turns out, there were some hoaxes that were peddled as real news stories, that were so brilliant, that others actually made them true.
Here are some of the best ones.
1. The Gmail Motion hoax that was brought to life by science
Back in 2011, Gmail's April Fool's Day prank included the announcement for a new feature called 'Gmail Motion', where you could use hand gestures to control your email-related work.
But researchers at the University of Southern California used an XBOX 360 Kinect hack to actually make it possible.
2. 'iPod phone' before the iPhone
Way back in 2004, a site called Pocket-Lint, reported this, as an April Fool's joke.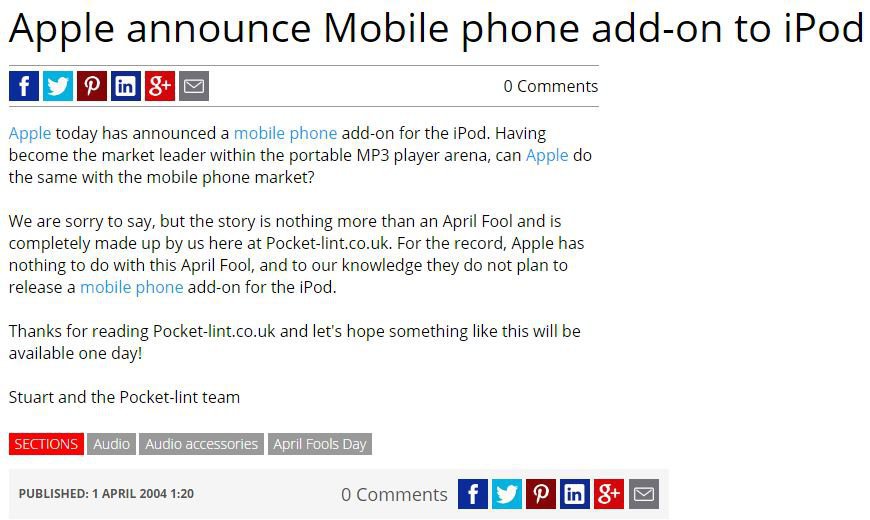 That was 2004. In 2007, the first iPhone was launched.
3. Tweeting from the womb
In 2007, the CNet came up with a hilarious April Fool's article about a new social media app called UltraSoundd, that allowed unborn babies to tweet or share Facebook statuses from inside their mother's womb.
As if that didn't sound creepy enough, an expectant dad went a step further and came up with Kickbee, a band pregnant women could wear around the belly. Every time the baby kicked, the band would post a tweet in first person voice. What a time to be alive, eh?
4. Fake Google Rat Map to a real Rodent-warning map
In 2007, CNet also joked about a Google map extension called Ratatattle, that showed you which New York restaurants were infested with rats. This actually gave the city administration an idea to come up with a real map that tracked places across New York City with rodent problems.
5. TXT'N'WALK app that turned real
Pocket-Lint was back again in 2009 when they announced that there was an app that could let you see what's in front of you even when you were looking at your phone. 'Twas probably a dig at douchebag pedestrians who walked while their eyes are glued to their phones. 
Since then, there have been numerous apps that can actually use your phone's front camera to give you a clear view of what's ahead of you, even when you're using your phone.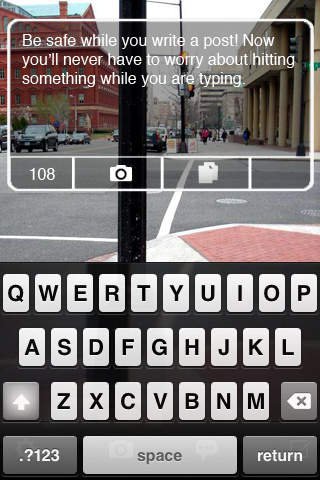 6. iCADE gaming station that turned too popular to remain fake
On April 1st, 2010, ThinkGeek announced the iCADE, a small tabletop arcade platform shaped box which could fit your iPads and let you play games on it, vintage style. When they realized that the idea didn't sound that crazy and was in fact quite popular, they went ahead and actually produced a decent number of iCADE docks.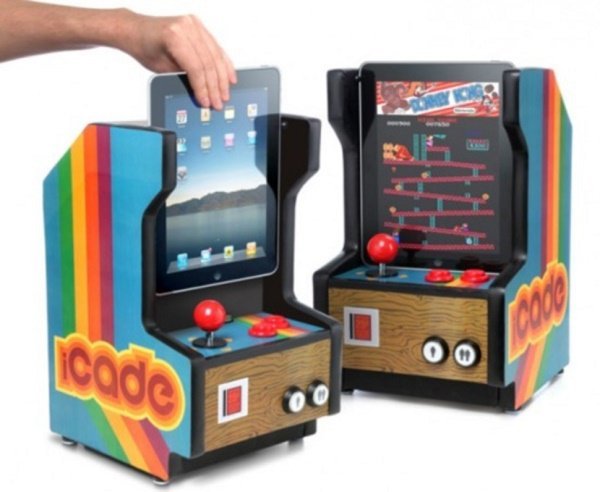 7. Fake 'Virgle' (Virgin + Google) space flight that now seems too real
In 2008, Google carried an April Fool's joke on a blog where they announced a partnership with Virgin airways where they were taking in applications for space travel.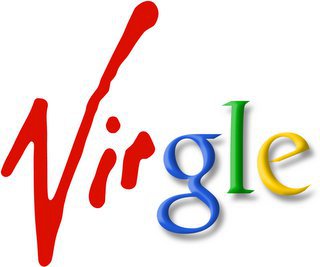 That was a hoax. This is not.
8. Gorillas using iPads
In 2011, The Sun reported that some zoos were giving out iPads to Gorillas so that they were happier. Obviously, it was joke.
The Sun's April Fool's joke of gorillas using #iPad gets great comments from gullible readers: http://bit.ly/dT76pX

— David Lowe (@bigpinots) April 1, 2011
But then this happened.
9. The famous Strip-Poker contest
Irish bookmaker Paddy Power proposed, as an April Fool in 2006, to hold the world's biggest strip poker contest. It generated so much interest – hundreds requested to take part – that the Dublin-based company decided to organise a real naked contest four months later. Almost 200 poker fans bared all in an attempt to become the first World Strip Poker Champion and take home an exclusive Golden Fig Leaf trophy plus £10,000 cash.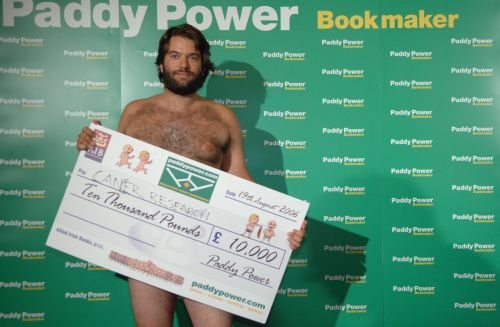 So, there you go – try come up with great April Fool's news articles. Who knows – your joke could be tomorrow's innovation.