It's no secret that Samsung has been playing with the ambitious idea of foldable smartphones and we couldn't be more excited. Last year, we were promised that these elusive phones which would conveniently fit our small-sized pockets would hit the markets in 2016, but with no signs of that happening this year, rumours and speculations have swamped the tech world. 
Now, a new Bloomberg report has emerged that Samsung is considering introducing its two new smartphone models that will feature bendable screens early in 2017.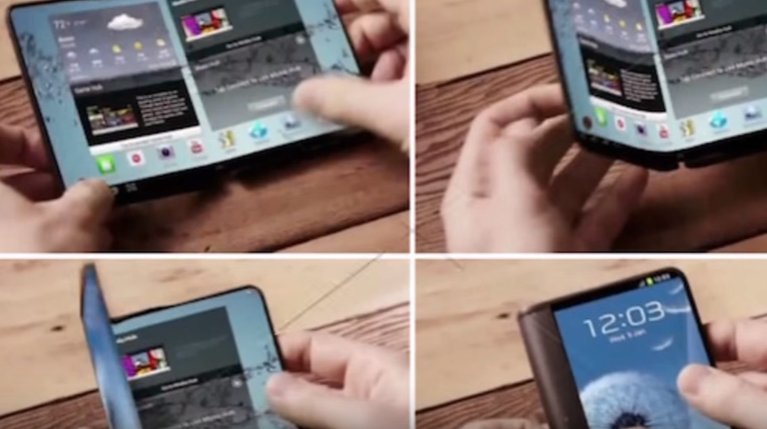 The first model is designed to fold in half, while the second one will have a 5-inch screen when used as a handset and can expand to 8 inches when used as a tablet. For better screen technology, both these smartphone models will use organic light-emitting diodes.
The bendable phones, codenamed "Project Valley," is set to be launched ahead of the Mobile World Congress in February 2017 in Barcelona.
Lee Seung Woo, an analyst at IBK Securities Co. in Seoul told Bloomberg:
This product could be a game-changer if Samsung successfully comes up with a user interface suitable for bendable screens. Next year is a probable scenario. Their biggest obstacle was related to making transparent plastics and making them durable, which seems resolved by now.
It was in 2013, that Samsung had dreamt this project and showed off its flexible OLED 'Youm' Display- a prototype device that allows a user to bend the screen back and forth with ease at CES 2013.  And now, they are one step closer to realising that dream and ready to show the world the first bendable smartphone. 
This is how probably these smartphones would look like and we can't wait any longer
This breakthrough innovation by Samsung is all set to give a tough competition to Applewhich will release its "bezel-less" smartphones without an outside frame, by 2017. Let's see who aces the battle of the screen game!