India's startup scene in 2016 hasn't been particularly good amidst a challenging funding environment, layoffs and marked down valuations for various companies. There were also recurring concerns that India wasn't seeing too many exits of startups through mergers & acquisitions or IPOs, but thankfully there is some hope. 
According to the US startup database CB Insights, Indian startups witnessed 86 mergers and acquisitions (M&A), making it the 3rd in global tech startup exit activity.
In case you are confused, in the startup world, an "exit" occurs when an investor decides to get rid of their stake in a company. If an investor decides to exit, then they will either have a profit or a loss (they are obviously hoping for a profit). So, the success of a startup is measured by the number of successful startup exits as it acts as one of the best validation of the funding decisions made by investors.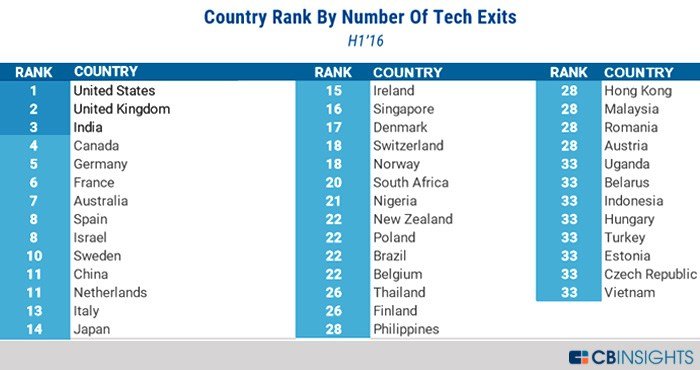 In India, 28% of the overall exits were of mobile ventures, which is the highest among the top 5 countries.
The United States still leads the world in tech company exits with 857 M&A and 4 IPOs in the first six months of 2016, followed by the UK with 135. Indian startups witnessed 86 M&As and 2 IPOs. China, with just 15 M&As and 4 IPOs, fell to 11th position from 7th in the second half of 2015.
Globally, exits for tech companies grew in the second quarter of 2016, but still lag far behind the surge of exits that took place the previous year. However, the number of tech company exits are again trending upward.
Venkatesh Peddi, executive director in VC firm IDG Ventures, told Economic Times that it is a healthy sign of the ecosystem maturing. "While this data only indicates the number of exits, the size of the exits still remains low. But it's just a matter of time and as the market evolves, we should be witnessing bigger transactions", he said.