Gone are the days when getting a fitness band was a strenuous task. These days, anyone who takes fitness even a tad bit seriously has a fitness watch strapped on his/her wrist. I, being a fitness freak, have tried my hands at quite a few of them. Which is why I was genuinely excited to get my hands on the new Samsung Gear Fit2. 
Needless to say, this was my reaction when Samsung agreed to send me a Gear Fit2 for review.
Here's a quick roundup if you're in a hurry…
The good: A 1.5 inch Super AMOLED display, GPS tracking, 24 / 7 heart rate monitor, 4GB of internal memory and the ability to track various forms of exercises.
The not-so-good: Battery life could have been a little better although you can easily go for 2 – 2.5 days on a single charge. There is no iOS support yet and one can't swim wearing the Gear Fit2.
The bottom-line: For the money, the Gear Fit2 looks impressive and has some killer specs. Samsung has done a thorough R&D and has also improved some existing features.

A beautifully curved 1.5-inch SUPER AMOLED display shows you all your workout stats and past exercising trends in a crisp layout.
The first thing that you notice as soon as you unbox this fitness band, is the amazing sharpness and contrast of its Super AMOLED screen. And almost immediately, the next thing that you notice is just how light the band actually is (one cannot help but wonder how they managed to pack a GPS sensor into this thing). To be specific, it's a mere 30 grams. Using a special material called Elastomer has done the trick for Samsung as it has not only minimized the weight of the band but has also made it resistant to everyday wear and tear and sweat. The slim profile also ensures that the gear doesn't add any bulk whatsoever to your wrist. All you have to do is strap it on and then just forget about it.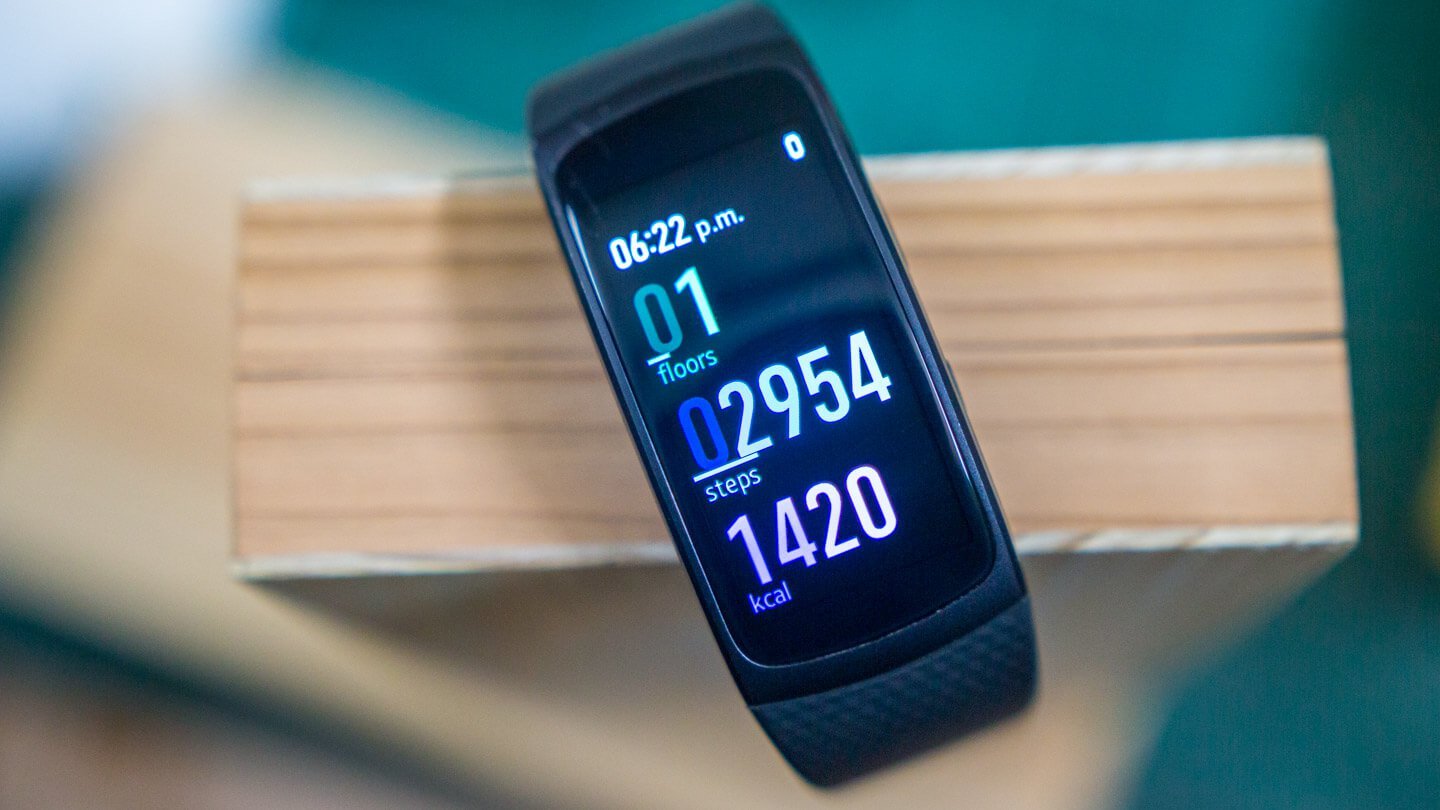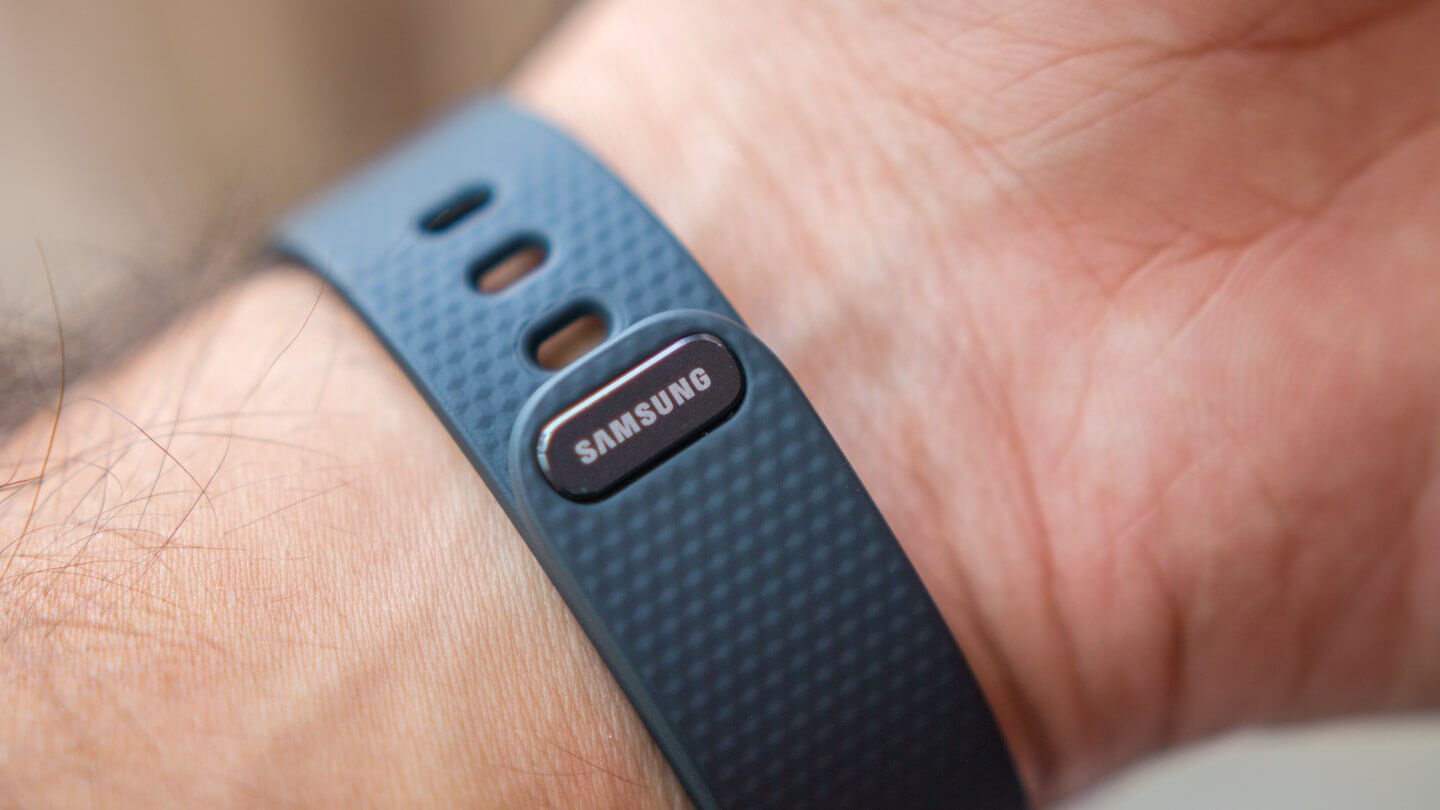 To make sure that the Gear Fit2 looks like one single unit, Samsung has made sure that the colour of the band matches the colour of the dial in all its variants.

The display on the band is easy on the eyes and is pleasant to look at. I mean, it won't blind you if you're looking at it in the middle of the night. The brightness can be easily adjusted and Gear Fit2 gives you 11 settings to choose from. Two external buttons on the right side of the band help you navigate between the homescreen and the settings.
Compared to other fitness bands, the touch screen feature is quite cool and just keeps it a step ahead of the others.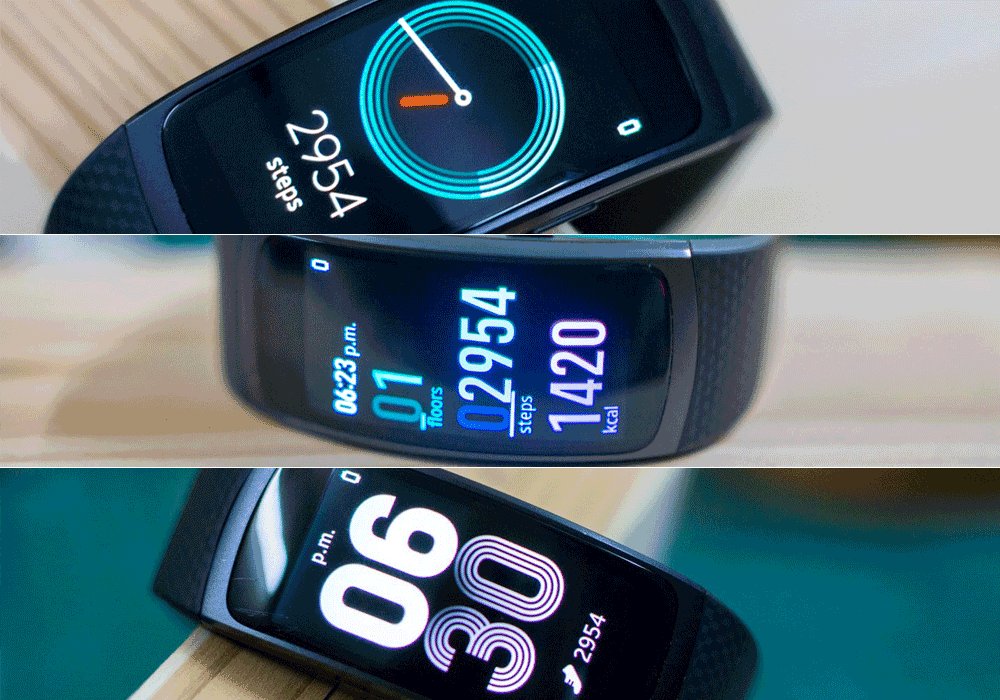 For improved visibility, the Gear Fit2 comes with 11 different brightness settings. I found that for indoor areas, a setting of 7 is just perfect. However, if you're to stepping out, just crank up the brightness to 11 and you're good to go.
Another cool feature, hats off to Samsung for this, is the gesture feature. Basically, you don't need to press any buttons to see the display, just rotate your wrist towards yourself and voila! You'll see all the information you need. 

The Gear Fit2 has been loaded with some pretty nifty features that all kinds of fitness enthusiasts will love.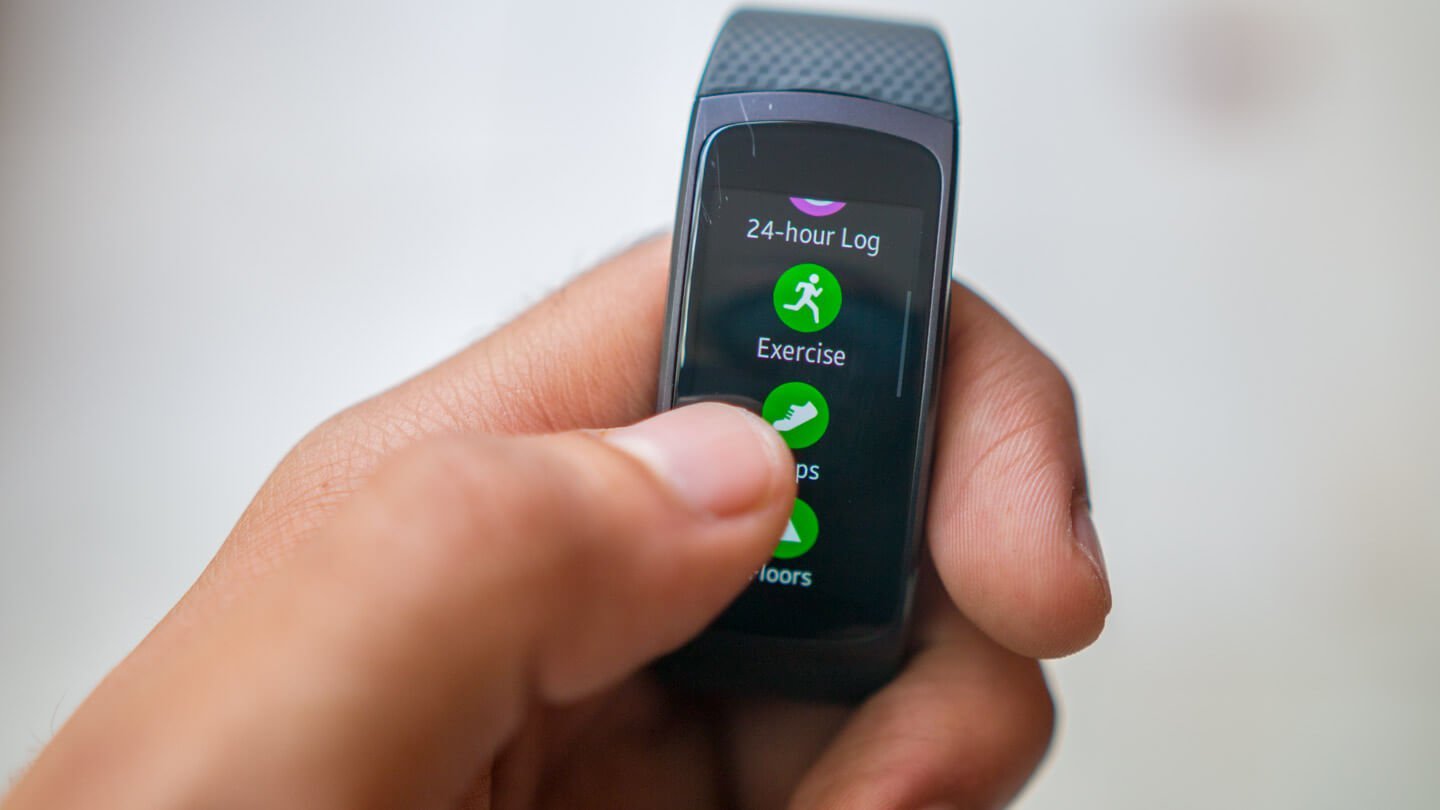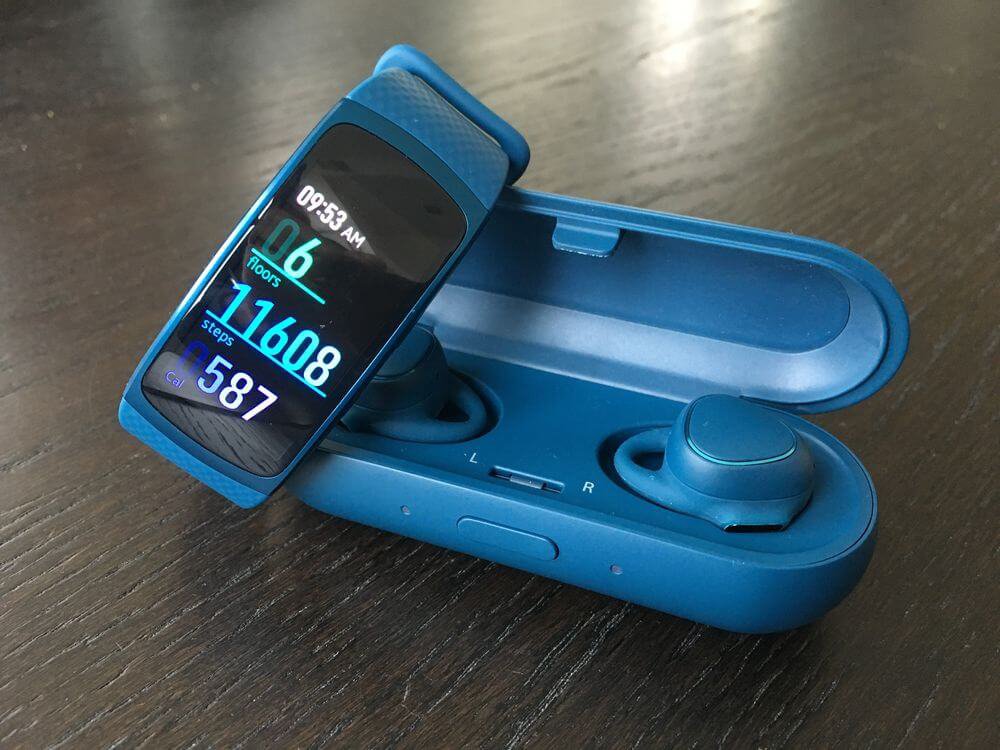 The good thing about this fitness band is that it isn't limited to tracking your steps or the kilometers you ran. You can change the settings and make it track a lot of other things too. The band has 15 inbuilt tracking modes that can help you track anything from basic cardio exercises like Running, Cycling and Hiking to complex workouts like Squats, Lunges and even Pilates.
I was out for a game of football last week. Now, many fitness bands would just tell me the steps I took or the kilometers I ran, but the Gear Fit2 kept giving me constant feedback. After every 30 minutes, the device would vibrate and send me a notification telling me how hard I've been running and for how long. It made me feel like my own private coach was bucking me up!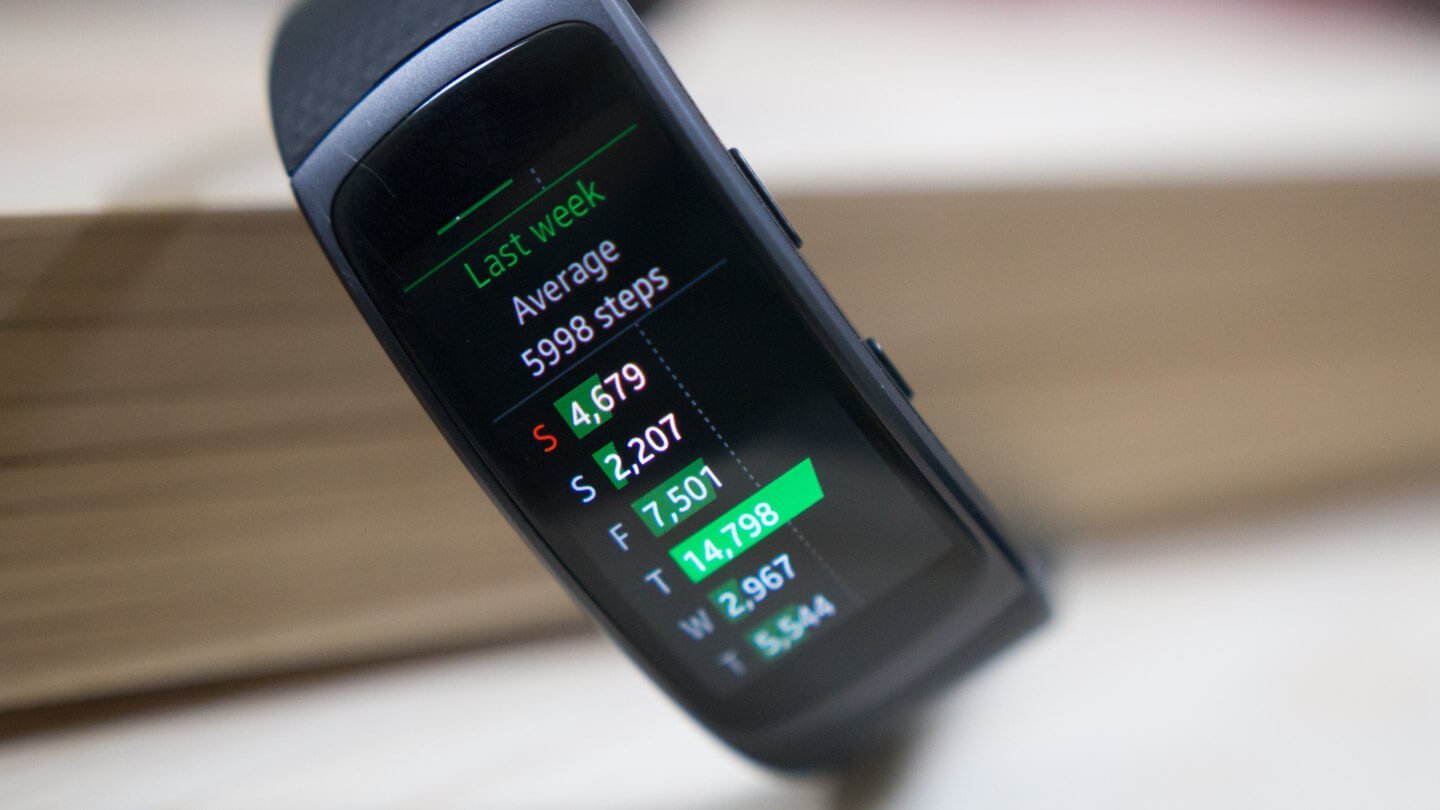 Another cool feature is the built-in GPS. The Samsung Gear Fit2 basically tracks the route that you take when you are out for a run. So, no need to check out the routes on your phone.
The GPS feature is a real add-on as it not only tracks your route but also acts as a guide. Based on the data that the band collects, it will tell you when to pick up your pace while running or when to break into an endurance training mode, all with a simple notification on the screen. 
For people who love to sweat it out in the gym, the band can easily track and differentiate between activities like Running, Walking, Cycling, Rowing and Elliptical Training. However, for other exercises like Squats and Lunges you'll have to select the right mode before you begin your set. The fitness band even goes a step further and tracks your sleep as well. By tracking your movements through the night, it will give you a detailed analysis of your sleep cycle the next morning.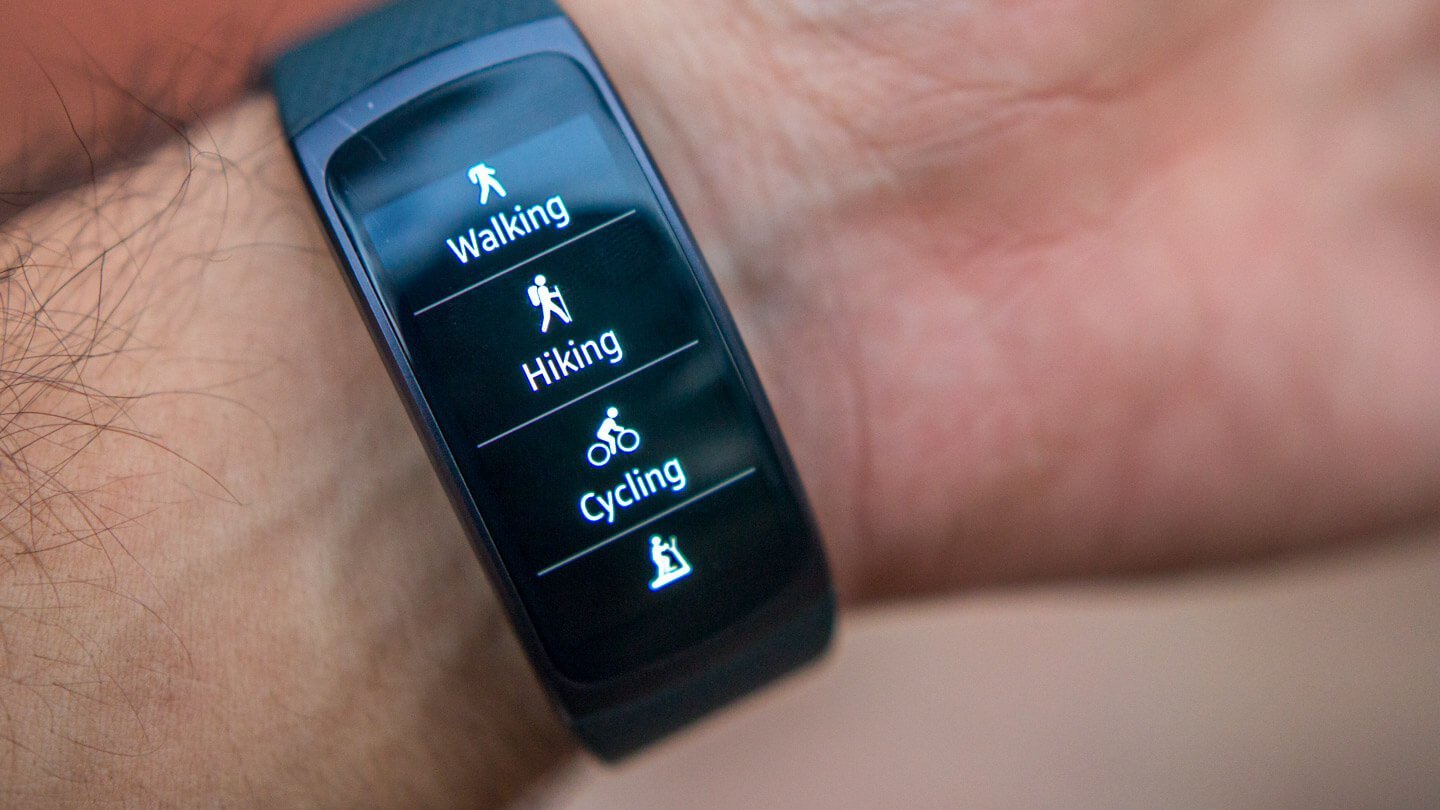 An interesting and I'd say an insane feature is Gear Fit2's wake-up fitness alarm. 
The band actually notifies you if you've been inactive for over 50 minutes. Basically telling you to get up from your seat and move around for a bit, as it happened with me when I was chilling on a Sunday. I was wearing the band and it told me a couple of times to get on with it and get moving!
And the feature list is not just limited to this. Once connected with your phone, the Gear Fit2 can directly notify you for incoming calls, messages, emails and more.
A cool feature that is exclusive to the Samsung Gear Fit2 is that it automatically syncs with your phone in the background and can remotely stay connected to it over Wi-Fi. Which means that you can easily leave your phone back at home and yet get all your notifications while you're working out at the gym.
Apart from this, the Gear Fit2 has nifty features like 'find my phone', a stopwatch and a timer. It also has a feature where it lets you set a target for the minimum glasses of water you want to have in a day and the maximum cups of coffee you want to consume.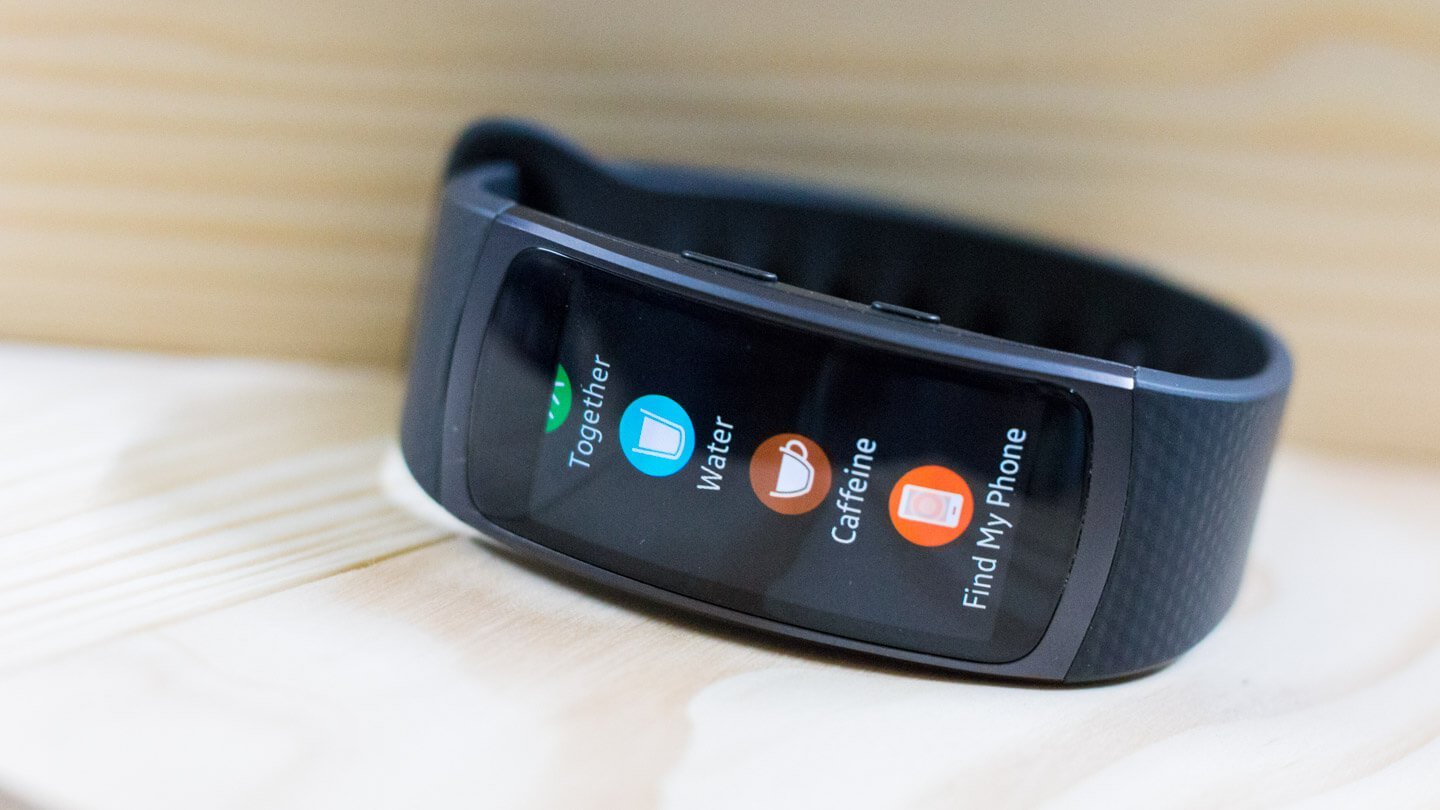 The Gear Fit2 has an in-built music app as well, and those who love to listen to those adrenaline-pumping songs while running can now directly upload their tracks onto this device. 
With a storage space of 4GB, you can easily have 1000 songs that you can listen to while running. Along with importing songs, you can also import playlists that you might have designed for your workout routine. You'll need wireless headphones to listen to your songs. This is great because it totally eliminates the hassles that wires cause when you are either running or working out.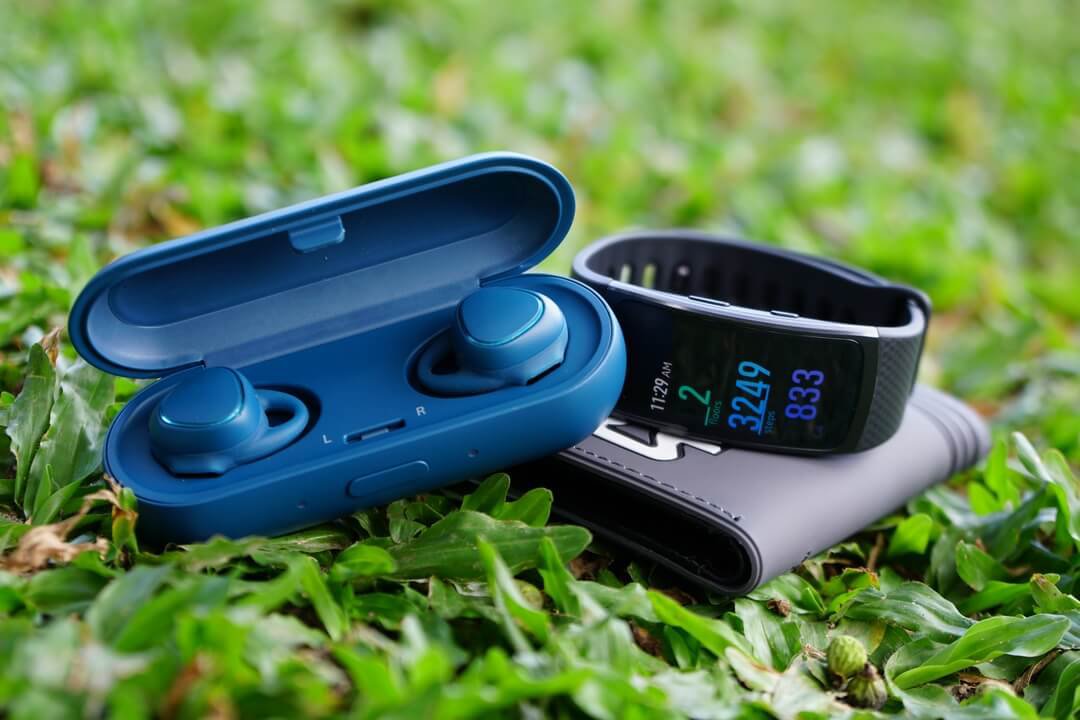 Another interesting feature that Samsung has added to this device is the ability to compete with your friends. 
If you and a friend have this fitness band, then you can simply connect with each other and see who is taking more steps and who is burning more calories. A bit of healthy competition never hurt anyone, did it?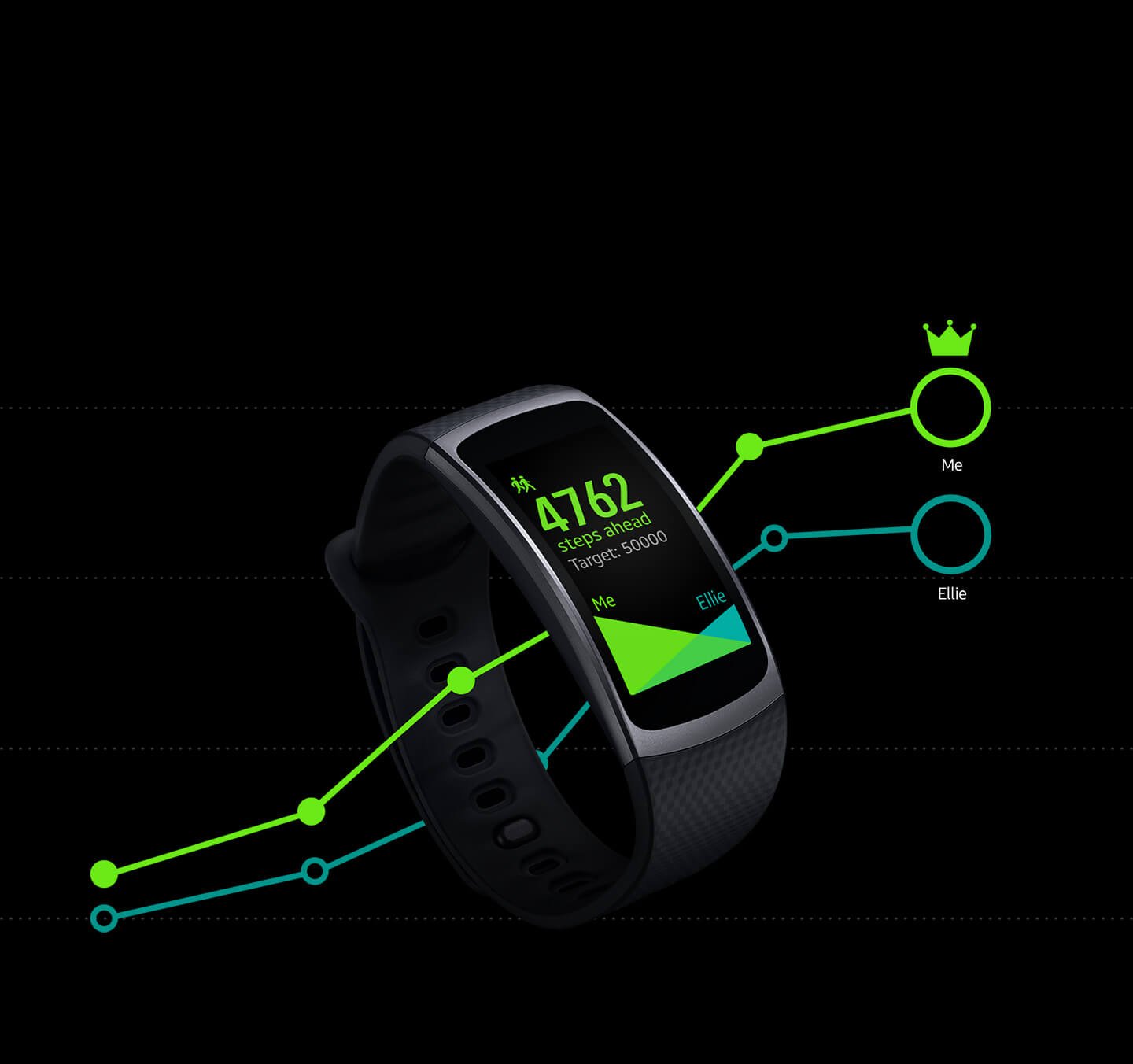 The most important aspect of every fitness band is the battery life. Now you would never want something that needs to be plugged in every day. One would be happier if it can last for a couple of days without charging. And that's what happens with the Gear Fit2. 
Once fully charged, this band can last up to two full days. And you can stretch it to around 2.5 days if you can manually tweak the brightness and make liberal use of the power-saving mode.
The power saving mode basically reduces the battery consumption considerably by displaying a two-tone homescreen (black and white). However, even in the power saving mode, the Gear Fit2 will still continue to measure your steps.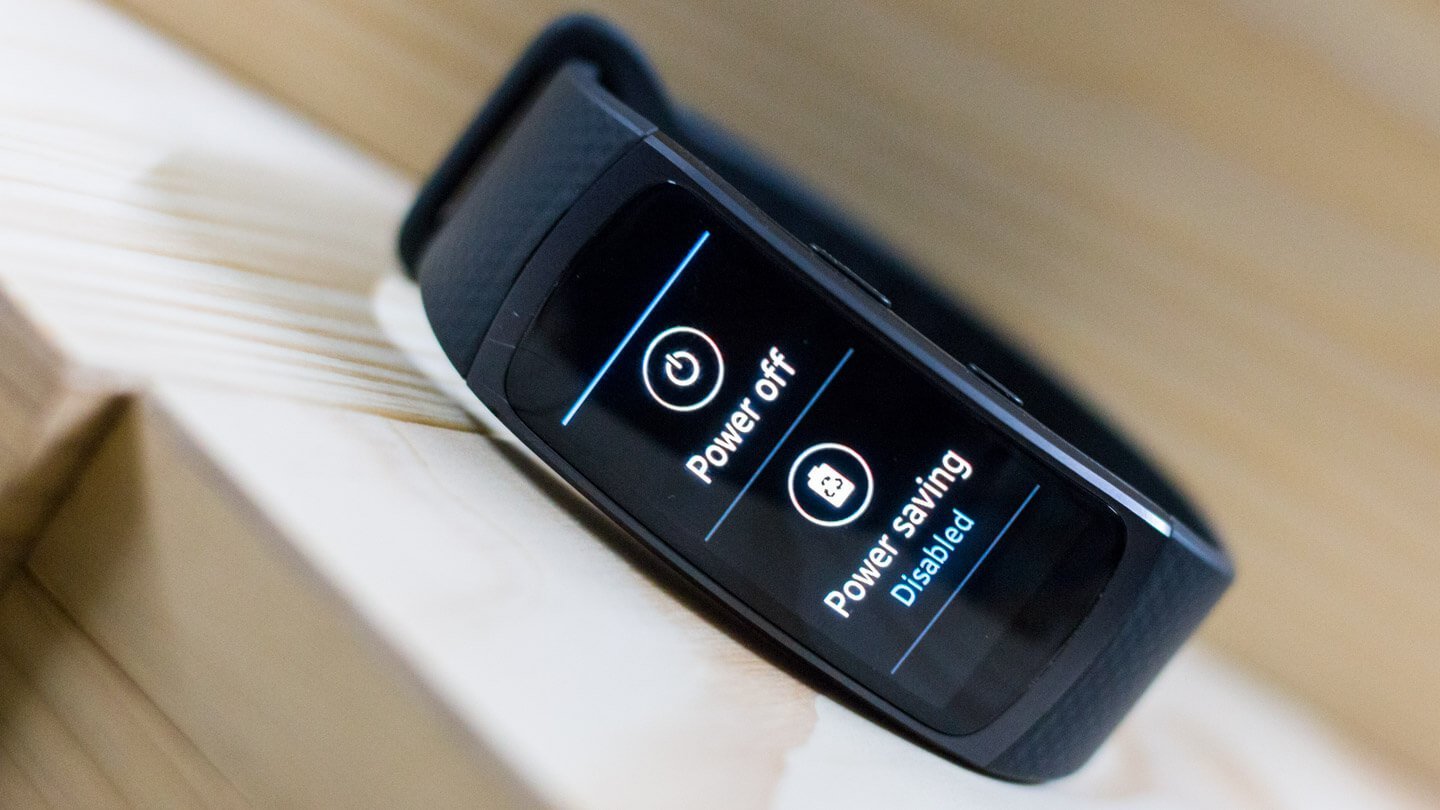 Personally, I've used quite a lot of fitness bands in the past and being an avid sports person, I always found it annoying to continuously sync my fitness bands with my phone to see the statistics. Thankfully, I don't need to do that with Samsung Gear Fit2 and that makes me a really happy man. Coming down to the specs and the overall experience, Gear Fit2 delivers on almost all fronts. It's got a nice vivid display, nifty features and some pretty killer looks which make it a complete package for anyone who's looking to buy a good fitness band.
The price of Rs.13,990 might seem a little too much but once you equate it with the list of features, you realize that you're getting a bang for your buck.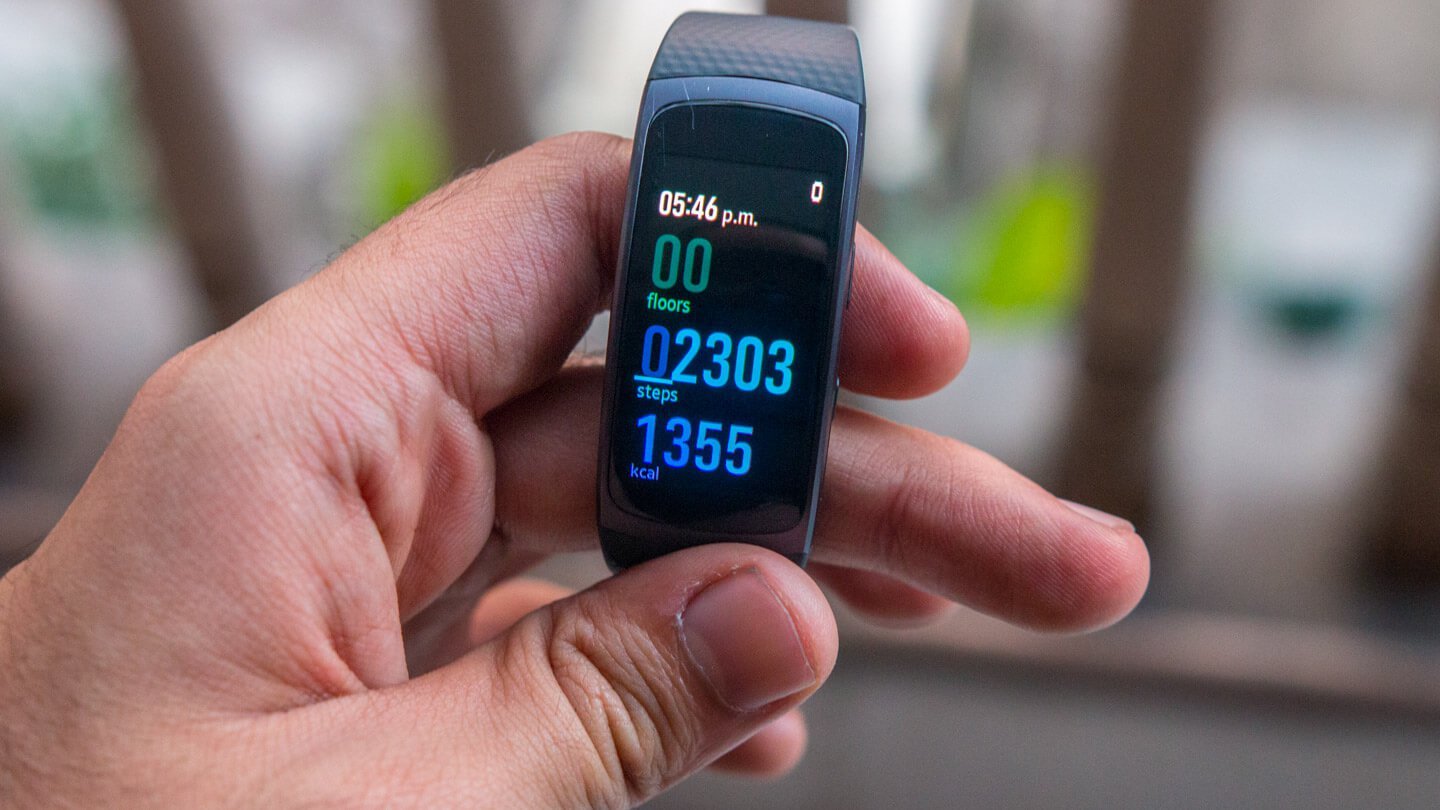 Feature image source Unbox