In association with
Airtel India
They say all healthy relationships are based on a strong connection, honesty and space. With that said, apparently, the only healthy relationship I have ever had is with my Wi-Fi.
Welcome to the digital age of the World Wide Web where we're practically living inside the internet. We're working, shopping, learning, consuming content, connecting with our loved ones — you name it, we're always online. In that respect, if the internet were to not be available for some reason, it would be nothing short of a modern-day nightmare to us. However, anyone sharing their Wi-Fi with more than two people at the same time has greater suffering. It's true. Slow internet is worse than no internet!
There's nothing more earth-shatteringly annoying than to have your internet lag or disconnect altogether just because your younger brother is attending an online class, your mother is conducting an office meeting, and your father calling his distant cousin all at the same time. If this is your story too, then you're not alone. Most routers are not able to handle too many devices at the same time and you notice significant speed drop and disconnection. But don't worry because Airtel is literally telling us #KoiLoadNahi. The brand conducted a stress test on their genius Xstream Fiber 1GBPS Wi-Fi router and found that it could connect up to 60 devices at super-fast speed! We promise you this is not a drill!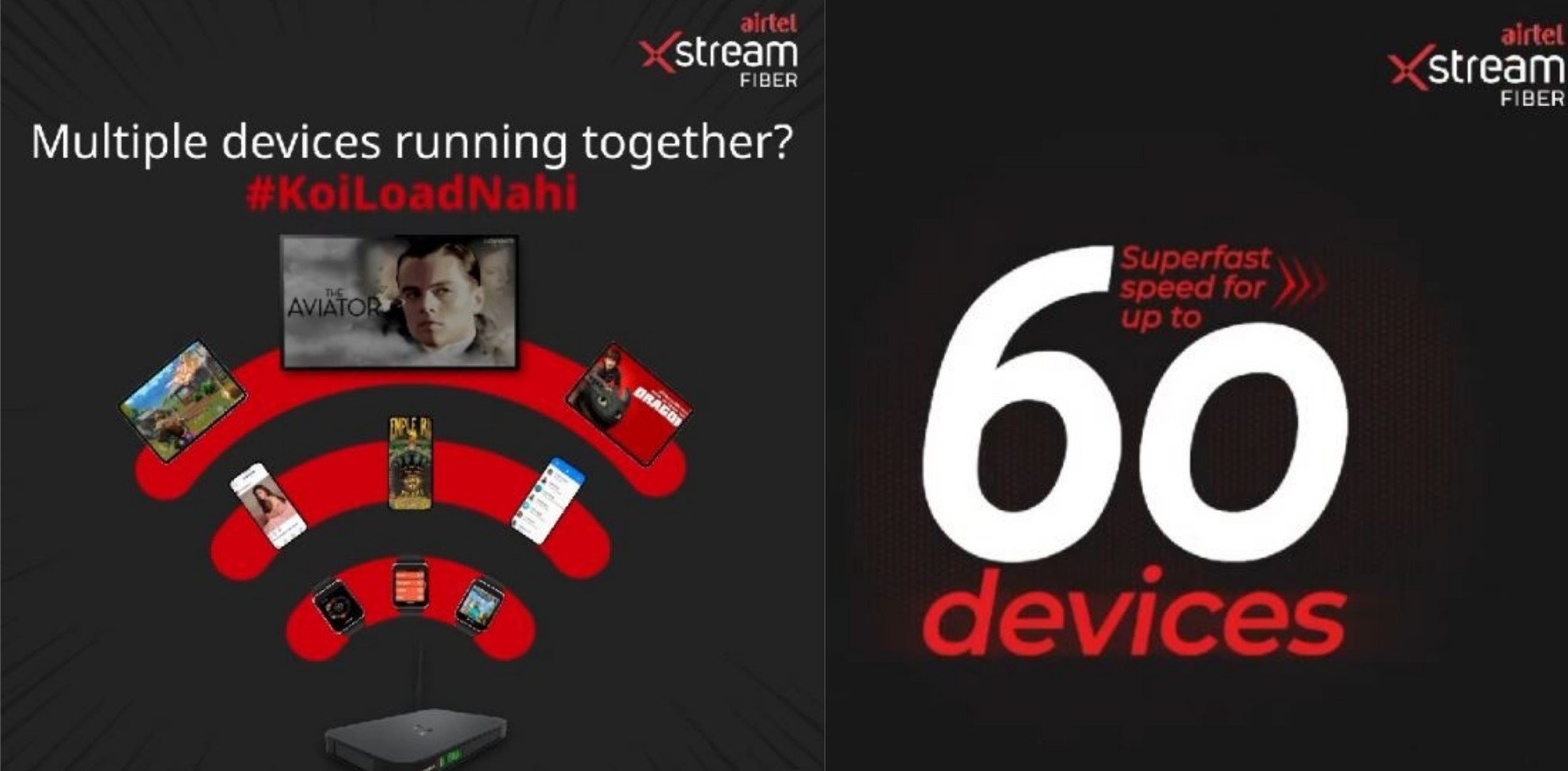 The router that comes complimentary with the 
Airtel Xstream Fiber 
connection, is a dual-band Wi-Fi router through which we can stream, download or browse online on two separate networks without any interference at ultrafast speed. The router comes with high gain antennas that provide wider coverage to allow our computers and mobile devices to access the internet easily. This means that even if the router is connected to multiple other devices, we can experience faster downloads, smoother streaming and lag-free gaming. Did we mention it's super cool?
The Wi-Fi router also comes with other benefits, like it supports a good neighbour policy and doesn't interfere with other wireless networks. It is backwards-compatible with all kind of devices including game consoles and digital media players and is power backup enabled. With its ability to carry out network monitoring, the router automatically even identifies a glitch and raises a service request proactively. In short, Airtel Xstream Fiber's 1GBPS router has a solution to all our internet woes. Check out this video to know more about this impressive router.
Now that we've surpassed the vexing issue of slow internet, it's time to address the other important matter of online privacy. When we're browsing, we may unwittingly expose so much of ourselves to cyber predators which may come back to haunt us later. These online hazards can have some severe, costly and even tragic consequences for us. Airtel understands this and is offering us the perfect solution to keep these threats at bay with the new 'Secure Internet' feature in the Airtel Xstream Fiber Network.
This is a really cost-effective solution to some serious online threats such as data breaches, virus and malware. Airtel Secure Internet also has the special feature of filtering unsavoury content for kids, and even lets us work and study without distractions by keeping the streaming services and social media sites blocked. We just need to select a profile as per our needs. Follow these simple steps to subscribe to this service right away.
– Go to the Airtel Thanks App
– Select Thanks Page
– Tap on 'Secure Internet' Thanks Card and click 'Subscribe'