Public Broadcaster Doordarshan has finally come out with the offline service which allows you to watch its channels on the smartphone without any internet connection.
In a statement here, the broadcaster said Digital Terrestrial Television services of Doordarshan have started operation from February 25 in 16 cities, thereby providing mobile TV to the users.
To watch Doordarshan Channels on your Smart Phones without Internet, Please see all details https://t.co/S9DIMqrpR6 pic.twitter.com/RXHc0lvHKk

— Doordarshan National (@DDNational) April 5, 2016
Jawahar Sircar, CEO at Prasar Bharati said,
When the world was moving from terrestrial to satellite, Doordarshan was only moving backward. Now the only way to leapfrog is to use the existing infrastructure along with new technologies.
These are the sixteen cities which will get the service: 
Delhi, Mumbai, Kolkata, Chennai, Guwahati, Patna, Ranchi, Cuttack, Lucknow, Jalandhar, Raipur, Indore, Aurangabad, Bhopal, Bangalore and Ahmedabad.
Mobile TV can be received in and around these cities using: 
DVB-T2 dongles in OTG enabled smartphones and tablets which is available on online shopping sites like Flipkart, eBay, Snapdeal
Wi-Fi dongles for moving vehicles
TV sets having built-in DVB-T2 tuner which are called Integrated Digital TV which are available in Sony, LG, Panasonic, Samsung etc
How to get it?
First you will need to download the Android app for the dongle to work. Tv-On-Go Doordarshan app can be downloaded from Play store, which streams the channels to your device.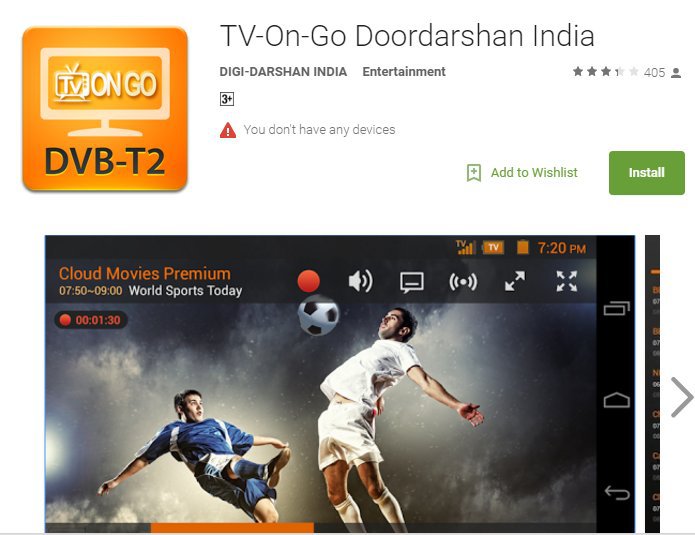 What is the technology behind this?
This service takes help of the technology called DVB T2 (Digital Video Broadcasting Terrestrial Two) which is a digital video broadcasting device. It has a high data capacity and can be simply plugged into an on-the-go (OTG) supported smartphone to view channels. 
In case you are unaware of the OTG, this feature on a smartphone enables a user to use a USB device by plugging it in a OTG cable and then connecting it to the mobile phone. So, for example if you have a pen drive that you want to connect to your phone, this OTG feature will enable you to directly view files from there instead of connecting it to your desktop/laptop.
The DVB T2 dongle will catch signals like other radio transmitters and receivers, and in this case it will catch DD specific frequencies on fixed, portable and mobile devices.
Here's an example of how will it work:
The channels being relayed through DDT include:
Currently DD National, DD News, DD Bharati, DD Sports, DD Regional/DD Kisan are being relayed. Only one-time investment of dongle will be required by viewers and there will be no extra expenditure unlike streaming with Internet.
The TV pictures are free from "ghosting" and "snowing", the statement added.