Police in Noida have registered an FIR against the top brass of Ringing Bells, the company which had launched the world's cheapest mobile phone at Rs 251. They filed a cheating case under Section 420 on a complaint filed by BJP MP Kirit Somaiya.
In his complaint, Somaiya said that Ringing Bells raised funds by issuing misleading ads and used social media to misguide the public. He filed the FIR at Noida Phase 3 police station on Tuesday against the company promoter Mohit Goel and president Ashok Chaddha, reported CNN-IBN. 
The complaint further said that the company had raised funds by issuing misleading statements, such as 'Make in India project' and "abused the Tricolour in the advertisement to misguide the buyers".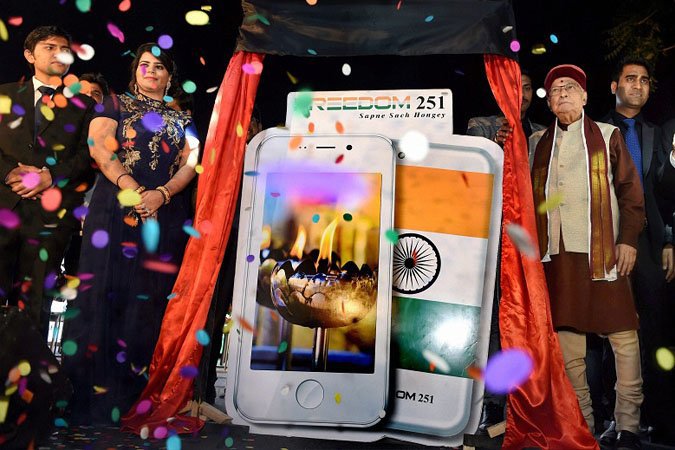 Anup Singh, DSP of Noida told The Hindustan Times,
"We will ask the company to submit the documents required for the investigation. Also, the company will have to show the manufacturing units of the phone which they promised to sell." 
This is the second time in less than a month that the company has been accused of cheating. In February, Cyfuture, a call centre had announced that it planned to file a case of cheating and fraud against Ringing Bells. The BPO claimed that it had been contracted by the phone company to provide call-center support for its smartphone. 
Anuj Bairathi, Founder and CEO, Cyfuture told The Indian Express,
"The first few days after the phone was launched, the call-center number received lakhs of calls which were attended and promptly responded to and even Ringing Bells was happy with our services. However, when we started asking for our payments, which were to be made to us on a weekly basis, they started making false allegations and abruptly decided to terminate our services."
However, Ringing Bells had responded that it had received thousands of complaints from its customers because Cyfuture had been unable to handle the large volume of calls after the launch of the Freedom 251 phone.
As regards the FIR filed by Somaiya, Mohit Goel, director of Ringing Bells, has assured that his company will cooperate with any government agency and that they will deliver Freedom 251 to their customers.