Ever since I was a child, I was fascinated by Jeeps. With time, the fascination slowly changed into an obsession. So much so that every year on my birthday, I would find a miniature version of this beauty carefully tucked under my pillow. The rugged tyres, the bold grills, the roaring sound of the engine… everything about these mean machines scream of power and freedom.
No wonder, Jeep is not just any other SUV, it is THE ORIGINAL SUV.
After dominating the SUV industry for nearly 8 decades, the Ohio-based automobile giant has finally decided to touch-down in India. Question is, with which car?
To rule the Indian roads, Jeep is bringing one of their most powerful top-of-the-line models – the Grand Cherokee SRT.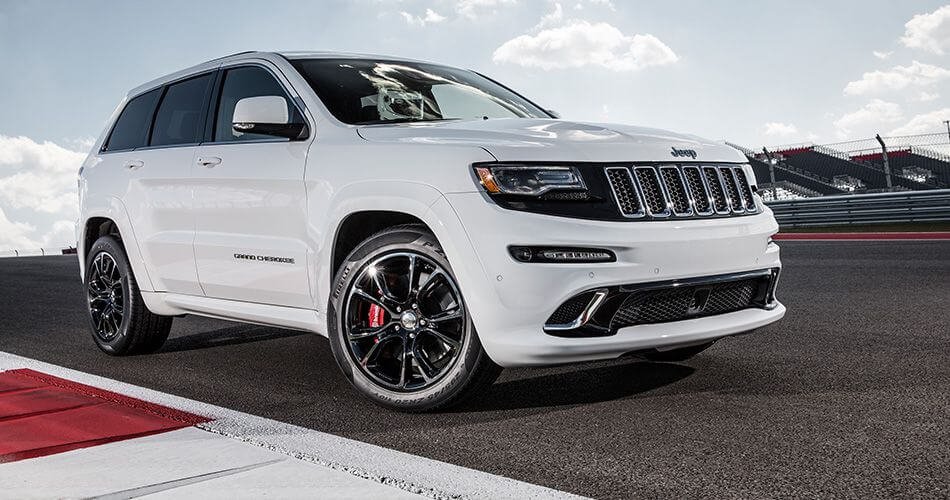 The luxury SUV comes with a 6.4L HEMI V8 engine that produces a mammoth 470 Brake Horse Power (BHP).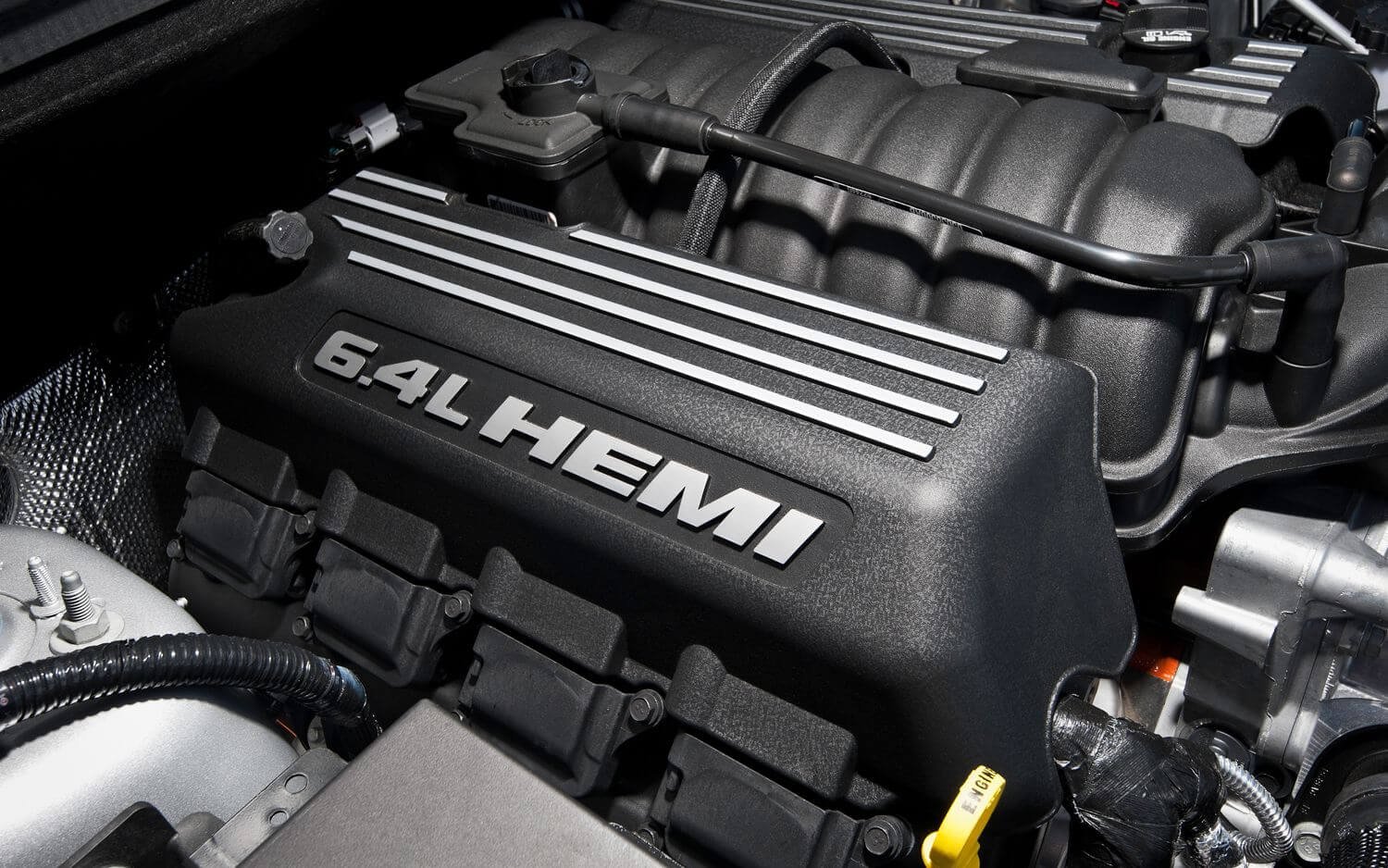 For those who don't know what I'm talking about, I'll break it down for you. The 6.4L V8 engine under the hood can make your fast cars look slow, really slow. That's because this best-of-a-machine can go from 0-60 MPH in a mere 4.8 seconds. That's faster than the time you took to read this! 
For those who want a bit of fun while driving this monster, the Grand Cherokee SRT has a special Launch Control and Selec-Track feature. 
What this launch control button does is, it activates a system that optimises every possible setting for maximum acceleration. In simpler words, when you hold down the accelerator pedal and release the brake, you will have maximum acceleration and minimum wheelspin. Perfect for those quarter-mile races, don't you agree? Using the Selec-Track feature, you can select where are how you want to drive. Whether you are conquering a mountain or hitting the highway, the seven different driving modes will help you reign over tarmac as well as dirt with equal authority.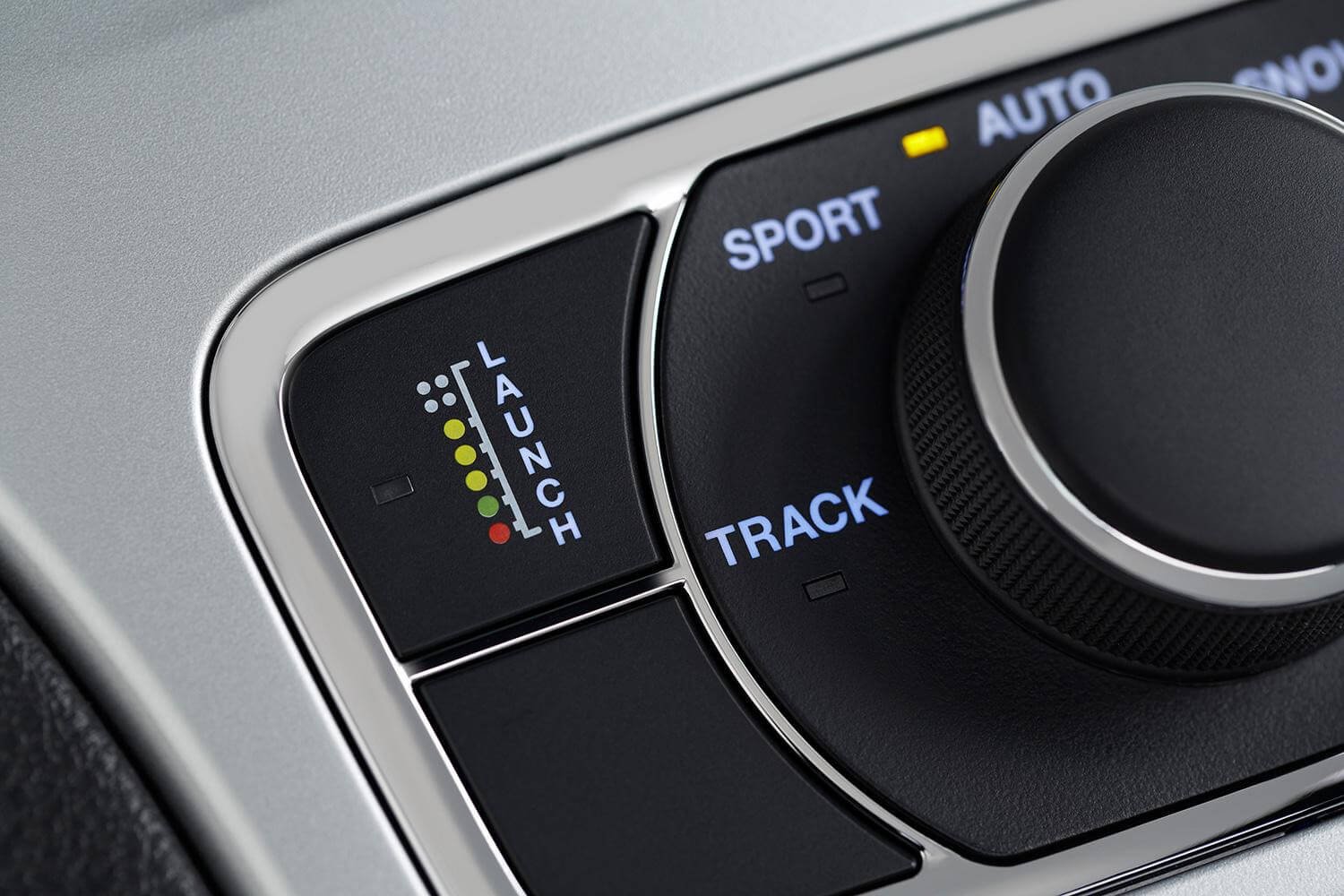 The Grand Cherokee SRT comes with an eight-speed automatic transmission.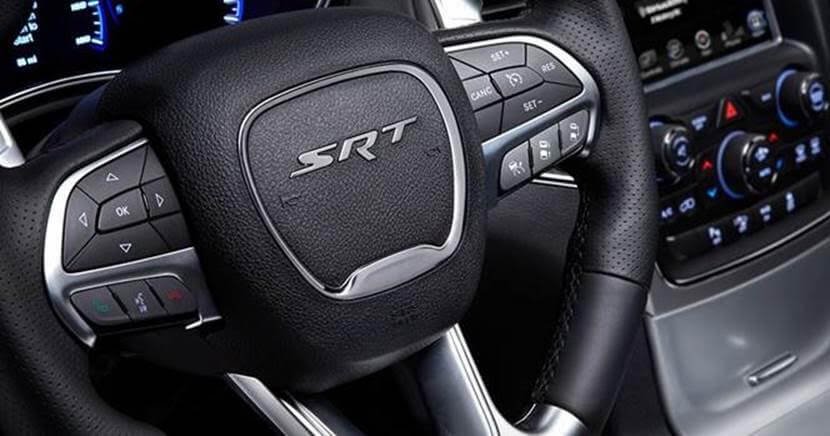 Don't be disheartened, it's not a boring old automatic stick gear shift, the SRT comes with paddle shifters that let you take control, rather than letting the computer decide when to change gears. Put this car in sports mode and trust me, you'll be the happiest person on this planet. The eco-mode and the fuel saver technology gives you a mix of both performance and efficiency. 
Now, to be fair, you can make a powerful SUV and make it do almost anything. But to make it a luxury SUV, one has to make sure that as soon as you step inside it, your world changes. 
That's exactly what happens when you get in the cockpit of the Cherokee SRT. One step and your definition of luxury will change. The flat-bottom steering wheel with paddle shifts will make you believe that you are about to rev a Formula1 car. The Big SRT logo serves a reminder that you are sitting in a 4×4 beast that can literally do anything. And that too in style.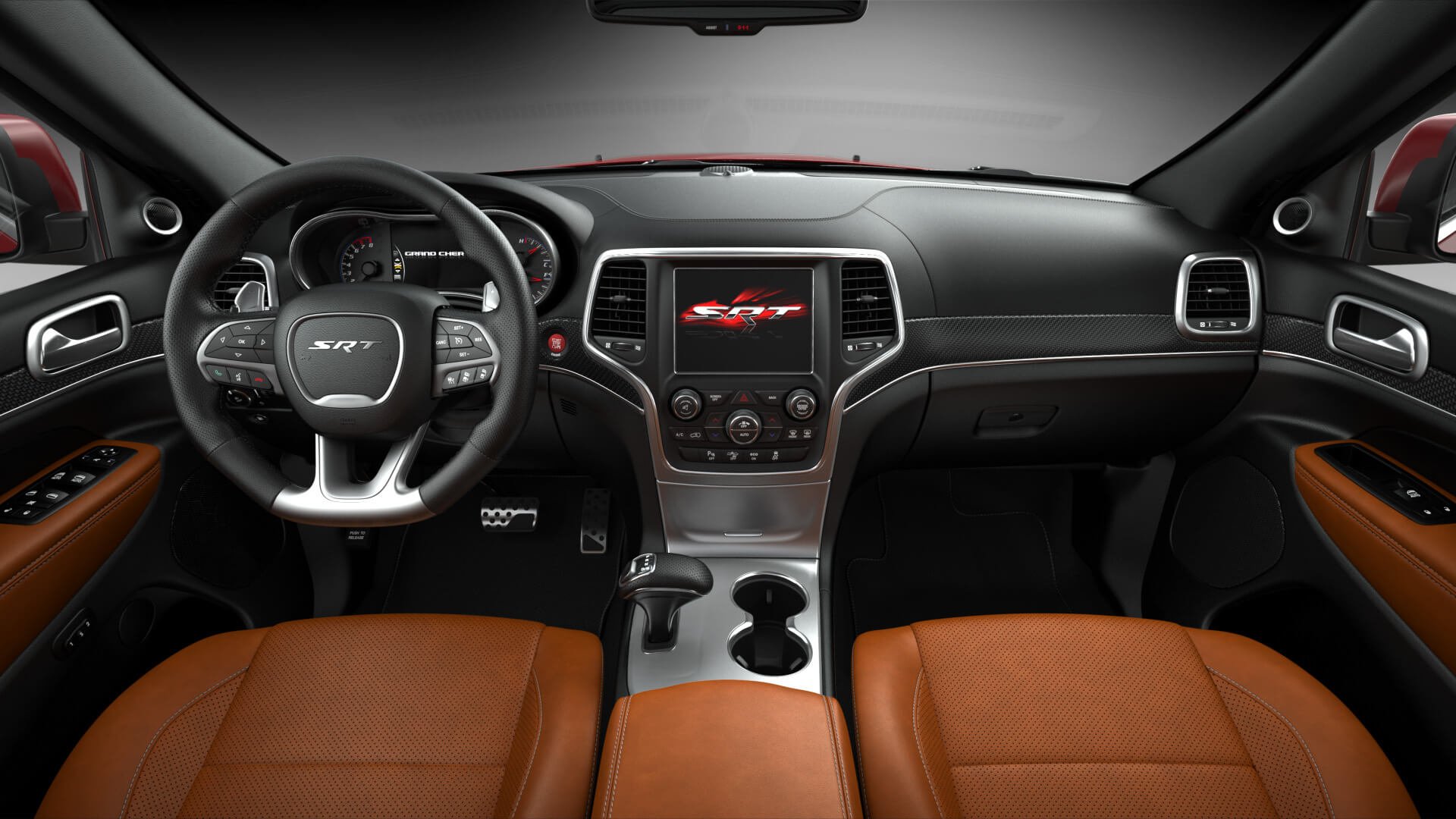 If you've ever wished to attend a music concert but never had the chance, the Cherokee SRT's 19-speaker Harmon-Kardon 825-watt amplifier will make you feel like you standing right in the middle of one.
The Laguna leather, sourced from Scandinavia is treated just enough so that the leather feels pure and soft. The leather will develop creases and wrinkles that conform to the way you sit and make it a more luxurious affair.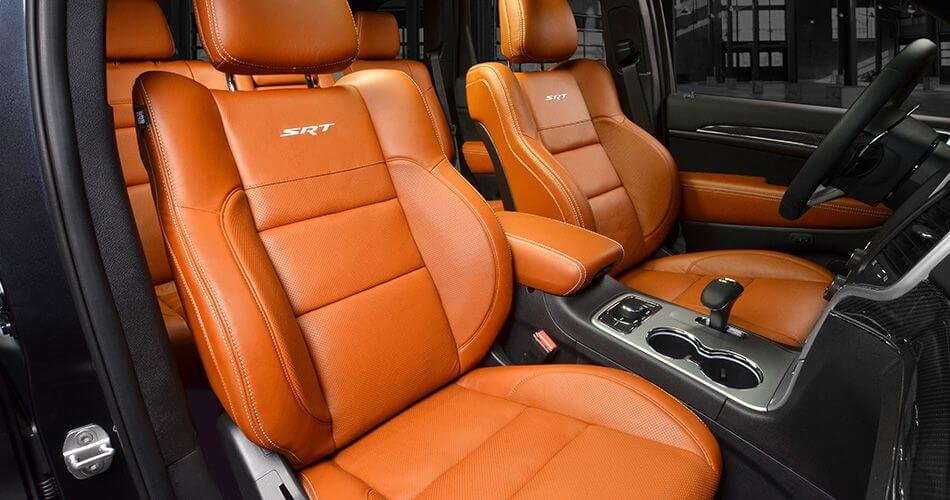 The 7-inch information cluster is your hub for all the information you need about your car. It not only tells you the kilometres you can drive before you need to refuel, it also provides vital information regarding tyres, the terrain on which you are driving and even integrates maps into the display.
The SRT comes with another state-of-the-art feature called uConnect 8.4
This feature is voice controlled that lets you focus on the road and lets technology help you out with everything else. Forget about answering or declining calls, you can now even dictate a message while you're driving this beast.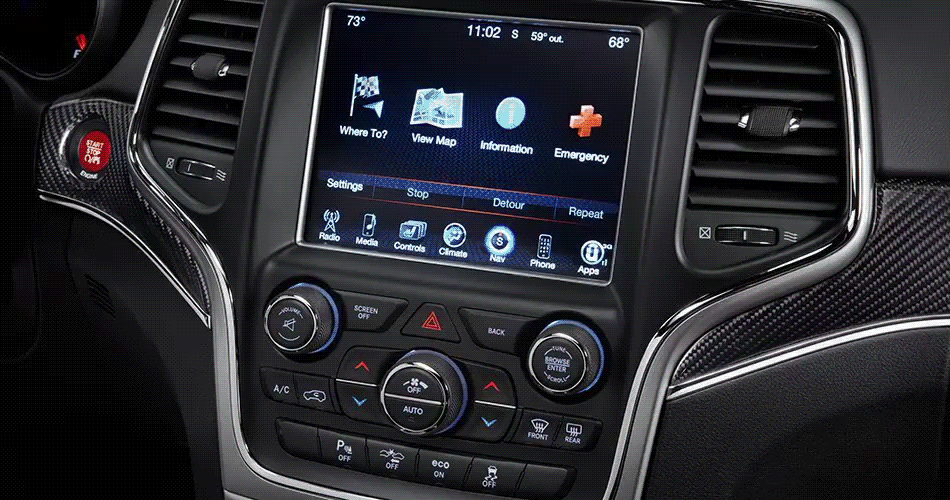 When you craft something that is so powerful, sturdy and luxurious, not falling in love with it is just not possible. The headlamps, the spoiler, and even the dual exhausts, everything on the SRT has a purpose. And that purpose is to give the driver a taste of pure, unadulterated driving pleasure.
The King of SUVs is ready to hit the Indian roads on 30th August 2016 and I can't wait to get my hands on the Grand Cherokee SRT.