In association with
POKERBAAZI.COM
Treating life as an adventure can bless you with several thrilling escapades in passing. If it's scary, then it might be worth trying after all! Some get a kick out of sitting on a wild roller coaster or maybe snorkelling with the sharks underwater. Meanwhile, Poker players take delight in turning their fortunes overnight with a single card. 
There's no feeling quite like going head to head in a tournament, sweating all those final table crucial coin flips, and beating the game at last. That and a lot more went down in the first-ever edition of National Poker Series, India. Hosted on PokerBaazi.com, India's biggest online Poker platform, the 15-day series was not just a tournament but a platform for thousands of budding Poker geniuses hidden in the country to show their talent at the online felts. 
The debut edition of the series has been a monumental success with 83,793 entries pooling in from across the country to be a part of two-week-long intense Poker action. And all the winners took home cash prizes from an enormous total pool of ₹19 Crores! Yes, you may read that again to believe it. This is also the first time ever in India that Poker players have been medalled for the skill-based card game. Out of a total number of 192 medals lauded to participants, 64 were gold medals in addition to 128 silver and bronze medals.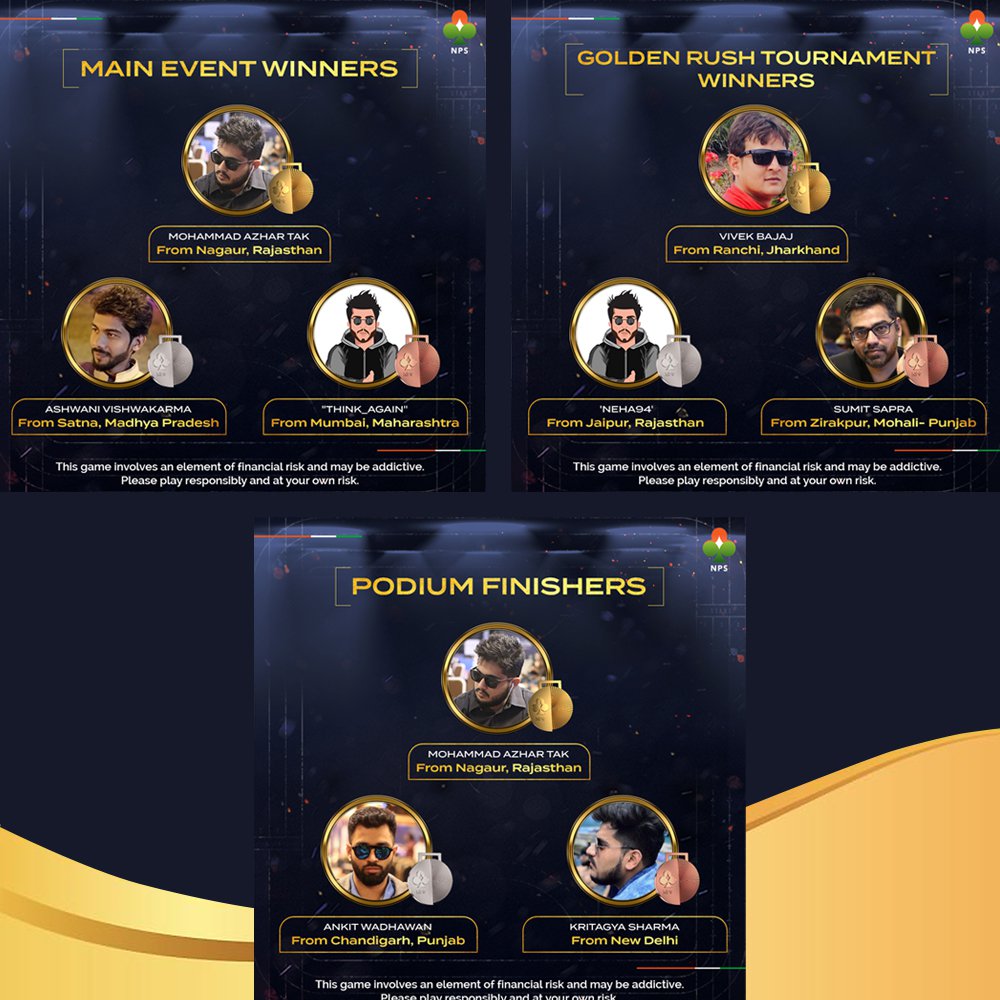 The top three winners of the National Poker Series, India were Mohammad Azhar Tak from Nagaur in Rajasthan who won a gold medal, followed by silver medalist Ashwani Vishwakarma from Satna in Madhya Pradesh, while the bronze medal was won by a fellow playing under the name of 'Think_Again' from Mumbai. 
In addition to 192 medals, three medals were reserved for the podium finishers of the series. These are the players with the most valuable medal hauls across the series. They are the ones who'll later be representing India internationally in one of the biggest Poker events of the world in Las Vegas. Mohammad Azhar Tak won the gold medal for this too, along with Ankit Wadhawan from Chandigarh who won silver and bronze medallist Kritagya Sharma from New Delhi. 
Interestingly, Mohammad Azhar Tak also emerged as the Champion of the Champions for taking home the maximum number of gold medals and the highest amount of cash prizes during the series which is over ₹50 Lakhs.
The Golden Rush event was the biggest and the highest valued event of the series with a total prize pool of ₹1 crore and buy-in of just ₹550. Over 19K players participated in the event, making it the largest Indian Poker tournament ever. Vivek Bajaj from Ranchi won the gold medal, player 'Neha 94' and Sumit Sapra both came from Mohali in Punjab and bagged silver and bronze medals respectively.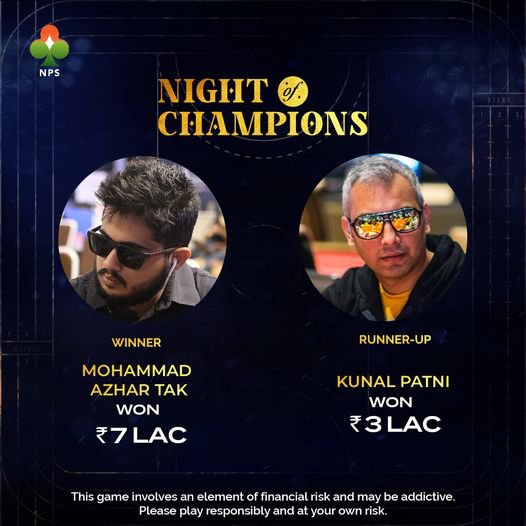 And it didn't end there. All six winners of the total eight marquee events at the National Poker Series, India battled it out one last time on 3rd July at the NPS Night of Champions. This was a Sit'N'Go event organised online on PokerBaazi.com and live-streamed on YouTube and Facebook. We're not surprised that Mohammad Azhar Tak won this event as well, walking home with ₹7 Lakhs while Kunal Patni was the runner-up who took home ₹3 Lakhs.
The National Poker Series, India has been witness to some heavyweight battles between Poker maestros on a digital playground. It's hard to believe that these Poker players were hidden away in some corner till a few days ago. Today, India recognises them as the shining stars in the world of Poker. The prestigious poker tournament has thrown open the door of opportunities for these Poker wizards to only keep moving forward and realise their dreams of being the best player there ever was. 
Congratulations are in order for all the winners who are re-defining India's Poker history!