Turkey, the perfect fusion of Asia and Europe. Mystical & marvellous, old and modern all at once. And of course, a foodie's paradise. Over the years, the country that gave the world "Salt Bae" has also helped spread through most of the world a lot of its own cuisine and brilliant gastronomic legacy. So if you love to travel and live to eat, make your way to Turkey and dive headfirst into these incredible street side delights that will leave your taste-buds in a tizzy and have you salivating for more.
1. Meatball Sandwich (Kofte Ekmek)
Yes, a lot of countries have this and it's not exactly unique, but it deserves a place on this list because it is the most popular and beloved street food in Turkey. Succulent meatballs on slashed buns with sliced tomatoes, long green peppers and onions and special seasonings varying from region to region make this dish a must have.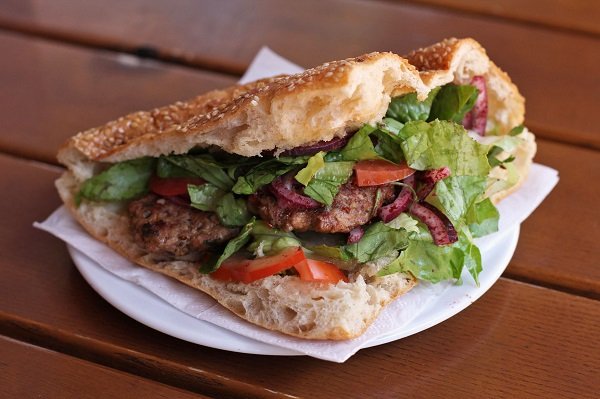 Source: withberlinlove.com 
2. Albanian Style Liver
The dish's name is a little misleading. It doesn't actually come from Albania but was discovered by Albanians in Ottoman Istanbul. It's fried, diced mutton liver served with onions and potatoes. It's really tasty and really high on calories, so indulge carefully.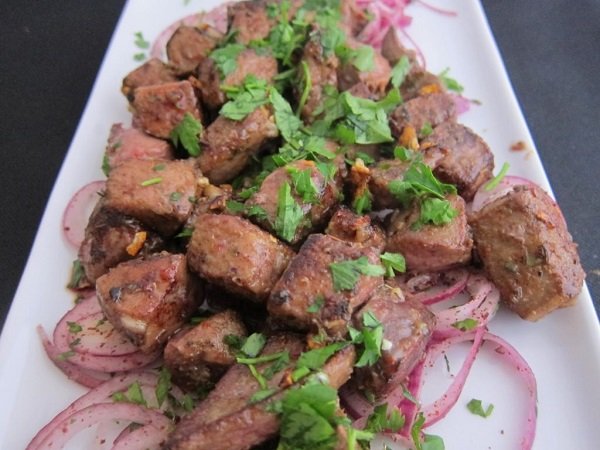 Source: seasonalcookinturkey.com 
3. Döner Dürüm
What a burger means for us is the same as what a döner dürüm means to a Turk. A dürüm is basically a Turkish wrap that is usually filled with typical döner kebab ingredients like chicken or beef. The wrap is made from lavash or yufka flatbreads. This dish has travelled across the world too. But the original is something else altogether, right?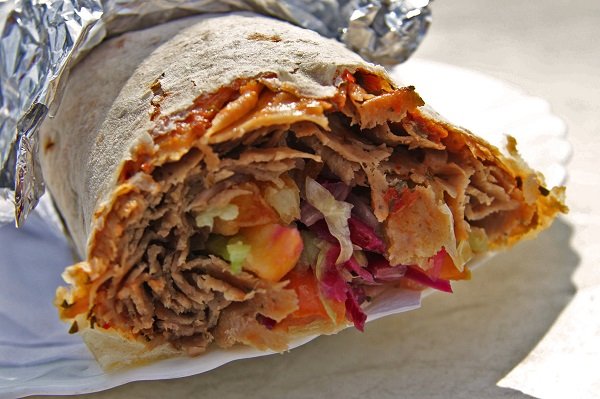 Source: withberlinlove.com 
4. Kokoreç
This is a very spicy street food made from tomato, green pepper and grilled sheep's intestines. A lot of people find the concept of the dish a bit odd, but once you take that first bite, there is no turning back.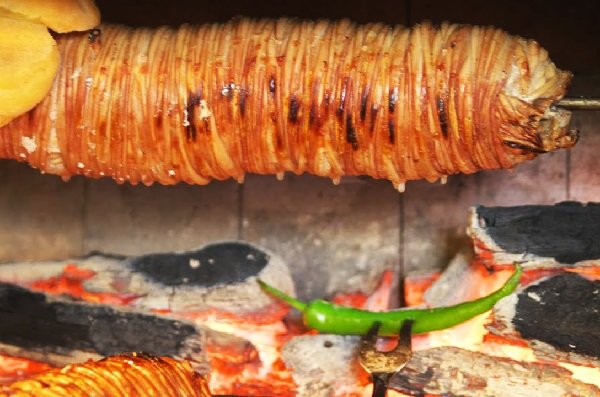 Source: youtube.com 
5. Tantuni
Tantuni is a spicy dürüm consisting of julienne cut beef or sometimes lamb stir-fried on a sac with a hint of cotton oil. It is a specialty of the city of Mersin, Turkey. It's juicy, meaty and wholesome.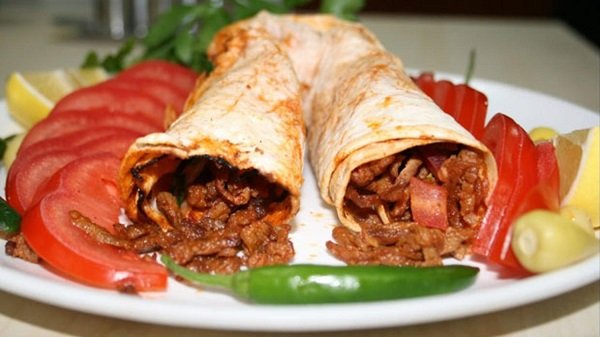 Source: hurriyet.com.tr 
6. Lahmacun
Popularly known as the "Turkish Pizza" among foreigners, it has a wide range of ingredients and a thin dough base but it is still very filling. Therefore it's great for a filling, quick and cheap bite.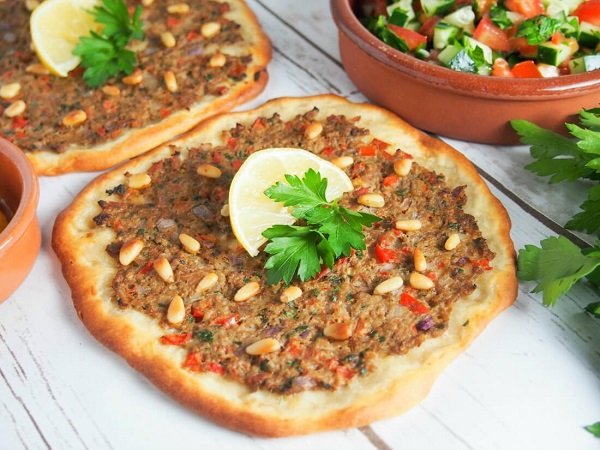 Source: carolinescooking.com 
7. Kumpir
One of Turkey's most famous street foods, a Kumpir is essentially a baked potato base with a variety of ingredients stuffed in it according to the customer's palate; like black green olives, mushrooms, sausage, pickles and corn. It's highly nutritious but high in calories as well.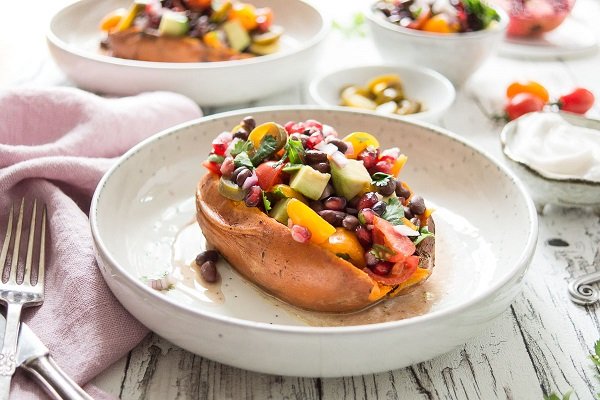 Source: wholefoodrepublic.com 
8. Börek
Börek is a family of baked, filled pastries made of a thin flaky dough known as phyllo. It is filled with a stuffing that usually consists of cheese, potatoes, ground beef or spinach. It's a Turkish street food staple.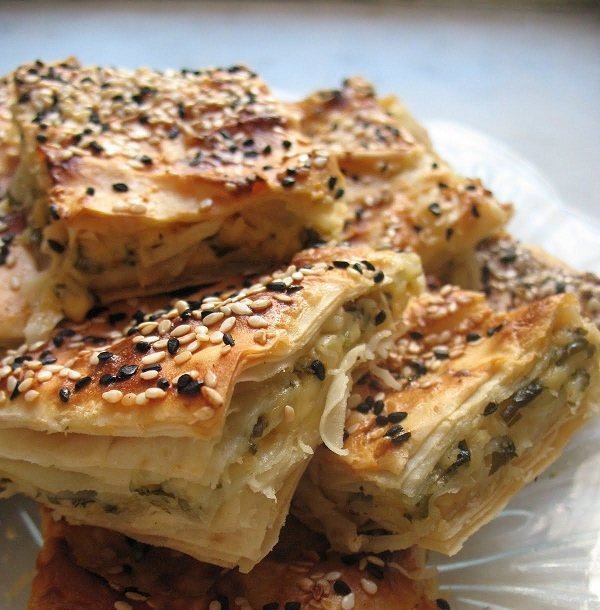 Source: pinterest.com 
9. Pickle Water
I guess this is the Turkish play on Jaljeera. Their pickles are not oil based, by the way. It will have a strong lemony or vinegary taste and will have a sharp taste but after a few gulps it'll feel quite refreshing.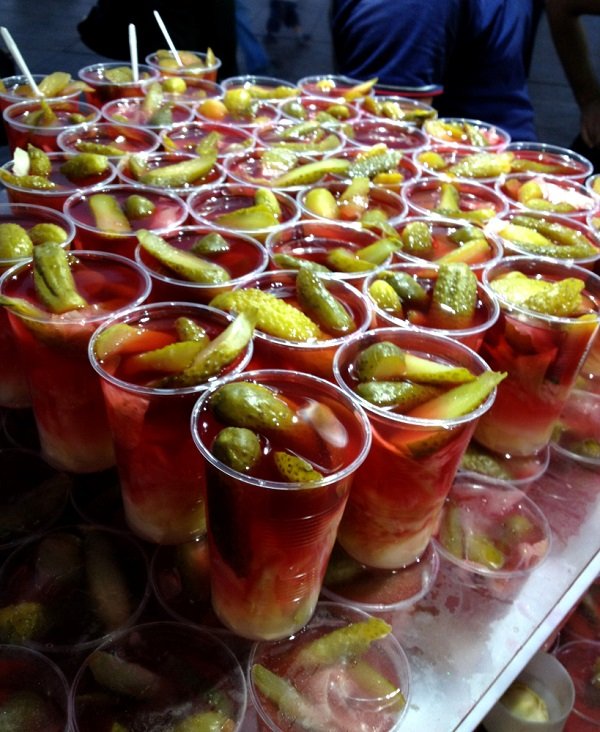 Source: takingteainturkey.com 
10. Sahlep
On a winter morning or a cold night, "sahlep" is the best, sweet, hot, and milky beverage to warm yourself up and raise your spirits. It contains dried orchid flour, which is the essence that creates the warmness and softness of sahlep. It is usually served with cinnamon powder sprinkled on the top. Yummy!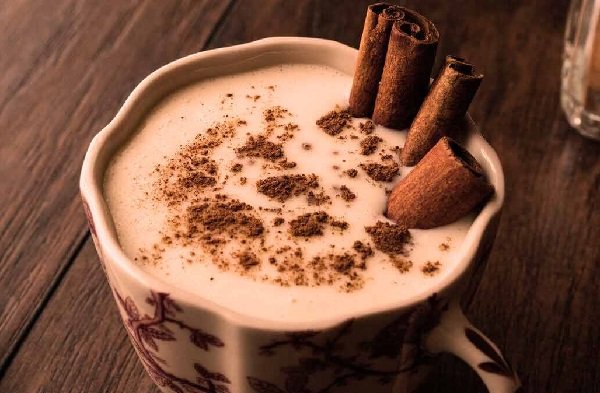 Source: kahveciniz.com 
The Turks really know their street food!