Bali is an island province of Indonesia and is located on the east of Java and west of Lombok, consisting of the island of Bali itself and a few smaller neighbouring islands. Indonesia's only Hindu majority province, Bali is also Indonesia's biggest and primary tourist destination and with good reason. It is renowned for its highly developed arts, including traditional and modern dance, sculpture, painting, leather, metalworking and music. There's something for everyone there, so if you're looking for a fun and varied getaway, look no further. Here are a few things you should definitely try and do if you're chilling in Bali.
1. Bum out on the beaches
Not only are the beaches in Bali some of the best in the world, but also one of the best free things to do in Bali. Bring a beach towel and claim a spot on the beach. Better yet, rent a house right on the beach, there are tons of Airbnb listings in Bali that are beachfront. Try Kuta Beach for starters!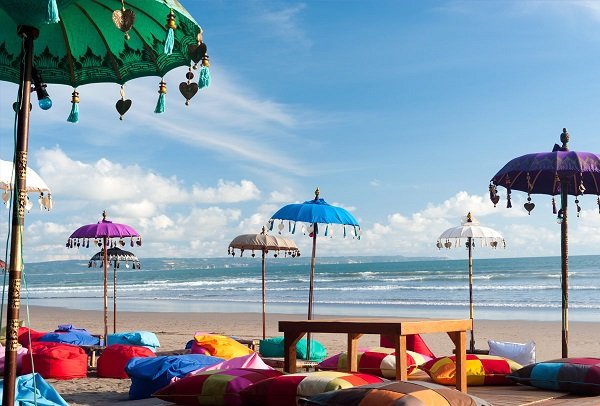 Source: atom.mu/package 
2. Surf it up
Bali is famous for surfing so why not catch your first wave in Bali? There are several places offering surf lessons right on the beach or, if you know how to surf, you can rent a surfboard for a few hours. Besides, many renowned surfers from Australia regularly visit the country. You might just bump into some.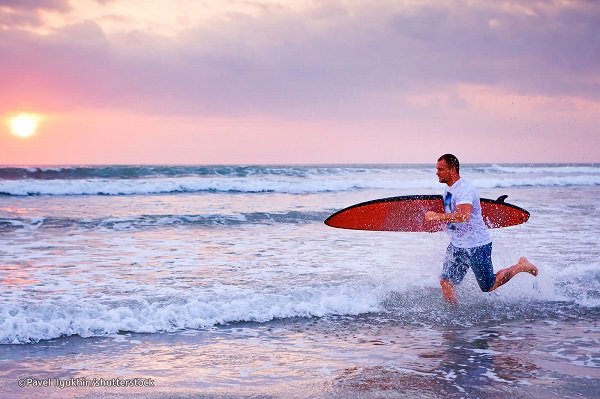 Source: bali-indonesia.com 
3. Monkey around in the Monkey Forest
Be prepared to get up and close with the monkeys at the Ubud Monkey Forest. Whatever you do, don't feed them or for that matter, carry food items into the forest. Keep your belongings up close as well, for the monkeys are known to knick stuff from unsuspecting tourists.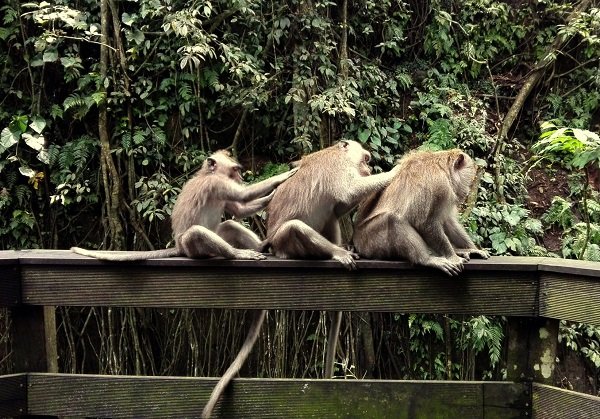 Source: boardingcallblog.com 
4. Visit Ulun Danu Beratan Temple
One of the prettiest temples in Bali is the Ulun Danu Beratan temple. The floating temple is just off the shore in Lake Bratan, which is in the center of Bali, 3600 feet above sea level. Epic.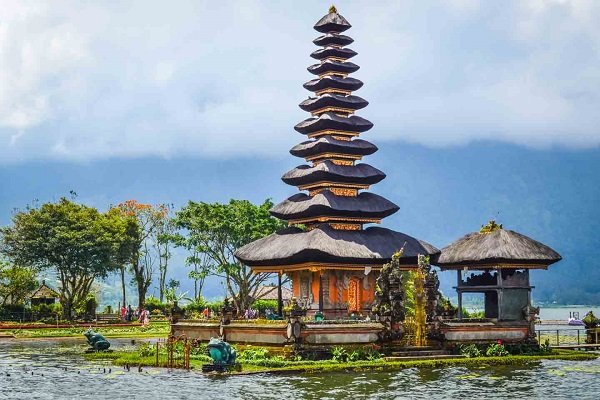 Source: gettingstamped.com 
5. Relax with a Balinese massage
After a busy day of shopping or roaming around, there is no better way to relax than with a Balinese massage. Massages in Bali are not only amazing but super affordable too.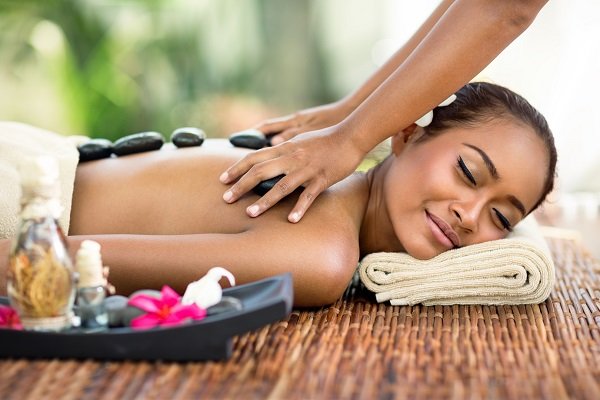 Source: tripcanvas.com
6. Soar into the skies with some parasailing
Nothing like a good dose of adrenaline to get your day started! Parasailing in Bali is both exhilarating and beautiful, not to mention easy on the pocket. Don't forget to bring your GoPro if you have one to get some good aerial shots of Bali's breathtaking beauty.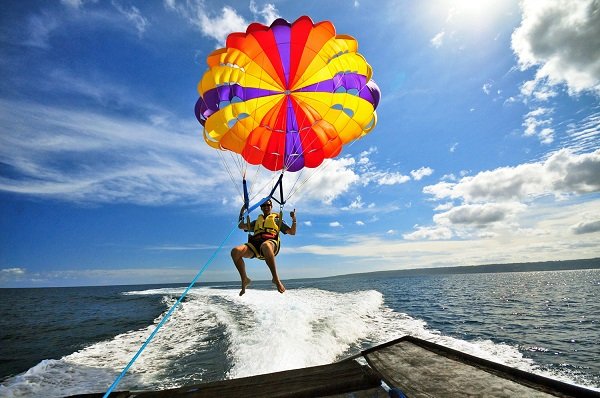 Source: govoyagin.com  
7. Witness a sunrise from the top of Mount Batur
You'll need to set an early alarm for this one because the hike to the top of Mount Batur starts while it's still relatively dark. The early morning wake-up call is totally worth it once you make it to the top of Mount Batur and you see the sun rising. It'll take your breath away.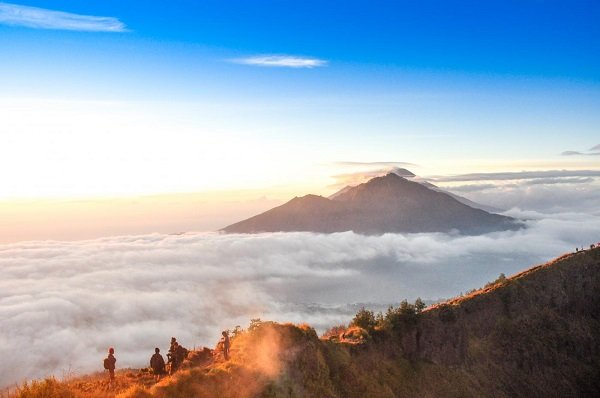 Source: villabossibali.com
8. Go crazy binging on Chicken Satay
Chicken Satay is a must try dish when in Bali. These tasty little meat skewers are served with a delicious peanut dipping sauce. A must have if you're a dedicated foodie.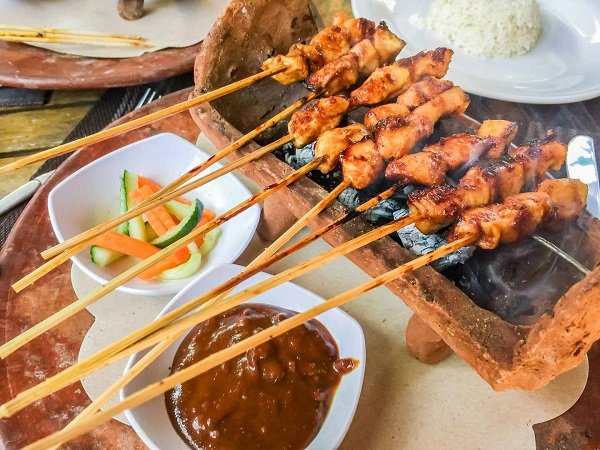 Source: gettingstamped.com 
9. Take a trip to the Tegallalang Rice Terraces
These are actually near the Monkey Forest mentioned earlier as both are in the Ubud area in Bali. But these rice terraces are truly worth a visit. Here, you will get to witness the traditional Balinese subak irrigation system, which also happens to be a UNESCO World Heritage Site.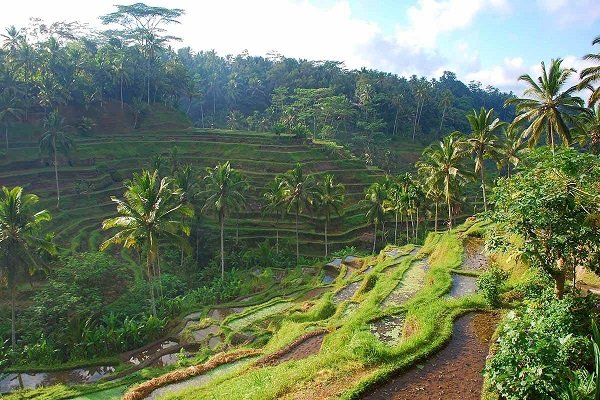 Source: bali-indonesia.com
10. Visit Uluwatu Temple
Uluwatu temple, one of six key temples believed to be Bali's spiritual pillars, is located right on the shore and is a perfect place to end a busy day of exploration in Bali. Make sure to come at least an hour before sunset so you have enough light to get those perfect photos.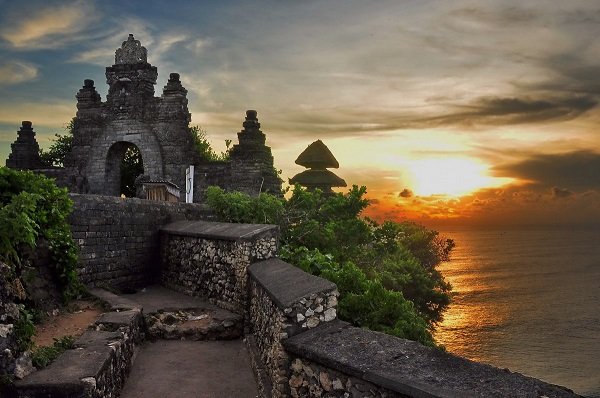 Source: balikidsguide.com
11. Have a cup of the world's most expensive coffee
Kopi Luwak or Civet Coffee is the most expensive coffee in the world. It's made from the coffee beans that have been eaten and "passed" out by a cat like animal called the Asian Palm Civet. Prices can reach up to Rs. 50,000 for a kilogram. Probably a better idea to just try a cup at a cafe instead.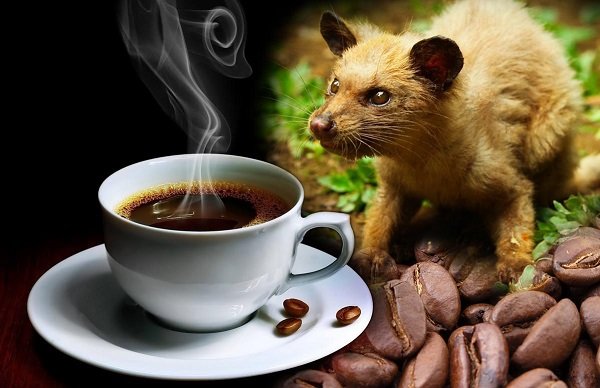 Source: documentarytube.com
12. Visit Tanah Lot Temple
Tanah Lot is easily reached from the popular Bali beach towns like Kuta/Sanur/Seminyak. The temple at Tanah Lot is set on a rock that has been shaped over time by the tide. It's one of the most unique temples in Bali.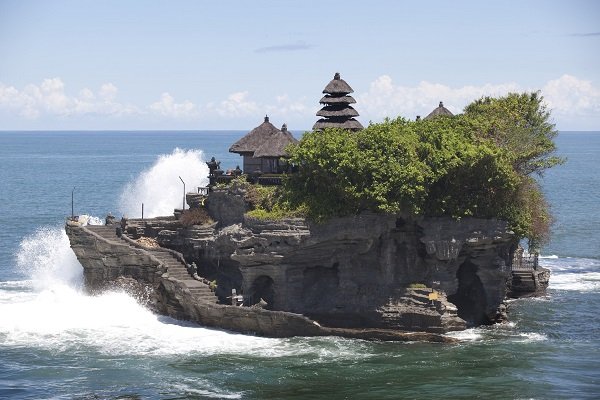 Source: thenomadictraveler.com 
13. Catch a ferry to the Gili Islands
Hop on a ferry and head to the Gili islands for a few days. The Gili islands are made up of three very small islands: Gili Trawangan, Gili Meno, and Gili Air. If you're looking for a party, head to Gili Trawangan. If you're looking for peace and quiet however, make your way to Air or Meno instead.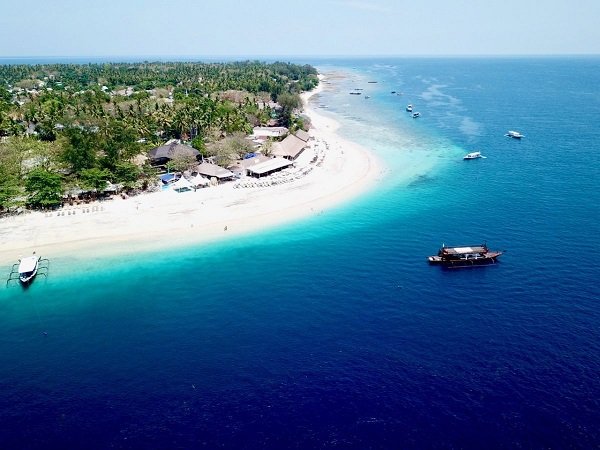 Source: thinkingnomads.com
14. Party in Kuta
A party is a great way to start or end a trip. Or both, actually. You choose which one you'd like for yourself. A great place to party would be Kuta. A former fishing village, the place still retains its rustic charm but is also a major party hub known internationally for its long sandy beach, varied accommodation and many restaurants and bars.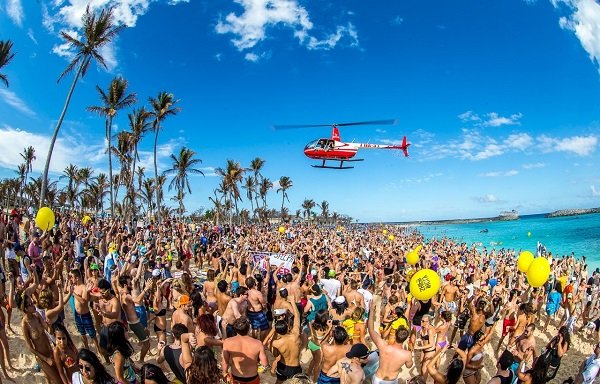 Source: muterjagad.com