I am a 24-year-old woman who hates people. Okay, no! I don't hate people all the time, but they suck for most parts. To take a break from humankind, I decided to travel for a couple of days, alone, by the hills.
This is where I went.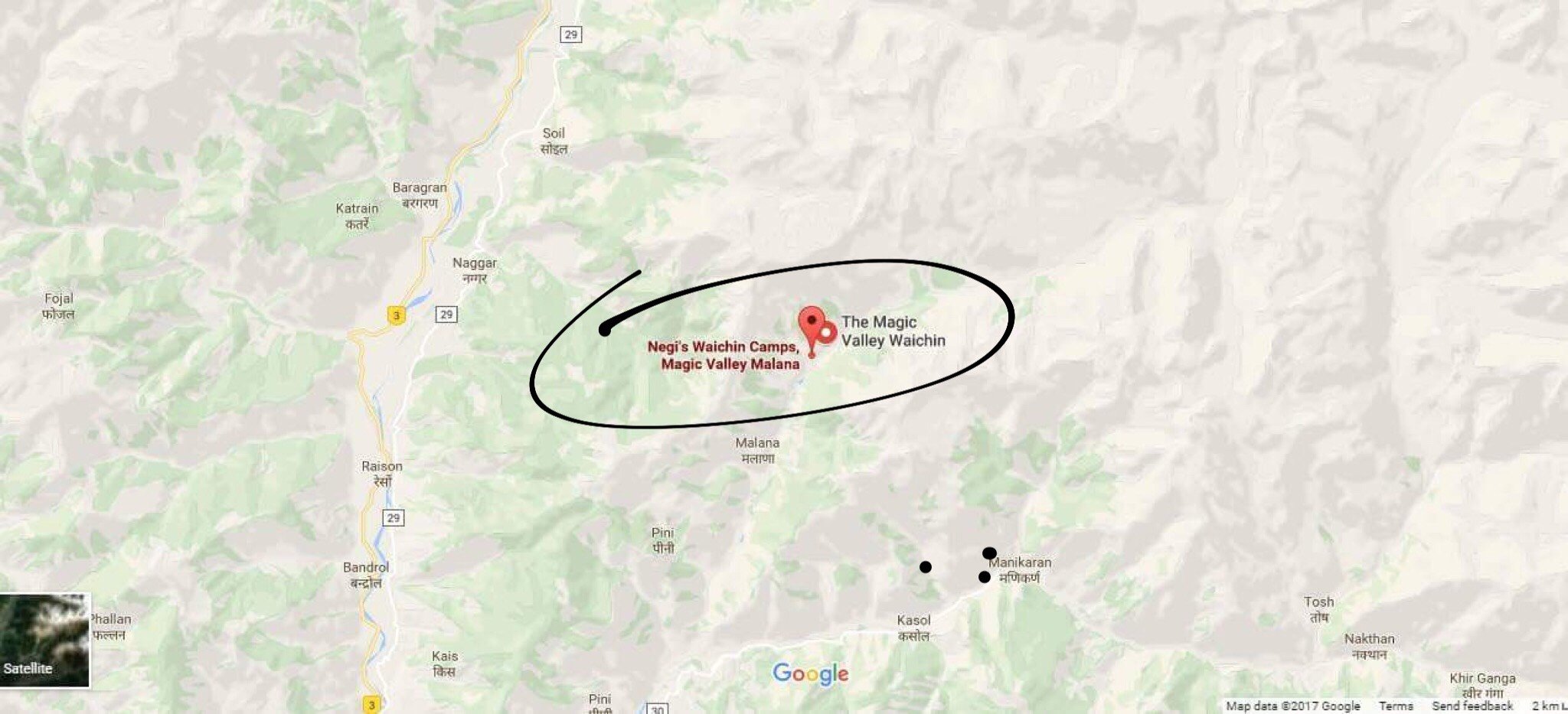 Notes from the Diary. 
"I'm sitting in a kitchen, 2800 mts above sea-level, nestling on the brink of a valley called Waichin. I'm sitting with my legs stretched out, a feeling of relief settles in. My hair is dirty now because I haven't bathed in two days but reflect a purple haze under the bright rays of the sun. My face looks phased out but glows with oil oozing out of my pores clogged with sweat molecules. So, when I tried to take a picture of me, my pores shone like they were the only sun. I feel full. I ate too much Maggi and had too much tea. Tea had a lot of sugar, cringe worthily. <-- is that a word?"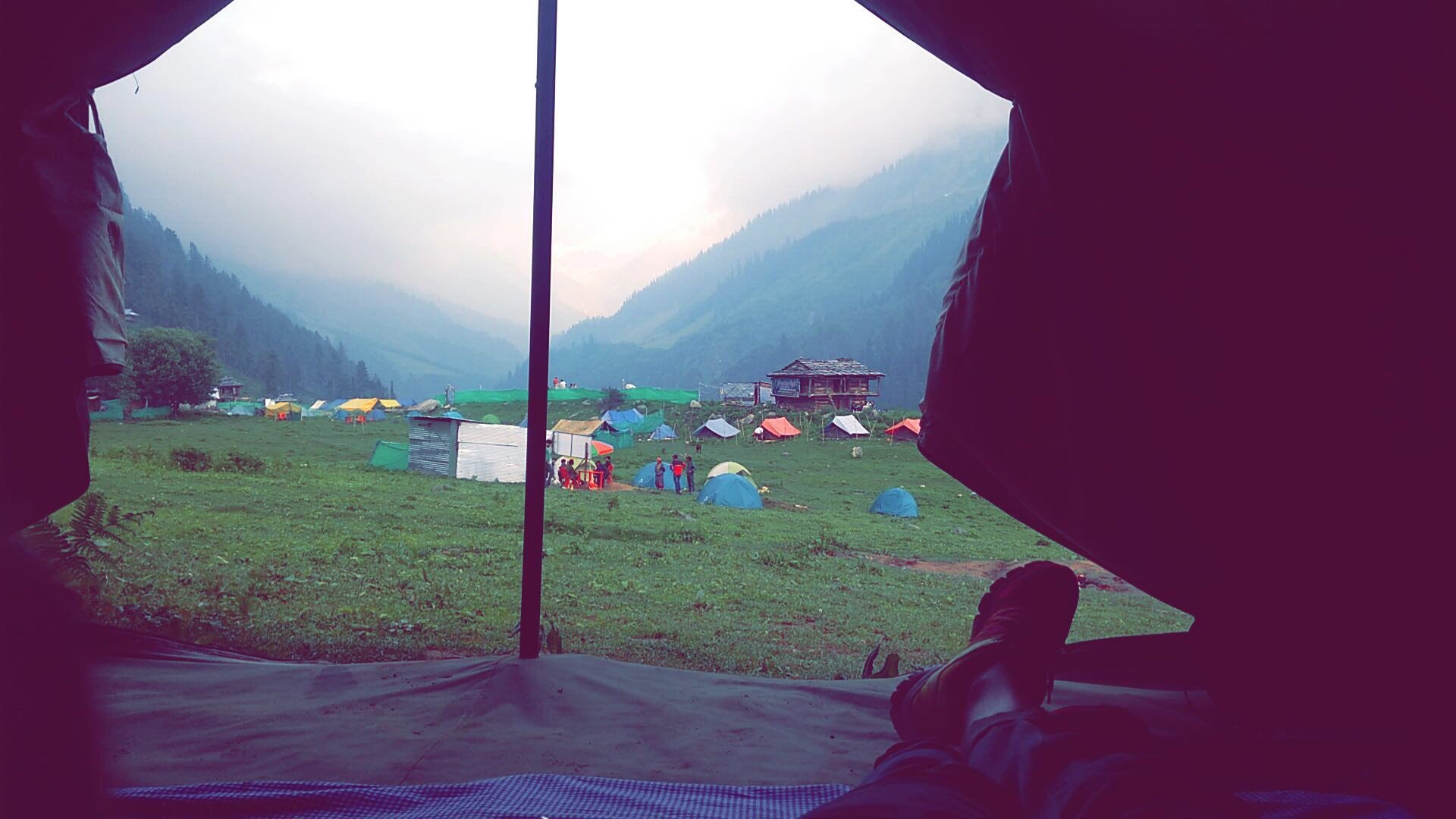 On June 23rd, 2017, I boarded a private bus from Delhi (Majnu Ka Tila) which was supposed to start at 10:30 pm but because of the poorly organised bus-boarding arrangement, it only started at 12:11 am. The bus ticket costed me ₹1500 which, I felt, was a bit too much for this bus so shit, it covered the distance of 10 hours in 15 hours. I could hardly feel my butt after a point but the journey it took us on was beautiful. I can't say the same thing about it being peaceful. A 3-year-old sat right behind my left ear and cried so loud that my earphones gave up, leaving me tremendously disappointed.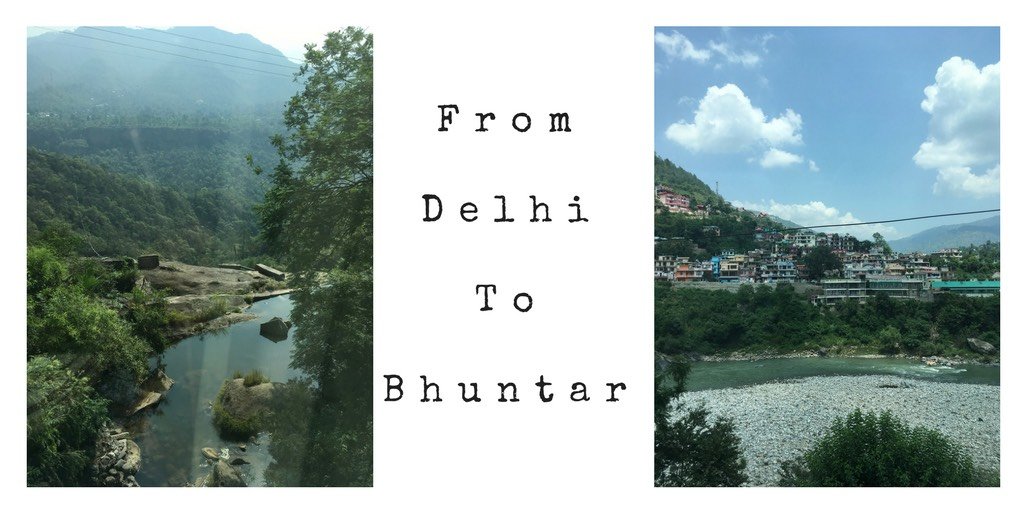 I reached Bhuntar at around 4 pm on 24th June, 2017. By this time, I had made friends with 4 other people who were also going to Waichin. This was a  co-incidence because one of the guys knew the camp-owners up there and so, we got a booking in advance. It was gonna cost us ₹1000 per person per night which included the stay, the food and the tea and basically, whatever you needed.
Around 5 pm, as several sweat beads rolled down every part of our bodies (because it was that hot in Bhuntar), we finally got a cab to Malana village, nestled amidst the mountains in Kullu, Himachal, that would later turn out to be a majestic 40 kms drive filled with mountains covered in shades of greens, waterfalls and rivulets flowing underneath. If you're observant enough, you'd find a humongous gorilla face carved on one of the mountains so don't get lost in your phone, choosing filters and updating your Instagram (I am serious!). It costed us ₹400 per person.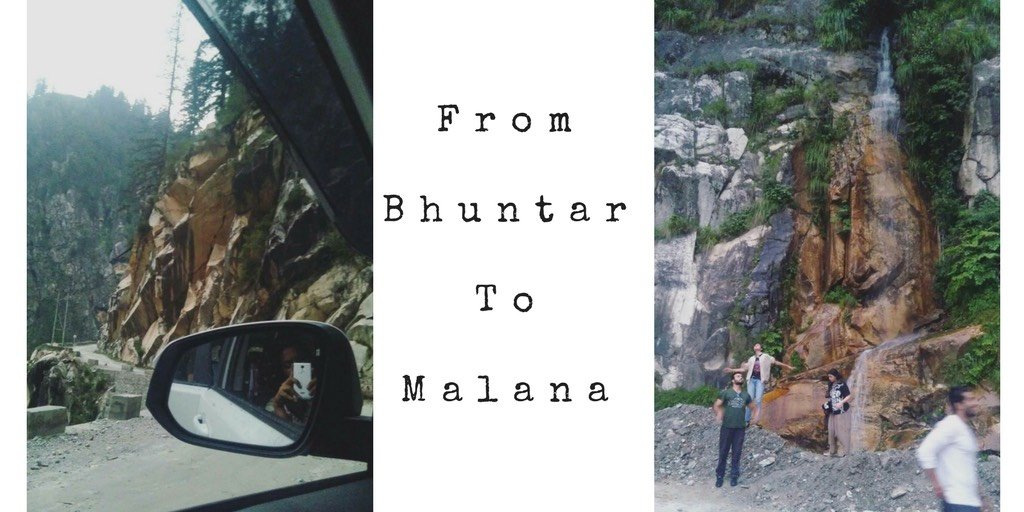 We reached Malana village at around 7:30-8 pm. The sun had set on us by this time. We had to take another cab which would leave us at the bottom of a hill, near the Malana Hydro Power Plant. It costed us ₹100 each. By this point, we were pretty tired but the fire inside the soul kept burning. The fire to see this paradise of a place.
Chetan, a bouyant 21-year-old Himachali boy, received us at the power plant. He was going to lead us on a 2-hour steep trek that goes to Waichin. But before we started the trek, we stopped by at a little cafe  to smoke some amazing chillum.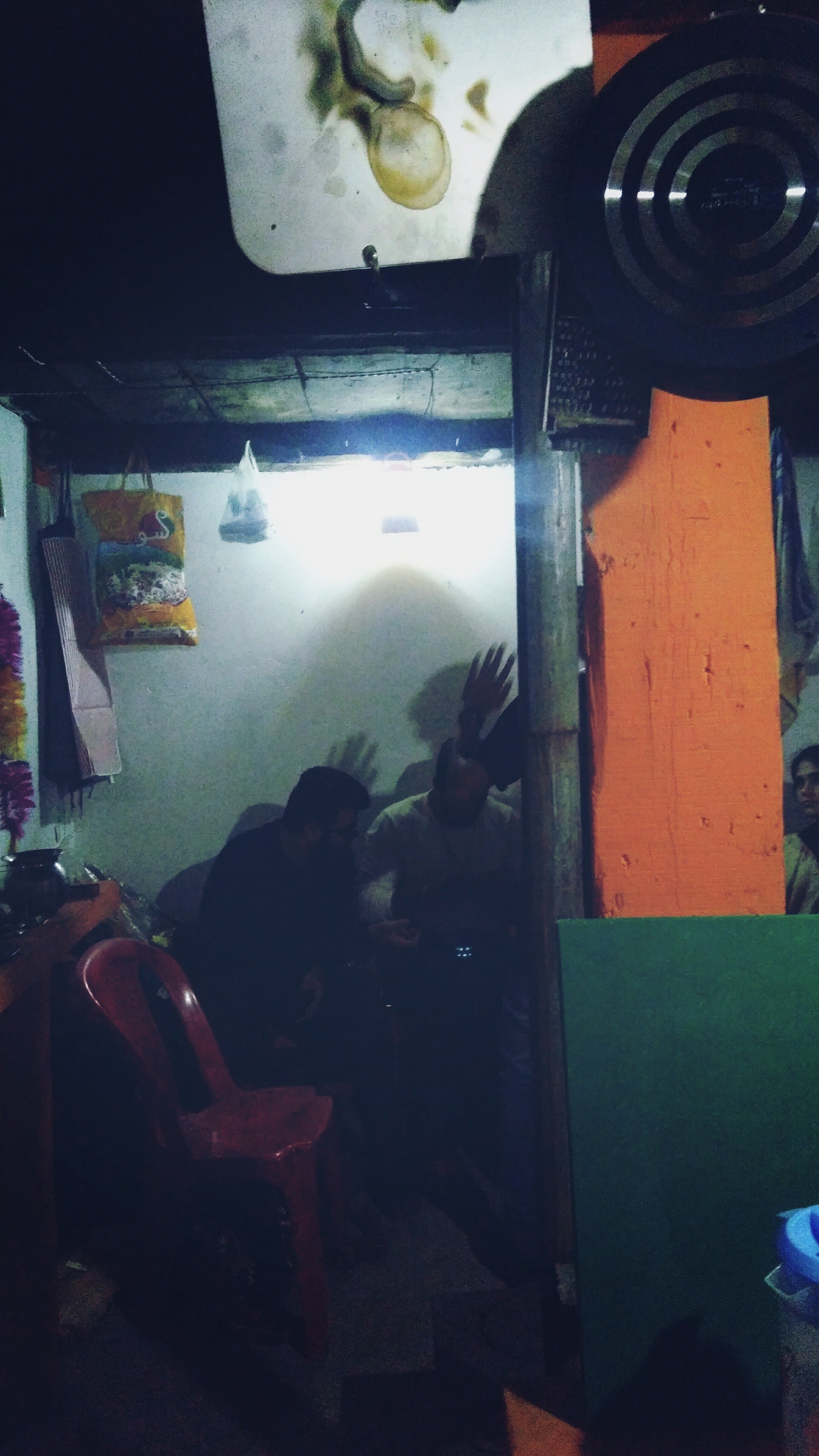 "I felt like I could breathe better. The silence with the river flowing in the backdrop concocted a harmony so melodious, one couldn't just not sit by the river for hours. I didn't sit for hours, but I wish I could."
Maggi is a popular dish up there. Also, rajma chawal. We ate and smoked like crazy. It was 10 pm and it was time to trek. It was pitch dark. We switched on the flashlights of our phones, and started climbing. I say climbing because it was steep AF. I thought I was fit but I was actually not and to add to that, I was buzzing in my head. There were several points during that 1.5 hour trek when I thought I just couldn't go ahead. My subconscious head kept telling me stories about leopards and how people slip off cliffs and die. Also, my lungs were cursing me for all the smoke I have been filling inside of them. I was terrified, tired yet sanguine about what awaits.
We reached Waiching at 11:45 pm.
I fell flat on my face, my bag lying on the side. I was so glad I made it.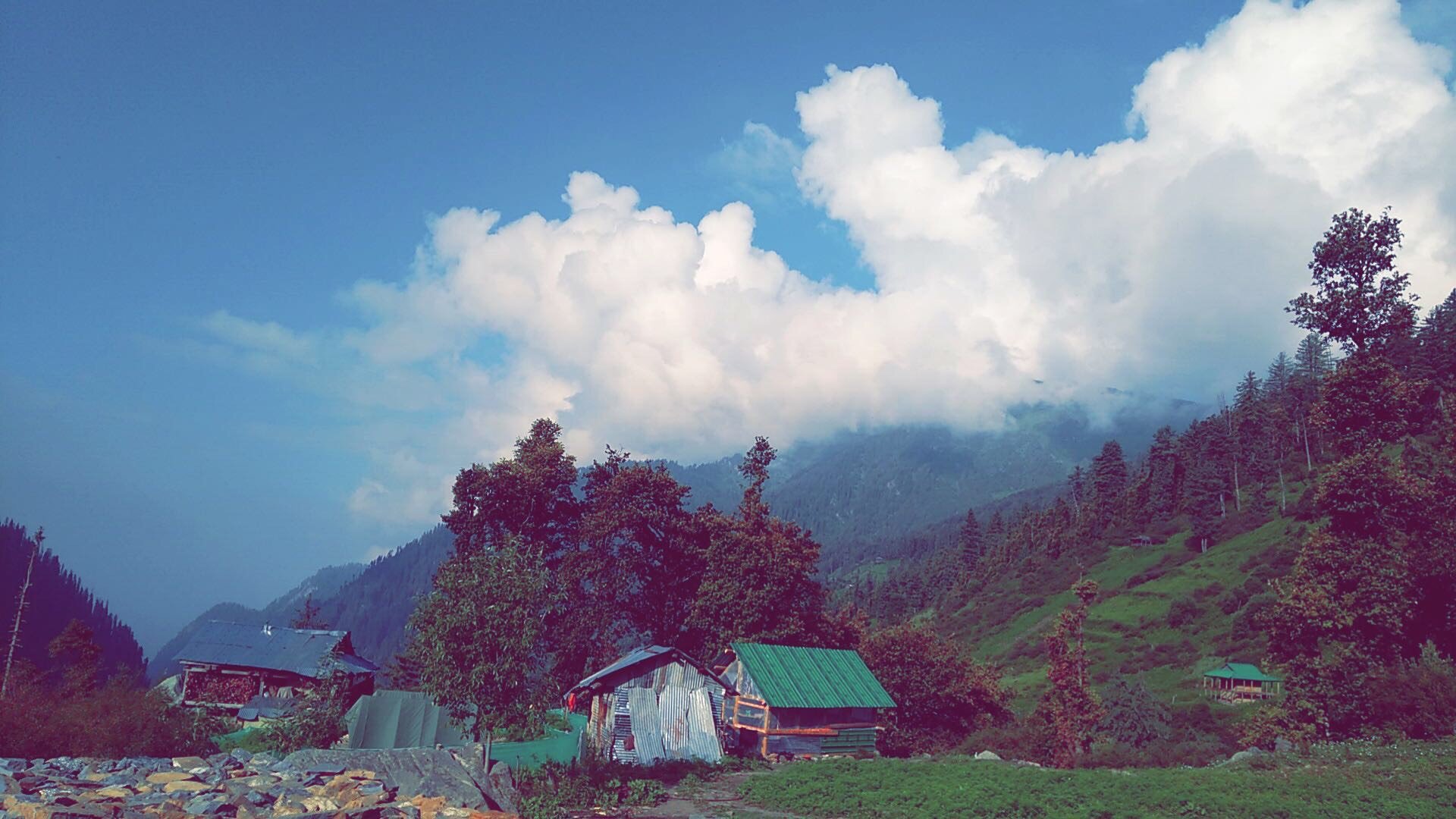 It was dark. There were couple of groups sitting, surrounding a huge camp fire. Our tent was the third one in a row of 8. It was big enough to accommodate around 8 people. And comfy, replete with resplendent mattresses, pillows and blankets. Our food, rajma chawal and mixed veg, was ready for us.
Notes from the Diary. 
"Here time is not a dimension. It's easy to forget about the concept of it. The detailing of the nature around you shall soak you in, complete. The view changes every passing hour, as the mountains and the sun negotiate just the most perfect arrangement to enthrall the life out of you. There are these solitary spots that you gotta explore and find. Find the perfect spot, it's gonna be so worth it. Let me describe the one I am sitting at right now.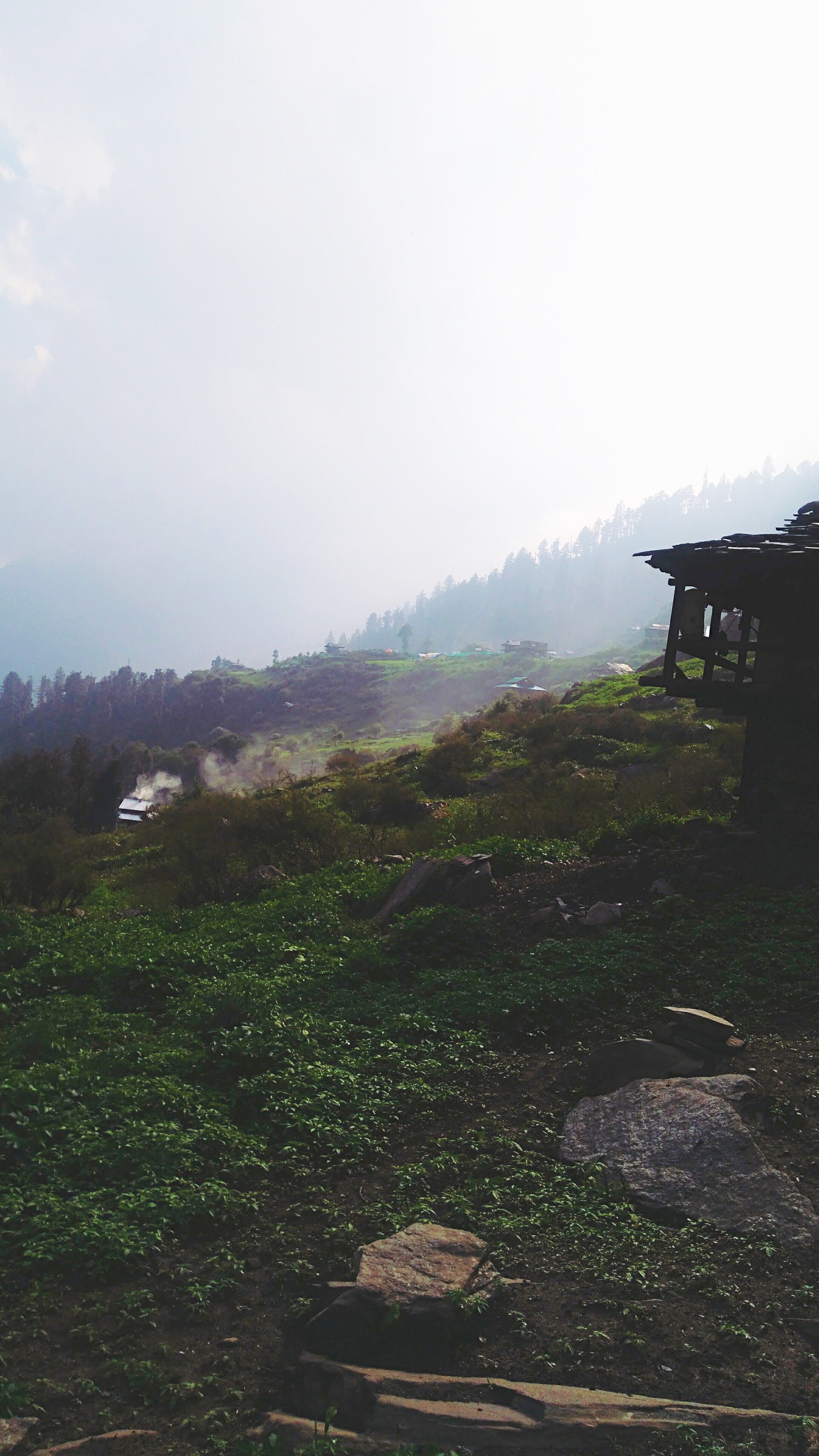 Imagine this. You're sitting on a rock protruding out of a steep edge of a mountain that looks down into the valley which, if you have vertigo, will transpire chills throughout your body. You can see the spot where the river is emerging into a waterfall and then, flowing towards you, down below. You can see the mountains diluting into a grey scale with distance, the highest peak covered in snow, peeking through the dense white clouds. There is a blanket of flora. When you look down, there are flowers, butterflies, pretty little insects, greens of all shapes and forms, and when you look up, there a huge mountain covered in long stretches of trees and a neon green grass both, reflecting colours that you would have never witnessed before. The colors form a very interesting patterns, all very different. From olive to mustard to browns, they transition from one to another so seamlessly. You can hear the river flowing in full force. And while the sun plays hide and seek, you sit on that stone rolling a joint."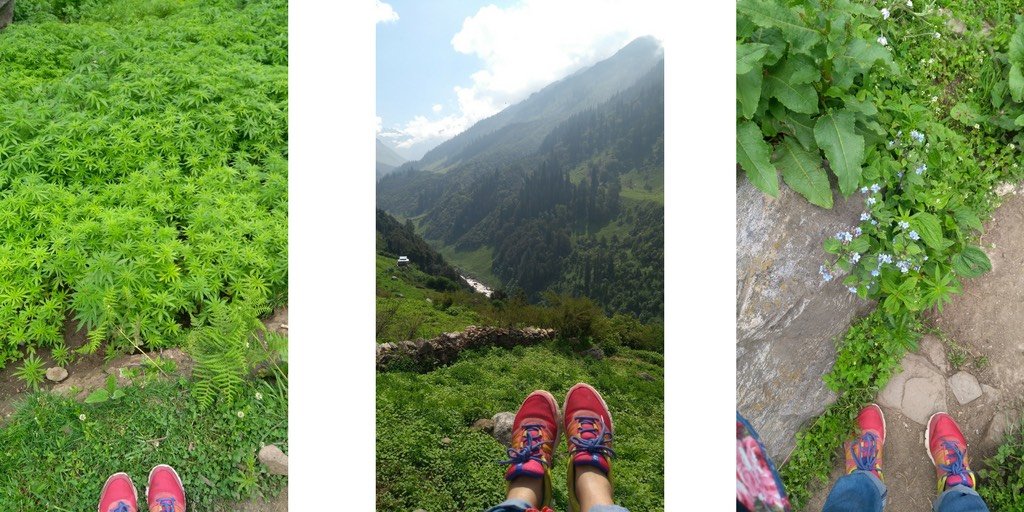 On the first day at Waichin, 25th June, 2017, at around 1 pm, 8 of us went on a short 30-minute trek to a waterfall. Smooth at first and quite quickly transforms into a lung blaster. But it was magical. The flora, the flora my friends. If you like exploring plants and flowers, you'll fall in love with this place. Magic valley, is indeed magical.
The rest of the day, I stared. I just kept looking around. There was just too much to see. The book in my hand remained closed for 5 hours straight. The sun was turning my skin into a darker shade and it didn't bother me. T'was like being in a movie. You could see butterflies fluttering around like they have newly found freedom. The annoying voice of the crows flew with the wind and hit me but the sight of the enormous mountains couldn't let the crows kill my vibe. It smelt like forests. The odour of the flowers mingling with the greens, meandering creatures… Just a lot of things yet so simple to describe.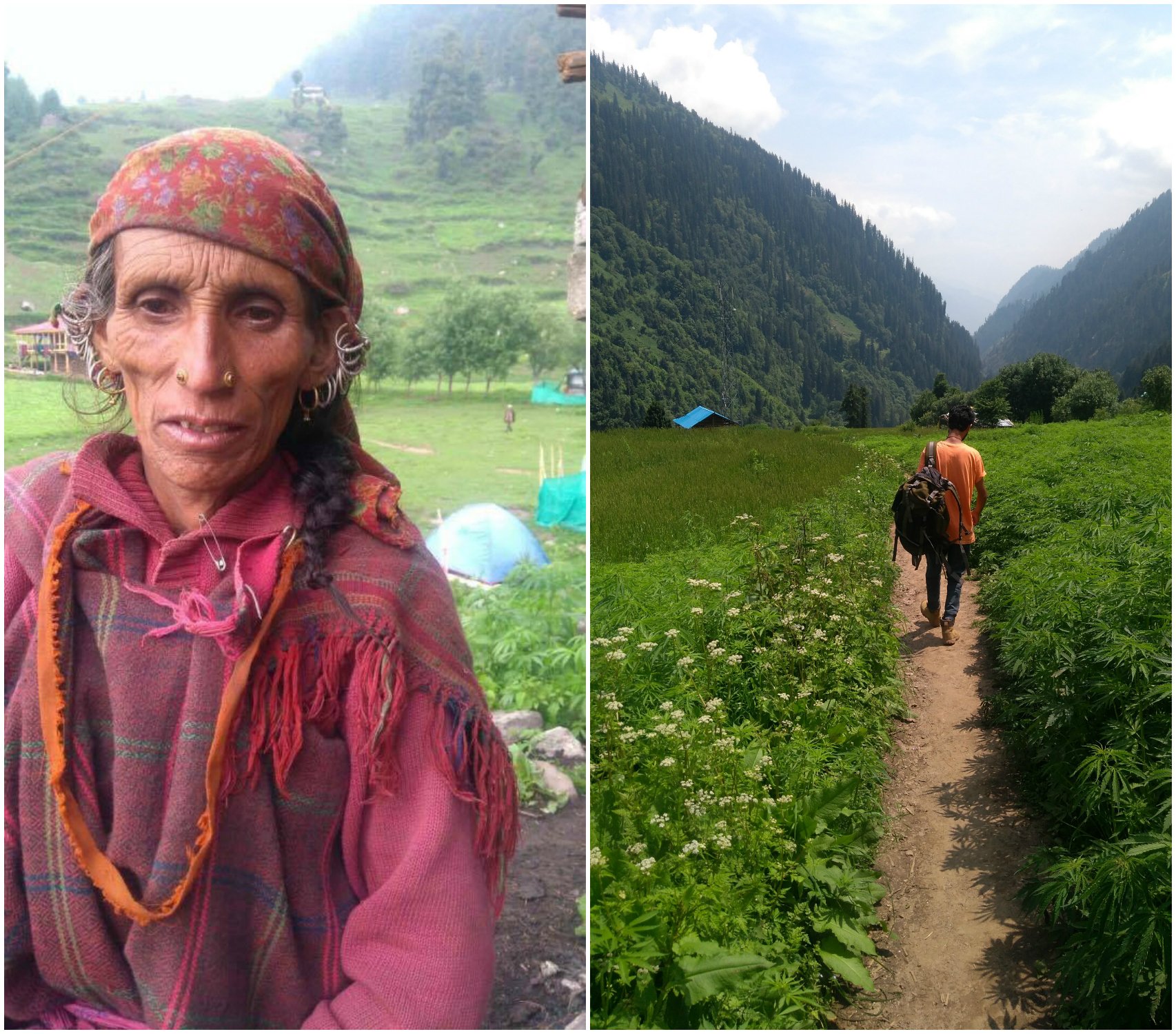 Notes from the Diary. 
"Day 2. It is 10:41.
I woke up at 6:55. The sun was right in my face, peeping through the nonchalantly swaying tent doors with cool morning winds. I wouldn't say it was the best sight to wake up to, but it got better as soon as I drew them apart. That air that hit my face while I saw a land of wonder add magic through my blurred out eyes collecting sand towards the edges.
I decided to brush my teeth because disgustingly enough I hadn't brushed for over 36 hours. Washed my face, changed my tee shirt and made myself believe that I was shimmering clean, fit for a stroll. Everyone was still asleep. I was phased out and someone handed over a black pilot pen to me and so I started drawing and kept at it for another day. I tried imitating everything I had seen and felt onto my hand. I did a pretty bad job of it but it's passable for a picture. I was simply amazed how much time I had, my head so free. Your state of mind is everything. If you can keep calm and enjoy the moment you are in, you've won a war, my friend."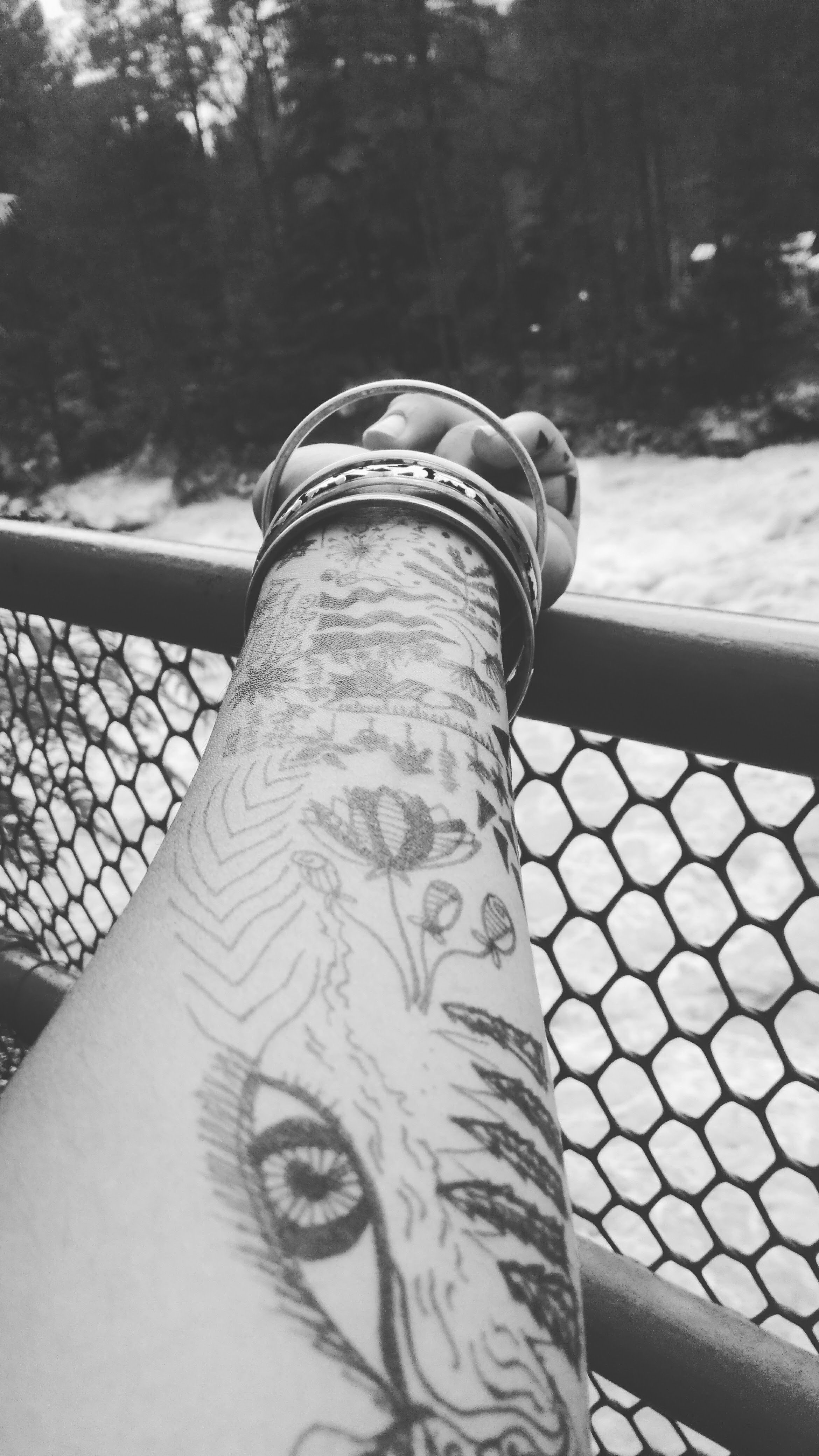 I hardly slept but when I did, it was the best sleep I had gotten in days. Other times, I hung around people who were also, staying in the tents. Everyone was really friendly, some, though, were on the borderline of friendly and creepy. But, it was great. There was constant supply of tea, which was great. Cigarettes were not available, so it was a good idea to carry a pack for chai sutta shenanigans. The owners of the camp were super friendly. We sat and chatted for hours. They had a kitchen-cum-bedroom where everyone hung out while they prepared food for us.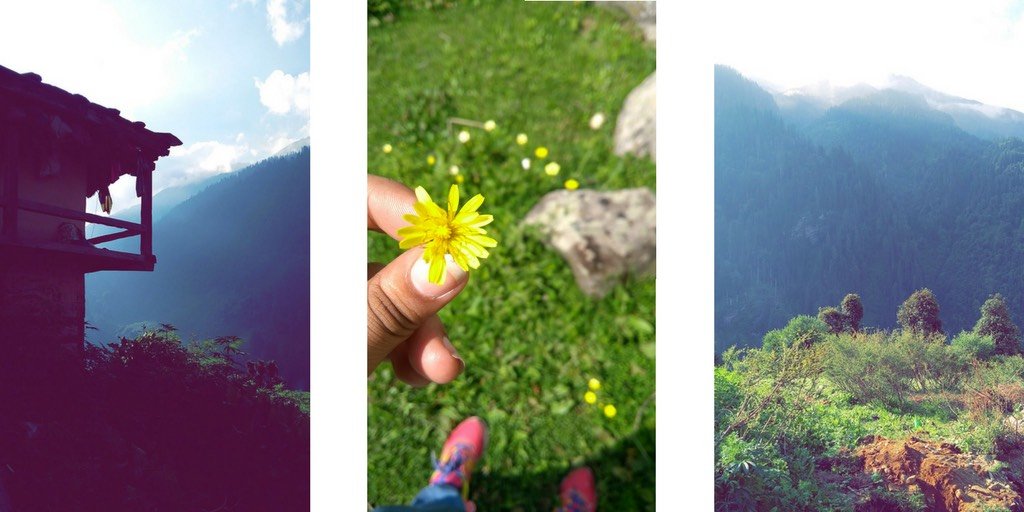 Notes from the Diary. 
"I'm surrounded with flies right now. The buzz is startling me time and again as I type on my Lenovo phone that, despite my constant nagging, doesn't understand dying on me, which is great!
I'm sitting in a room made out of stones and covered by a red tin. There are utensils hung all over, there is rubbish on the floor — cluttered around like little pieces of a bigger picture without which the feel just won't be the same — and there is a singular shawl hung on the wall, a huge orange filter with a neon green patch on it, a hot pink bag with black stripes on it and a black pole-like arrangement right in the middle of the room. There is no pattern to this arrangement, just chaos mingling with peace making the sounds of the mountains."
We left the space on 26th June, 2014 at around 3 pm. I was content but I know I could have spent an entire month there, unperturbed. This time round, I saw the trek in broad daylight. I have no words how beautiful it was.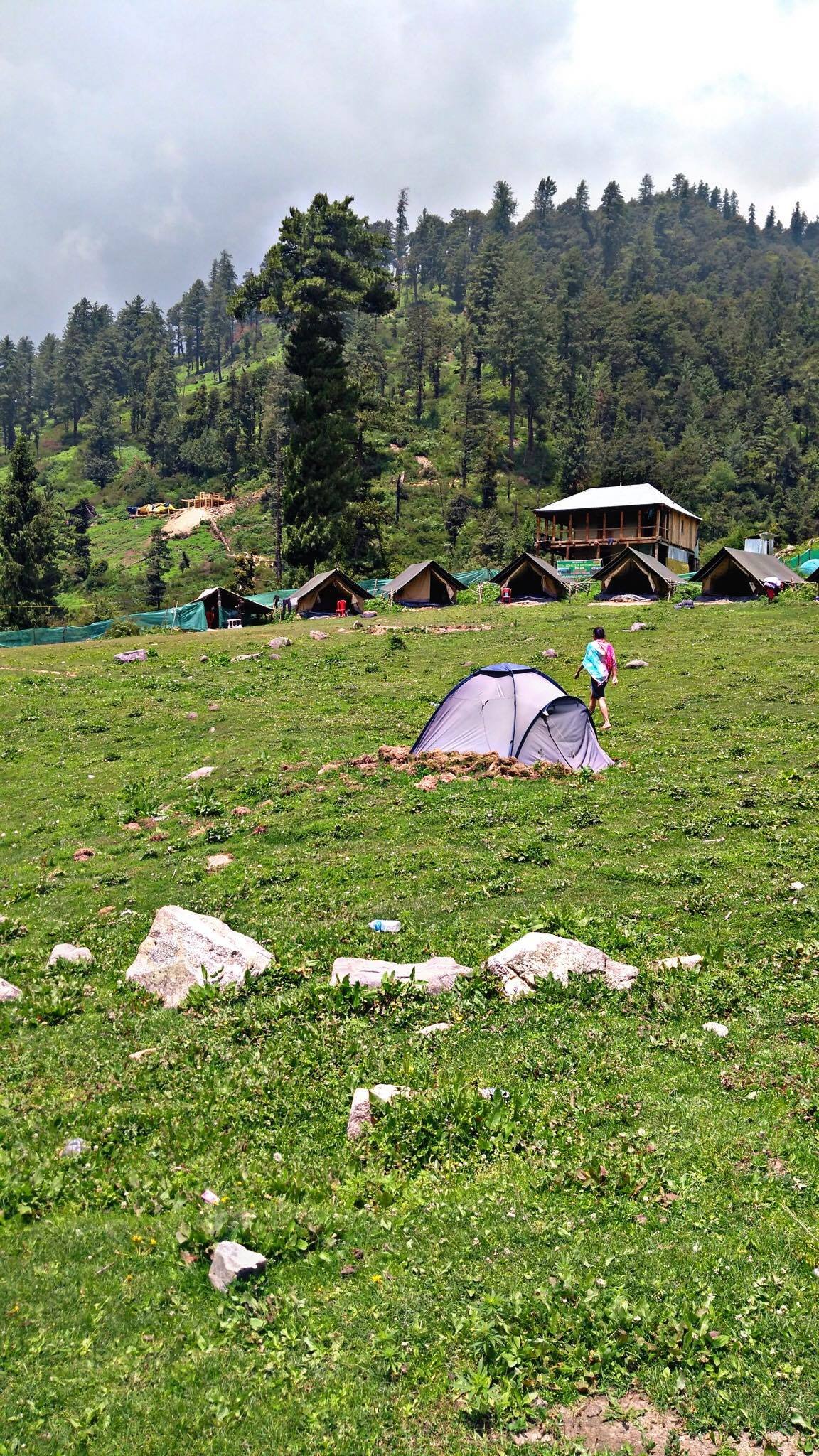 I was supposed to get back to Delhi on the morning of 28th June, 2017, so I decided to spend a night in Kasol, which is basically a dumpster when compared to Waichin.
Waichin is a serene space, unknown to most of humanity. It isn't polluted, but if after reading this, you plan to make your way to Waichin, it is my personal request that you make a genuine effort to keep the space clean because in the end, we are individually responsible to keep our surroundings clean and green.