Be it a social taboo or pure pleasure, 'sex' is an undeniable part of human lives. While we struggle to spend time with our loved ones in this fast pace of life, a little time of fun and relaxation is what keeps us going. And, this fun becomes even more interesting when a touch of naughtiness and raunchiness is added.
So, buck up 'Fifty Shades Of Grey' fans because we have compiled for you a list of the kinkiest hotels from around the world that rekindles the steaminess of the movie for their guests.
1. The Erotic Suite, The Palms, Las Vegas
This suite comes with a 'ShowShower' – that has a stripper pole inside it.
Sprawling across 1,450 square feet, the Erotic Suite takes you back to an '80s porno set. The room has a rotating bed and mirrored ceilings. If that's not enough, to help you get in the mood to have some 'fun' with your partner there's an enormous collection of adult content on demand.

2. BXG Suite, Sanctum Soho Hotel, London
This suite was primarily inspired from the '50 Shades of Grey' movie, and became the first of its kind in the UK to make a S&M (sadomasochism) suite in it.
Room 404, particularly has S&M paraphernalia hampers, plush velvety sheets on bed and blinds, and the walls are decorated with erotic art by Ray Burmiston. To help you get the proper feeling of eroticism, the hotel has a concierge service through which you can get yourself the £350 Box of Grey Bijoux Sanctum, containing adult-only toys, leather floggers, chastity devices and what not!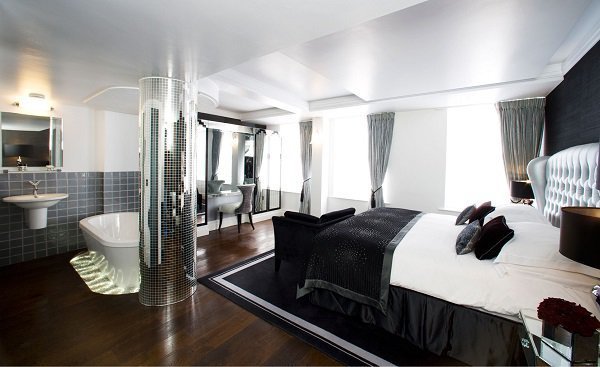 3. Anhwei Boutique Love Hotel, Anhui, China
This hotel especially offers a 'Prison Room' that is stocked with a cage, metal bars, and not to forget a set of handcuffs.
Spread across 62 rooms, this popularly known 'love hotel' located in Anhui comes with a waterbed, purple satin bedsheets, and sex toys that will get you grooving with your partner.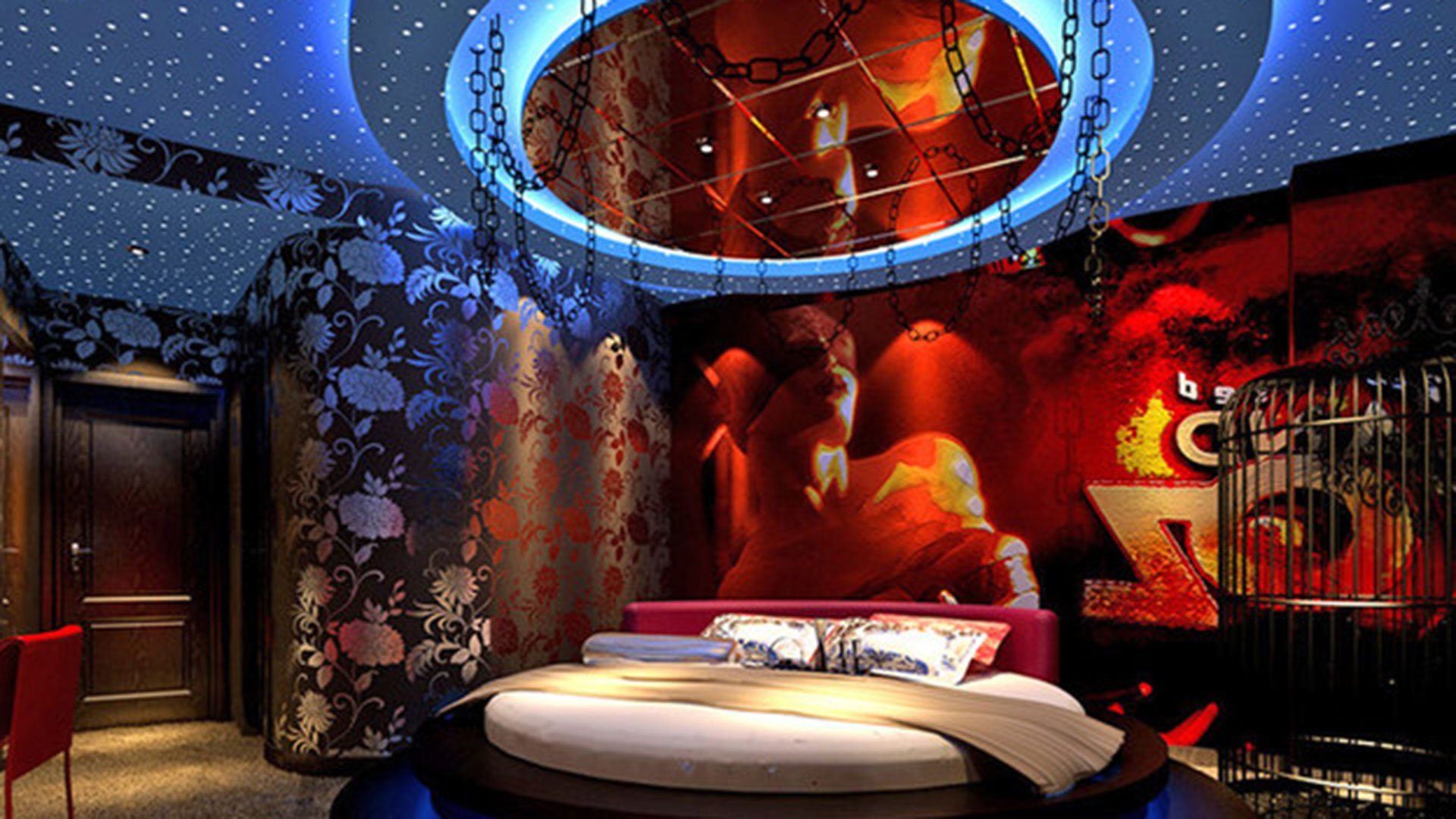 4. Fashion Hotel, Alpha Inn, Tokyo
This hotel has vending machines, but instead of sodas it offers you soiled panties.
The Fashion Hotel is where you and your partner need to go to see all of your sexual imaginations becoming a reality. It has themed-rooms starting from the meek 'Mirror Style' and 'Beginner Style' to the bawdy 'Medical' and suggestive 'Shame' rooms. But that's not all, your rooms are filled with sex props and other costumes that will be apt for your lovey-dovey mood.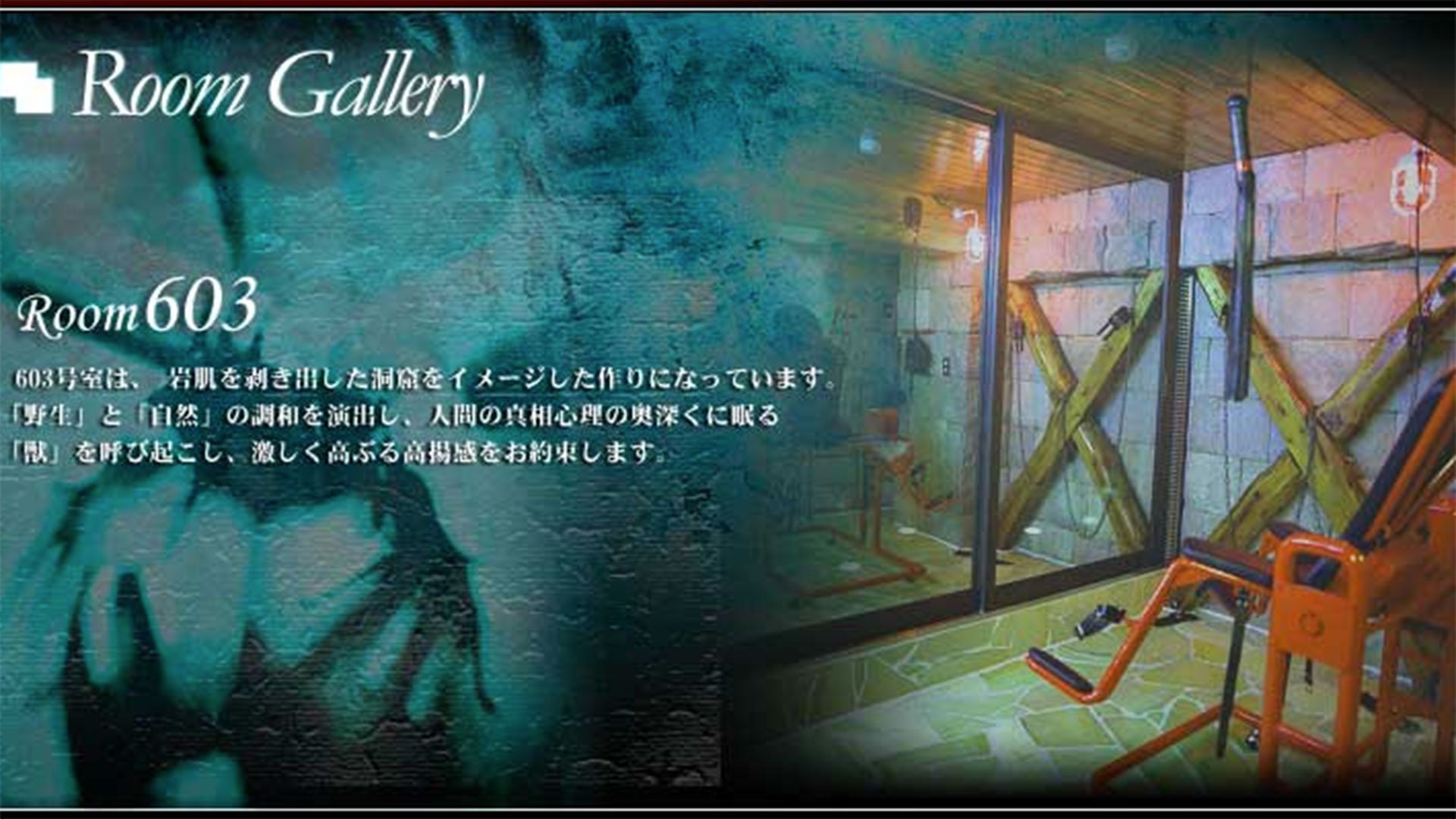 5. Champagne Tower Suite, Cove Haven Resort, Pennsylvania
This suite provides you a 7-foot-long, massive Champagne-glass bathtub for two, where you and your partner can let go of all the worries and just sink in the pleasure.
The hotels at Coven Haven Resort also lets you grab your own sex toys from an in-house vintage sex toy shop, resembling those in the early '90s, and a heart-shaped swimming pool also. The champagne bathtub is not restricted to Tower Suite only as the other two hotels – Paradise resort and Pocona Palace, also offers this beauty.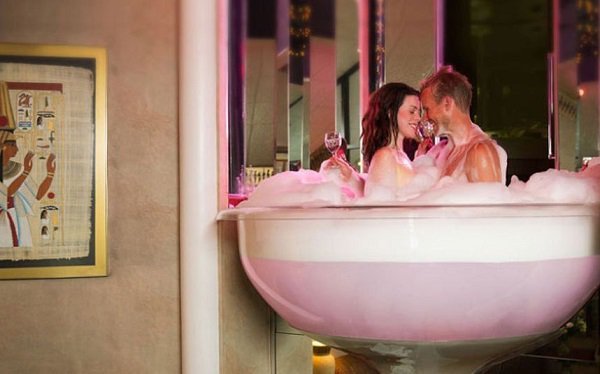 6. Hotel Max, Seattle, Washington
The rooms on the eighth floor of this hotel have adult-content images on their doors, thus; setting you in the mood right from the entryway.
Hotel Max is everything that you and your partner need to enjoy one special and sensual night, amidst your erotic imaginations. The rooms of this hotel has erotic wall art, besides providing you an on-demand phone button that will cater to your fetishes, and also a 'Sweet Surrender' package, which has a 10-foot-long satin tie / blindfold and a tiny-vibrator.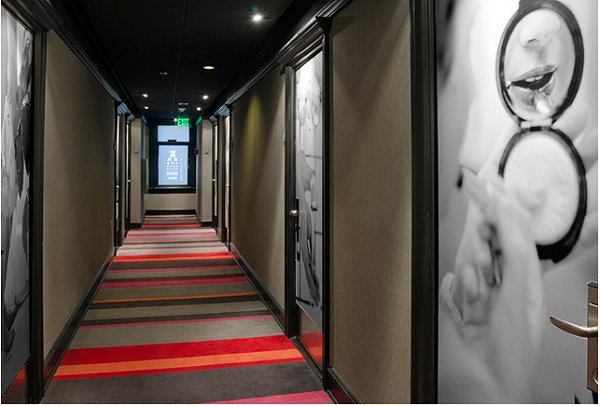 7. Hotel Diva, San Francisco, California
The design of the rooms are concentrated on turning up the heat between couples. The headboards of the bed are carved in such a way that it reflects pants peeling off and drag-down shades capture boudoir-themed pictures of garter belts and panty-hosed legs.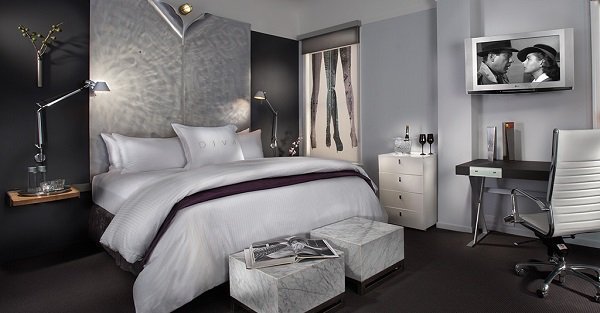 8. Don Q Inn, Dodgeville, Wisconsin
This place takes your dungeon fantasies to a whole new level as it provides an igloo-covered waterbeds and a Swinger Suite.
Don Q Inn offers bedside shackles for you and your partner to enjoy a sensual night, and after that both of you can relax in the heart-shaped hydrotherapy tub.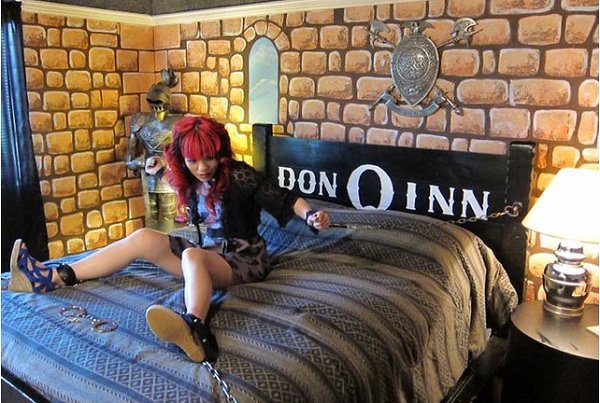 9. Hotel Zaza, Houston and Dallas, Texas
This hotel offers rooms that come with velvet, fur and slik, thus; triggering your senses even more to enjoy sex with your partner better.
Zaza spreads across 650 square-feet and aslo feature a shag carpet and love beads. The Houston location also has a two-way mirror inside the rooms. No wonder Britney Spears enjoyed her shares of sensuality in this hotel.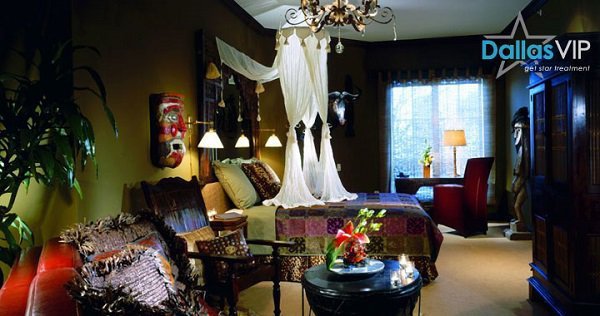 10. Hotel Pelirocco, Brigton, England
This hotel offers boudoir photography right in your rooms with hair and makeup arrangements done by them, enabling you to capture your beauty or even gift them to your better half.
Hotel Pelirocco spreads over 19 classy yet affordable rooms based on the theme of pop art, burlesque and rock 'n' roll. It also provides you and your partner six different forms of love hampers ranging from 'Like a Virgin' that has a waterproof vibrator to 'Love is a Drug' that has nipple tassles.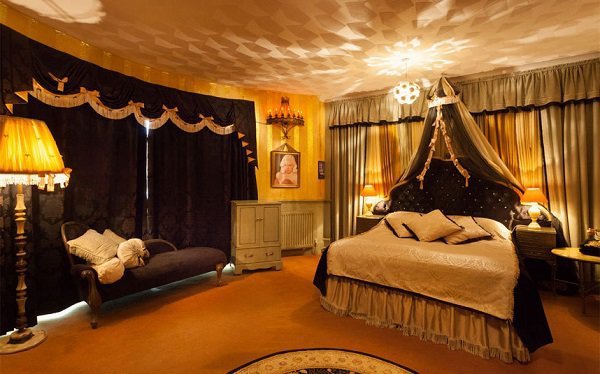 11. Nira Caledonia Hotel, Edinburgh, Scotland
This hotel offers a special '50 Shades of Grey' love box that contains strawberries dipped in chocolate, fluffy handcuffs and a feather tickler.
The love package known as '50 Plaids of Wa-hay' was launched right before the movie released in 2015. It is a two-night weekend package that also provides aromatherapy massage and champagne bath, which alone costs a whopping £2,000.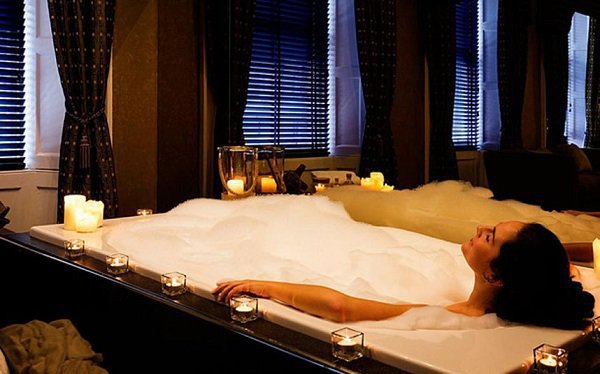 12. Derby Collections, Paris, Barcelona and Madrid
This hotel collection offers you the 'Intimate Pleasure Anger Box' that contains sex toys, adult-tape and even sex tips.
Sharing partnership with erotic lingerie and toys firm Lily Blossom, Derby Collections also offers you a bottle of champagne and strawberries dippped in chocolate.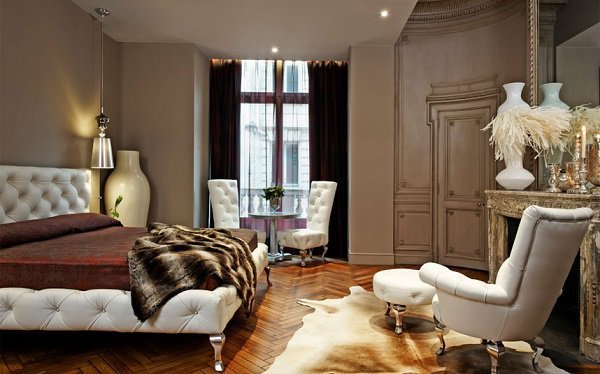 13. Erotica Package, The Library Hotel, New York
You get a '7 Sins of Love' pleasure kit right on your arrival at this hotel.
The hotel's 'love rooms' features erotica package that containst a bottle of champagne, a dozen of red roses, a mixture of Belgian chocolates and even a pocket guide of Kama Sutra.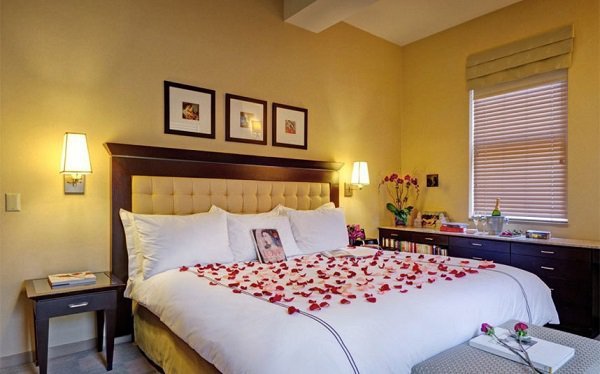 14. Desire Pearl Resort and Spa, Riviera Maya, Mexico
This Carribean Sea surrounded resort is specifically designed to give it a clothing 'optional' environment.
Desire Pearl also has an interesting nightclub filled with swings, stripper poles and even a games room where you and your partner can explore your eroticism.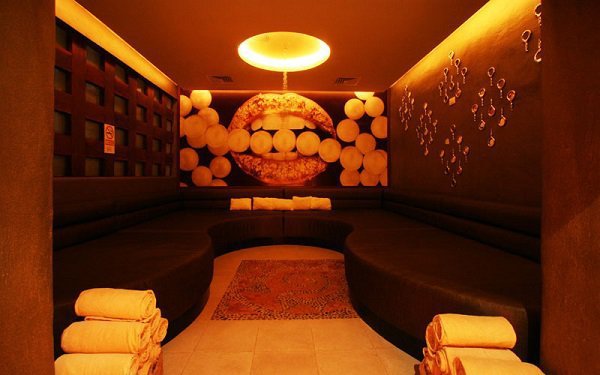 15. Naughty or Nice, Z NYC Hotel, Long Island City
This hotel offers you a box of trinkets that contains handcuffs, tickle feather, blindfolds and even an edible underwear.
As the name says, this hotel offers accommodation in a queen room. Other than the trinkets, the naughty package also feature a book of erotic games, strawberries dipped in chocolate, champagne and breakfast in bed. The nice package offers a room massage for you and your partner.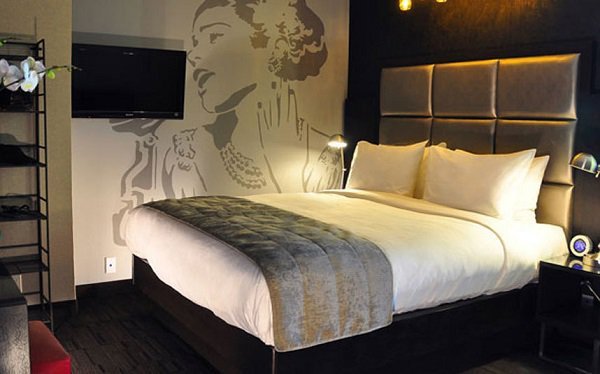 If you like having naughty and raunchy twists in your life then these are the hotels you got to visit.