There's a lot about our incredible nation that we do not know much about. 
Let's have a look at some of the highest points of the world that are located in India: 
1. Highest Post Office: Hikkim Branch
Location: Spiti Valley, Himachal Pradesh
Elevation: 4,572 m (15,500 ft)
The post office was opened on  November 5, 1983 and handles around 15 to 20 letters everyday under the supervision of Rinchen Chhering. Around 50 people have their savings accounts in the Hikkim post office. It remains shut for a period of 6 months every year because of snow.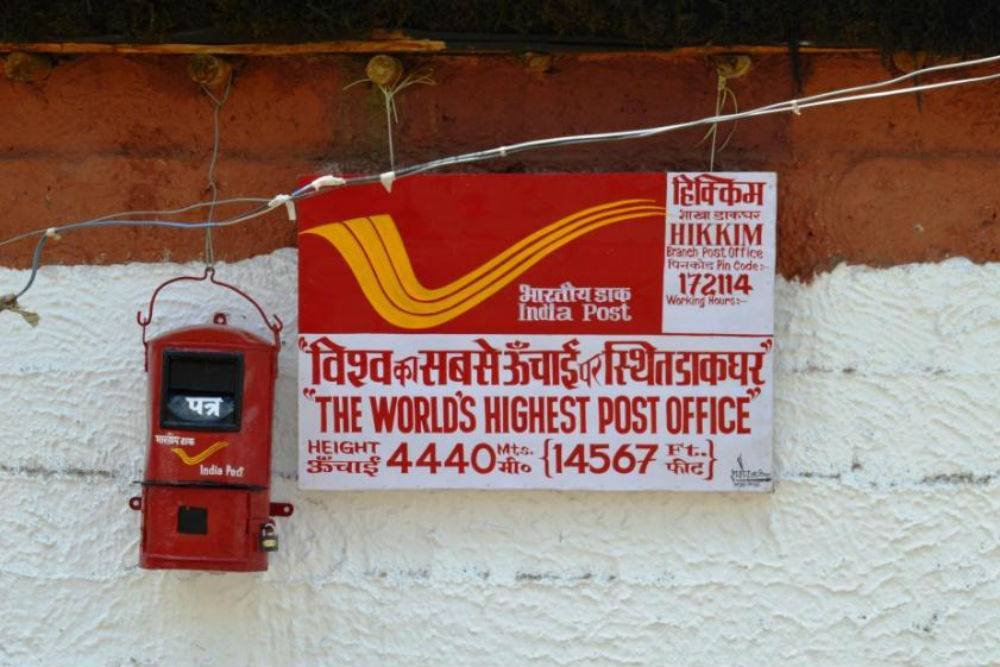 2. Highest Motorable Road: Khardung la
Location: Ladakh, Jammu and Kashmir
Elevation: 5,602 m (18,380 ft)
Khardung la, meaning the 'Pass of Lower Castle,' is located on the way from Leh to the Nubra Valley in Ladakh. It is open all year long and is one of the most accessible roads in the valley. Not to forget, it could also be risky business driving to Khardung la.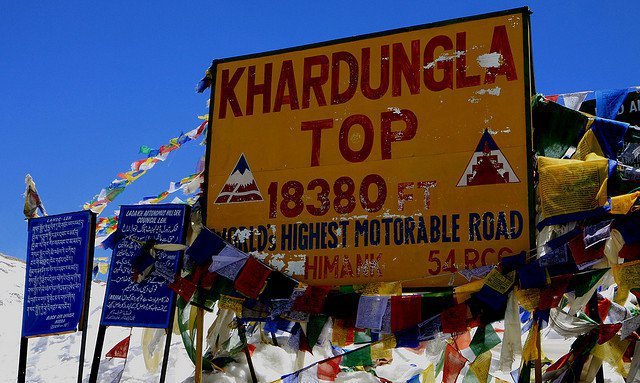 3. Highest Cafe: Rinchen Cafeteria
Location: Ladakh, Jammu and Kashmir
Elevation: 5,602 m (18,380 ft)
Rinchen cafeteria is situated at Khardung la, Ladakah. It is named after Colonel Chewang Rinchen, for seizing Pakistan occupied Kashmir. Apart from Maggie, black coffee or tea, and momos, you can also buy souvenirs for your loved ones from the nearby army-run merchandise shop.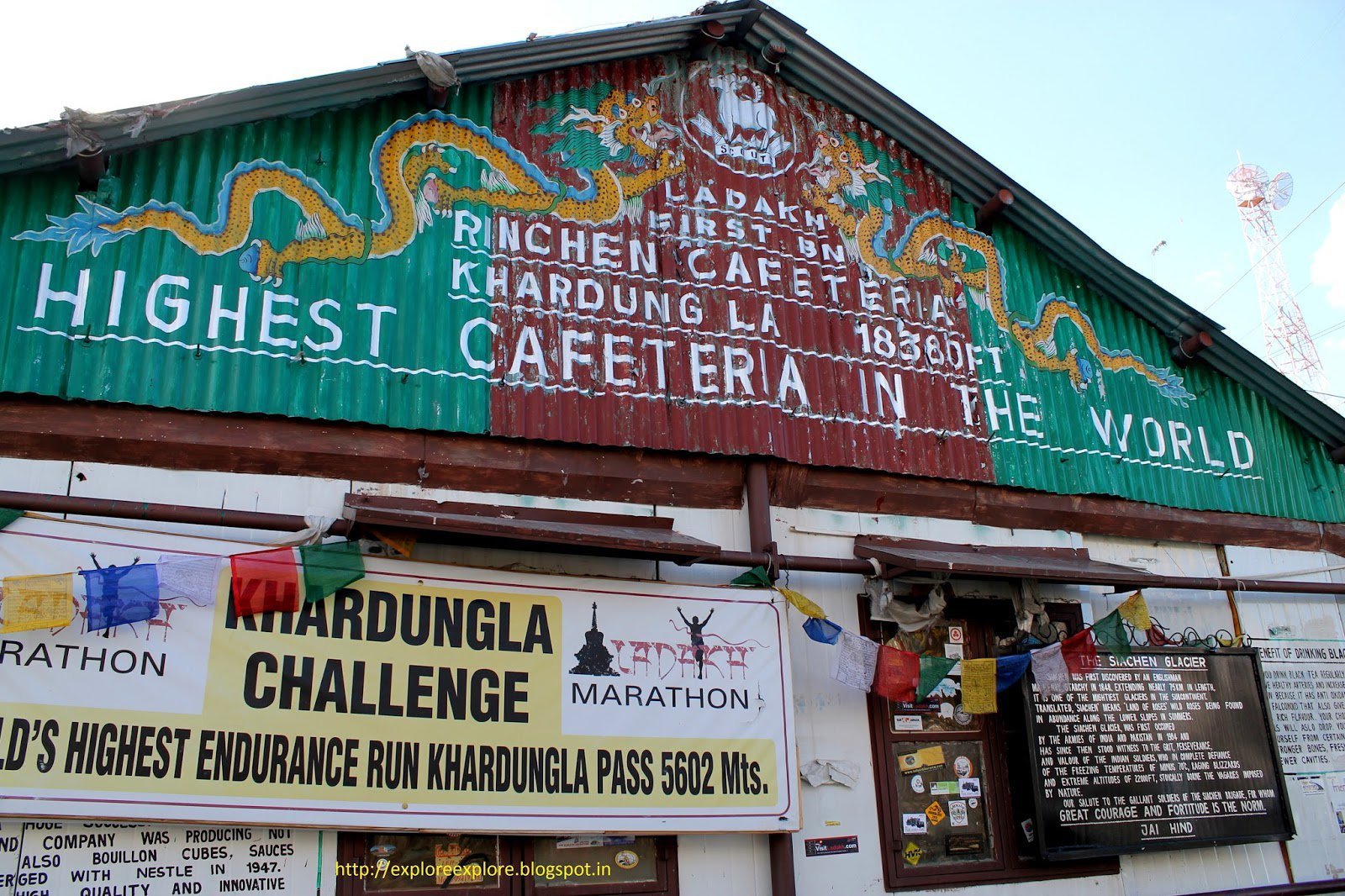 4. Highest Petrol Pump: Indian Oil Corporation Pvt. Ltd
Location: Spiti Valley, Himachal Pradesh
Elevation: 3740 m (12270 ft)
The highest petrol pump in the world is located at the Losar road of Kaza Village. It is quite an old-fashioned petrol pump as it only shows the amount of petrol filled and doesn't calculate the money to be paid by the customer.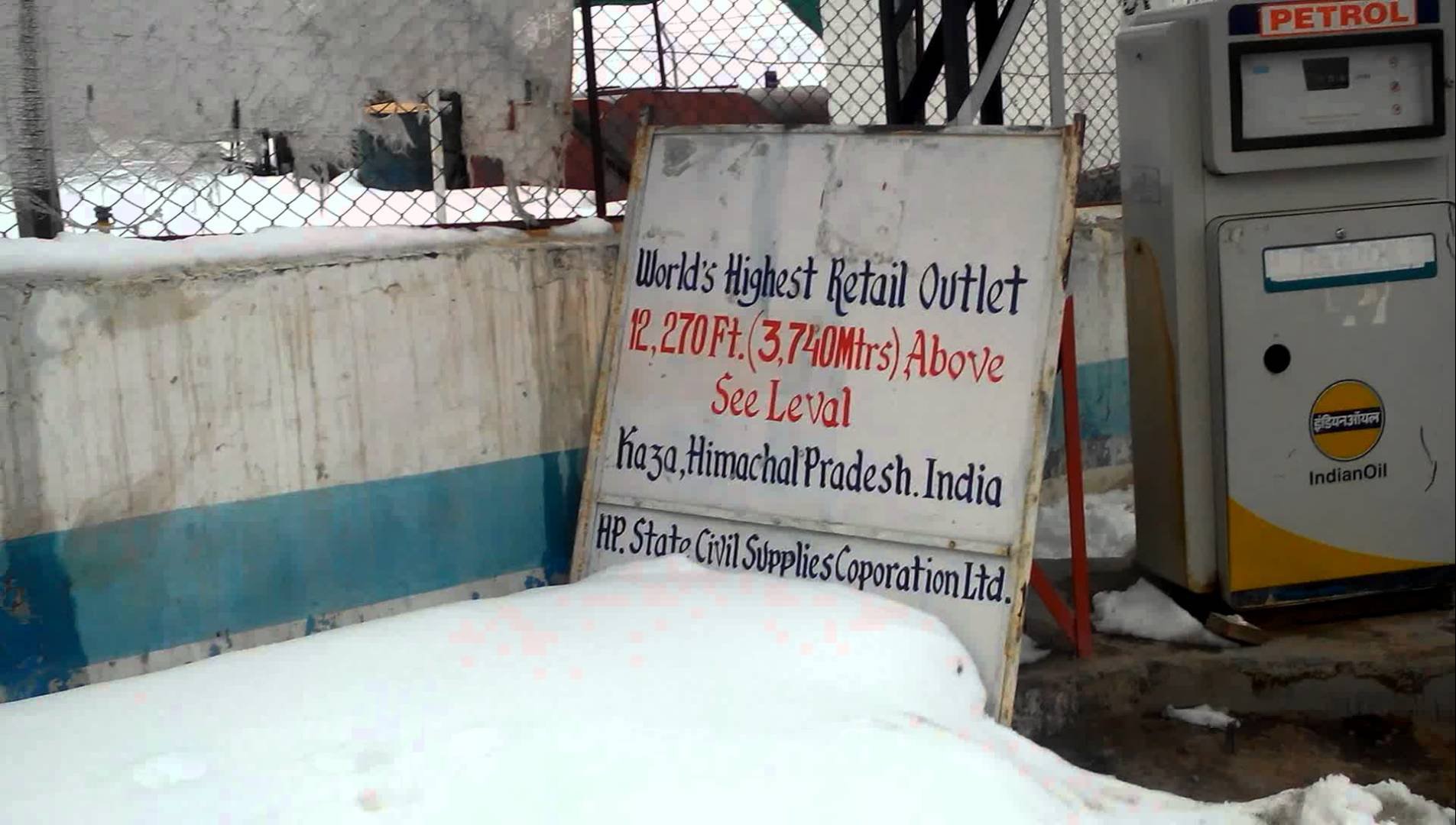 5. Highest Battlefield: Siachen Glacier
Location: Ladakh, Jammu and Kashmir
Elevation: 6,700 m (22,000 ft)
Siachen is a 76 kilometers long glacier, a mass of barren ice so high up one's speech is blurred; snowstorms are frequent and fresh food is rationed. More soldiers have perished in the harsh weather conditions as opposed to line of duty, and in the last 30 years 846 soldiers have sacrificed their lives at Siachen.
6. Highest Cricket Pitch: Chail Cricket Ground
Location: Solan, Himachal Pradesh
Elevation: 2,220 m (7283 ft)
A hill was leveled by Maharaja Bhupinder Singh of Patiala to build this cricket pitch in 1983. Apart from the gentleman's game, the ground is also used for polo and football matches by the Chail Military School.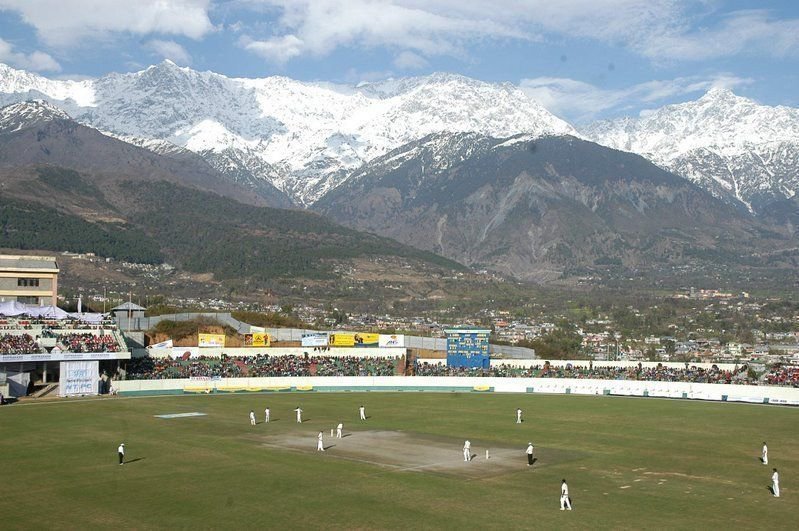 Location: Nathu La, Sikkim
Elevation: 4023 m (13,200 ft)
Located at Nathu la, Sikkim 'Ram Bharosey ATM' as it is called by the locals of the area, is the highest in the world. Due to harsh weather conditions and inadequate power-supply, the machine functions properly during the day only.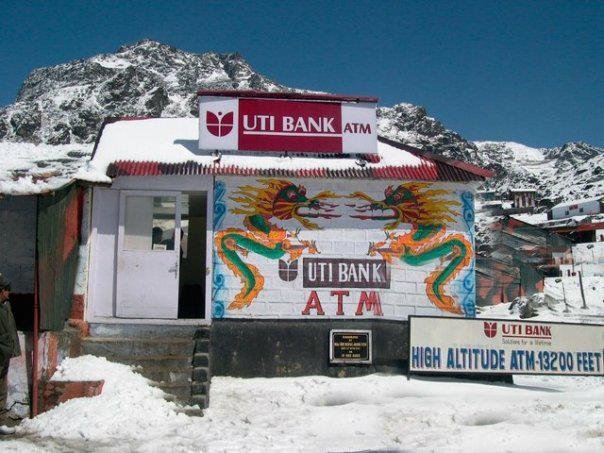 8. Highest Polling Booth: Anlay Phu
Location: Leh, Jammu and Kashmir
Elevation: 5,000 m (15,000 ft)
After trekking for hours through the mountainous desert, 85 men and women registered their vote during the national elections in 2014. This made Anlay Phu the highest polling station in the world.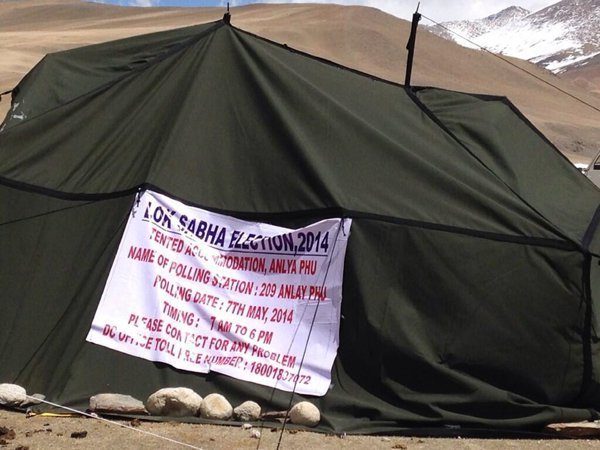 9. Highest Golf Course: Yak Golf Course
Location: Kupup Valley, Sikkim
Elevation: 3,970m (13,025 ft)
Inaugurated in 1973, it is an 18-hole golf course that has been affiliated to Indian Golf Union since 1985. It has also been included in the Guiness Book of World Records for being the highest of all golf courses in the world. During winters they also host ice hockey, ice skating, skiing, and baseball events.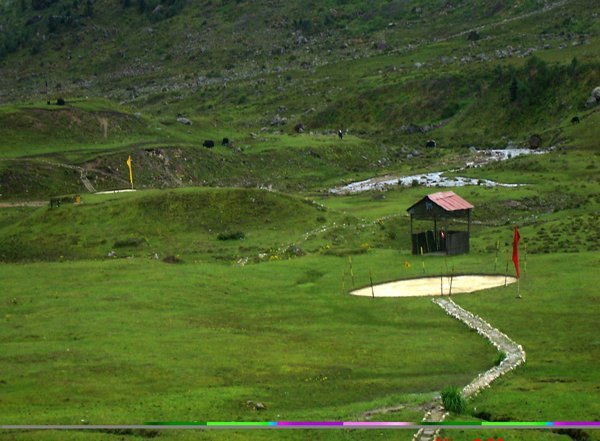 10. Highest Tea Estate: Kolukkumalai Tea Plantations
Location: Munnar, Kerala
Elevation: 2408 m (7900 ft)
This place is popular for growing flavorsome teas. The main factory uses its traditional method to process the tea, which is different from the more popular CTC (crush-tear-curl method). You can also buy fresh tea from the factory outlet.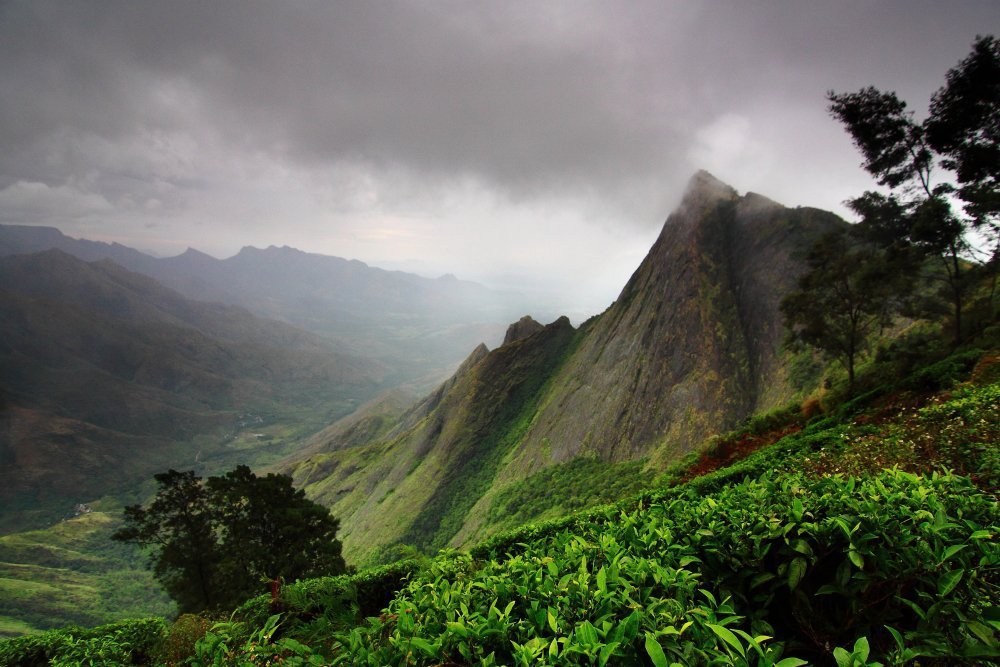 Amazing, isn't it?