There are many exotic places in this crazy real world of ours, the frozen desert of Antarctica being one of them. As well as being the coldest, Antarctica is also the driest, windiest, and highest continent on earth. Everybody knows that it is not an easy place to get to but you will be surprised to know many people visit Antarctica every year. Yes, it is accessible. And if you're wondering how to get there that's what we've got for you.
Here's how you can get started with planning your holiday to Antarctica:

How to go? 
By air: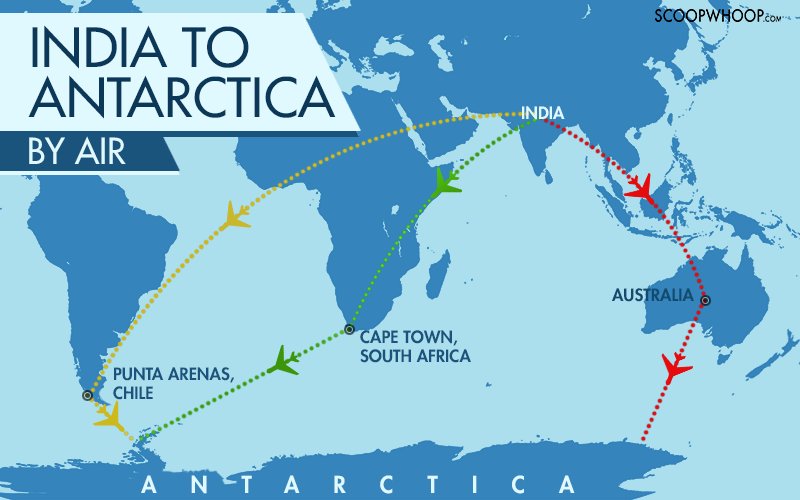 A trip to the Antarctica Peninsula that begins or ends in Cape Town or Port Elizabeth (South Africa) is offered occasionally, either at the start or end of the season.
One classic shortcut for the trip is to fly from Punta Arenas in southern Chile to King George Island in the South Shetland Islands and join a cruise from there.
3. India > Australia > Antarctica & India > New Zealand > Antarctica
There are flights that depart from many places in Australia (Sydney, Melbourne, Perth, etc) and New Zealand for the Antarctic Peninsula. 
What you will miss: If you plan to go by air, you won't be able to cross the Drake Passage which can only be done if you plan to travel by ship or cruise. It is magical, you know. You can also spot albatrosses following the ship, the first ice-bergs, first penguins, and seals.
However, travelling by air will save your time, plus it is also helpful for people who feel ill on ships.
Here's what Drake Passage looks like: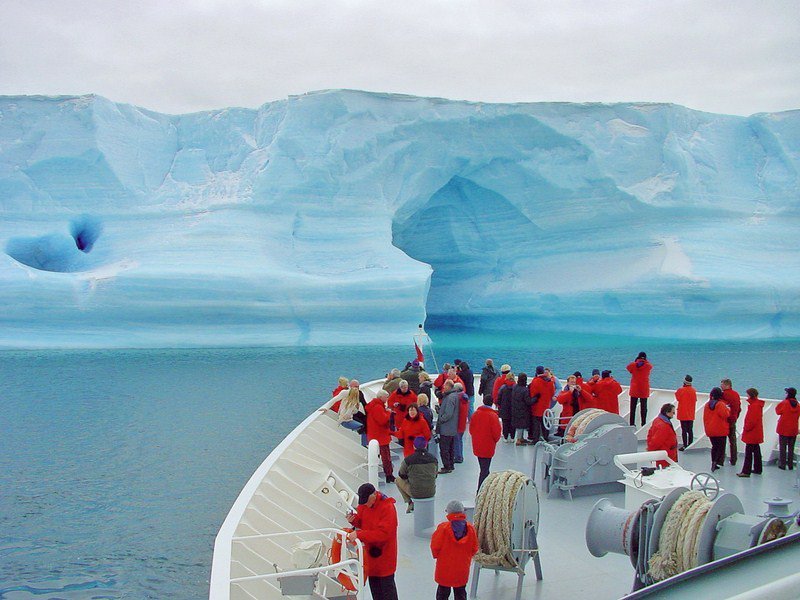 2. By ship/cruise/yacht
Most travelers visit Antarctica by means of a cruise ship or traveling on one of the small sailing or motor vessels.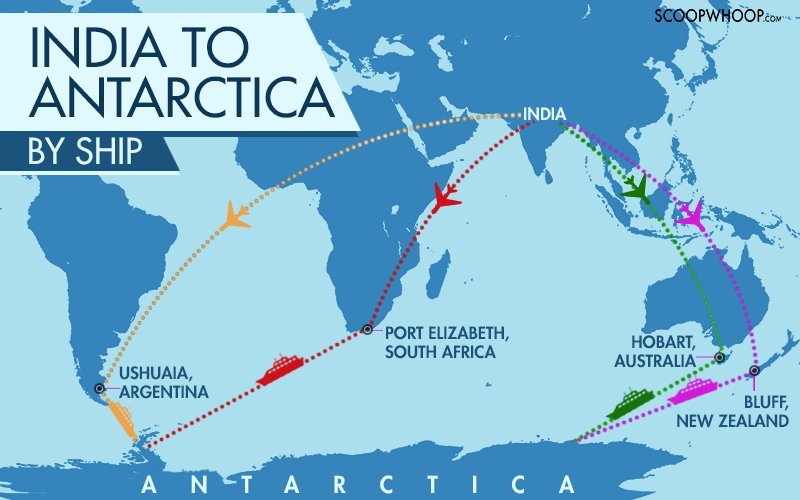 1. India > Ushuaia, Argentina > Antarctica
Most of the cruises depart from Ushuaia (Argentina), one of the gateway ports in southern South America. These cruises often include visits to the nearby Falkland Islands (Islas Malvinas) and South Georgia.
Falkland Islands- Port Stanley, capital of Falkland Islands is one of the world's smallest and the most isolated capital of the world. It is a home to large populations of birds such as penguins and albatrosses.
South Georgia- It is an uninhabited 150km-long island which has one of the most impressive wildlife sanctuaries on the planet. It is often described as a breeding ground for 4.5 million fur seals and 50 million seabirds. There are some 40 visitable spots along the north shore – depending on weather conditions.  For some, this place even tops Antarctica proper.
2. India > Port Elizabeth, South Africa > Antarctica
Repeat: a trip to Antarctica Peninsula that begins or ends in Port Elizabeth is offered occasionally, either at the start or end of the season.
3. India > Hobart, Australia > Antarctica &
India > Lyttelton or Bluff, New Zealand > Antarctica
Only a limited number of ships operate to the Ross Sea side of the Antarctica continent. They usually depart from Hobart, Australia or Lyttelton or Bluff, New Zealand. You will probably visit the islands of New Zealand (Snares, Campbell and Auckland) and Australia (Macquarie). These islands are characterised by a high biodiversity regarding plants and wildlife.
The Ross Sea region is also known as the 'Gateway to the South Pole'. It is where Antarctic explorers of the Heroic Age made history. Their wooden huts still stand on Ross Island: Scott's at Hut Point and Cape Evans and Shackleton's at Cape Royds.
Shackleton's at Cape Royds: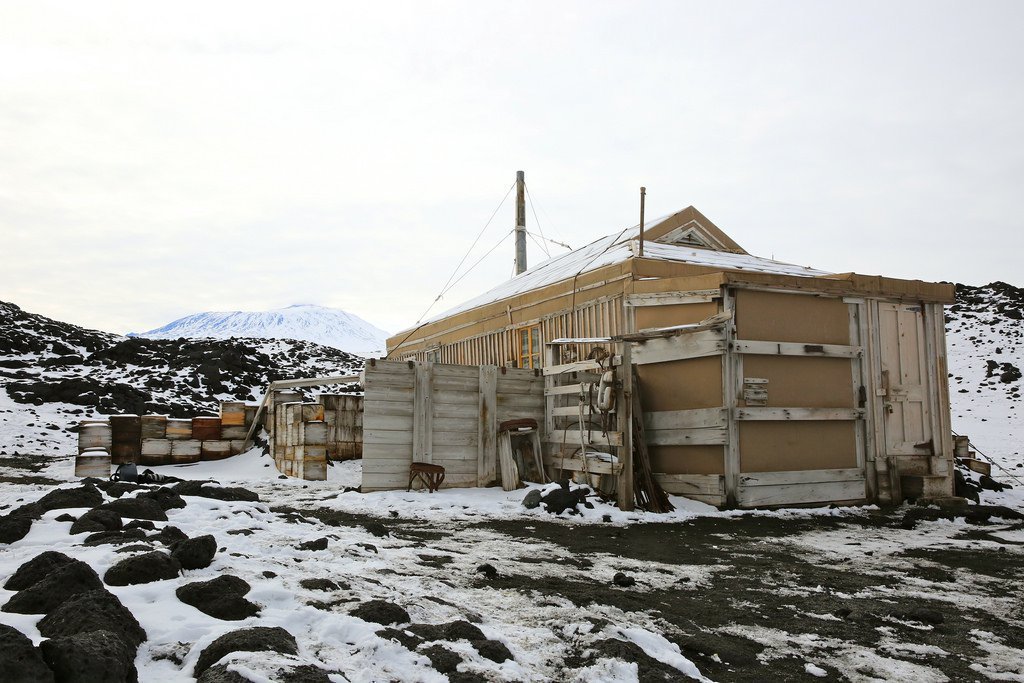 If you're after an adventure, then you should take either the New Zealand route or the Australia route as only a handful of ships per year head south from New Zealand or Australia to the Ross Sea.
No documentation or visas are required to visit Antarctica, but if your cruise stops off at other countries en route, visas and documentation may be required for them.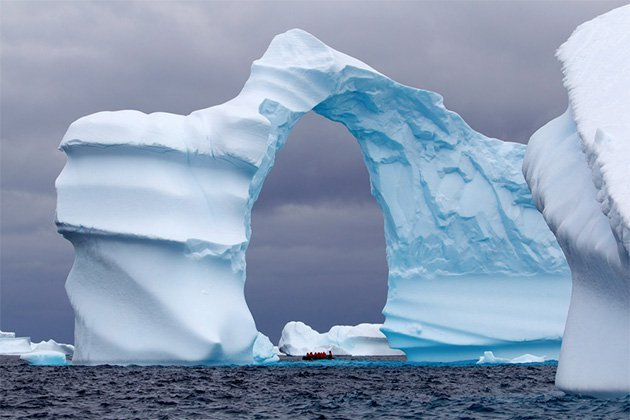 When to go?
December-January – It is the summer time in Antarctica. Days are long, the temperatures are at their 'warmest' and the penguins, seals and seabirds are active everywhere.
February- March – This is the best time to see humpback, sperm and orca whales. Fledgling penguin chicks and sea birds are abundant during this time.
April to September- It is the winter time in Antarctica which includes stormy seas, freezing temperatures, and hence, there is no possible way to visit the region during these months.
This is a picture from the month of May: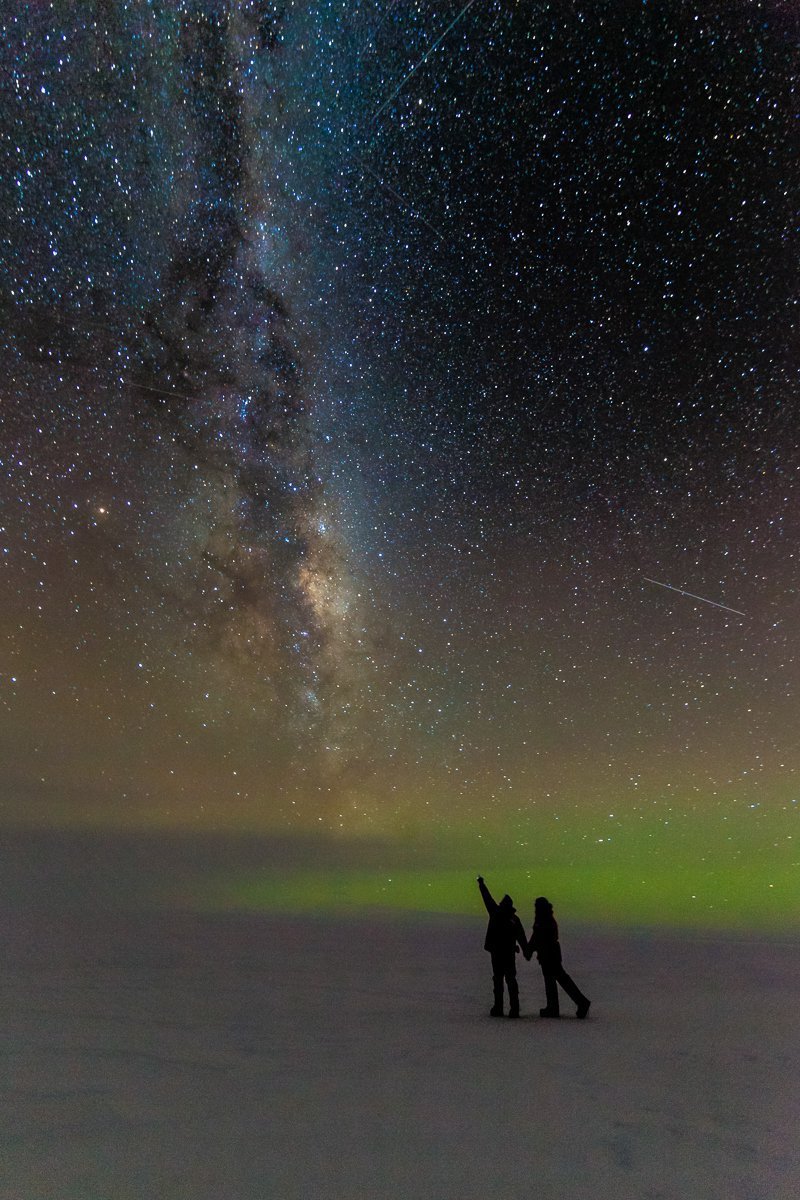 October- The very first trips of the season start in late October. And it has an advantage. You can experience the start of the courting and mating season of the penguins of South Georgia and the Falkland Islands.
November- This is the time of year when the winter ice breaks up into stunning icebergs and sculptures. Wildlife courtship rituals continue, including male seals establishing their breeding beaches, and wildflowers are in bloom in South Georgia and the Falklands.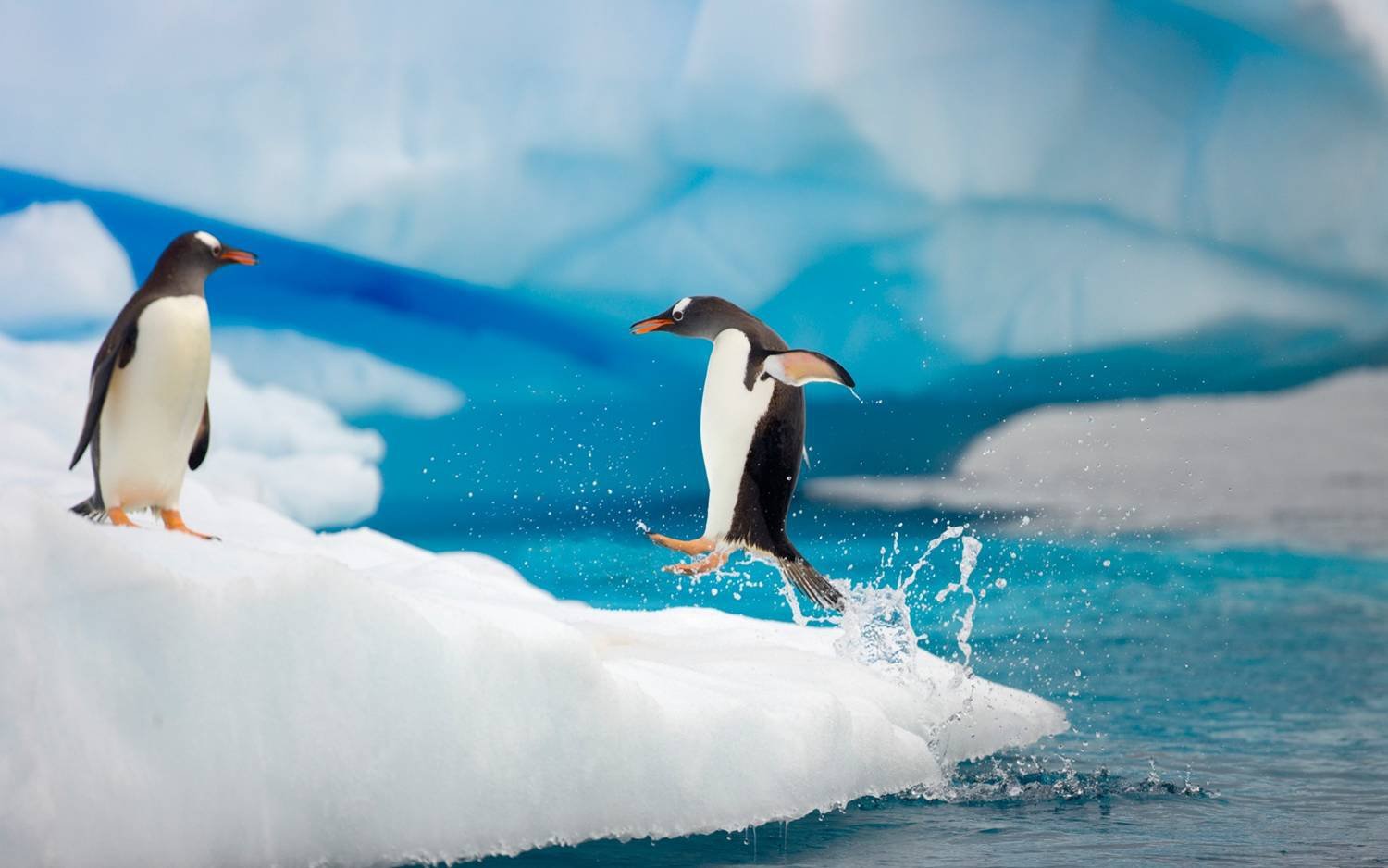 How long will be the trip?
The shortest one is for about 10-12 days and the longest being about three weeks, depending upon the mode of transport and the weather conditions. 
The longer trips usually include visits to the Falkland Islands (Islas Malvinas) and South Georgia, or the cruises to the Ross Sea area from Australia or New Zealand or trips operating to or from South Africa. Trips are generally 20-30 days due to slower speeds aboard yachts and other motor vehicles.
Here's a glimpse of what I am talking about:
Antarctica is the only continent without a time-zone. Temperature, here, can dip as low as -93.2 °C.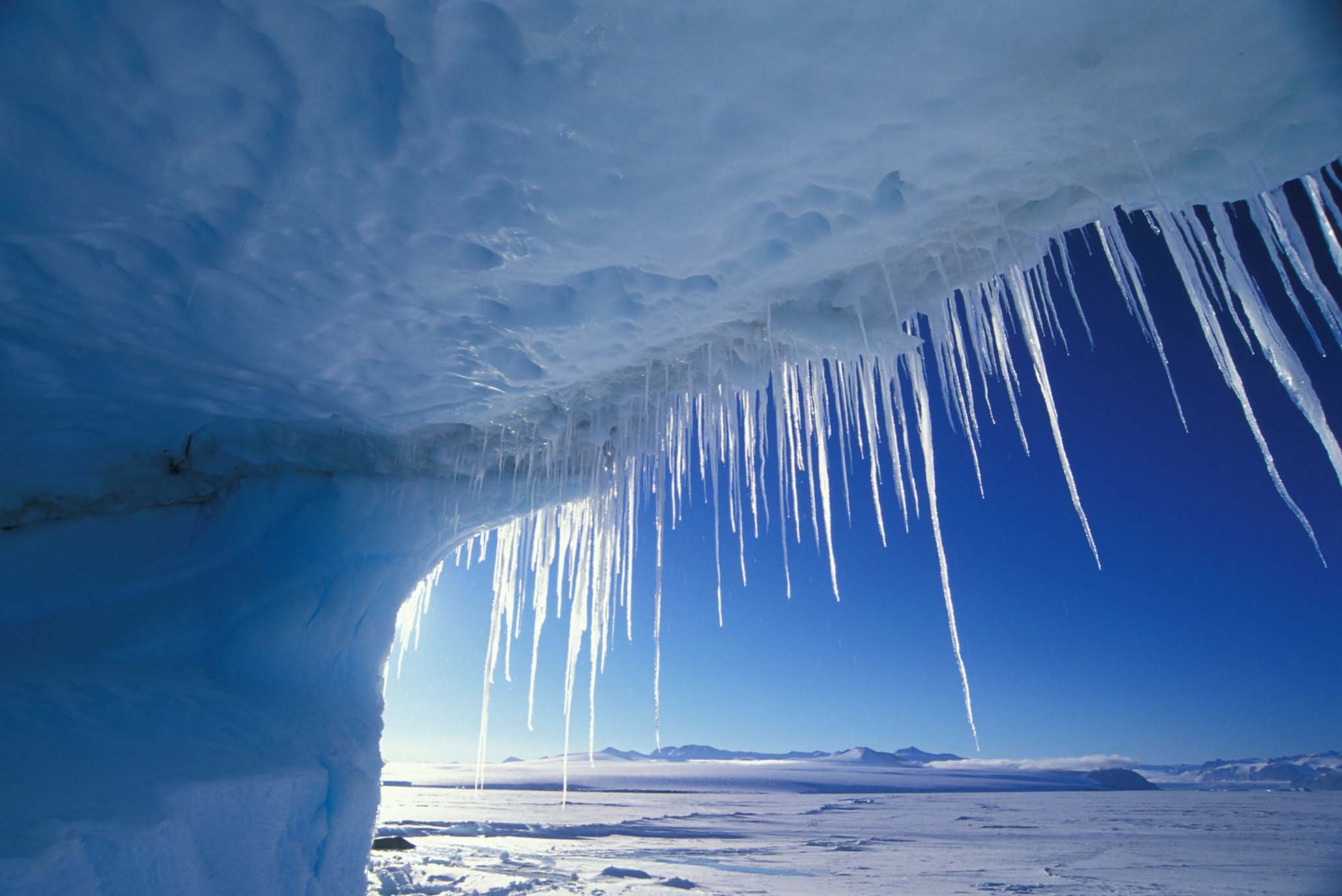 From vast colonies of Penguins…
… to humpback whales breaching in Antarctic waters,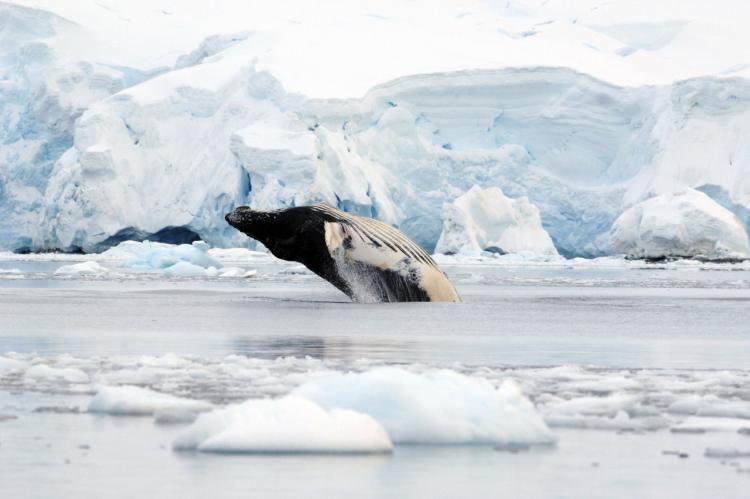 … to ice caves, can this place be any more fascinating?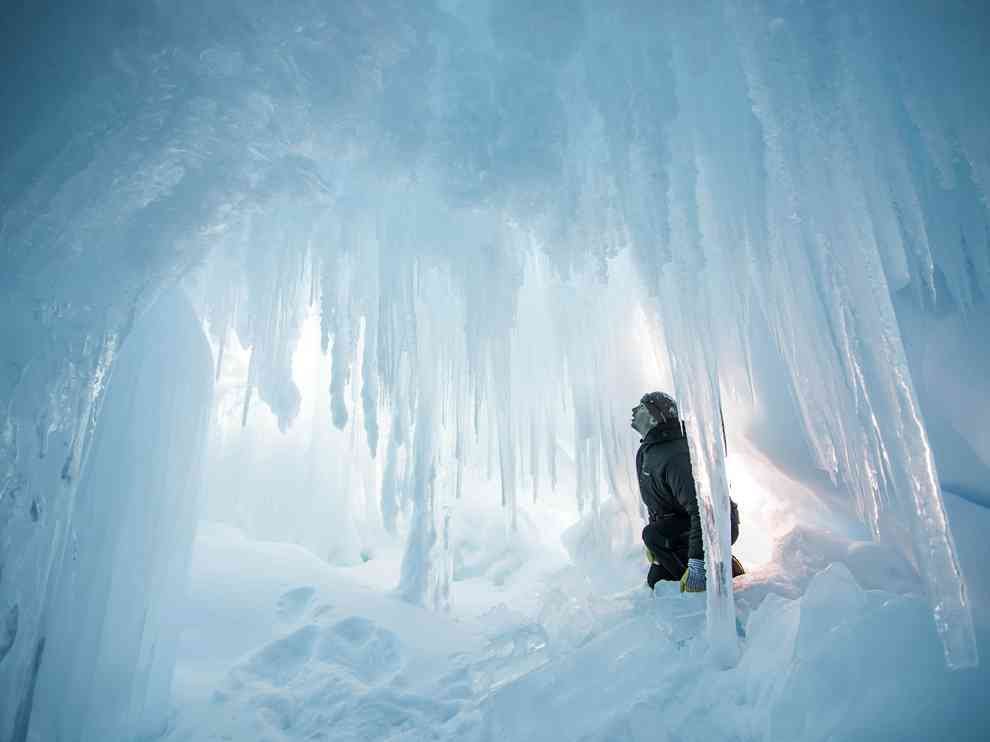 During their trips, most travelers board small rubber-inflatable boats to visit shore sites mostly for wildlife watching of penguins, seals, and nesting birds.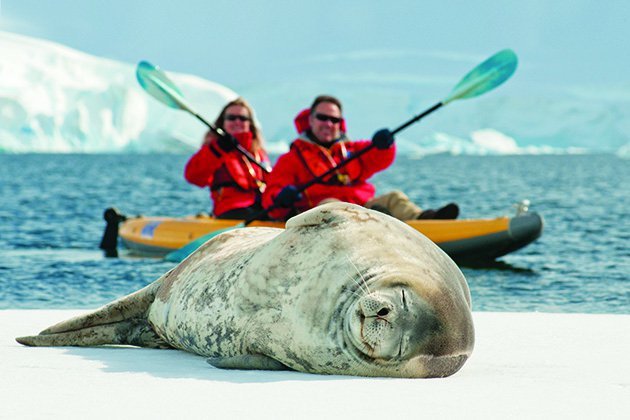 And they also get to explore their adventurous side with activities such as camping, snowboarding, scuba diving..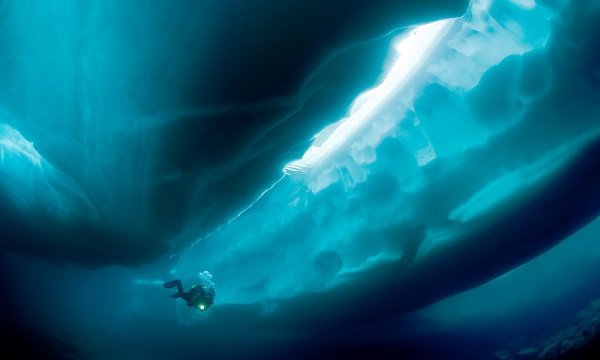 …  mountaineering, skiing,…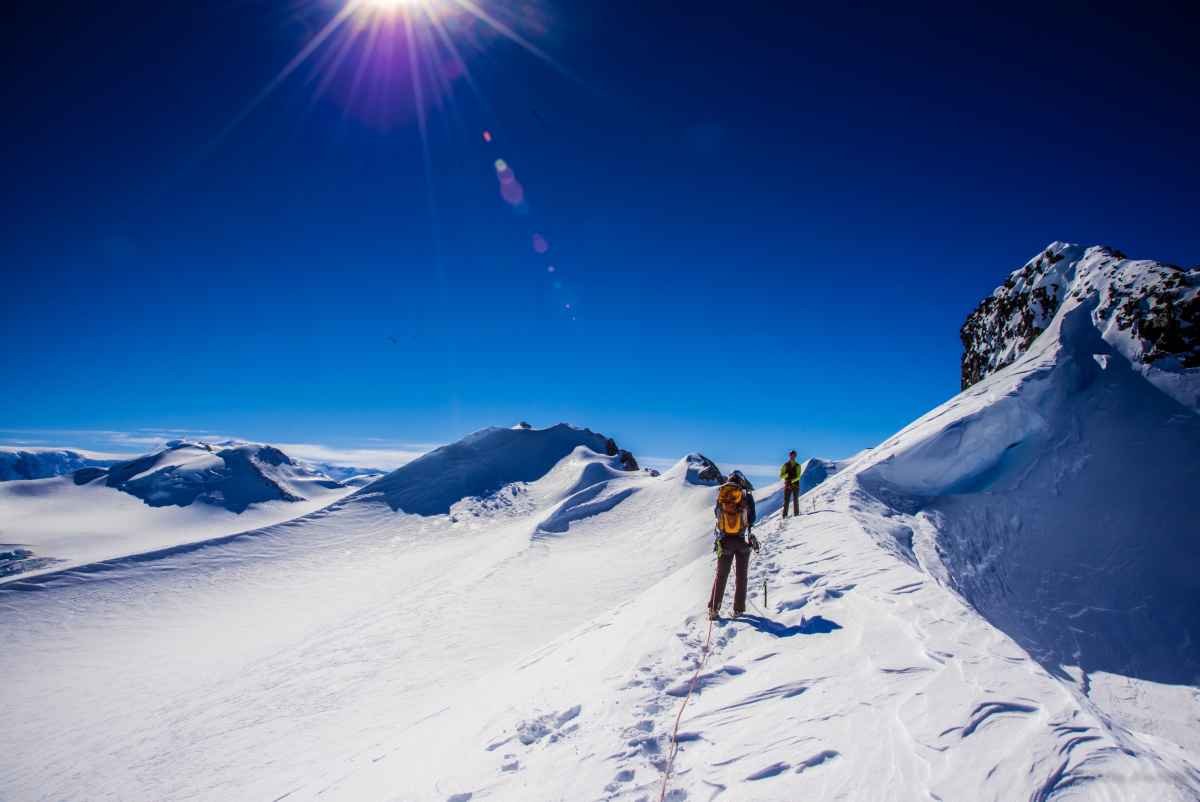 … kayaking and visiting emperor penguin colonies.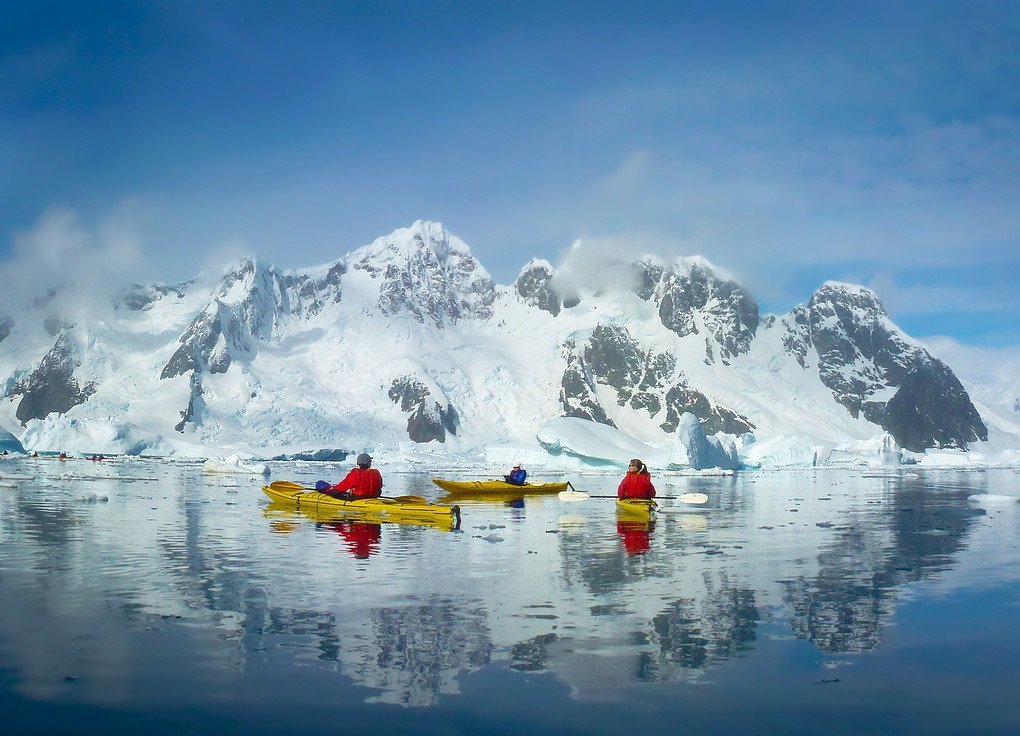 It is a destination that will literally 'wow' you at every turn.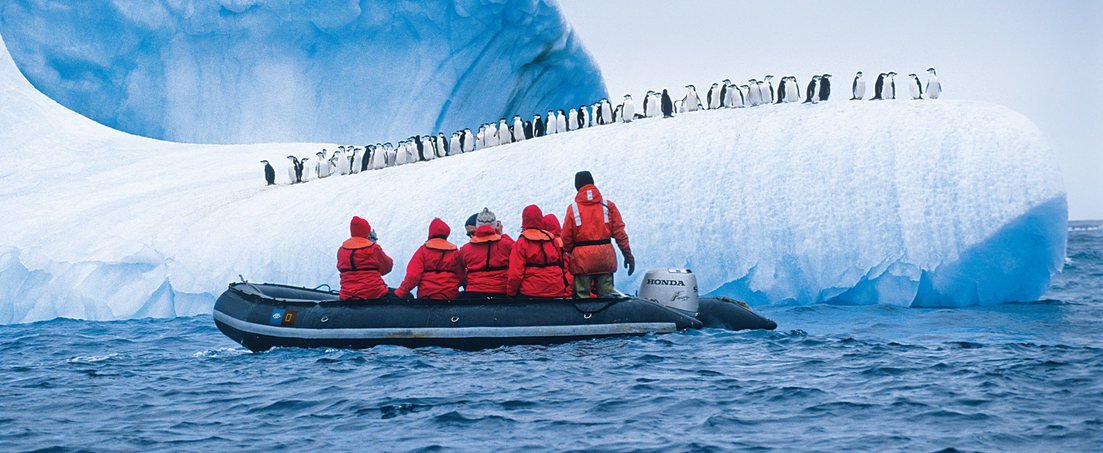 Its abundant wildlife, scenery, and solitude is something that can be found nowhere else on the globe.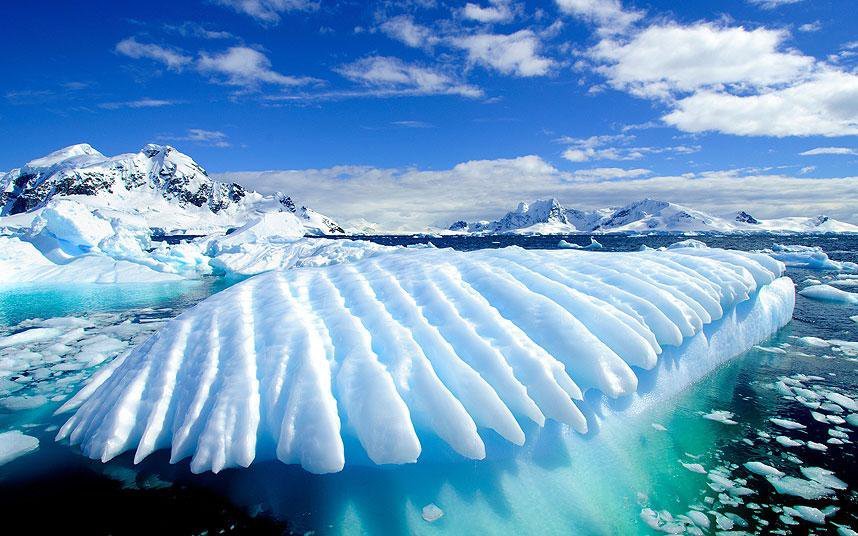 Surreal, isn't it?
Infographics designed by: Puneet Gaur Barnala
Masthead Image Source: Expeditions