I barged into my boss' office the other day to tell her I need a break to clear my head and that I was considering going somewhere where there's no network. She looked at me dead in the eye and simply said, "I'm coming with you."
We decided on Corbett because we wanted to be one with nature.
Okay fine. We decided on Corbett because we had an invite from this place and it was a free trip. And so, two South Delhi types, who didn't believe in impromptu trips, set out impulsively with low cash in their wallets and even lower expectations.
Corbett is a 6-hour drive from Delhi via Ghaziabad (where traffic held us back by an hour), Hapur, Gajraula, Garhmukteshwar and Moradabad. If you start around 6 in the morning, you will easily reach by around 12:30 PM, and have the entire day for shenanigans.
As we entered Ramnagar, and into Corbett, we crossed several 'resorts' and inns, but there was no sign of Jim's Jungle Retreat. The road had literally ended.
So, I called the retreat, and they asked me just keep going straight. At this point, we were like, "Straight where?" But then, behind the trees, we finally saw the 'gate'.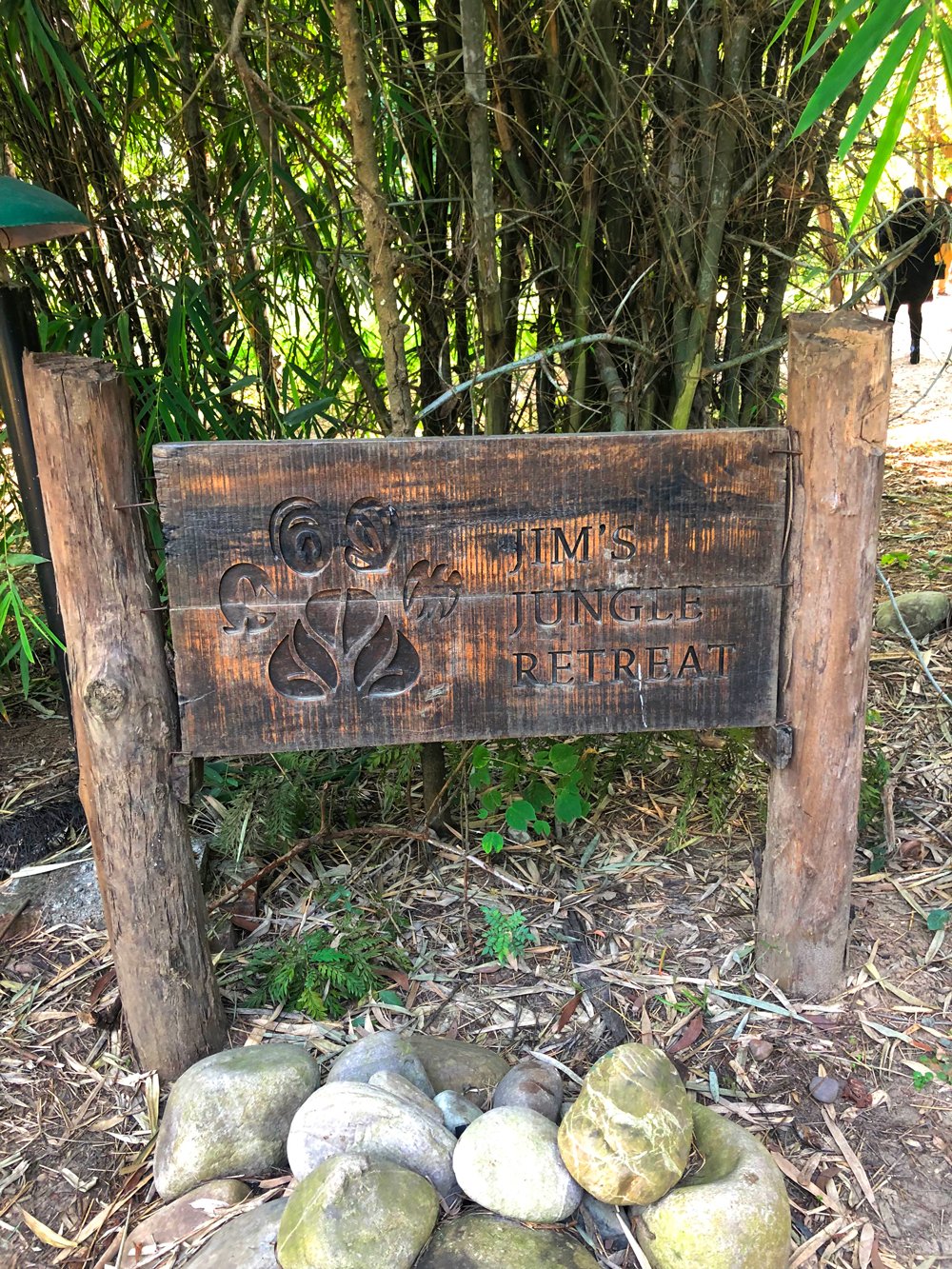 And there, in the heart of the woods, was this enchanting haven that slowly unraveled before us. I think our mouths might've been open for a while.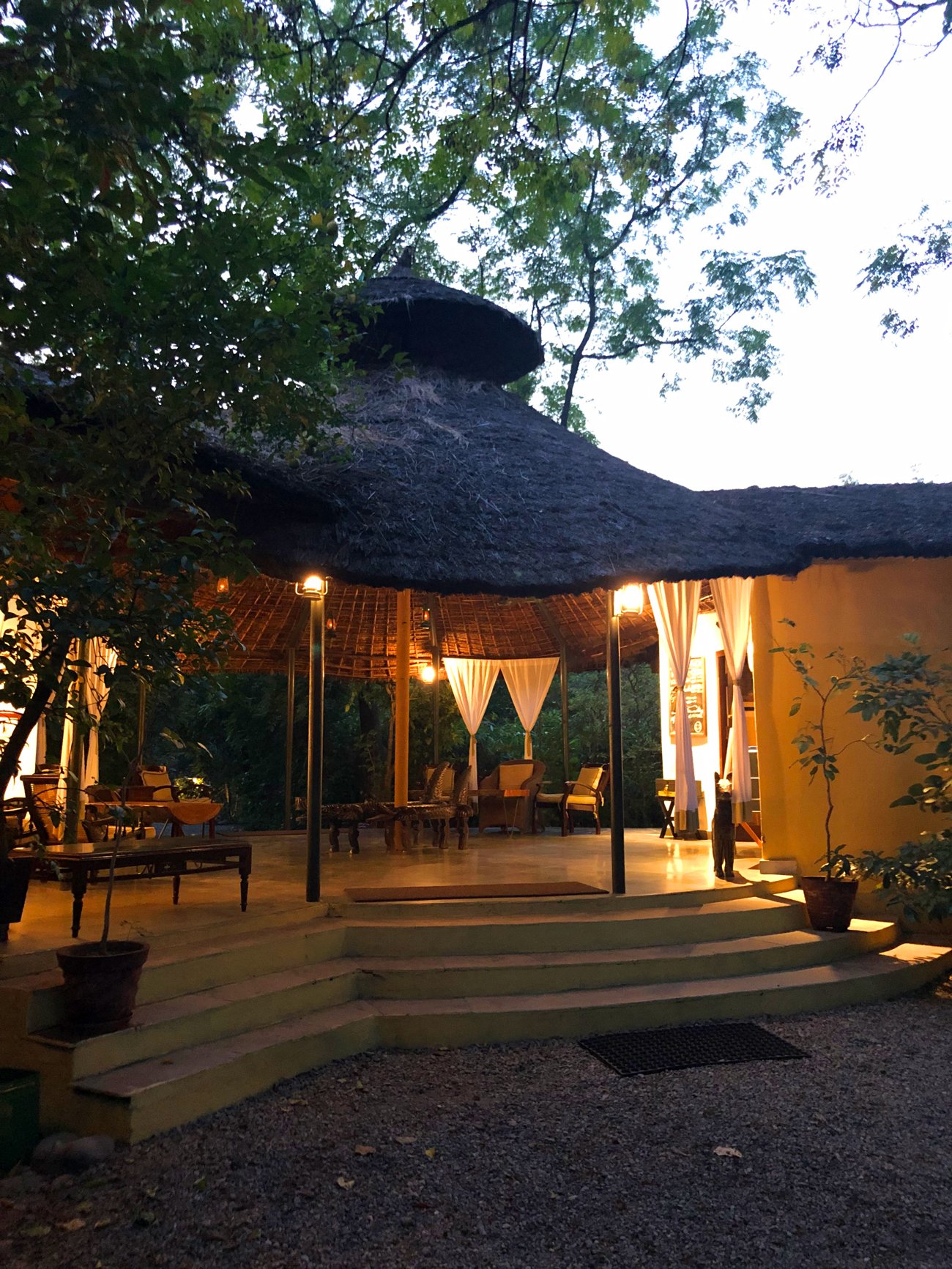 As we were escorted from the reception to the lunch hall along the pebbled pathway, we took in the gorgeous sights around us: trees, ponds, a running stream and a whole lot of clean, fresh air, which is rare to find in the city.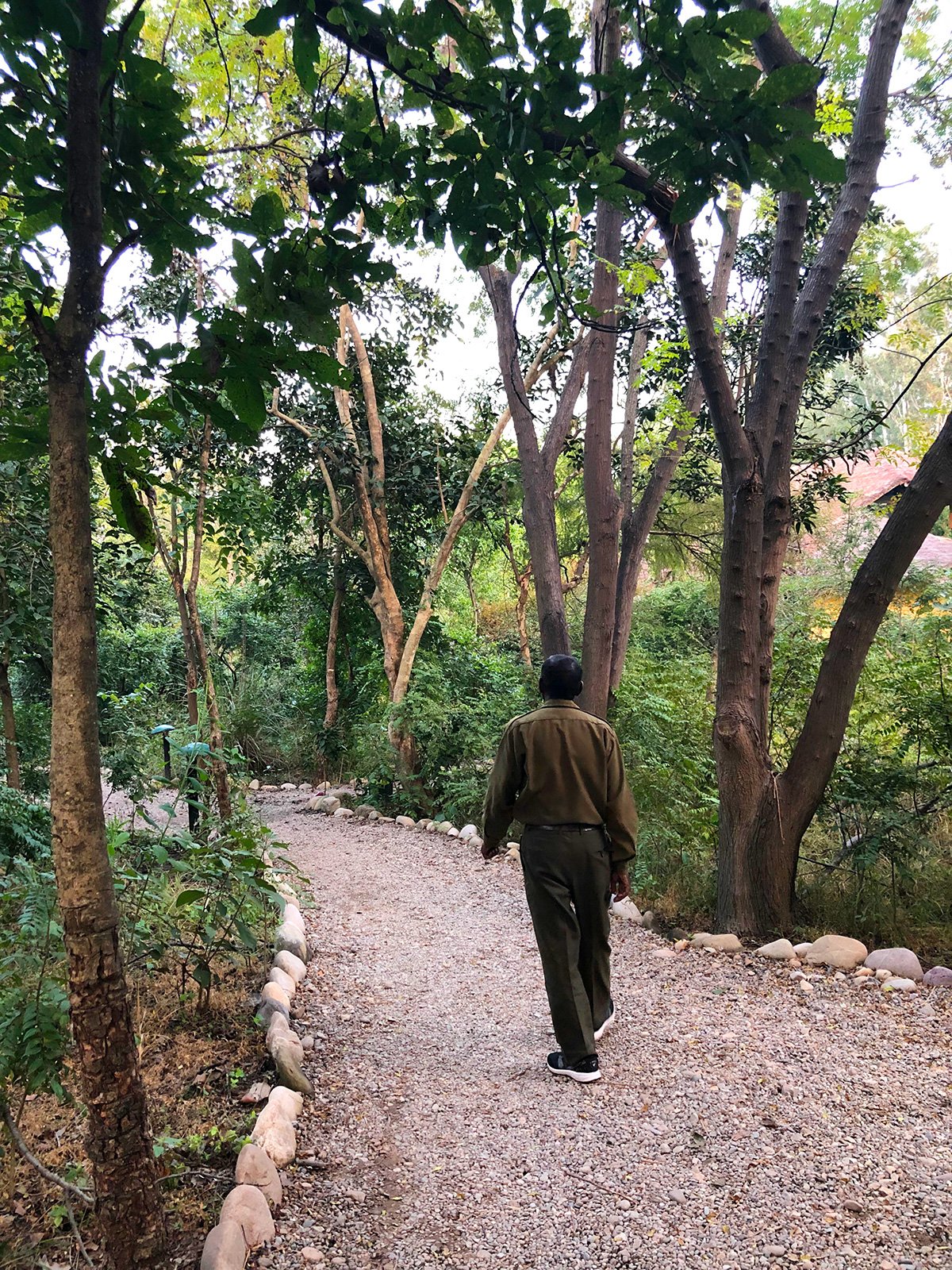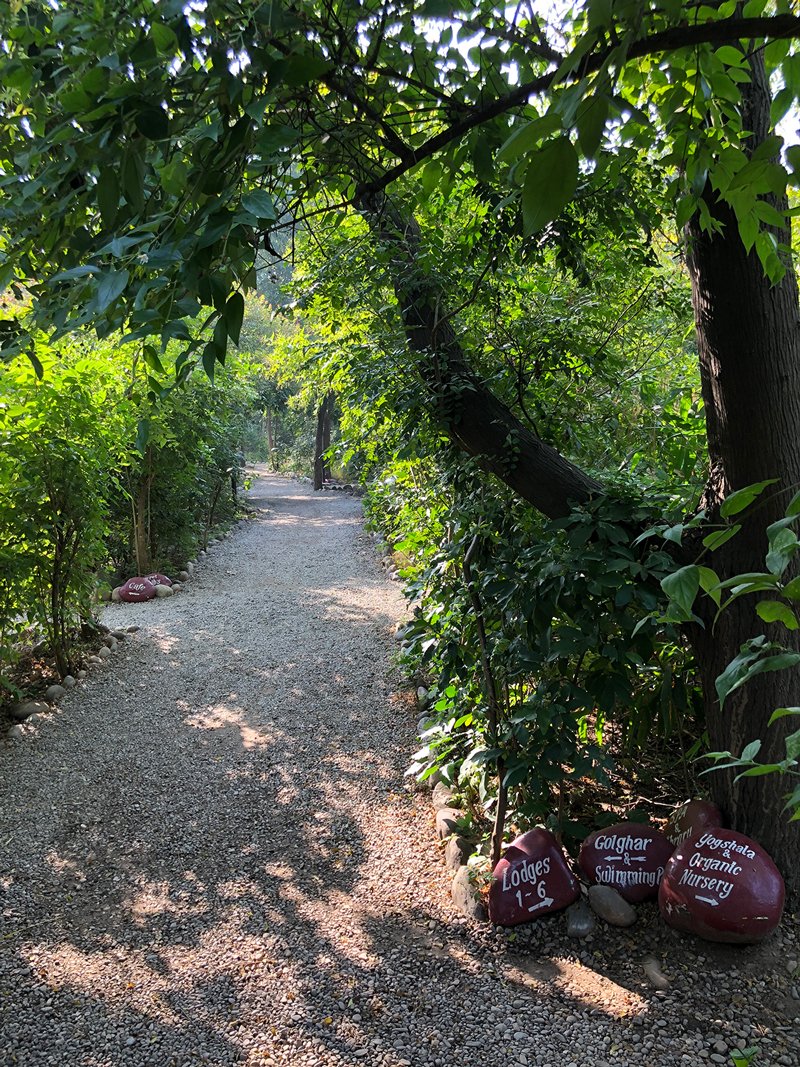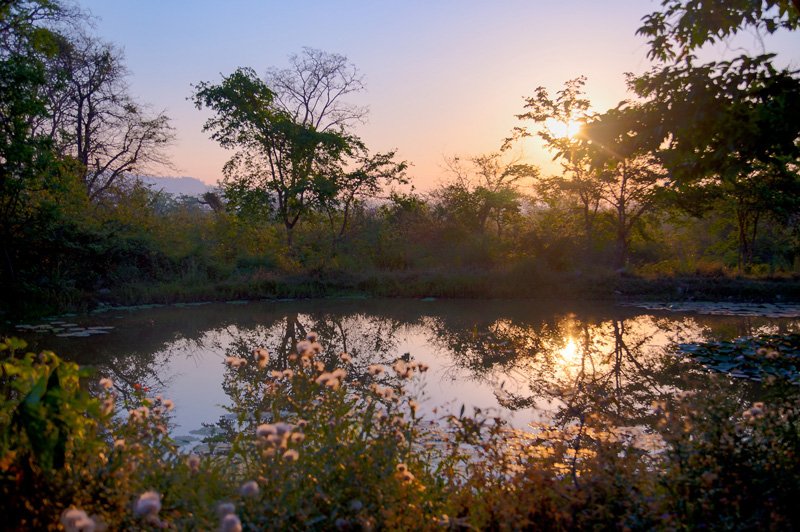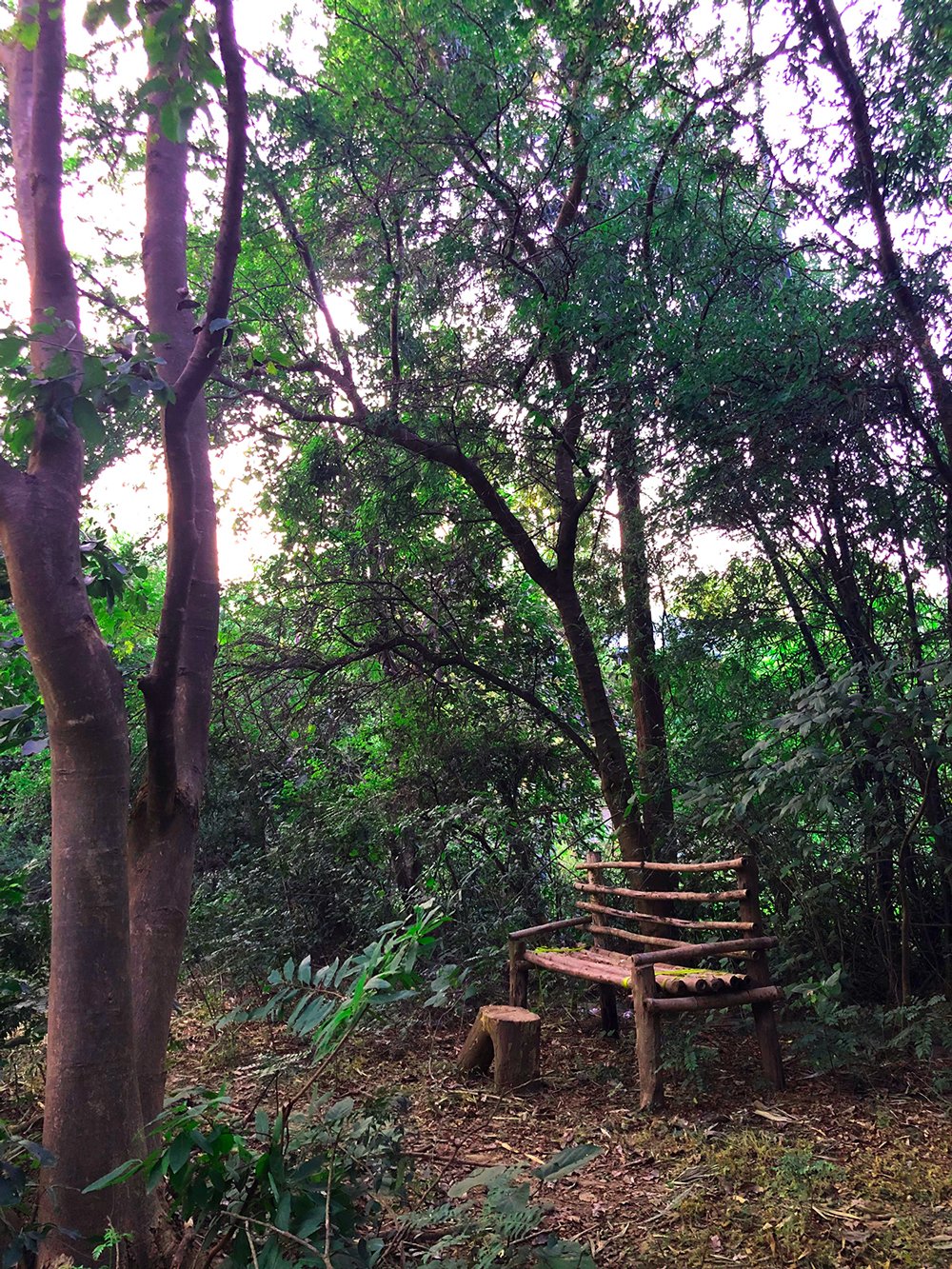 This gorgeous property of over 15 acres has been carefully designed to imitate the natural charm of the forest. We were told this was done to encourage the animals and birds to feel comfortable enough to visit the premises and treat it like their own home. In fact, we even spotted fresh paw-prints of some wild visitors from the previous night!
Lunch. How do I even begin to explain what a joy that was. It was simple, light, and didn't taste like restaurant food.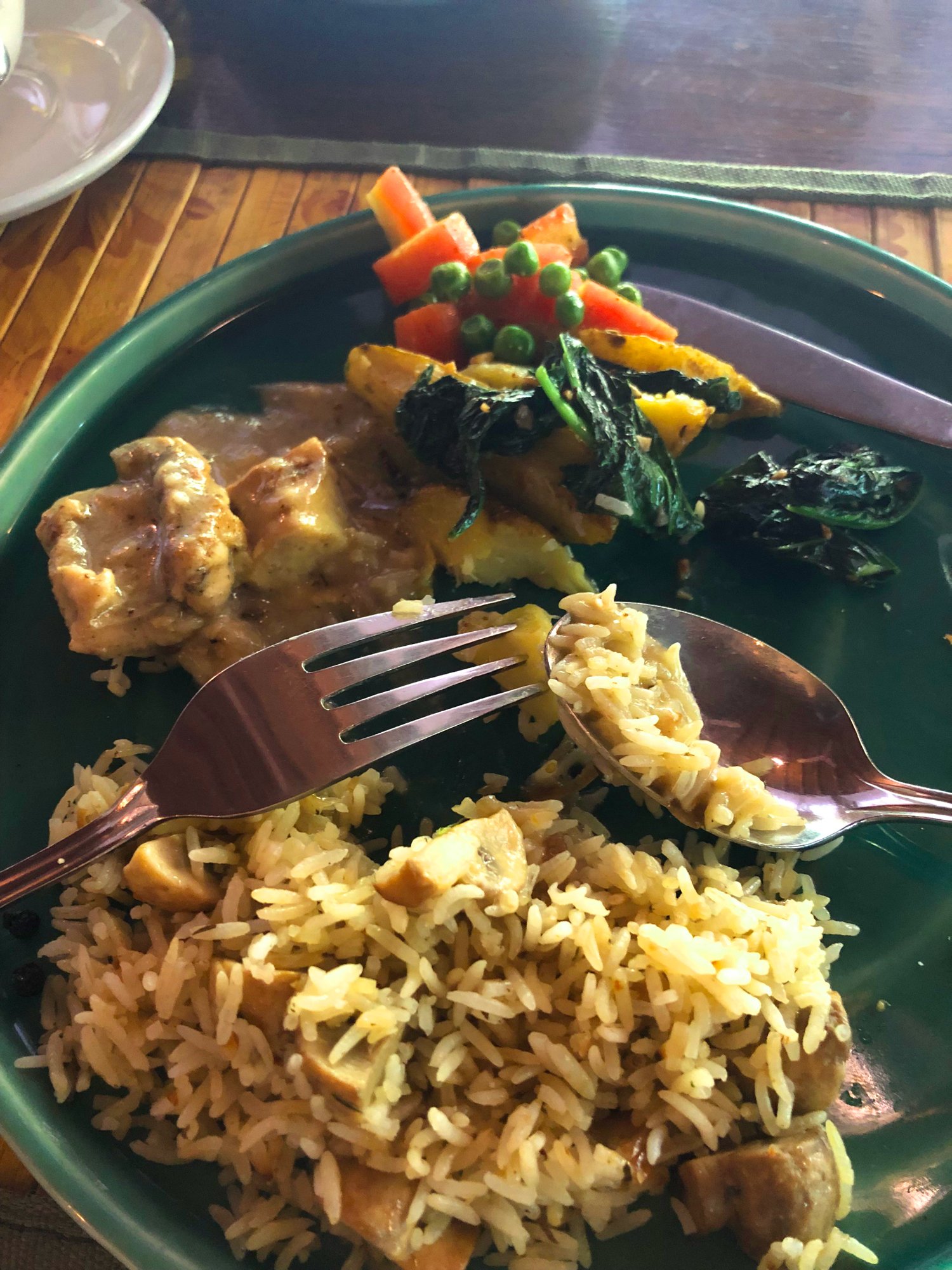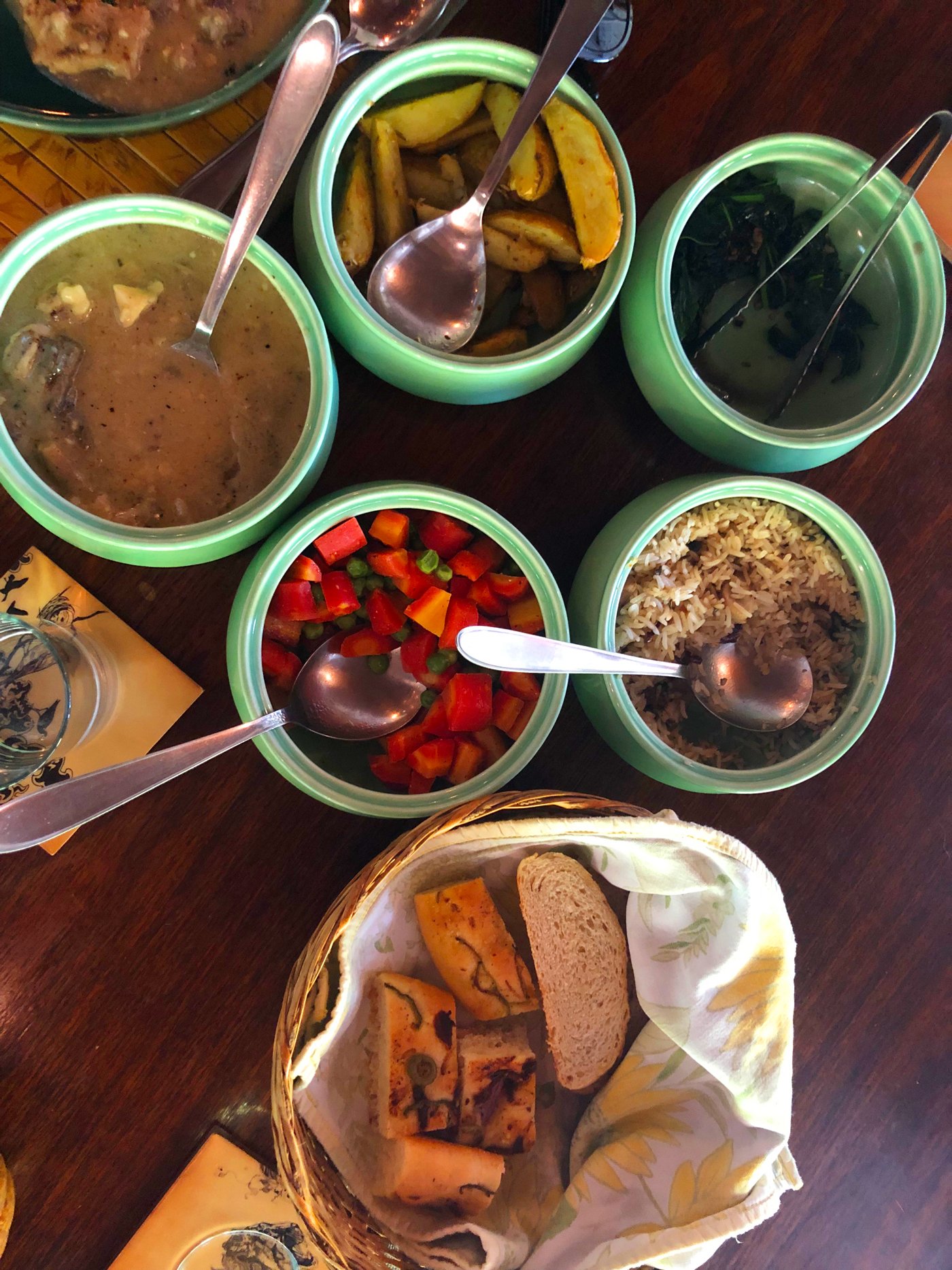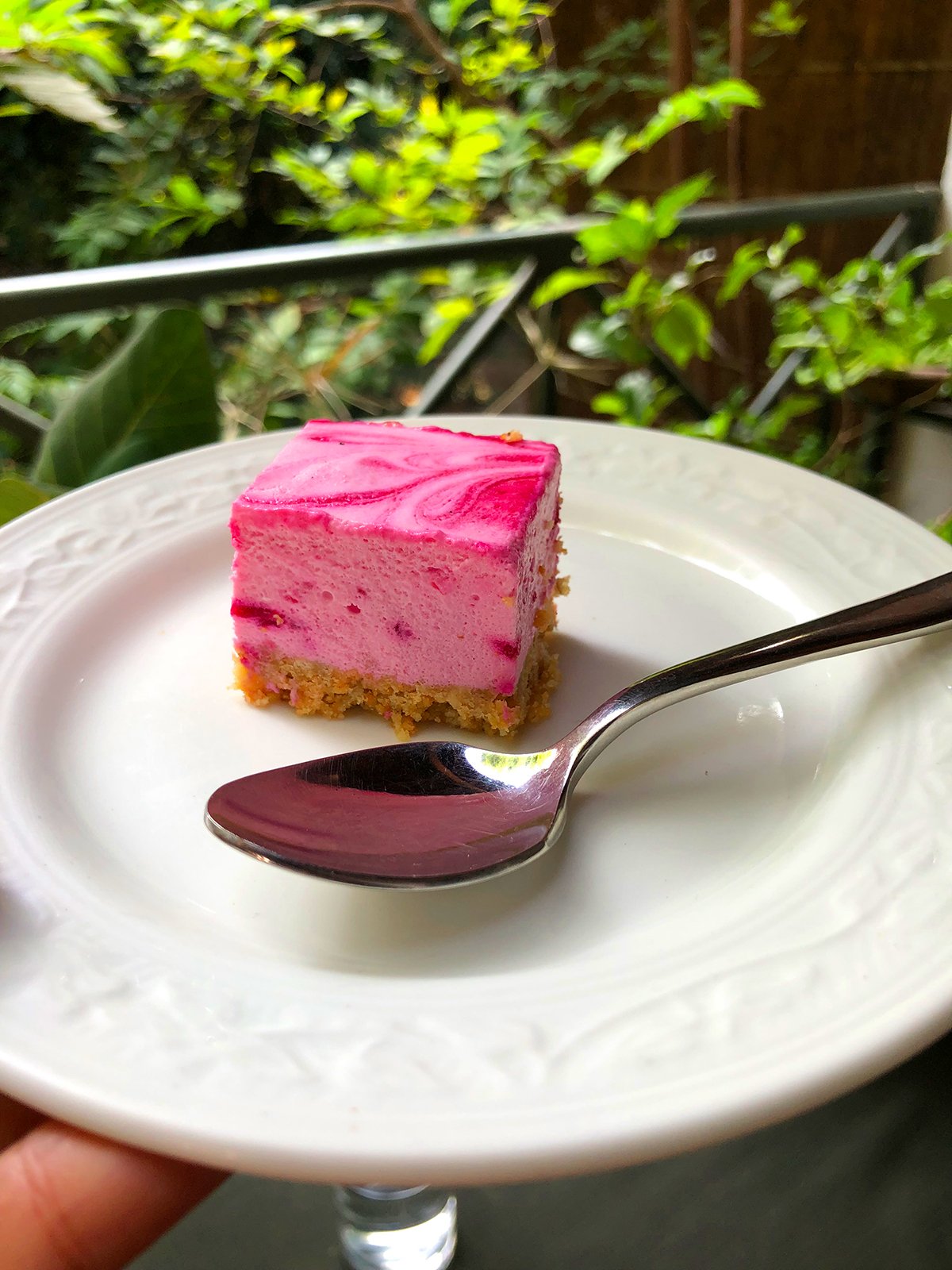 Rati, our host, explained that everything on the table is grown at the retreat itself. The bread was freshly baked in the kitchen, the fish was caught from the river the same morning.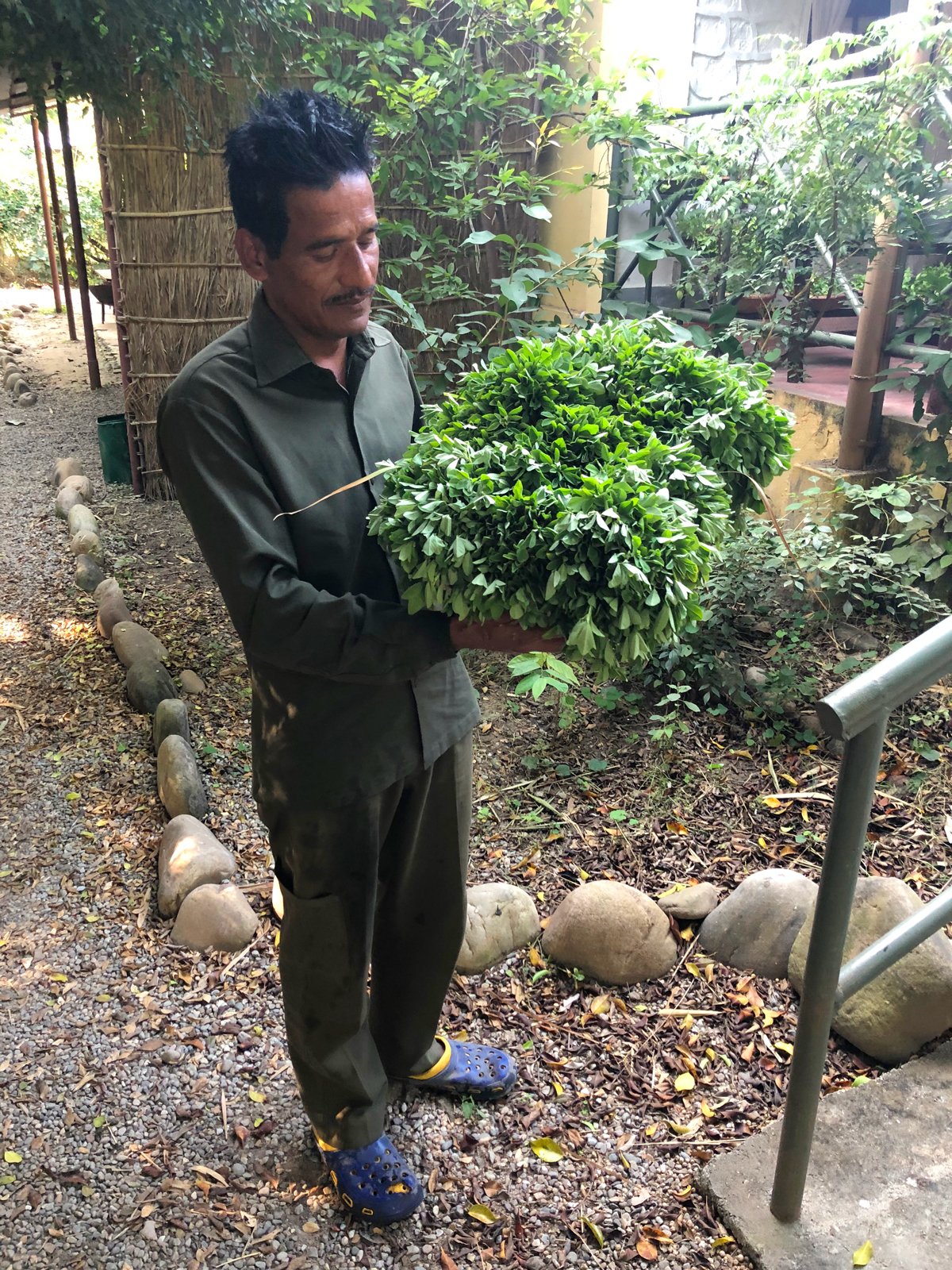 Oh, did I mention the dining hall itself was a sight to behold?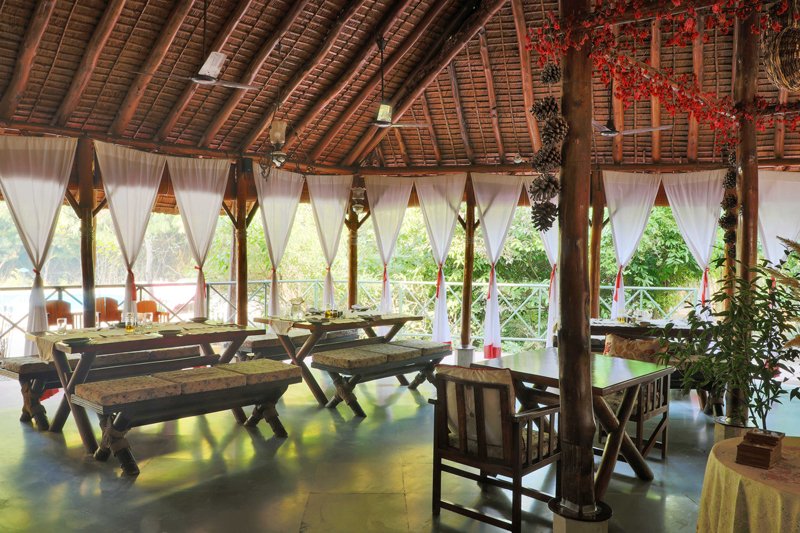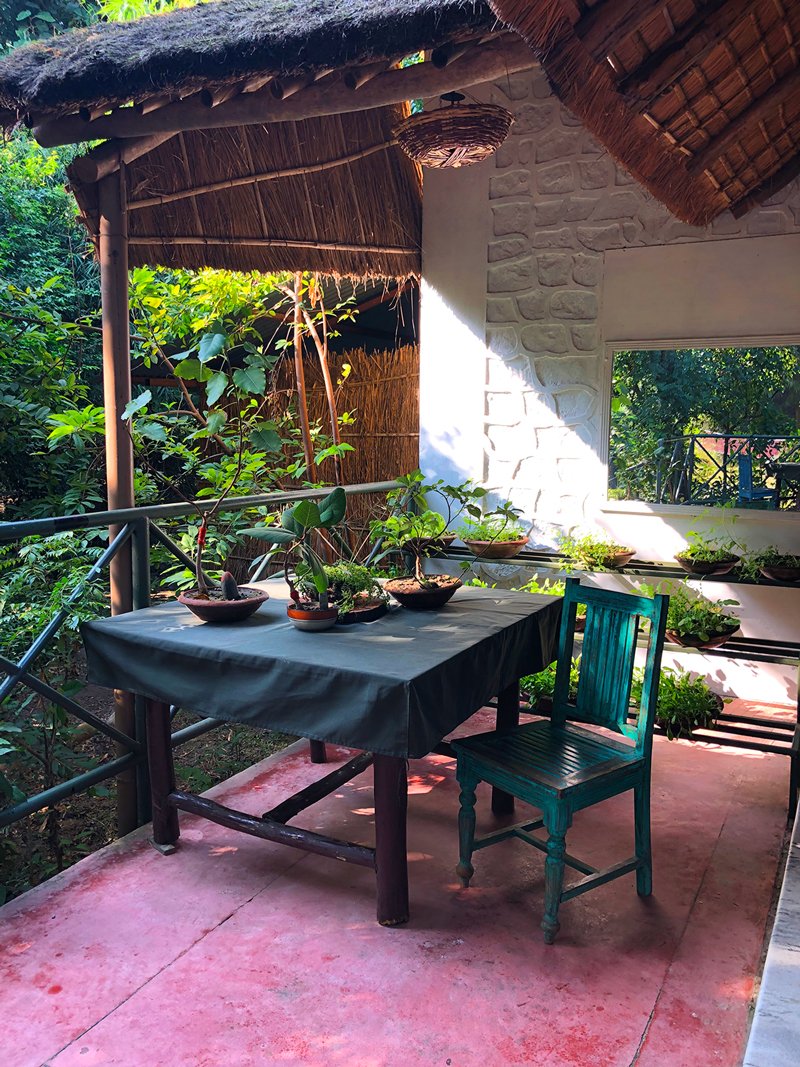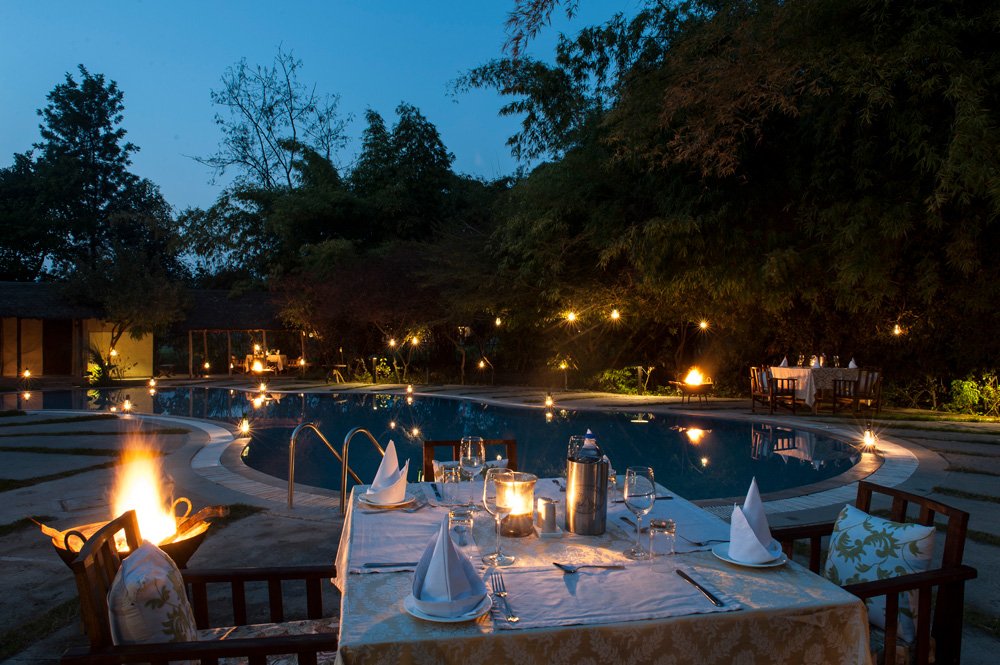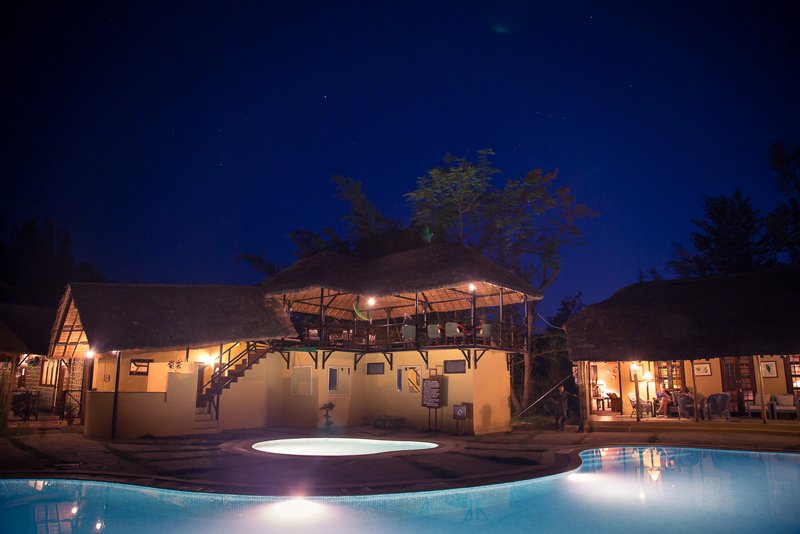 Post lunch, we took a walk around the retreat, clicking photos of the machaans, the kitchen gardens and the cottages. We had almost forgotten to check in to our lodge.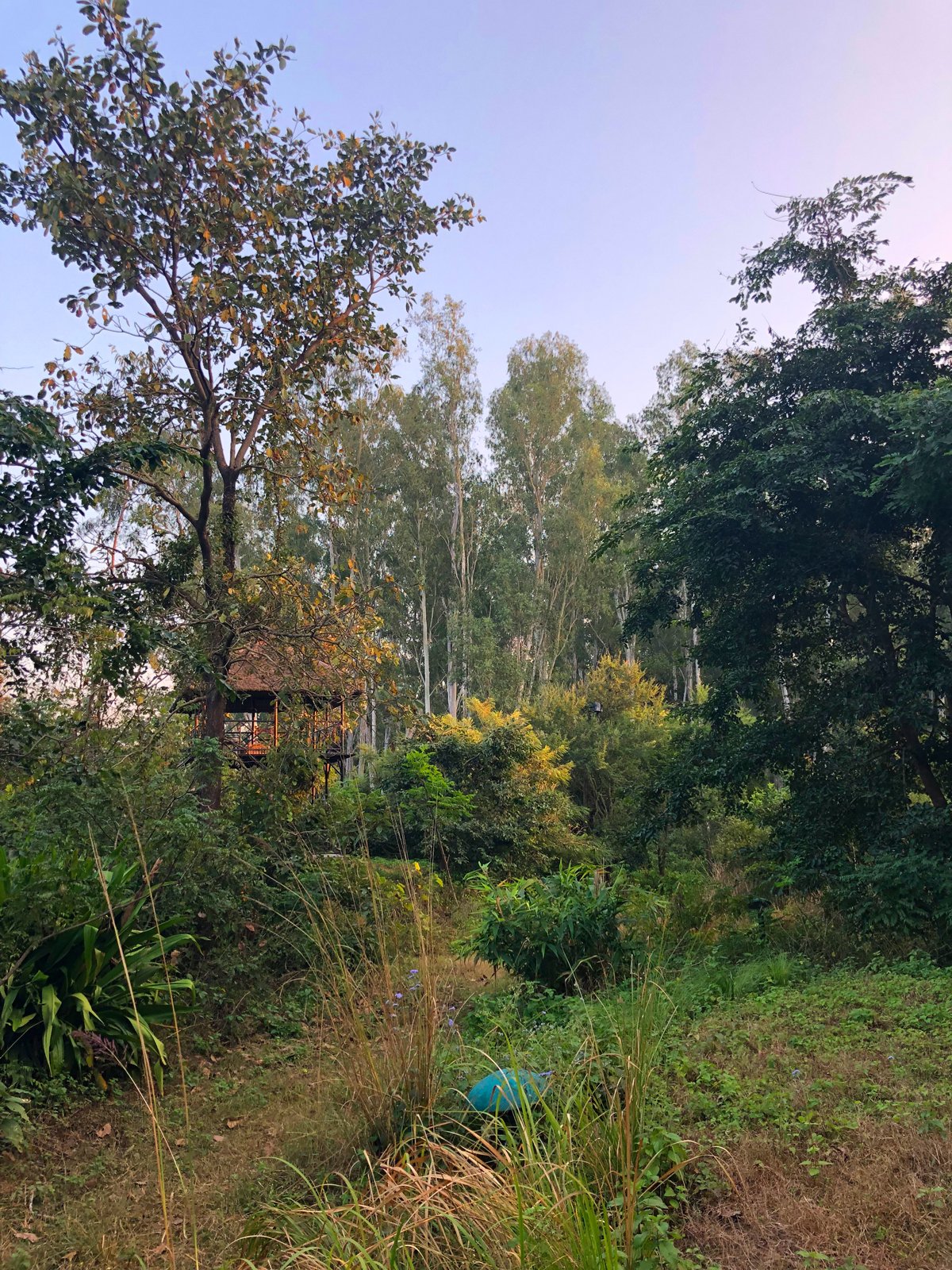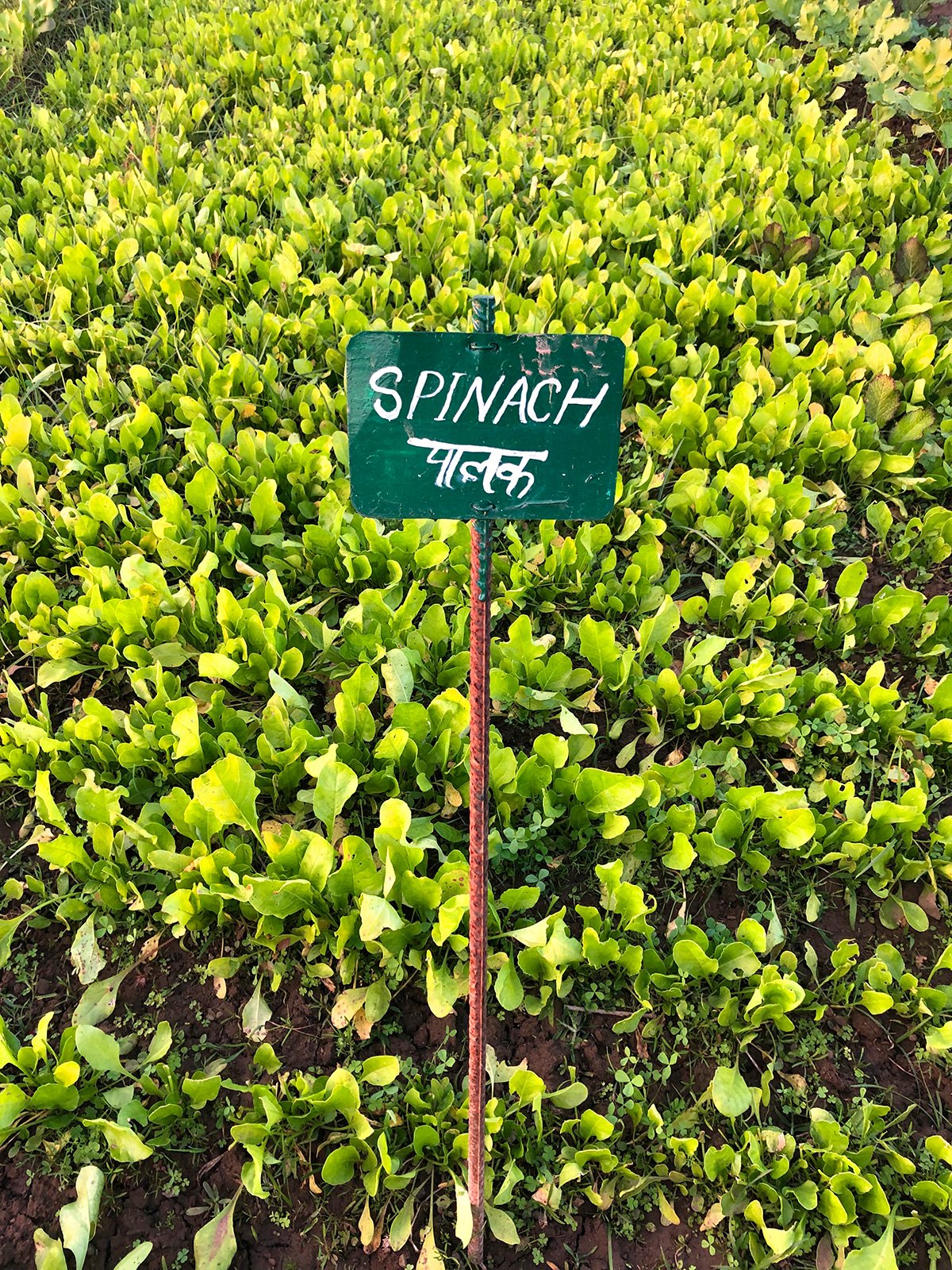 Our lodge was on the first floor, and we were delighted to know it was all ours!
Each lodge accommodates two people, and you have the entire place to yourself. If you're travelling with your family, or have a bigger group, you could book yourself a cottage. But whichever you choose, privacy is guaranteed.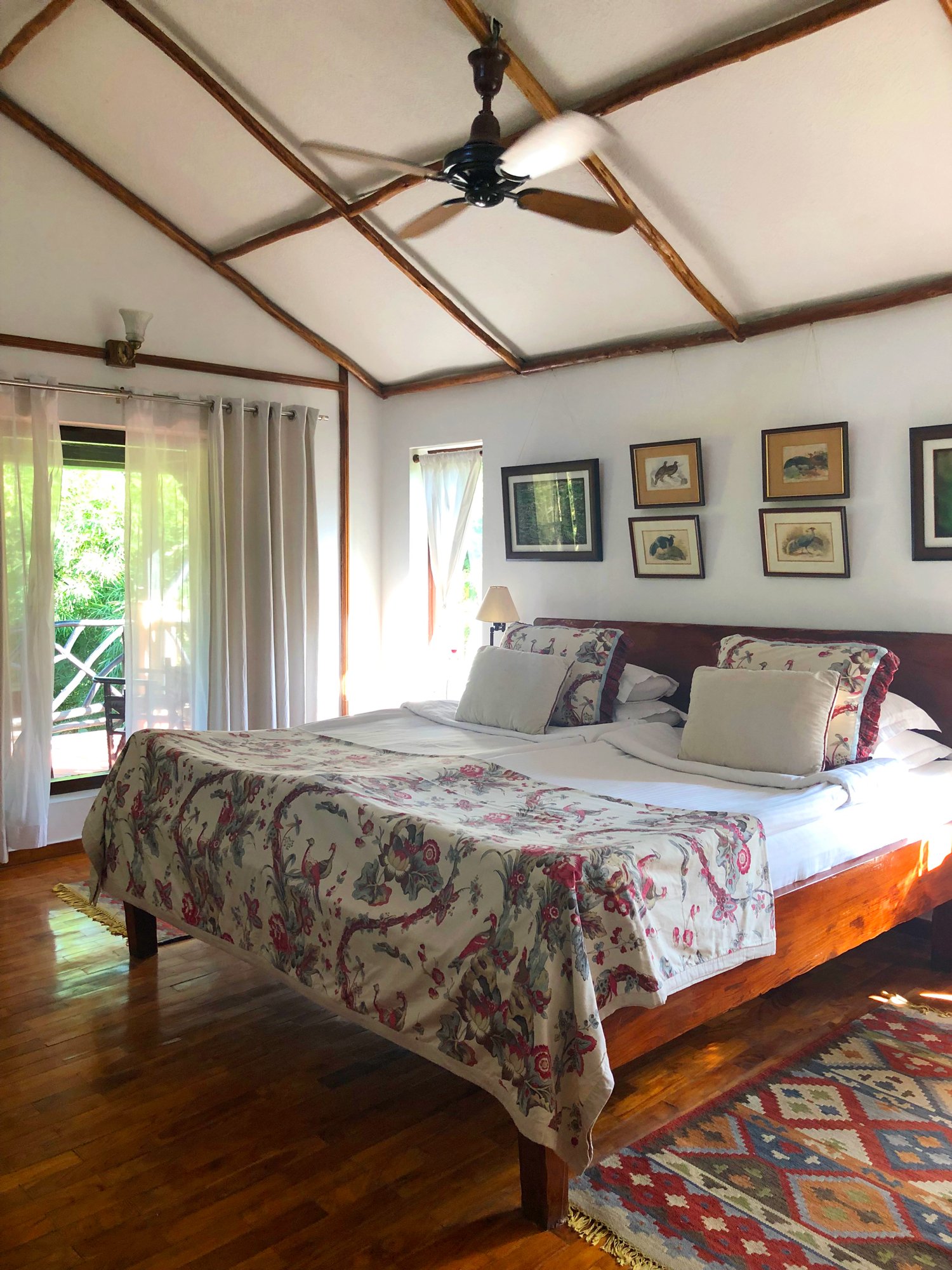 The rooms are so welcoming and sunny, you almost don't want to go out. Except maybe, out into the huge balcony, to just sit and stare into the greenery.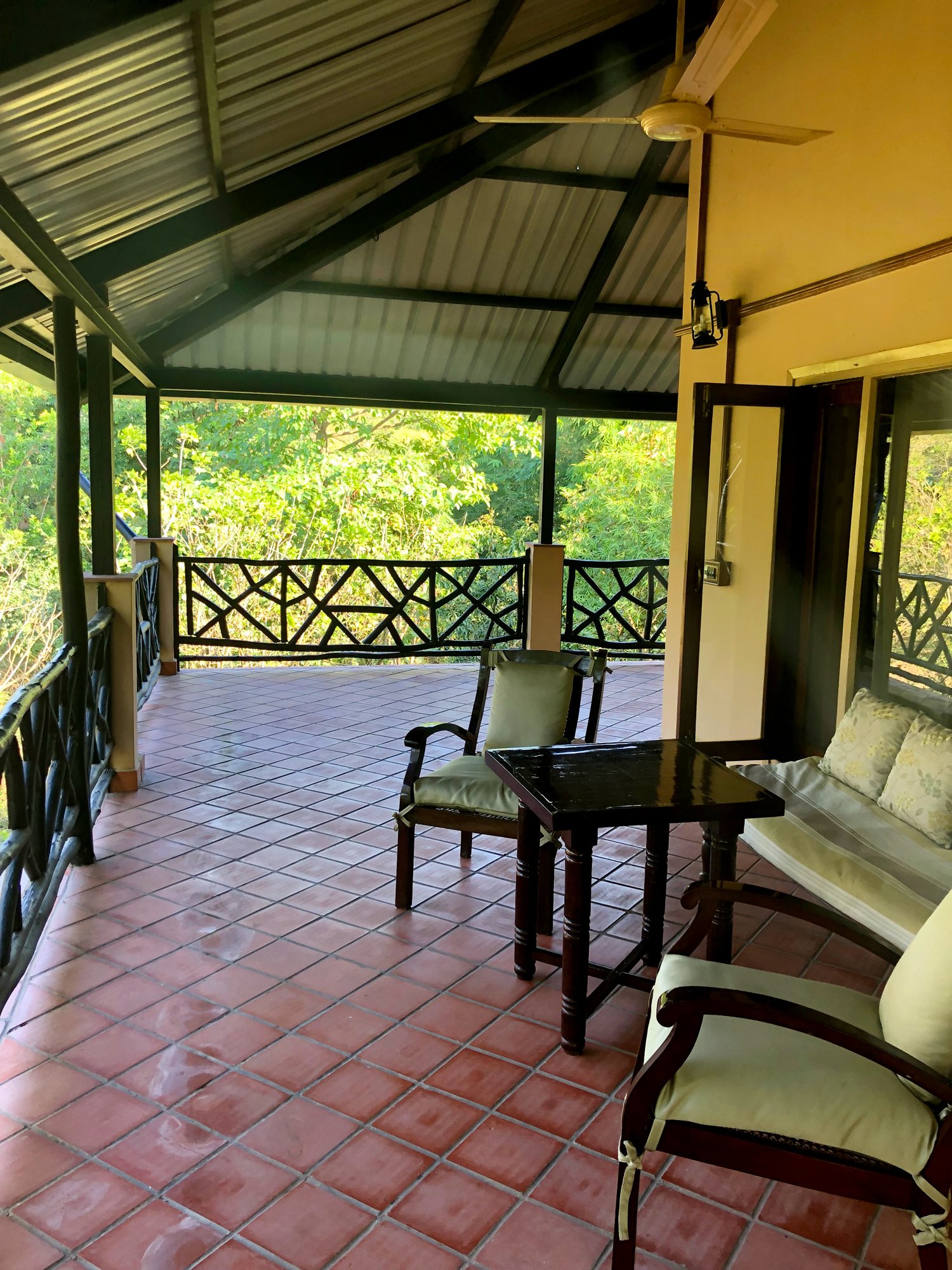 Or you could just live in the bathroom.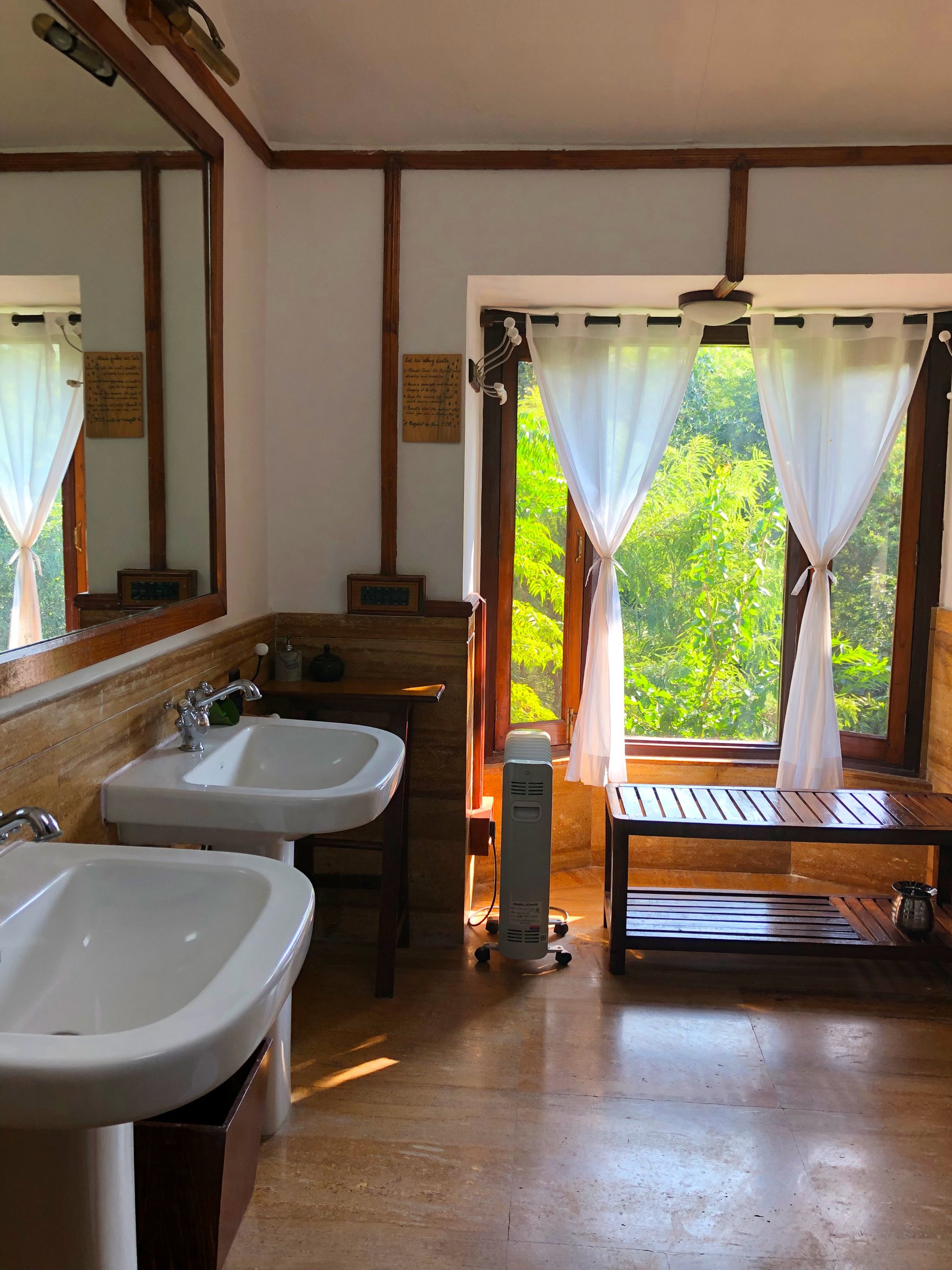 Do remember to drag yourself out for high tea at 5:30 pm because if you don't, this is what you'll be missing.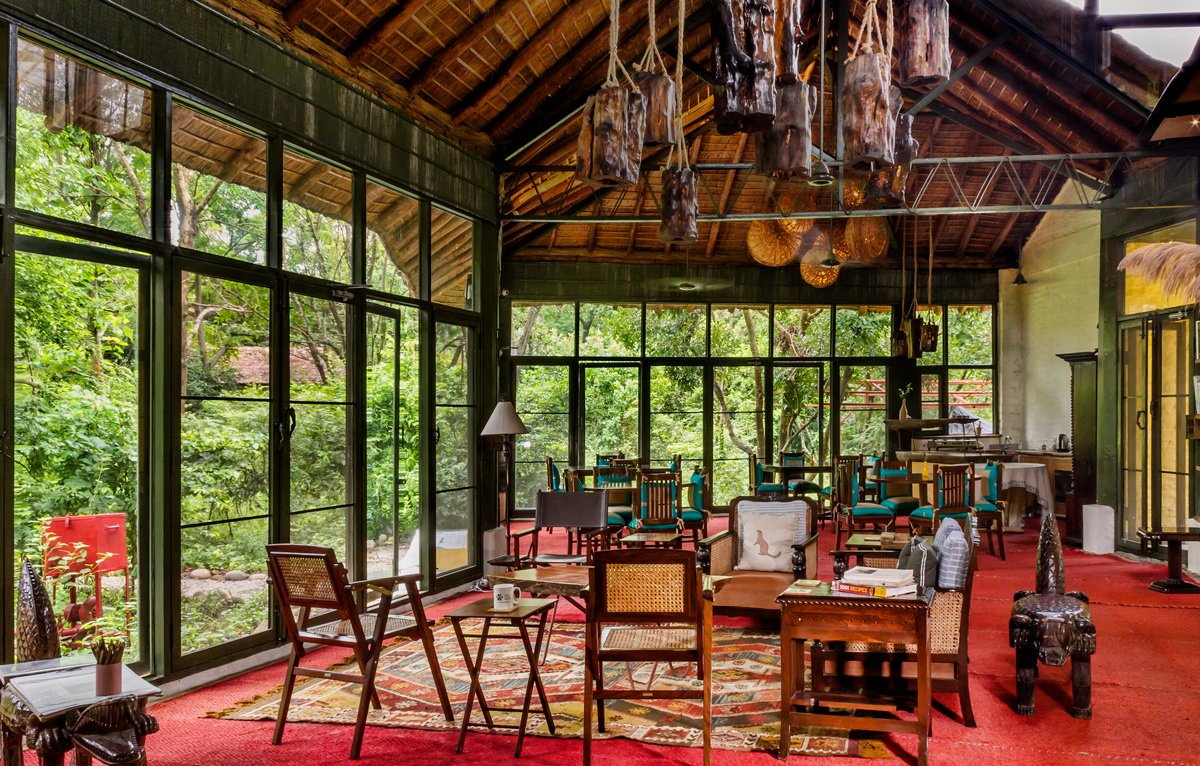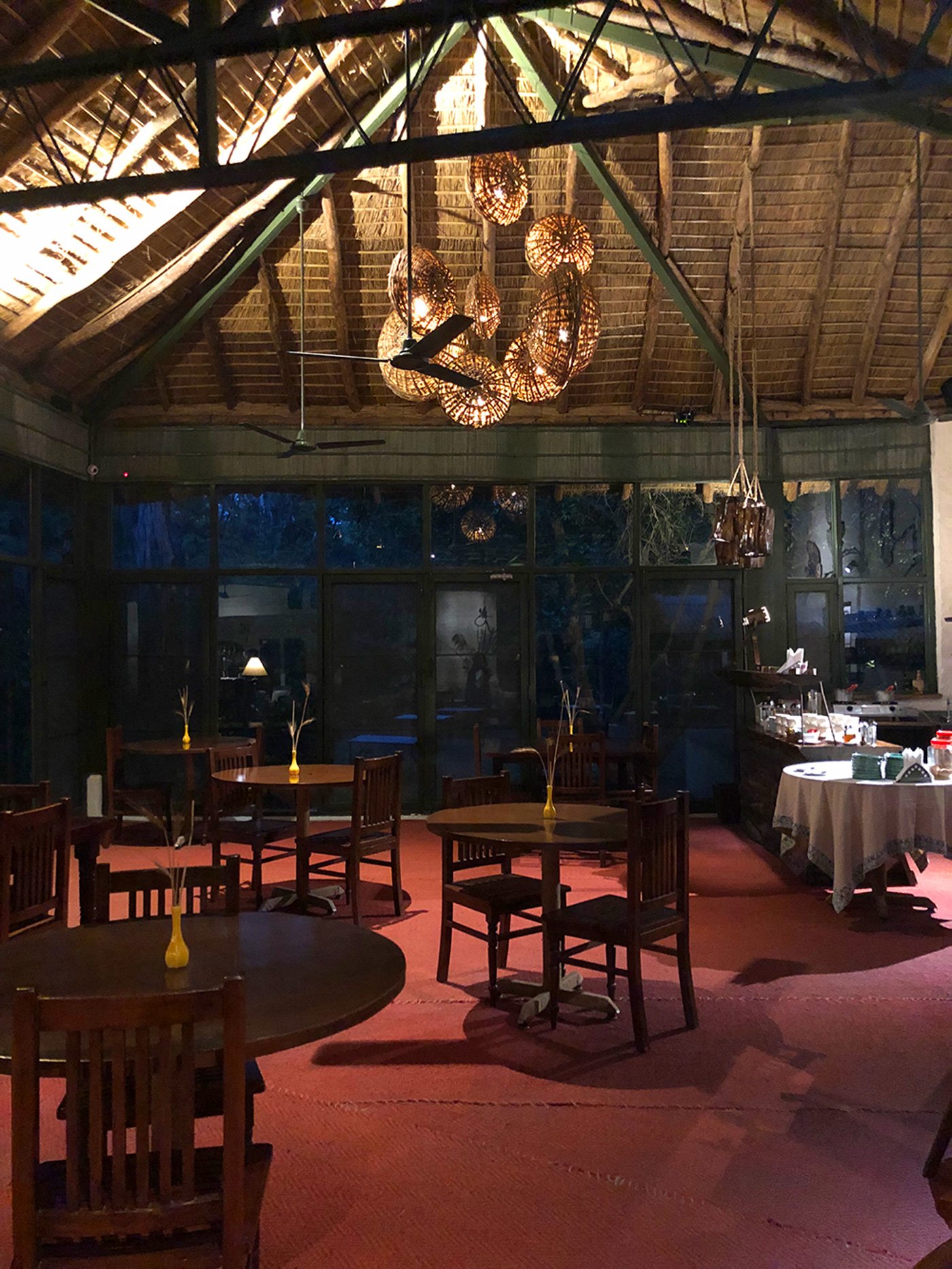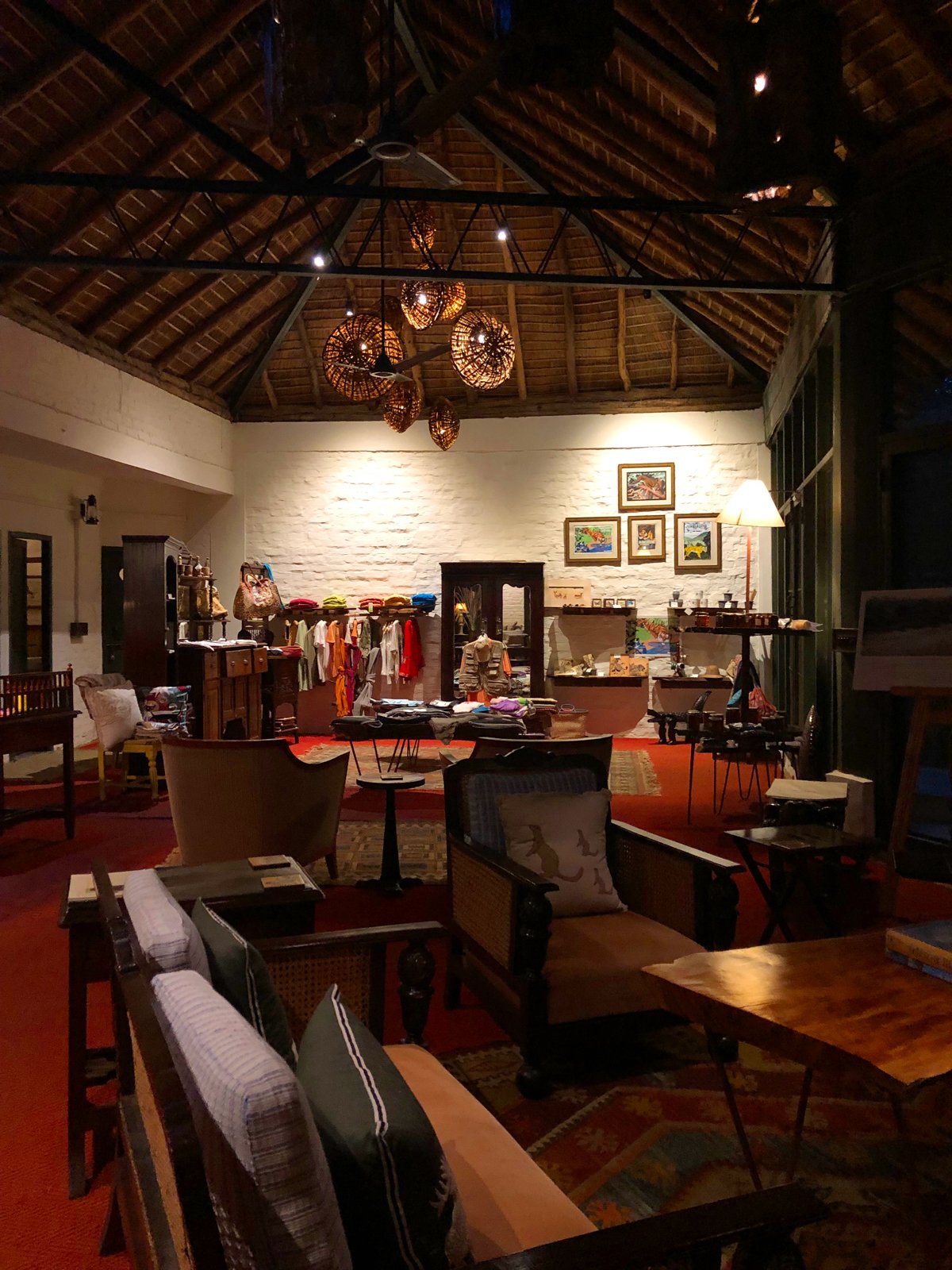 Manoj, the Chief Naturalist at the retreat invited us for a documentary screening in the evening. We accepted because we wanted to be polite, but we were not really looking forward to it. But I'm glad we went. We did not imagine that something so mundane-sounding could actually look like this.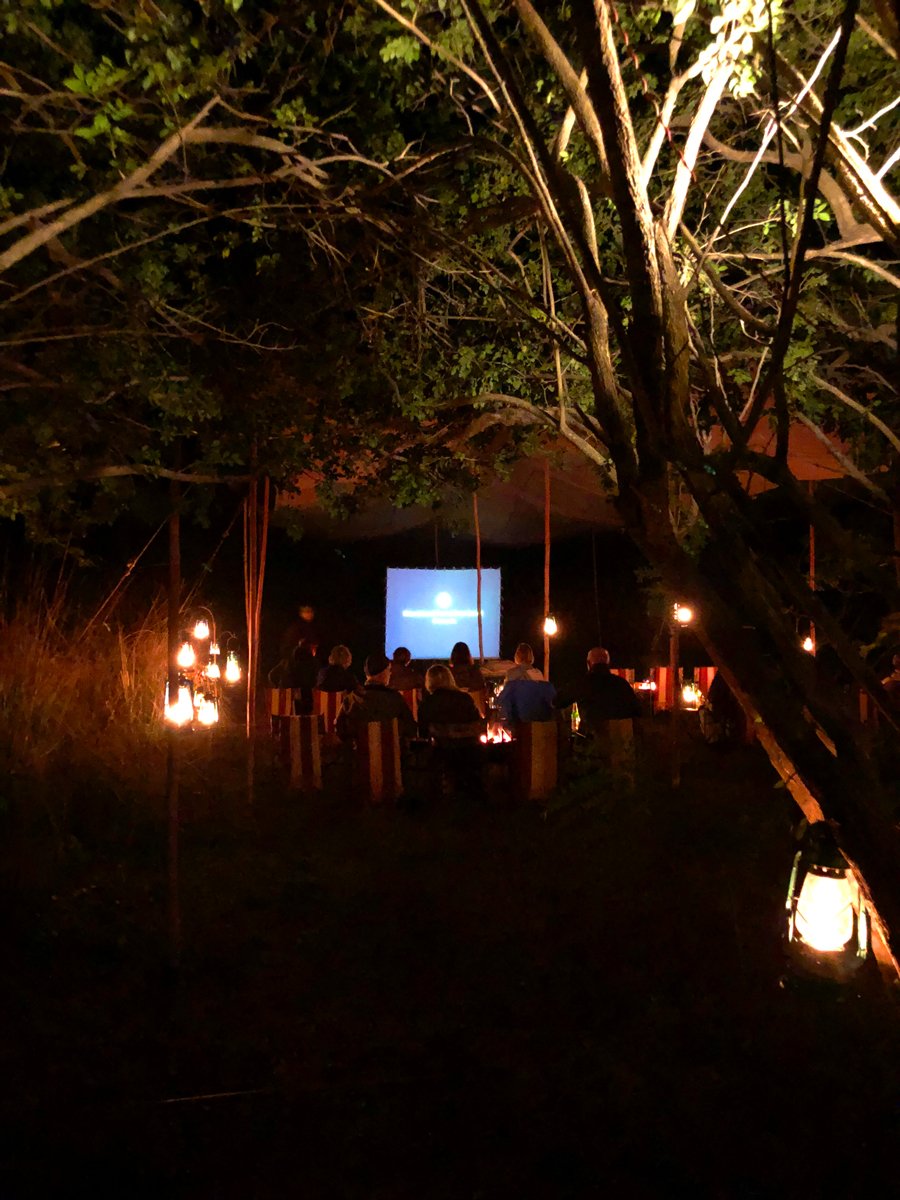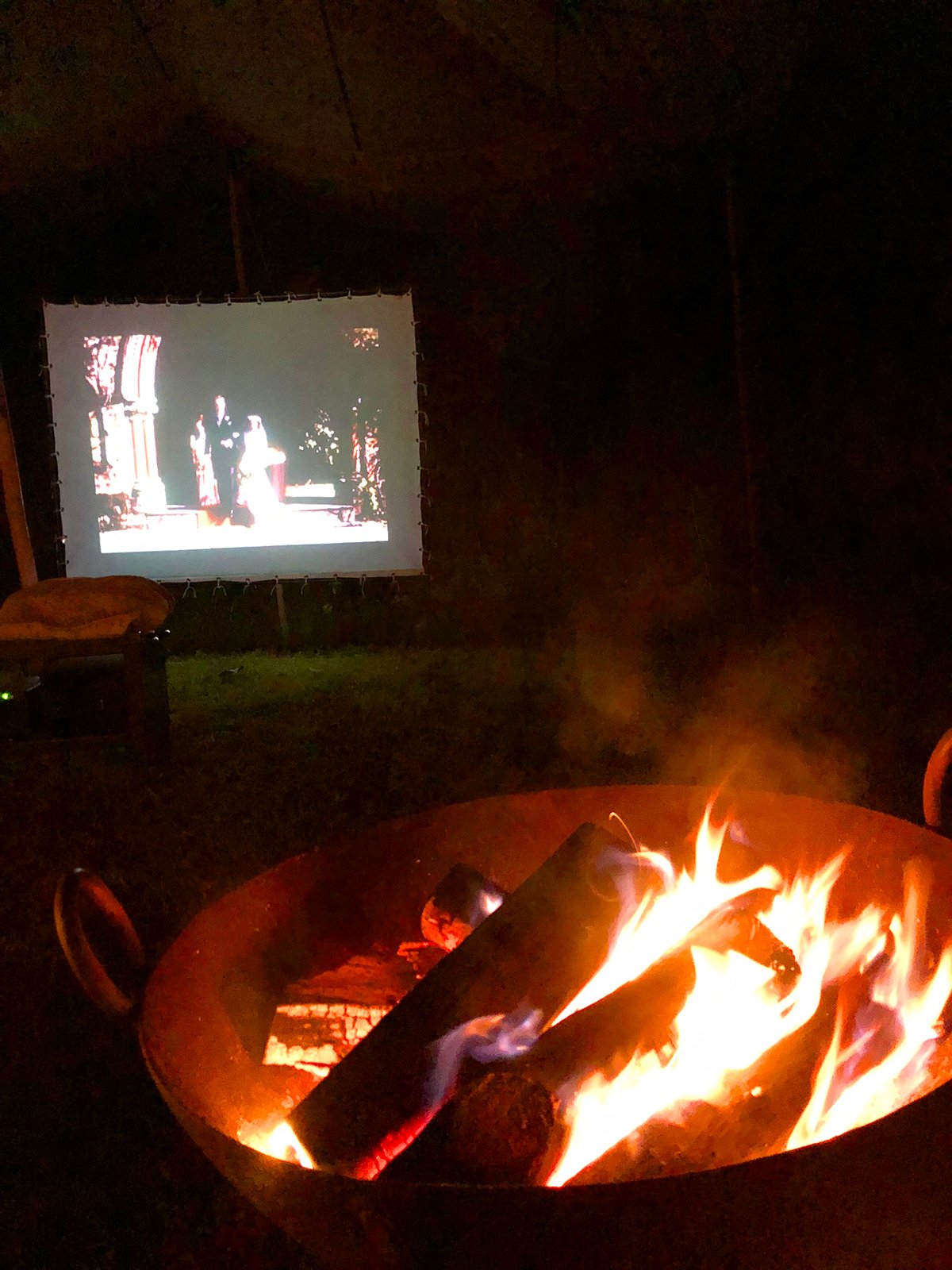 Yes, there's a bar too, in case the bonfire and the ambience aren't enough to warm you up.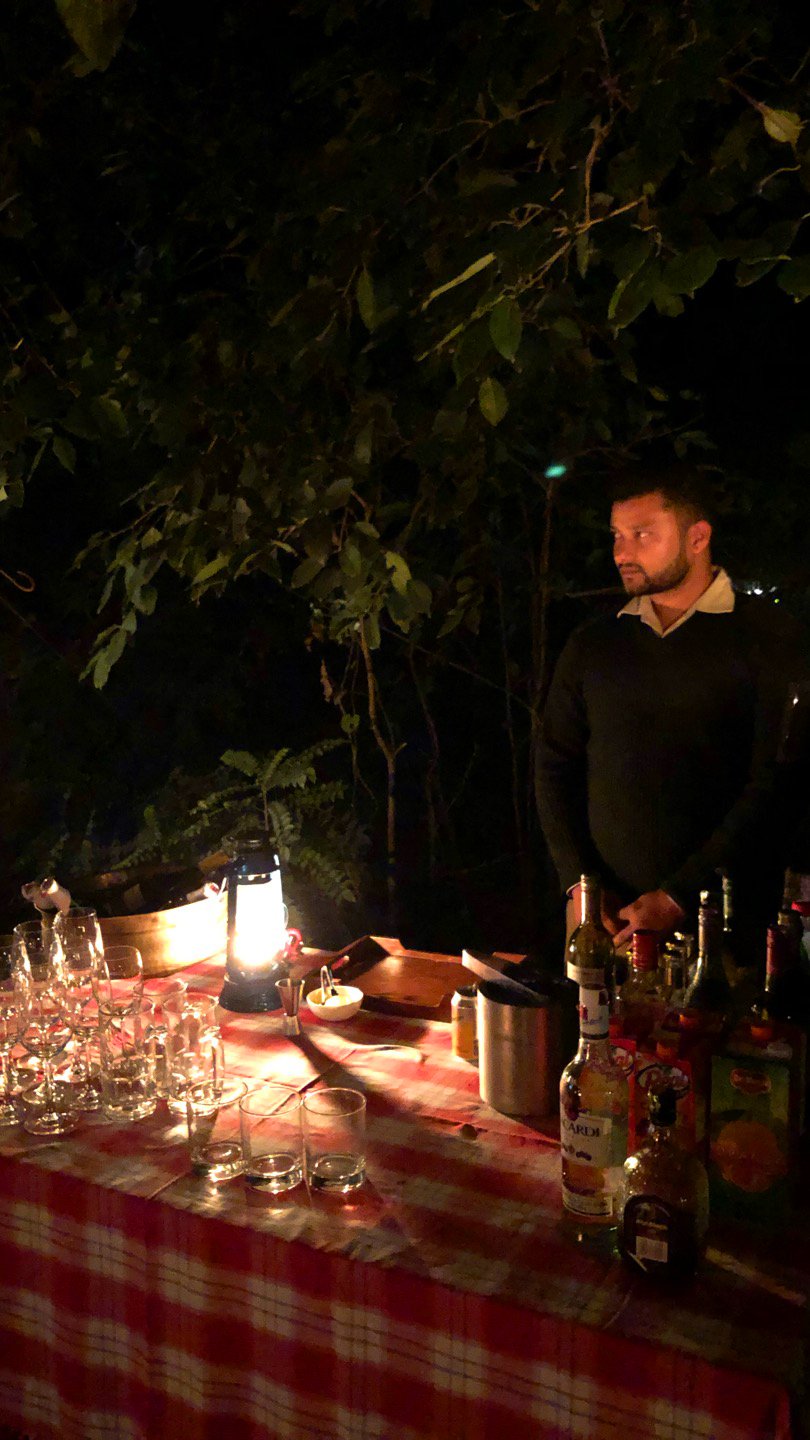 When you're staying at Jim's, taking the pain to wake up early is really worth it.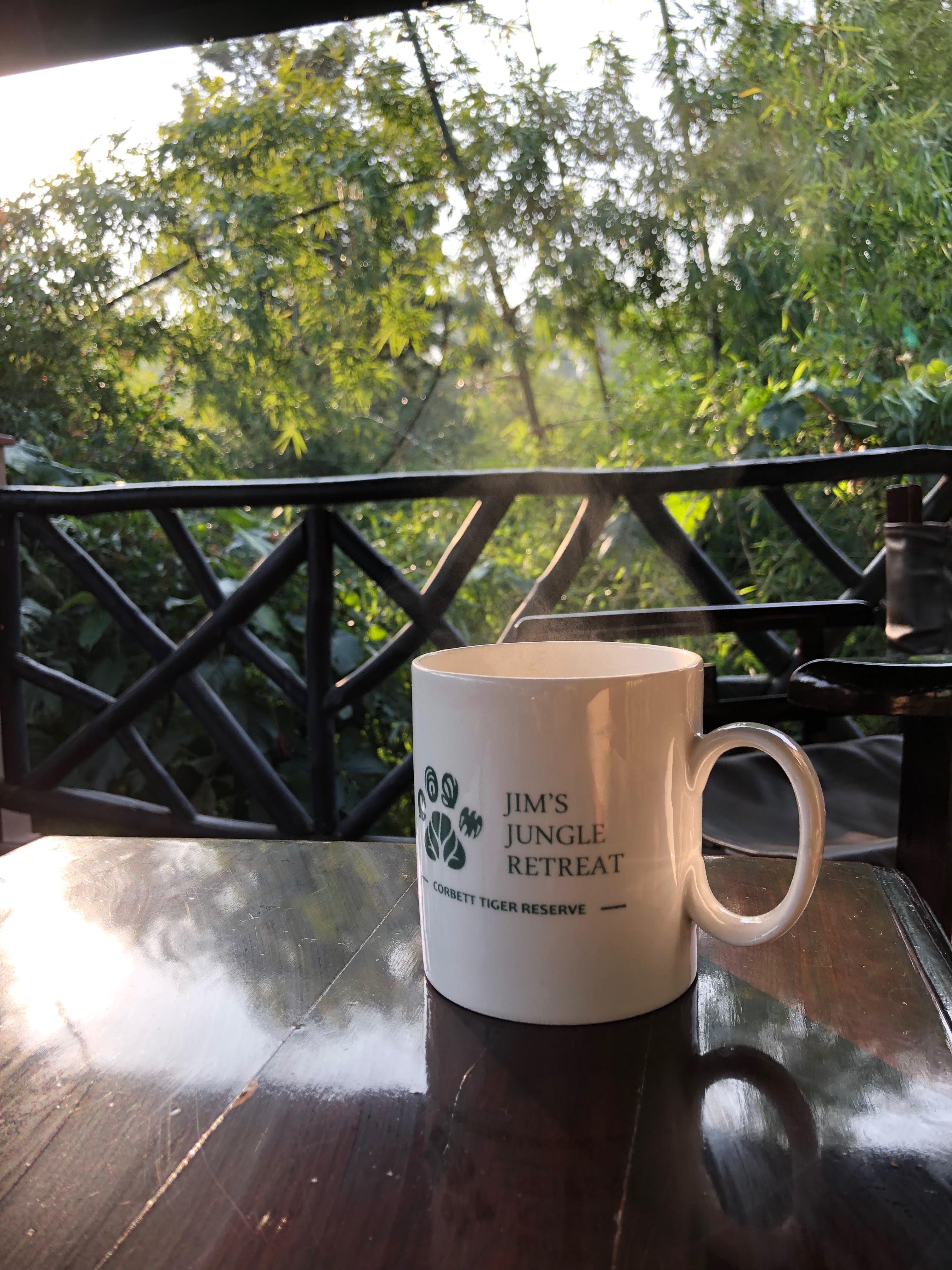 It's the best time to go for a walk along the riverbed. Balam Singh, my guide, had been taking people for these walks for 20 years. He showed me photos of tigers he had spotted at Corbett over the years. He told me he could 'smell' a tiger if it were around. We walked for over 2 and a half hours, crossing over the Ramganga river, edging into the surrounding woods. We spotted several deer, a wild boar, langurs, birds, saw a really long python trail (thank god, it was just the trail) and fresh tiger prints.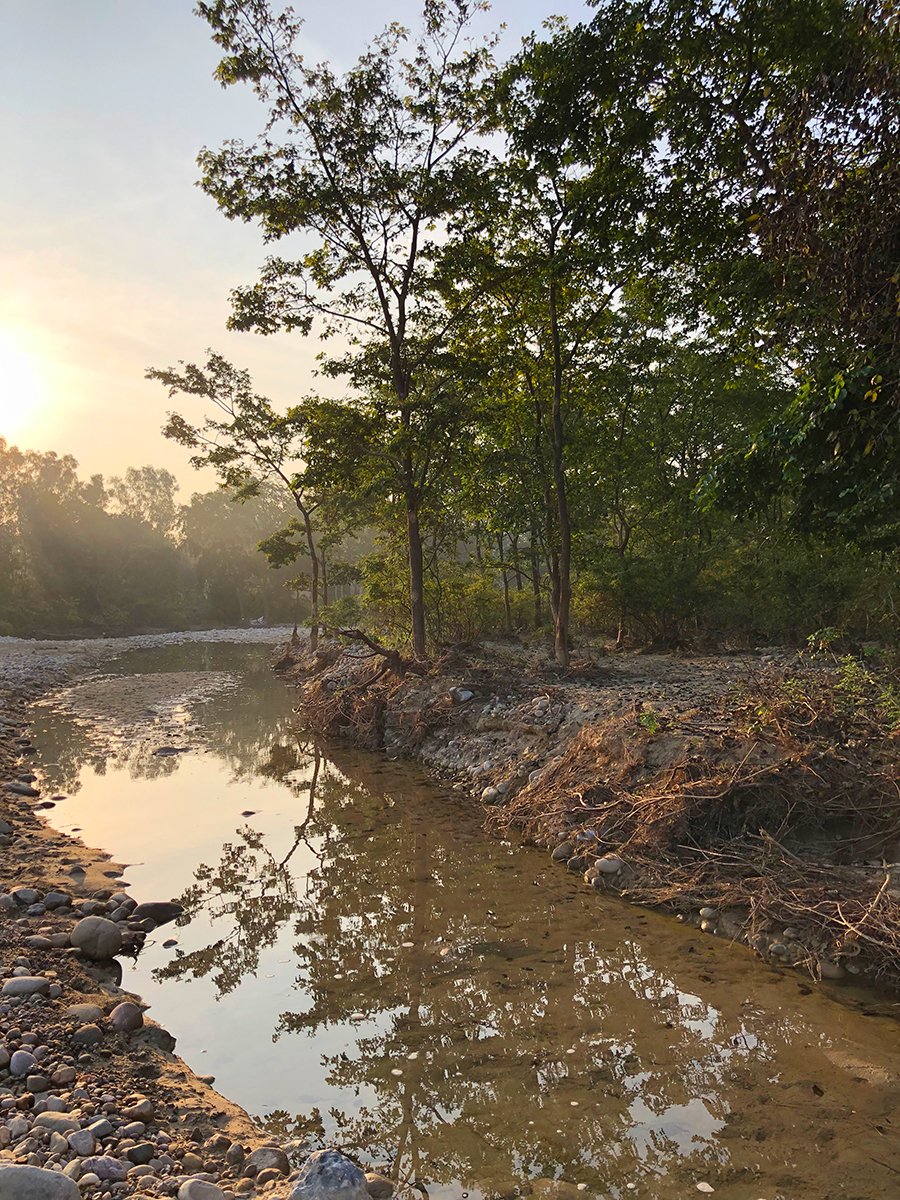 Spotting wildlings is an added bonus, but if you ask me, to just be surrounded by nature and listen to the call of the wild is a reward in itself.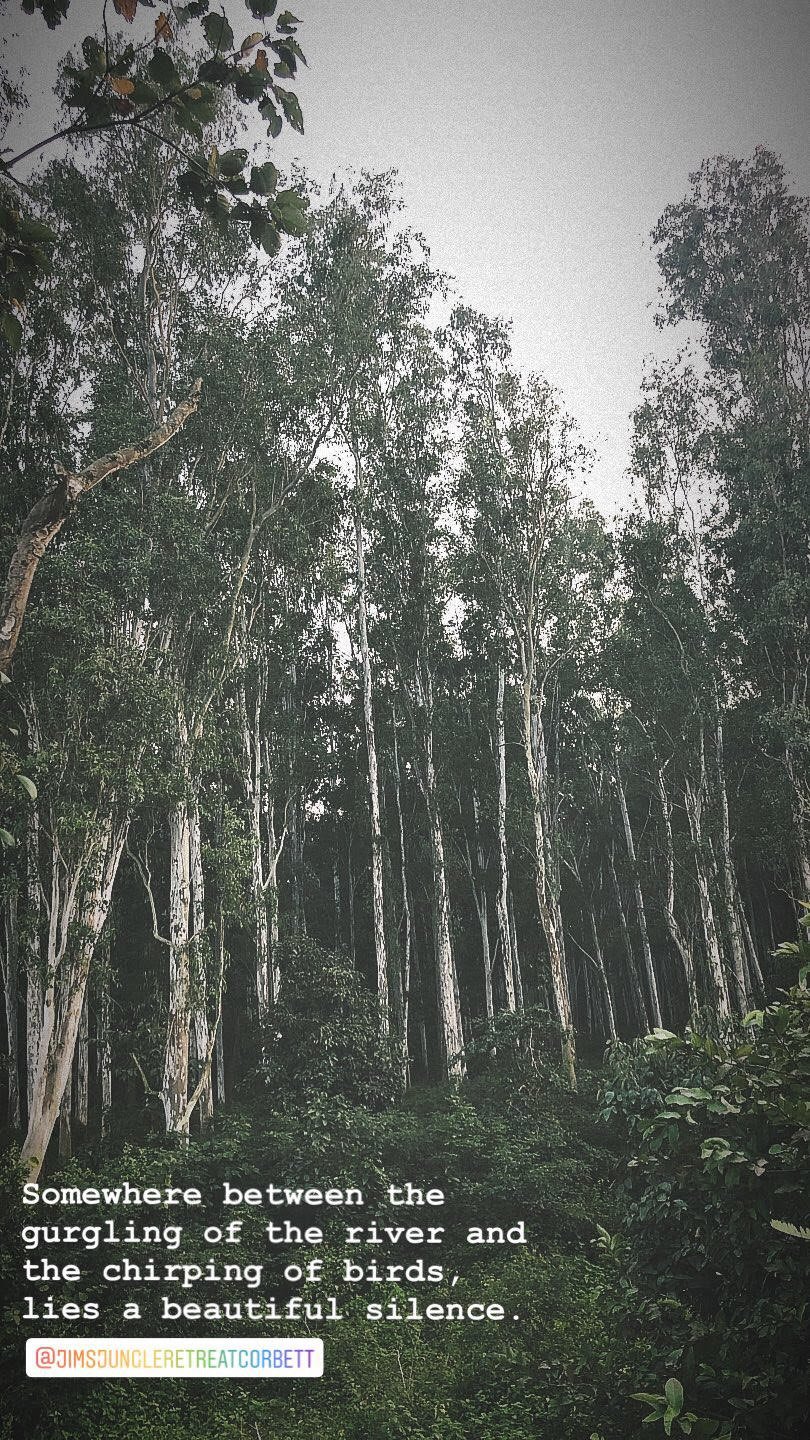 It's a cardinal sin to visit Corbett and not head for a safari. Jim's Jungle Retreat has some very talented naturalists who will take you into the wilderness and make your acquaintance with the rich fauna Corbett boasts of. Not only that, they'll also pack chai and snacks that you can enjoy while waiting to meet the eye of the tiger.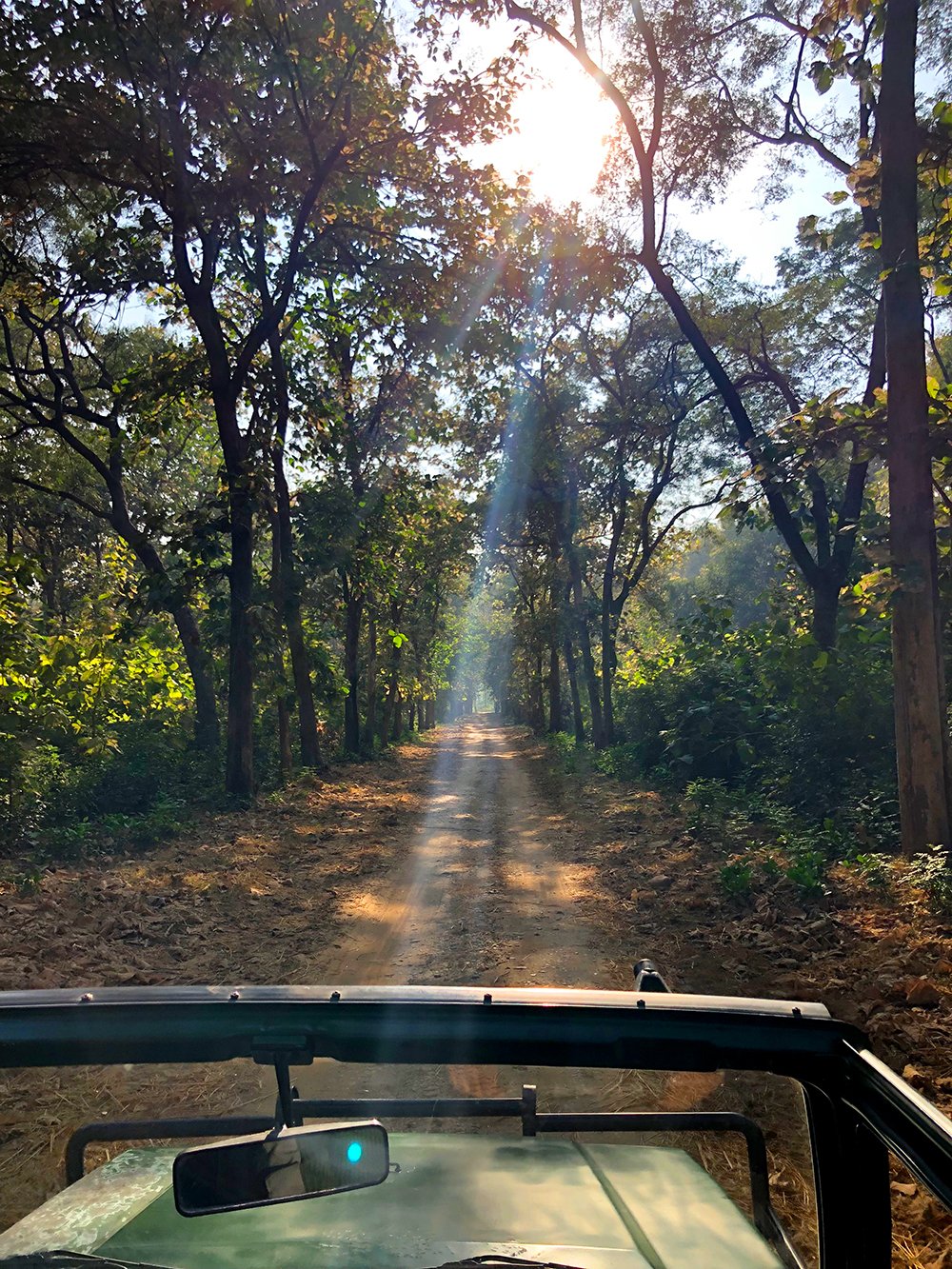 Rakesh, our naturalist, and everybody else told us, not everyone is lucky to see a tiger on their first visit. Many people come back several times, just to catch a glimpse. We spotted a lone tusker, a herd of elephants, hosts of feathered friends, learnt interesting things like how deer and langurs have each other's backs, but the tiger made us wait.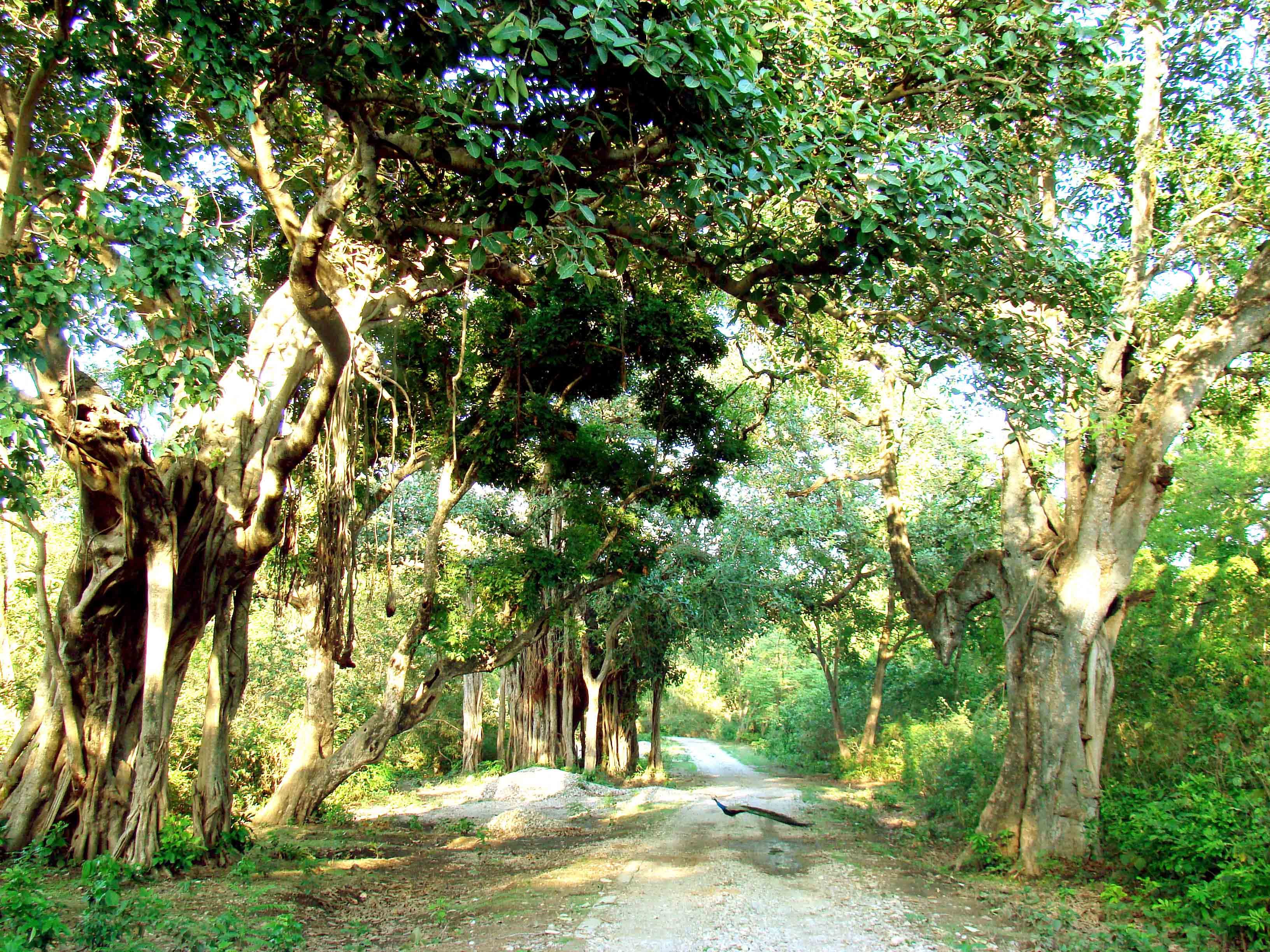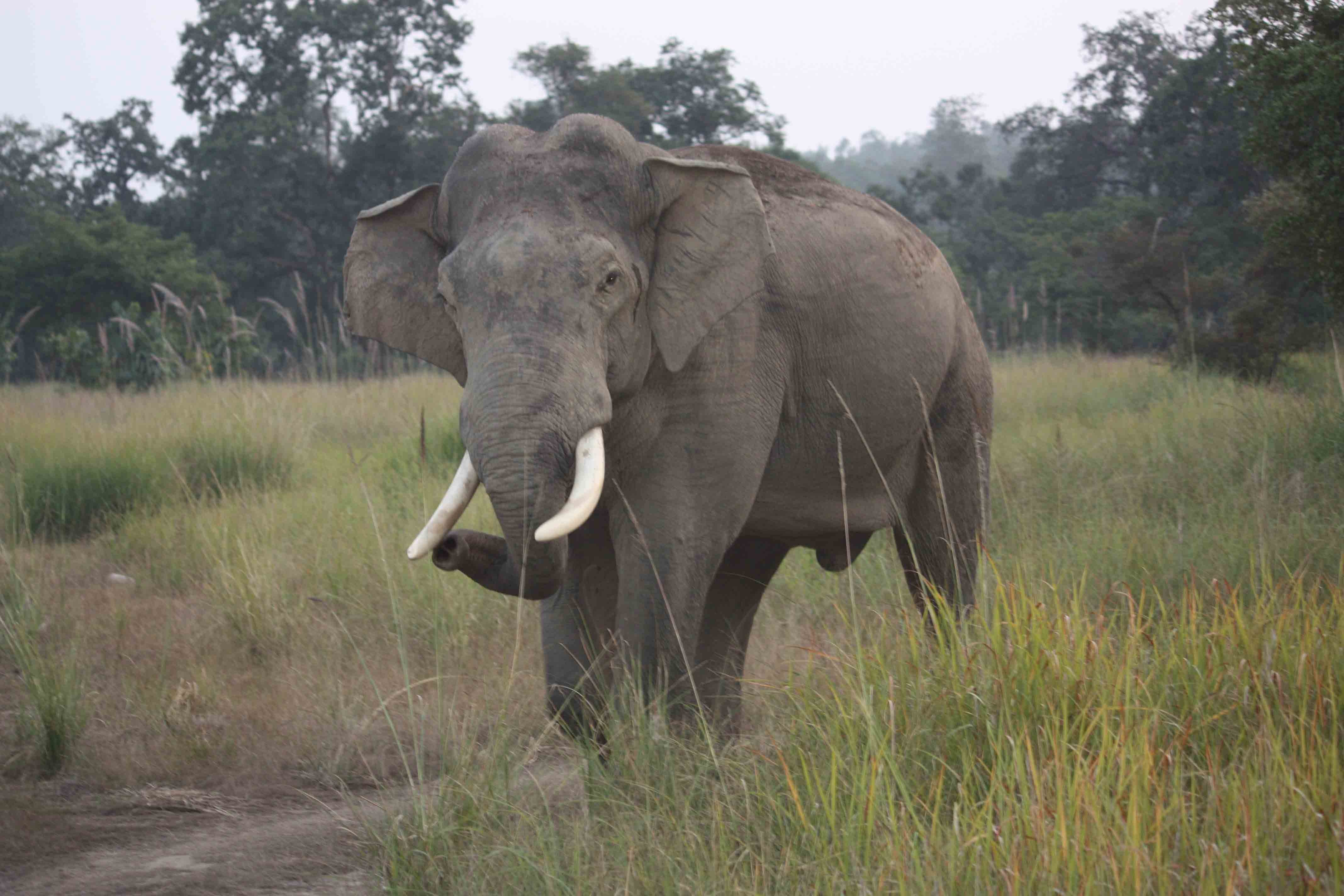 We stationed ourselves at one place for almost two hours hoping to see the majestic beast. Finally, we gave up and started heading back. And then, suddenly Rakesh pointed into nowhere and whispered, "Tiger."
Seeing us, several other Jeeps pulled up. The tiger, now became visible to us, as it started moving its tail, obviously annoyed at the commotion. And then, in one heartbeat-stopping moment, it leapt out in all its glory, with the mightiest roar you'll ever hear. Our trip was now complete!
The next morning, Jeevan took us for a walk around the village. Dhela is a beautiful little hamlet that has preserved the old world charm, while also welcoming modern technology. The villagers love their stray dogs because they feel protected to have doggos around. Jeevan told us that tigers and other wild animals don't bother them. "In the city, you have stray dogs that you're okay living around, right? It's the same for us with tigers." If humans can get over their greed, I guess it really is possible for people live in harmony with animals.
If all the walking and birding and Corbett-ing makes you tired, you can stop by at the spa-cum-library and have Gopesh give you a relaxing apricot oil foot/head massage. We opted to get our champi sitting outside, taking in this view.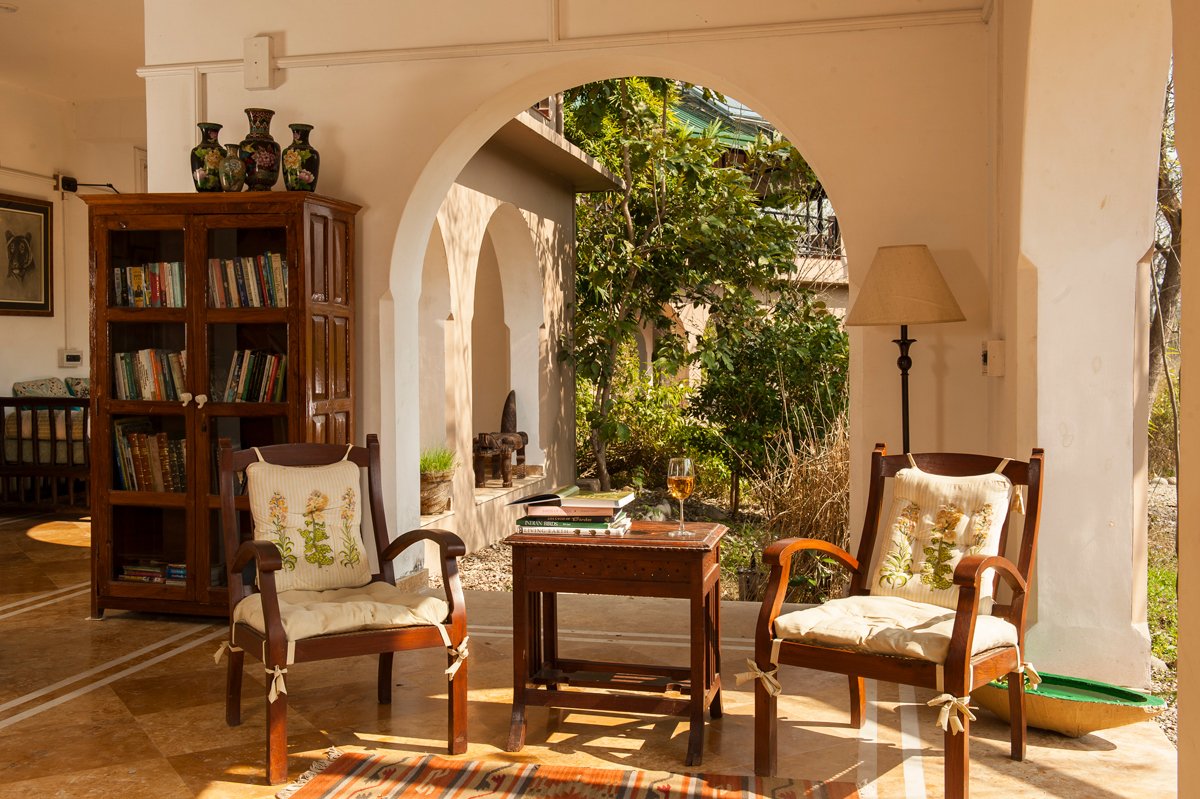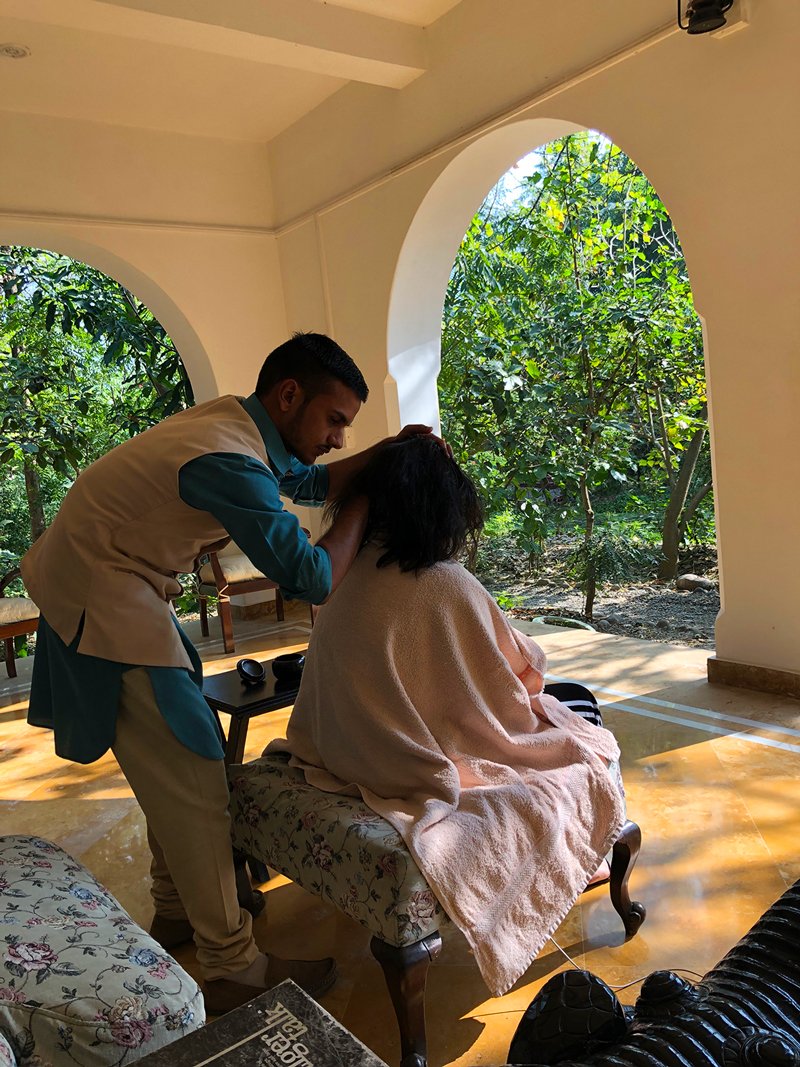 Jim's Jungle Retreat in itself, is a little piece of Corbett. There's so much to see (and click) even within the premises, it's like escaping into an enchanted forest. It's not as cheap as a lot of other places to stay in Corbett, but it's also not as ordinary or forgettable. Besides, there are several offers and packages you can opt for, like their Romantic Package or the Hangover Package (yes, they have that!).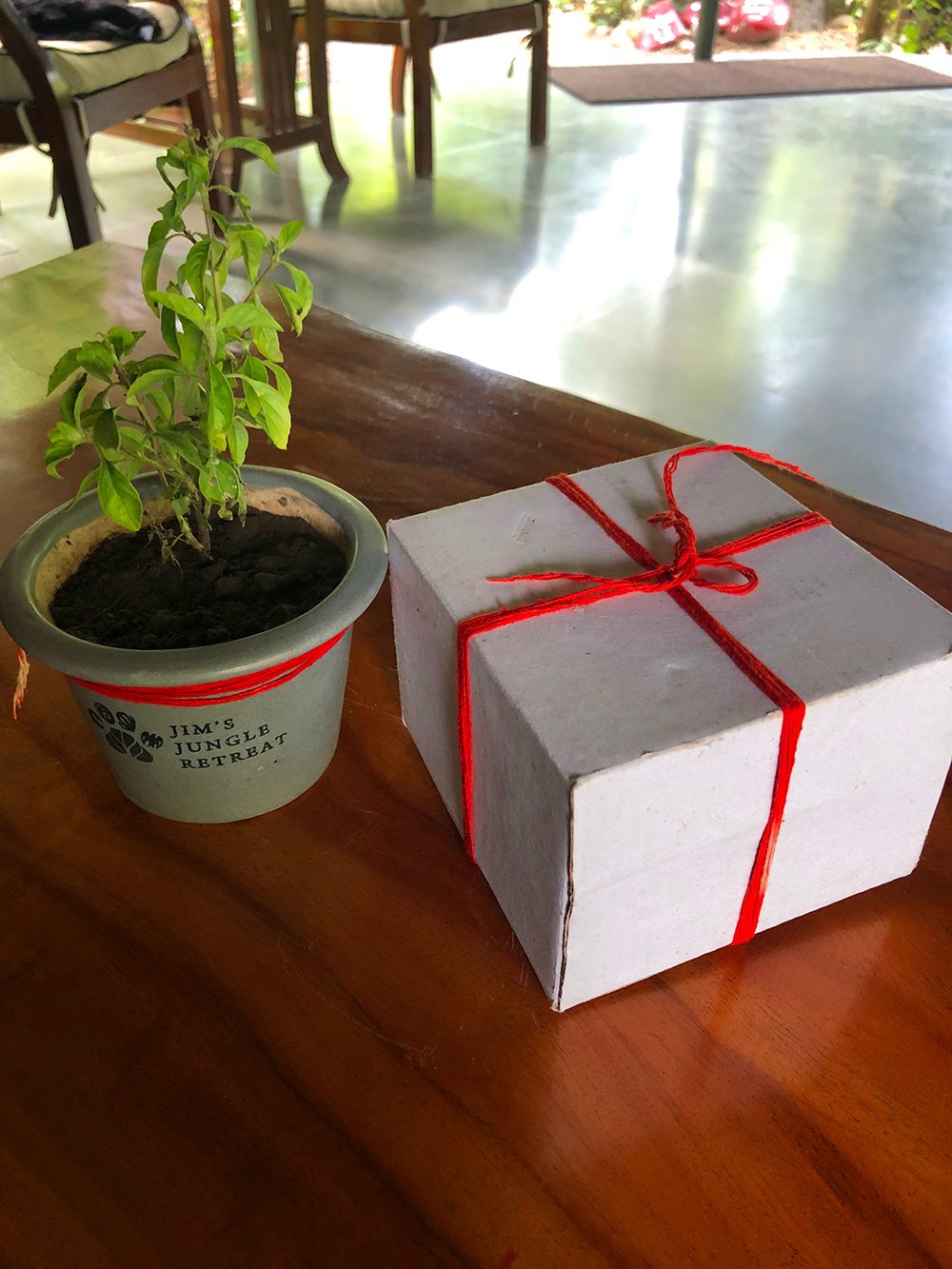 So, the next time you want to escape to a place straight out of the pages of Jungle Book, you know where to head!