An accountant for the Academy Awards was at the center of a probe on Monday over how a meticulous procedure for announcing the Oscar best picture went disastrously awry, handing victory to "La La Land" before declaring "Moonlight" the real winner.
In a gaffe on Sunday that stunned the Dolby Theatre crowd in Hollywood and a television audience worldwide, presenters Warren Beatty and Faye Dunaway were handed the wrong envelope for the movie industry's top award.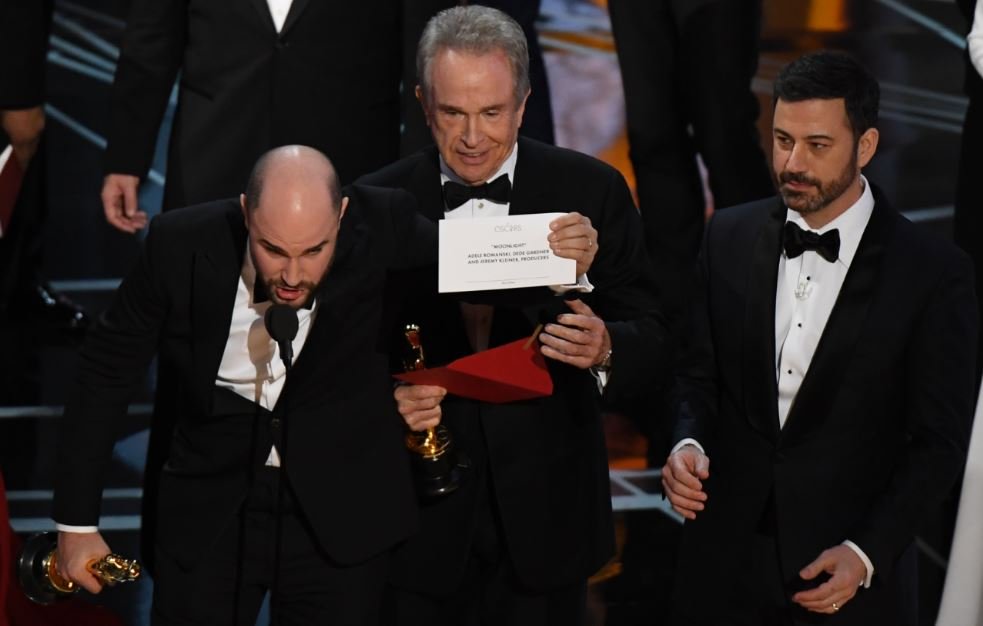 The Wall Street Journal and celebrity website TMZ.com reported on Monday that one of the PricewaterhouseCoopers accountants responsible for handing out the sealed envelopes on Sunday had posted a backstage photo of actress Emma Stone on Twitter minutes before the mix-up.
The photo, from the Twitter account of Brian Cullinan, was later deleted but was still viewable on Monday on a cached archive of the page.
Brian Cullinan has deleted this tweet, which he posted shortly before the debacle happened last night. Distracted? #Oscars pic.twitter.com/4eSwD4XXKg

— Big4Veteran (@Big4Veteran) February 27, 2017
PricewaterhouseCoopers U.S. chairman Tim Ryan told USA Today on Monday that Cullinan was the person who handed the envelope to Beatty.
PwC did not respond to requests for comment on Cullinan's tweet, nor his role in the envelope fiasco. Cullinan could not immediately be reached for comment.
The mistake was not rectified until the "La La Land" cast and producers were on stage giving their acceptance speeches. It was left to the musical's producer, Jordan Horowitz, to put things right.
"Guys, guys, I'm sorry. No. There's a mistake," Horowitz said. "'Moonlight,' you guys won best picture. This is not a joke."
i'm dead at this whole thing 😂💀 #Oscars pic.twitter.com/Ye8TgkJSHW

— Bitch Problems 👑 (@FemaleTexts) February 27, 2017
It took PricewaterhouseCoopers, which has been overseeing Academy Awards balloting for 83 years, three hours to issue a statement confirming that Beatty and Dunaway "had mistakenly been given the wrong category envelope."
"We are currently investigating how this could have happened, and deeply regret that this occurred," the accountants said in a statement on Monday. The Academy of Motion Picture Arts and Sciences, which organizes the Oscars, has made no comment.
An embarrassed Beatty carried the envelope in his hand to the glitzy Governor's Ball after the show, with the writing clearly saying "actress in a leading role." "La La Land" star Stone had been awarded that Oscar moments before.
Brand management experts said it could take years for PricewaterhouseCoopers (PwC) to recover.
"This is not advanced math. PwC had to get the right name in the right envelope and get it to the right person," said Tim Calkins, a marketing professor at Northwestern University, calling the blunder a "bit of a branding tragedy."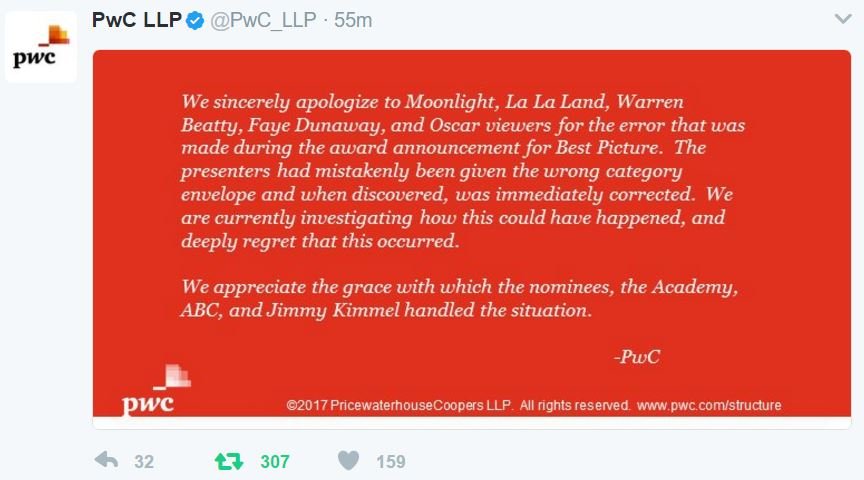 Under a tried and tested PwC procedure, just two accountants know the names of the 24 winners after their names are placed in two sets of sealed envelopes. The two accountants also memorize the winning names.
Tradition has it that the envelopes are taken separately in two briefcases to the Academy Awards venue. The two accountants - in this case Cullinan and Martha Ruiz - are driven there separately in case an accident or traffic should befall them.
The pair then stand off stage at opposite sides and hand envelopes to the respective presenters as each category is announced.
Last week, Cullinan told the Huffington Post that the procedure for dealing with the hand-off of an incorrect envelope, other than signaling to a stage manager, was unclear.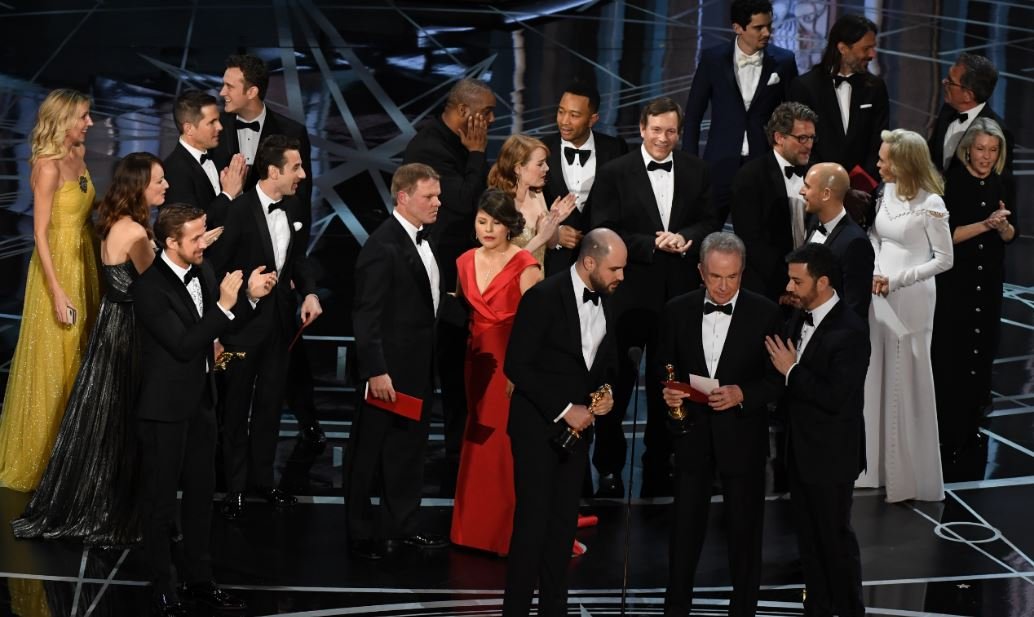 "It's so unlikely," Cullinan told the Huffington Post.
Anthony Sabino, a law professor at St John's University in New York, said that although precious minutes passed, the error was corrected quickly.
"It's not as if we woke up this morning, or if it had been uncovered after the telecast was over. That would have really have been a black eye," Sabino said.
Sabino said that compared to accounting fraud at other companies in the past, "this incident diminished vastly to a vanishing point."
The "Moonlight" filmmakers were gracious about the error.
Director Barry Jenkins told reporters back stage that he was given no immediate explanation for the mix-up but that "it made a very special feeling even more special, but not in the way I expected."
"Please write this down: The folks from 'La La Land' were so gracious," Jenkins added.