Do you feel cheated every year during appraisals? Do you get peanuts year after year?
Well, that dreaded time of the year is here again. You will be reviewed for your performance at work, and like always, you will be left sulking. Because not everyone gets an A grade, right?
Here are a few jokes we compiled, because they will be the only thing that may make you laugh during this really tough time.
Boss: "Where do you see yourself in 5 years?"Employee: "I'll be sitting in your chair, sir."[5 years later]*waits for the boss to go to the toilet**sneaks in to his room*"Bola tha na kar ke dikhaoonga, saale taklu"

— Akshar (@AksharPathak) March 27, 2018
Your reaction when you realise that you have got the highest rate of increment in your office...#increment#AppraisalTime pic.twitter.com/KmoWduyCsW

— Tweet Kuchh Bhi (@Tweet_Nything) April 30, 2017
Boss:You have been a consistent performer,gotten promoted,rating of 5,met all targets,exceeding expectations,so u will get a hike of 50%!!

Employee:Wow really 😃😃#AppraisalTime 😝 pic.twitter.com/ueuJ3DAxTl— The Notorious Bee 🐝🐝 (@chatpataka100) January 14, 2018
The only time I got #hike was when I installed messenger #appraisaltime

— Himanshu Sharma (@_himanshus) March 26, 2018
#appraisaltime 🧐😏 pic.twitter.com/4ihTLt8hCG

— Tanmay Goyal (@tanmaygoyal90) March 28, 2018
Why is it called a 'Bell'-Curve?........Because all you get is 'Ghanta' after your appraisal.

— GRV (@MildlyClassic) March 27, 2018
Me reading my appraisal letter.#AppraisalTime pic.twitter.com/ocSeebm56v

— The Viral Fever (@TheViralFever) March 26, 2018
Employee's behaviour during the month of appraisal..😃😃 pic.twitter.com/HNy4AgWjC4

— Funtoosh & 420 others (@_funtoosh_) March 20, 2018
When your boss starts your appraisal session. pic.twitter.com/LpO2xd8FeA

— GRV (@MildlyClassic) March 28, 2018
When you're rated 'top performer' after appraisal but realise your hike is only 2% pic.twitter.com/zvRDxmMmgI

— डॉ. परीमल त्रिपाठी (@GhasPhoosDoctor) March 29, 2018
HR:- U r a loyal employee of the company,do u want to say anything to conclude this appraisal meetingMe:- pic.twitter.com/8qSzvUzu5D

— Sumeet (@AaadiVaashi) March 19, 2018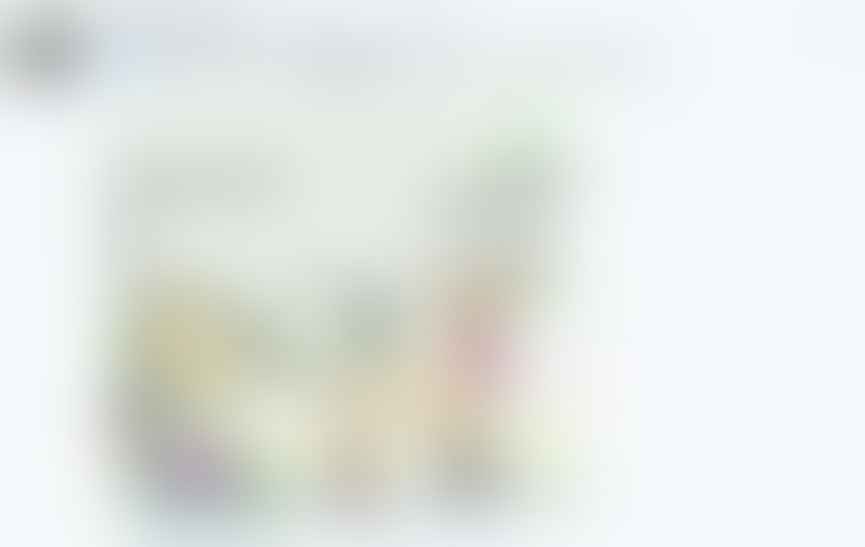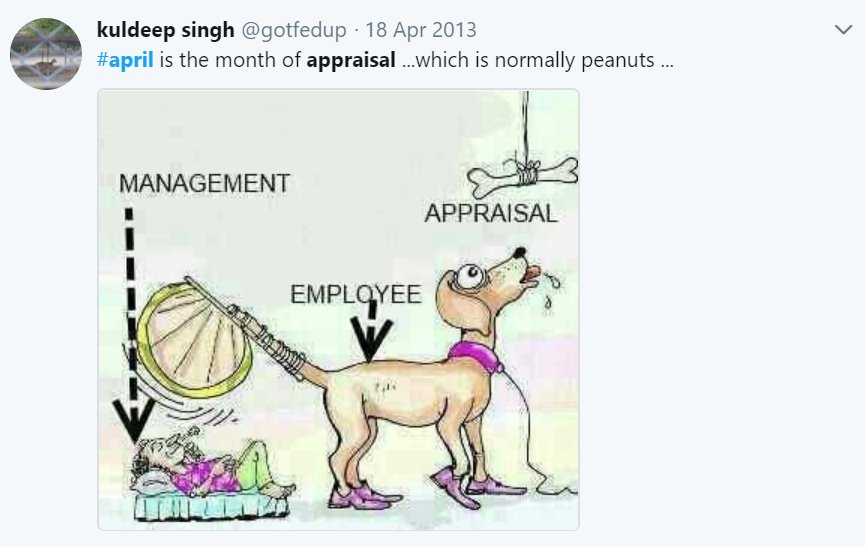 Appraisal Time Folks - Must Remember This 👇🏽👇🏽 @indian_patriot2 @ManshiSwiftie @13maheshsinh @shuaibrehman @goyalsanjeev @nandini_idnani @liveonin @AbidiAsfaq @chandansadhu @HatindersinghR @RaghavendraUp16 @singh_harmeet84 pic.twitter.com/Gni0Hd5ViT

— ISN'T IT 🧐 (@Road2India) March 22, 2018
*during Appraisal*Employee : sir promotion chahiyeBoss : pic.twitter.com/wspnE86xXp

— Sash (@sashbv) March 21, 2018
The work which I actually do and the work which my boss remembers during performance appraisal.#appraisal #increments #promotions pic.twitter.com/ClOKvWLse9

— Nita Kewl (@Nitzmatazz) March 21, 2018
Always laugh heartily at the jokes your boss tells, it maybe a loyalty test.#MarchEnd #Appraisal

— Adhir Amdavadi (@adhirasy) March 30, 2015
I think my boss uses the Duckworth Lewis method to decide my targets #midyear #increment

— Abhishek Sharma (@IAmAbhishake) December 28, 2017
This is the month of appraisal and most of the corporate employees are like "aa BELL mujhe maar " #appraisal #corporatelearning #April2016

— Ashish (@AshishVanaar) April 20, 2016
It's the month of March and we are Indians. You give us any target and we will achieve it. #IndvsAus #WT20 #appraisal

— The Nationalist (@TheNationalists) March 27, 2016
#officereality #increment #leaves pic.twitter.com/1a4gwegayX

— Meetha Karela (@KarelaMeetha) March 29, 2018
#samudraManthan #appraisal Appraisal time pic.twitter.com/zopY21Uczk

— Optimus (@rupesh0101) March 14, 2018
#Appraisal time be like.. #dreads #dreadlocks #dreadlocs #locs #funny #funnyshit #funnyvideos #india #mumbai #mumbaikar #comedy #youtuber pic.twitter.com/4VhLBbJcMl

— Christopher Lazarus (@DreadIndian) November 28, 2016
Annual Appraisal Time #annual #appraisal #tsuactiveuser #tsufunny #funny http://t.co/kBP0j5JHSy pic.twitter.com/6ndCkDI54k

— SH Creations (@shcreations) July 20, 2015
Upcoming movies in March- April1. Tadapta Employee2. Month End Ki Raat3. Increment- The Impossible4.... https://t.co/mfPPlIbmZ3

— Sameer Gupta 💙 (@sameergupta84) March 9, 2018
*Patient*: *Dr, I have a problem with my eyes. I see something coming from far but when i reach there its nothing and not there.**Doctor:* *it's a new* *disease called ....* *"Annual Increment deficiency syndrome!!!*🤣😂😀*Dedicated to all Salaried friends!*Happy April

— Gumbra Bhupender (@bgumbra) March 22, 2018
#appraisal My new hobby?I browse LinkedIn like people browse Social media 😐

— NationFirst (@NationF82328267) March 28, 2018
How my appraisal went this year. pic.twitter.com/iSbrba3ZUL

— Jahanvi (@intrinsiclutter) April 5, 2016
#appraisal season brings out best of scaram in people 😂😂😂 pic.twitter.com/vS1SDtvPU0

— Vikalp Tripathi (@vikalptri) March 28, 2018
#AppraisalTimeExpectations vs Reality pic.twitter.com/9yPpMXKEJ3

— The Notorious Bee 🐝🐝 (@chatpataka100) January 16, 2018
Are you ready to hear d dialogues set for this month:-1. Agle saal tera pakka hai2. Management ne tere liye kuchh bada socha hai3. Bell curve me nai baith raha tha& the best one will be..4. Maine tere liye bohot fight kiya🤣 #appraisal @Iamsamirarora @hvgoenka

— Gurmeet Chadha (@connectgurmeet) March 27, 2018
Appraisal is nothing but a combination of words 🤔 april 🤔 and 🤔 paisa 🤔

— nikhil (@niquotein) March 22, 2018
Good luck guys!