If an image could warm your heart instantly then this would be it.
Four teachers and two students assembled in knee-deep water in a school in Assam's Dhubri district to hoist the national flag on Independence Day, Hindustan Times reported.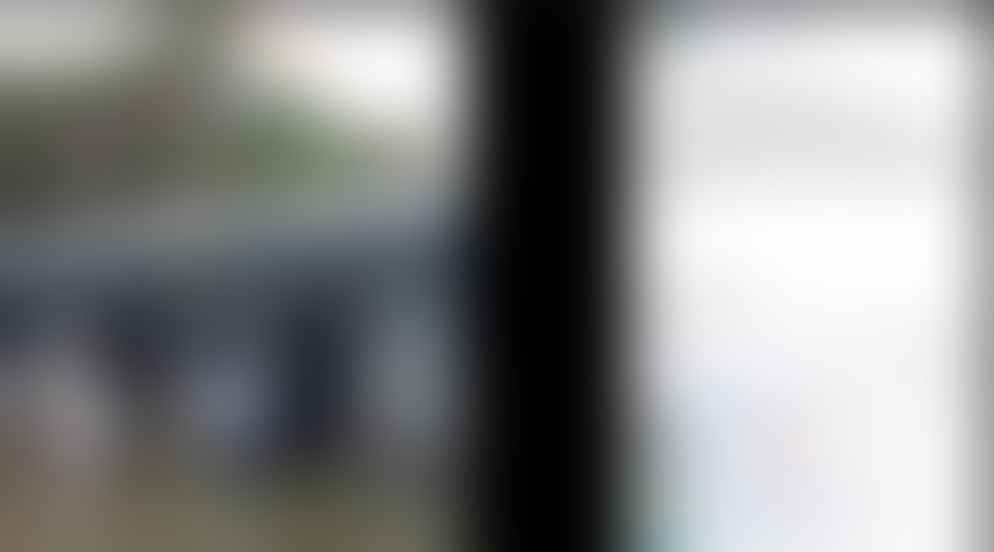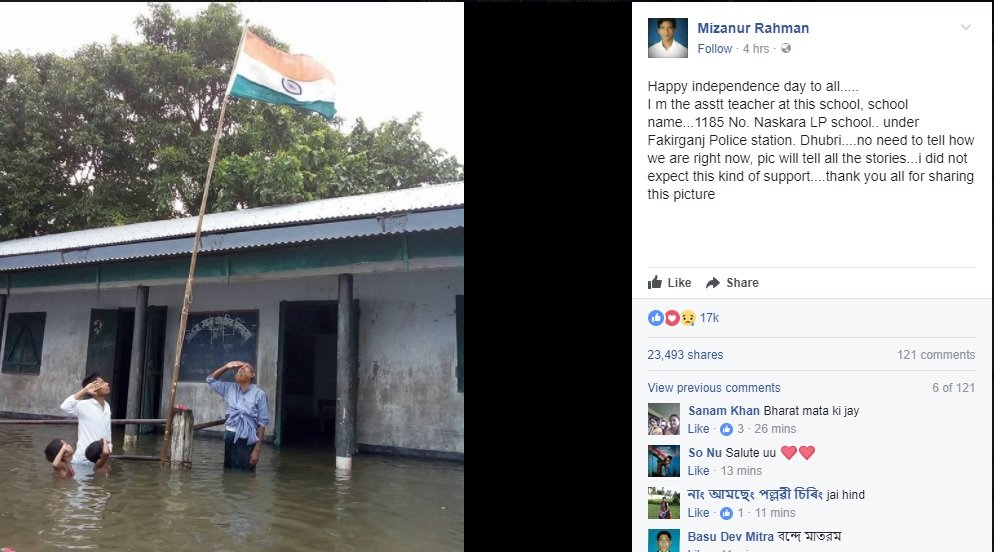 While raging floods have disrupted normal life in Assam, the small gathering at the Naskara Lower Primary School ensured that Independence Day celebrations were not given a miss. They made sure that the national anthem was sung and the flag hoisted.
Floods in Assam and Northeast have affected thousands and the school, where the six - the teachers Tazem Sikder, Nripen Rabha, Joydev Roy, and Mizanur Rahman, and Class 3 students Jiarul Ali Khan and Haidor Ali Khan - gathered to celebrate, has been flooded since August 13, the report said.
HT quoted Rahman as saying, "We couldn't do much due to the flooding. We sang the national anthem and Vande Mataram. Since small children can't be in the water for long, we dispersed the assembly early."
More such pictures were also shared on Twitter
#PicOfTheDay#IndependenceDayIndia celebrations at flood inundated school in #Kamrup district of #Assam.#IDAYWithAIR pic.twitter.com/X5JIWY6Urw

— All India Radio News (@airnewsalerts) August 15, 2017
..
Despite of heavy floods ;a teacher & students attending flag hoisting ceremony at their school in Assam.Pic of d day☺#IndependenceDayIndia pic.twitter.com/ccD1fCpJT7

— TRISHNA DAS KUMAR (@TDasKumar) August 15, 2017
..
Prominent Twitter users hailed the picture as a symbol of nationalism.
#HappyIndependanceDay celebrated in a school in #Assam despite floods ! 🙏🏻🙏🏻🙏🏻🙏🏻🙏🏻🙏🏻🇮🇳 #India #BeingIndian pic.twitter.com/1b2PEepACr

— Rajeev Chandrasekhar (@rajeev_mp) August 15, 2017
..
No need of words; just feelings pic.twitter.com/Z2uMi0oSqp

— Ram Madhav (@rammadhavbjp) August 15, 2017
However, users also pointed out how it was hardly a matter of pride that the children had to celebrate Independence Day in this deplorable condition
Happy Independence Day. Now we wait for the freedom from this socio/religious political stranglehold, which induces inequality-Assam school pic.twitter.com/y1Dtsk81Jm

— Sushil Dahiya (@dahiyasahab) August 15, 2017
..
Those little kids are neck deep in flood water. https://t.co/3s0CV6dPrH

— राजीवः श्रीनिवासः (@RajeevSrinivasa) August 15, 2017
..
@narendramodi , Mr PrimeMinister , Pl have a look at this pic, a school In Assam @CMOfficeAssam . Long way to go .Happy Independence Day pic.twitter.com/8rQYXgqFRo

— Nivedita (@nivnanda) August 15, 2017
...
Feature image source: Mizanur Rahman/Facebook