Women and shoes are a match made in heaven! No amount is ever enough and no woman can ever have enough pairs of shoes. For shoes aren't just any accessory- every outfit you wear, deserves a befitting shoe style. 
But there are so many kinds of shoes that it's inevitable to avoid confusion. We totally understand the emotional turmoil every woman goes through, every time she's out buying a new pair. Don't worry ladies for help is on its way!
So we decided to help you with all the kind of shoes your wardrobe needs right away. As a bonus we have styled some clothes so that you know what goes perfectly with what. 
Here's a comprehensive guide to the different kinds of shoes every woman must have in her closet. As a bonus, we've styled some clothes to pair with the shoes too! 
1. Kitten Heels
While similar to a stiletto, these have heels smaller in length. Perfect for a day outfit, you can wear them with pretty much everything. Just make sure you reveal your ankles to give some space for your heels to stand out.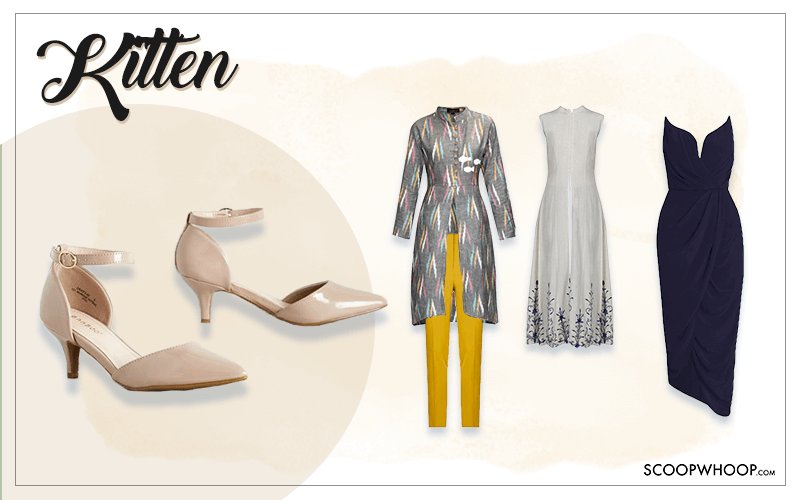 2. Stilettos
Stilettos or Talons Aiguilles as the French put it, literally translating to needle heels or high heels, are the most lust-worthy shoes ever. Walking in these may be a herculean task but there's no denying the glam factor they bring to any look. And once you've nailed your walk, you're never stepping out of these!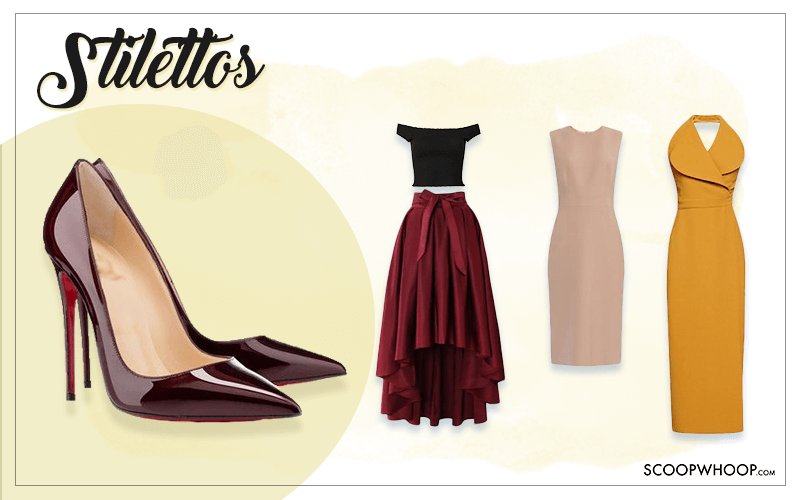 3. Wedges
If you love baring your legs, then strap on these beauties. Women who cannot master stilettos, swear by wedges. It gives them the same feeling but with a lot more area to balance on. They go perfectly well with summer dresses, shorts and everything else that rests above the knees.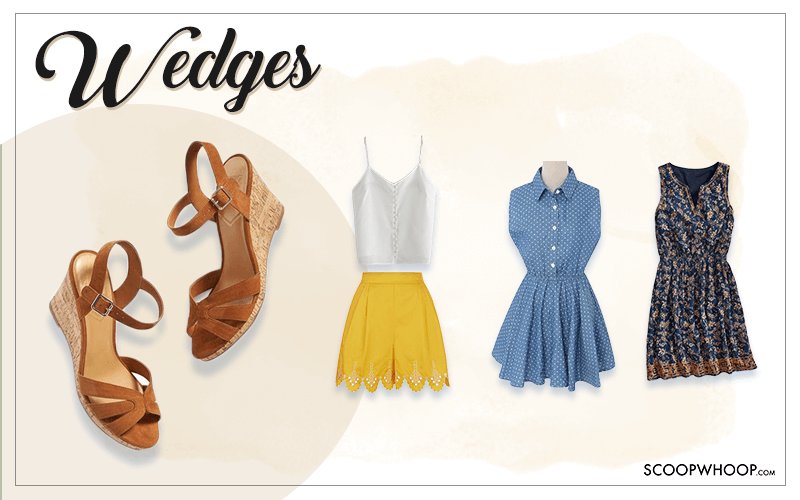 4. Espadrilles
If you ain't a heels girl, these are perfect for you. The jute rope sole is how you can tell espadrilles apart from similar looking shoes. They are super comfortable and can be paired with almost anything.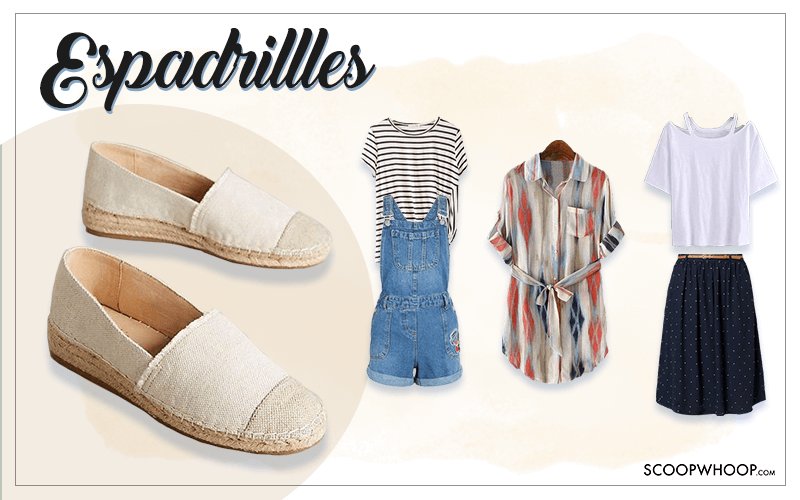 5. Uggs
Winter is coming and this time, let Uggs provide the warmth your feet need. Originally made from sheepskin, with warm fleece inside the shoes, now come in all shapes and sizes without hurting so much as a fly.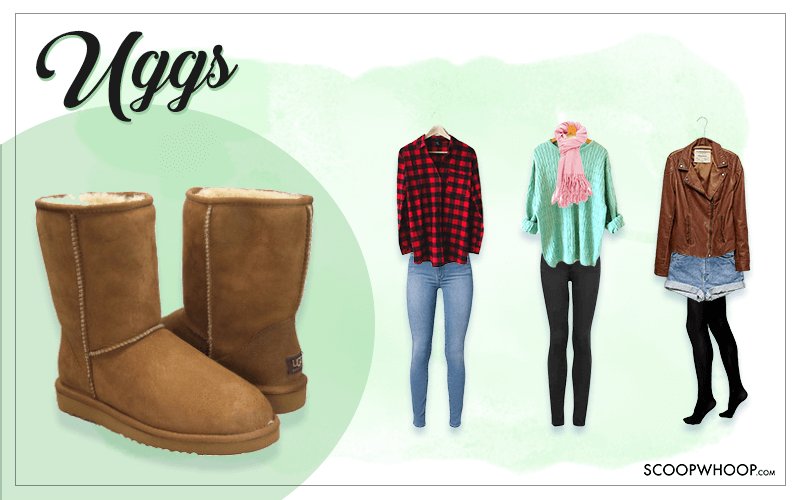 6. Mules
The French word for shoe that were backless and often close-toed, Mules were traditionally worn as indoor shoes in the 18th century. But make sure you get your hands on a pair as they're in style right now.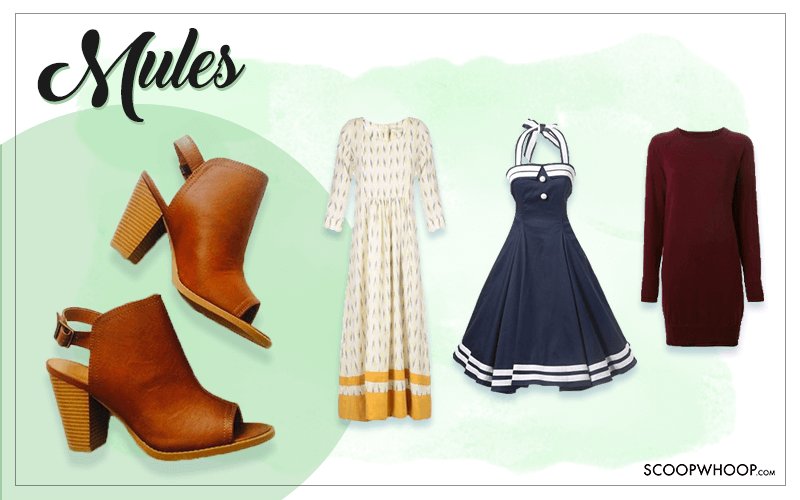 7. Gladiators
These shoes were traditionally worn by fighters in Rome, called Gladiators and hence the name. They come in all shapes and sizes, with the straps going up to a person's knee. Make sure you buy the right size, otherwise you'll end up with geometric designs on your feet.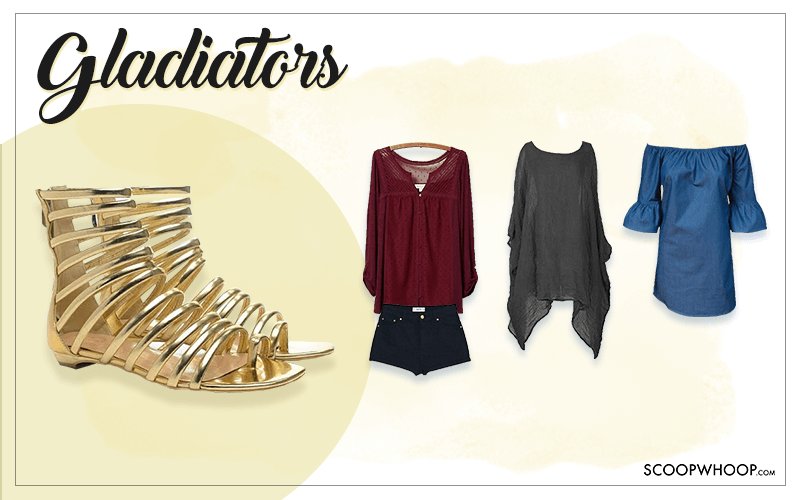 8. Loafers
Loafers are definitely making a come back. They are perfect for a casual day out and even for a official meeting, if styled right.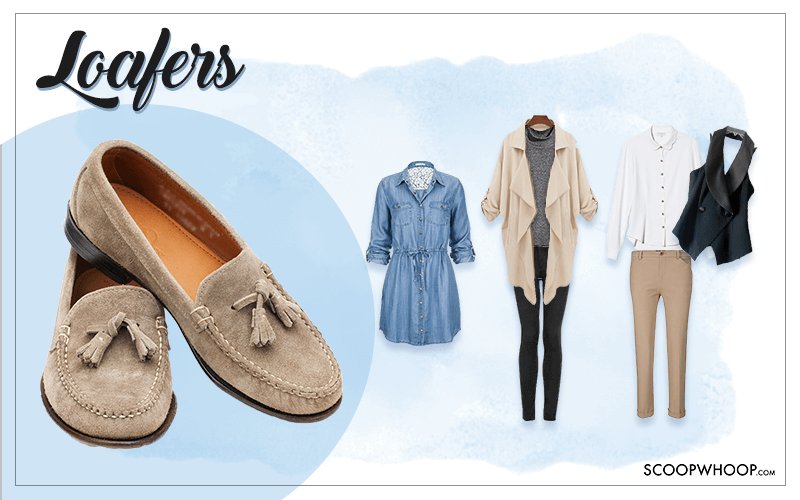 9. Brogues
Brogues got the name from the method of broguing, which is the decorative perforations on the shoes. These holes were provided as a way to let out water, as they were originally outdoor shoes. They're classy, stylish and you can pair them with anything.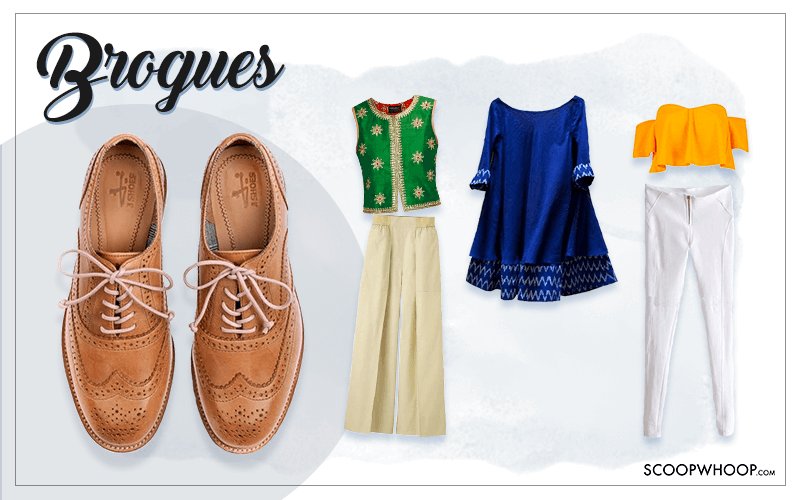 10. Ankle Boots
These badass shoes are a must-have for winters. They provide the much-needed winter warmth and give you an edgy look. Pair it with anything you like and you should be ready to slay.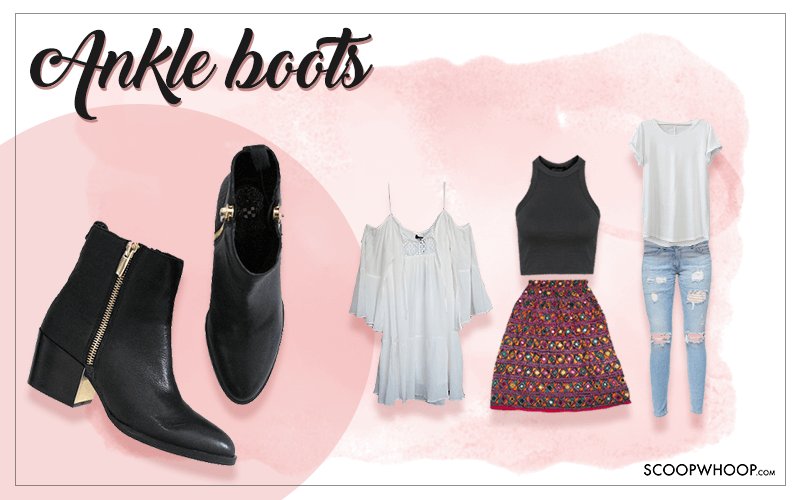 11. Jootis
We love Jootis, don't we? The best ethnic footwear that provides comfort and keeps your feet clean. Unlike the traditional brown leather ones, there is a wide variety of them in the market now. So you don't have to restrict yourselves to pairing them with traditional wear.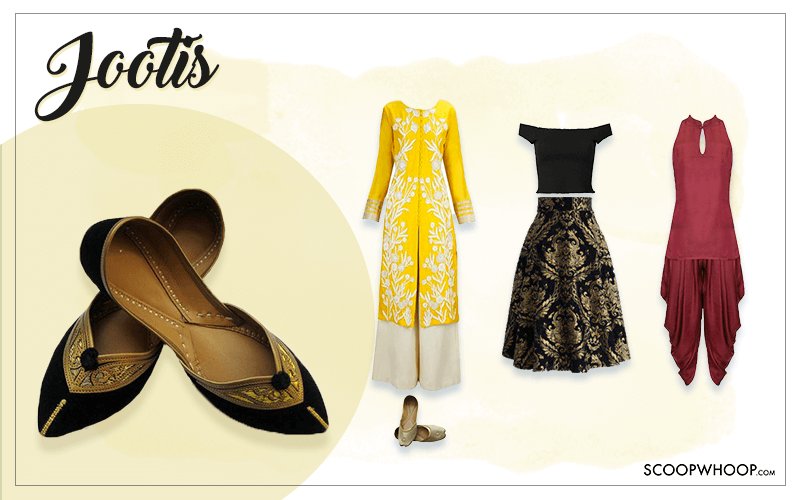 12. Kolhapuris
India's pride and every 'I-don't-care-about-fashion' person's go to style. From a casual kurti with jeans to your favourite salwar kameez, Kolhapuris go with everything that is casual and traditional. So, invest in a comfortable pair right away.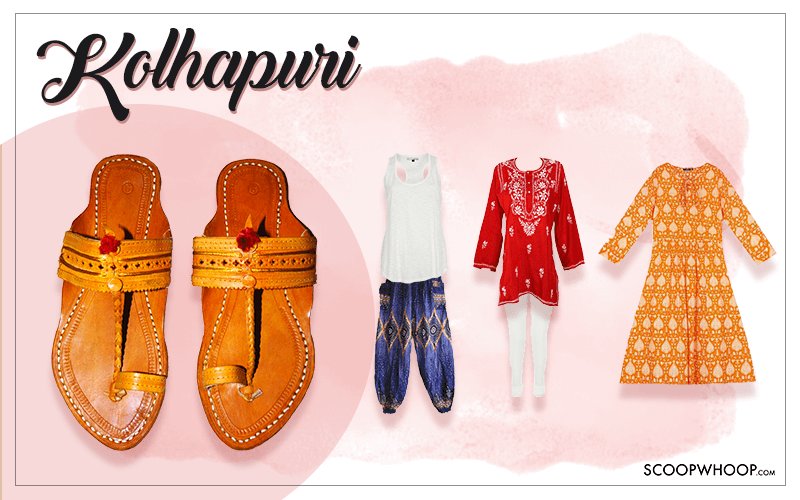 13. Ballet Flats
Traditionally, these were part of every ballerina's arsenal. But now, it's much more than that. They're the most comfortable, casual and stylish shoes to swear by. If the trends are to be believed, they'll be in fashion for a very long time.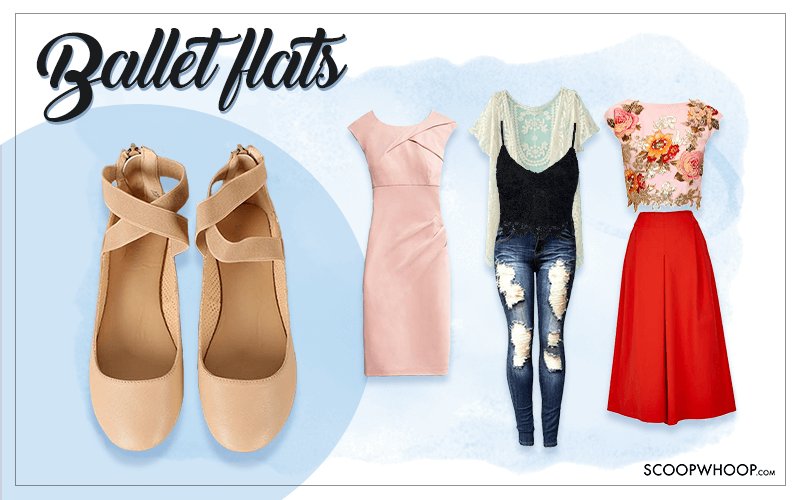 14. Slip Ons
God bless the one who made these beauties! A perfect blend of sports shoes without the bulkiness, these come with oodles of style. Ace your style game by pairing them with a t-shirt dress.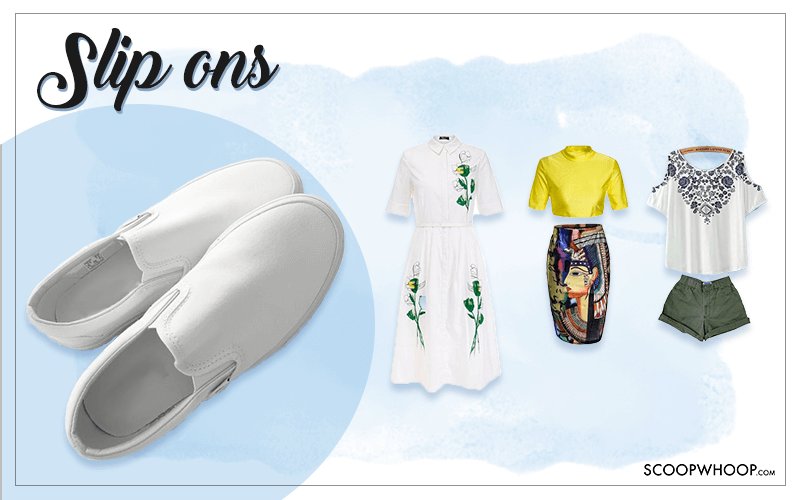 15. Platform
The second cousin to our good yet sometimes painful friend stilettos, platforms should definitely have a space in your wardrobe. They give you the height and style of a stiletto, without squeezing out your precious feet. And thanks to the thick sole that provides a better and balanced footing.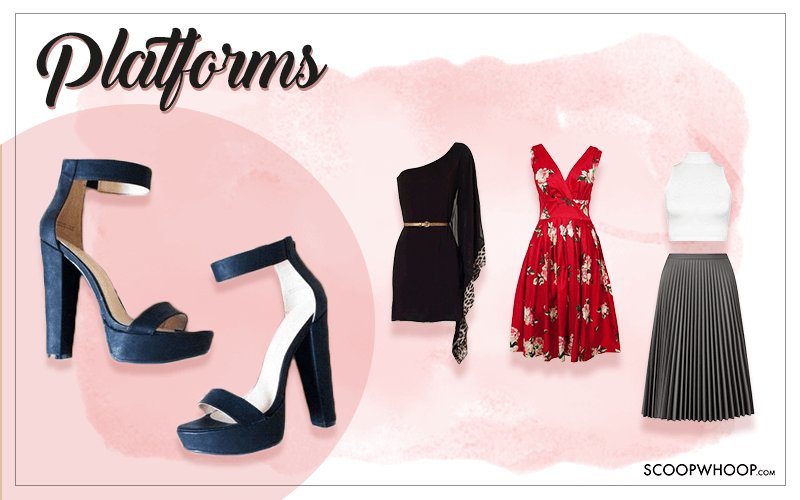 Design credits: Aakansha Pushp and Utkarsh Tyagi
Who knew there were so many, right? Well, now that you're armed with all the shoe knowledge there is, you're ready to put your best foot forward.