Buckle your seat belts, 'cause we're about to time travel to the 19th century, when sexism was still kicking and thriving, and feminism, what feminism?
A Twitter user, Chritina Ross shared screenshots of messages sent by a guy to a woman telling her why exactly he didn't message her.
In the screenshots, a guy named Luke James addresses a woman named Kimberley. 
The detailed messages are basically a sexist dating rulebook for women summed up in three screenshots. From the classic 'look more natural' to 'laugh at my jokes', this sample of a conversation had it all!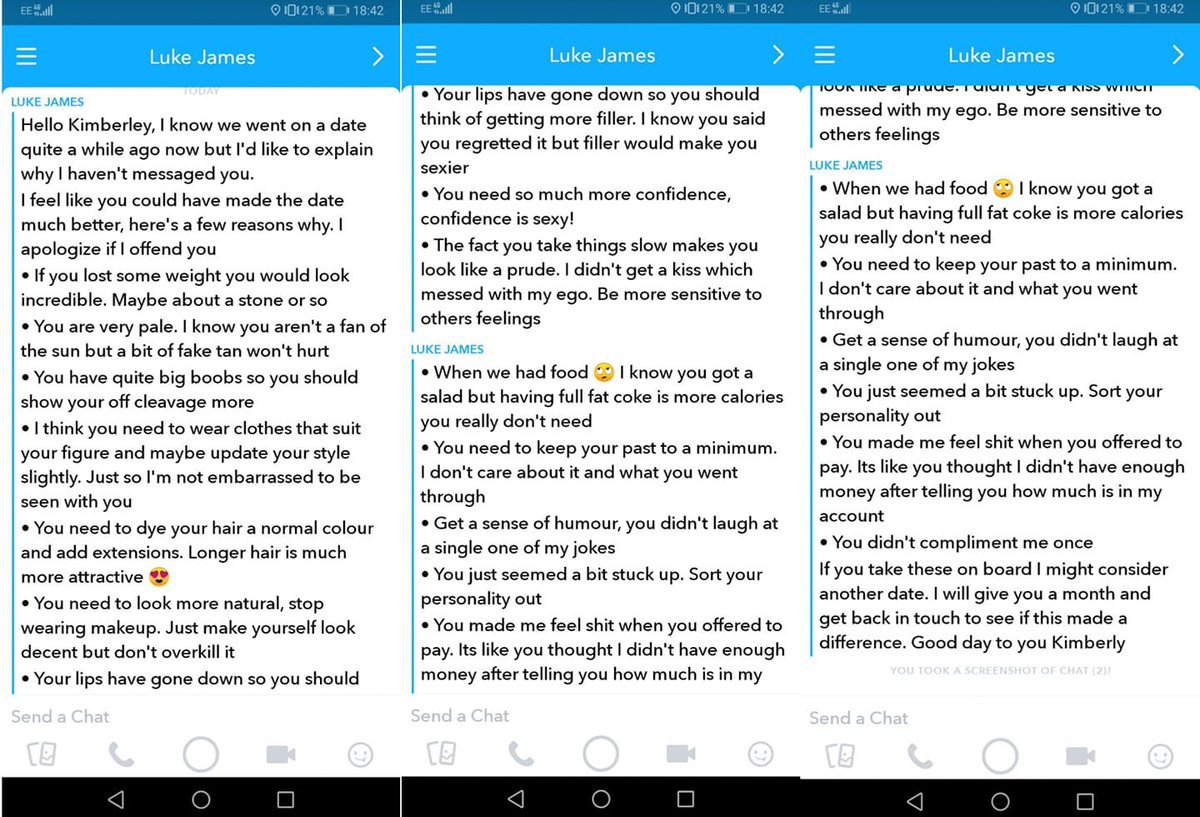 From blatant body shaming – 'lose weight', wear clothes 'that suit your figure', to guys like 'longer hair' and 'confident women' cliches – Luke made sure to not leave out anything.
If the dating pool is full of turds, then this guy surely is the king of 'em all.

And, after this, he goes on to add that him not 'getting a kiss' on the first date, 'messed with his ego'.
First of all, entitlement defined in one screenshot.
Then he goes on to chide her for her eating habits, tells her that he 'doesn't care about her past and what she has went through'.

The 'instructions' to get a second date are sooo sexist that for a minute you think that Luke is being sarcastic or presenting some sort of commentary on the dating scene. 
But, lol, we wish.

After all this, his audacity is still running high on entitlement that he gives her an ultimatum. 

Kimberley, you now have a month to get as far away from this epitome of sexism as possible. Run.
Netizens came together to call out his blatant sexism.
And respect my feelings while I tear down every aspect of your being!

— Jen (@RussianCatsJen) March 10, 2019
To be fair it's rare to find someone who shows you with perfect clarity exactly what a relationship with him would be like…

— David Johnson (@davidjohnsonpdx) March 10, 2019
The only positive about him is he wears his red flags as a neon suit with led lights spelling out "RUN!"

— Alia (Ren) Ishida (@thatdogoverther) March 10, 2019
"Be more sensitive to others feelings"
I… I'm… 😂😱🤬🔥

— Toggle (@Taagol) March 10, 2019
My favorite is when he says not to add so much makeup because it is not natural but also to get lip fillers.

— Amy Eileen (@northwoodsamy) March 10, 2019
i lost it at the "messed with my ego" bit

— Mr(s) Beanbag ️↙️ (@AmigaBeanbag) March 10, 2019
Luke, you did the humankind a favour by ousting yourself. Thank you.
Images are screenshots sourced from Twitter.