For 16-year-old Vidhi Chhetri, the lanes of the refugee hub of 'Khirkee Extension' in New Delhi are no more unsafe.
Earlier, she dreaded walking alone in these narrow, jammed streets of her neighborhood when every nook and corner was hounded by drunken men. Those stares left her scared and uncomfortable.
So what changed?
Vidhi, along with other girls and boys of her neighborhood, joined a 'Khirkee Collective' project and began painting the walls of the area to reclaim public spaces, particularly for women.
What's interesting is that these paintings picture women socialising just like men in public spaces where they are not expected to hangout.
Take this painting of women drinking chai, for instance: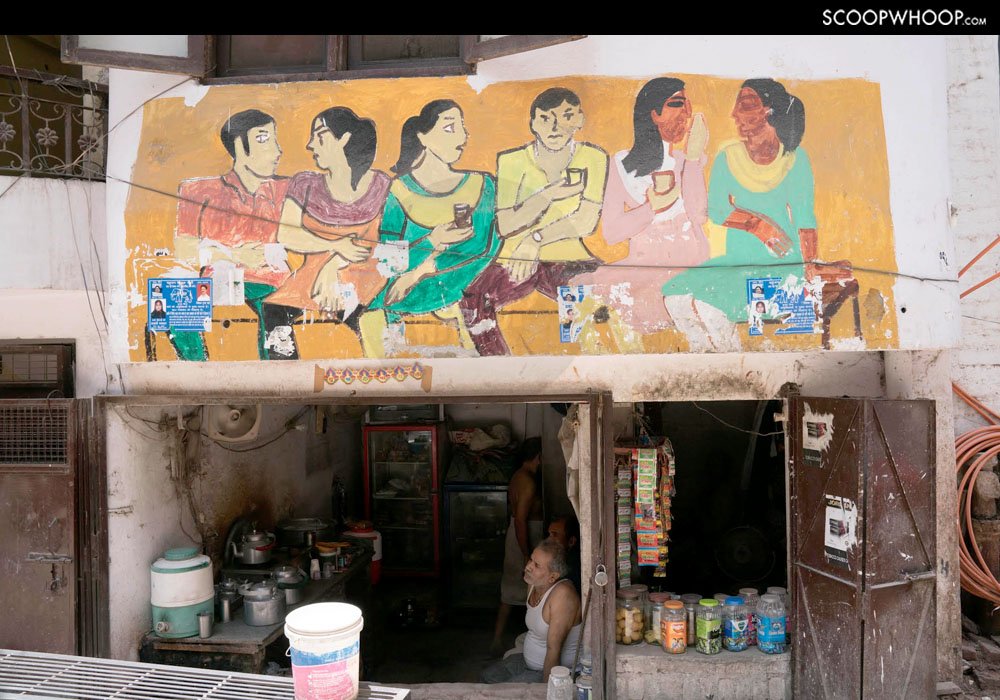 "These paintings represent us," Vidhi gleams with joy while showing us this mural of young women drinking chai right above a tea stall.
"Earlier, it was only men who came here to drink chai. This painting has brought in women too."
This is one of the five-odd paintings in the area that have brought about palpable change, and allowed girls like Vidhi to live their deepest desires.
This painting shows a bunch of women chatting in a public area: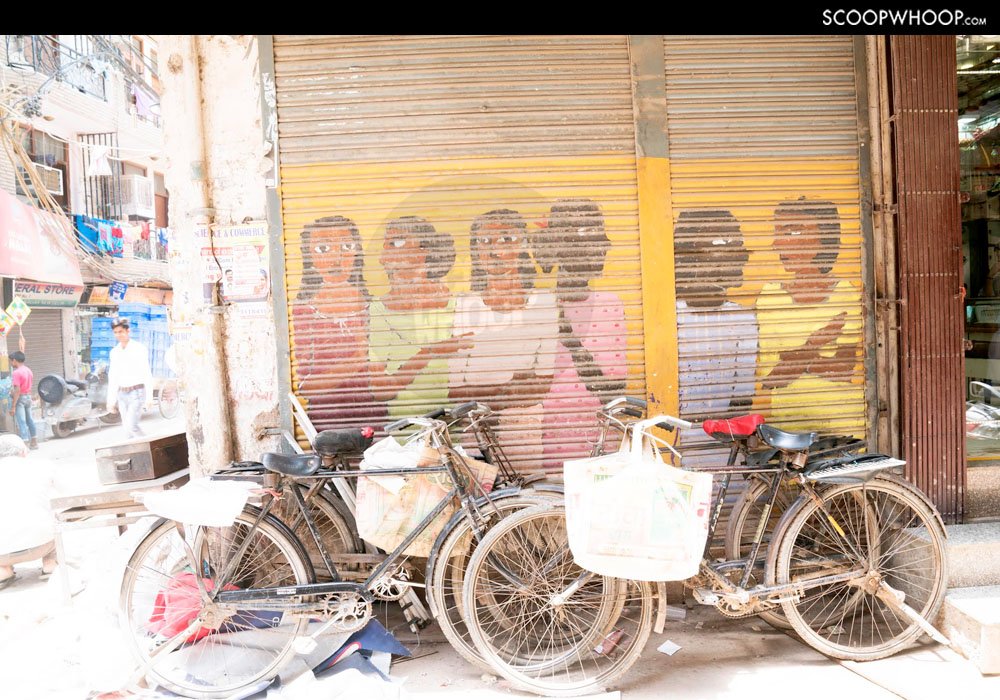 "The idea was to engage with the men. If you look around, all the public spaces are occupied by men. Women step out of houses only for a purpose. You don't see them loitering around, But with these paintings all around, women are coming out and gradually reclaiming their territory", said Sreejata Roy, an artist and project head of Mobile Mohalla that she runs along with fellow artist Mrityunjay Chatterjee. 
The Mobile Mohalla project by Revue, an artists collective is funded by Kiran Nadar Museum. It has its roots in 2014 when it started as a 'Network and Neighborhood' project supported by Khoj International Artists' Association, a non-profit organisation for contemporary art and emerging artists in South Asia.
Here's a painting above a cobbler workshop, that shows a woman stitching shoes: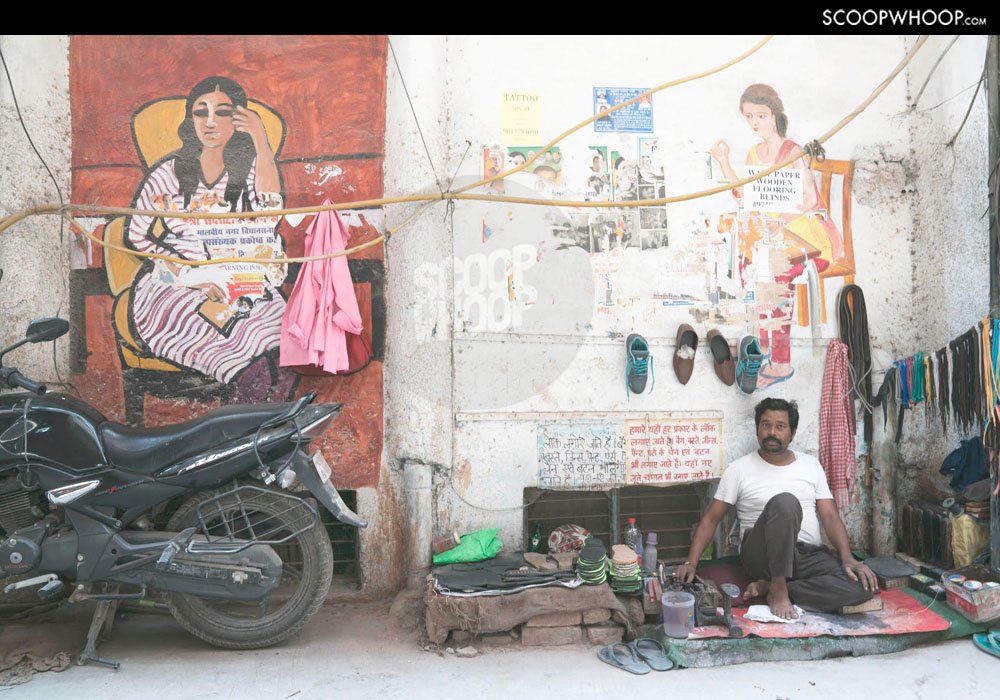 As surprising as it may sound, but this painting has actually helped increase the number of women to the shop.
Raju, who has been a cobbler for seven years in Khirkee told ScoopWhoop News that ever since the painting came up, he has witnessed a swell in the number of women customers coming to him.
"They (customers) always ask me about the painting above my shop. The girls have painted a female cobbler. There are no female cobblers here but I like this painting. We do not differentiate between men and women anymore," he said.
Tabbasum, 18, one of the painters with the Collective, is particularly proud of this painting of girls and boys playing cards right next to a barber shop: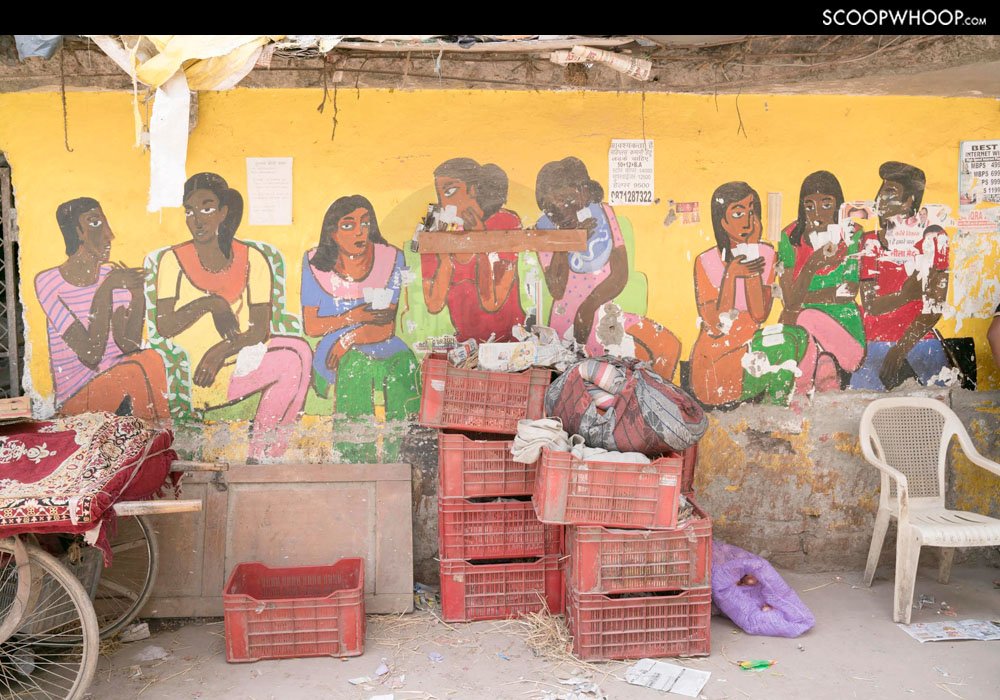 Tabbasum, who moved to India only two years ago from Afghanistan, shared an interesting account, "Our barber, KTji, moved his shop near this painting because he liked it very much. He takes care of it and also speaks to the girls and boys on the wall whenever he is bored."
Fellow painters Gufran and Nitin, both 17 and of Indian origin could hardly contain their excitement while showing us this enormous painting of girls of different ethnicity playing football: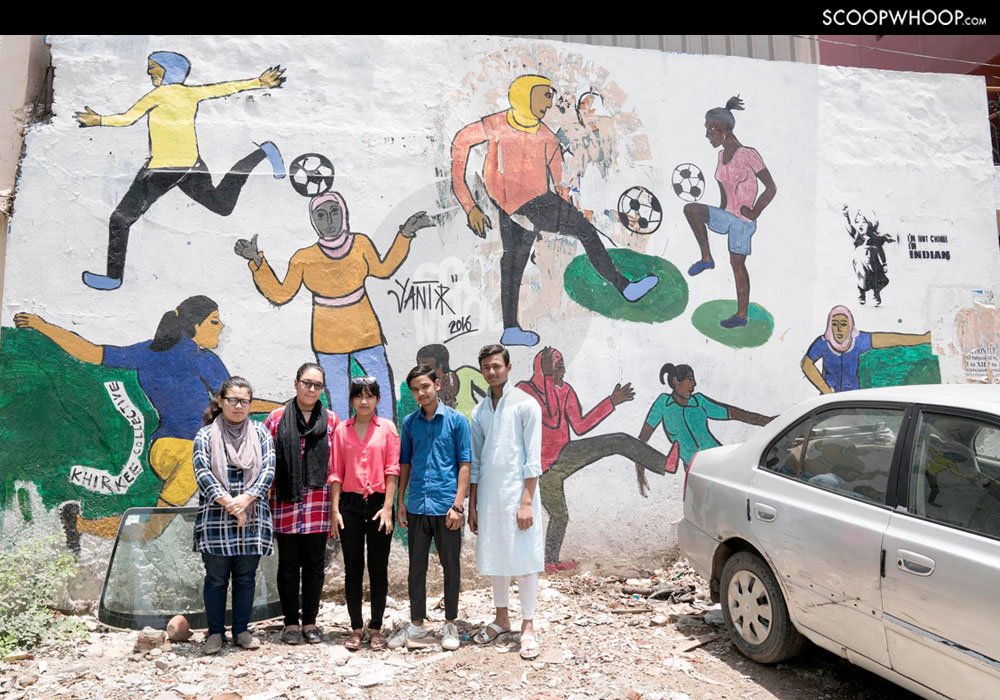 "We painted this together so as to encourage girls in our colony to come out and play with us," said Nitin.
Needless to say, the Collective itself has become a great opportunity to make friends. Gufran said, "Earlier, it was just little girls who stepped out to play. We almost never saw any girls otherwise. There was no opportunity to interact with them. But through this Khirkee collective, boys like me are getting an opportunity to speak to girls of our neighborhood." 
And there is a reason why the project chose teenagers and not adults in the area.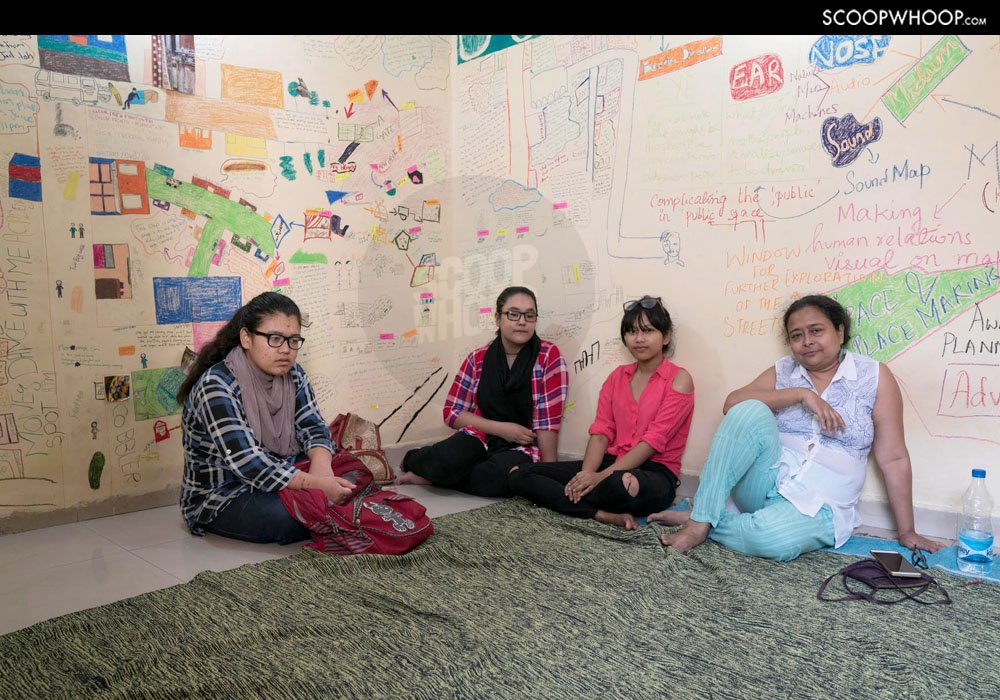 Sreejata said the whole idea was to empower the next generation and widen their understanding of public spaces.
"Khirkee is a complex place. It is a ghetto where people from multiple nationality and ethnicity reside. It is not easy to change this place and we don't even want to," she said.
"We want to engage and enable a dialogue and ensure that there are more shared public space for women."  
(All image credit: Neesad Dhar/ScoopWhoop)