Yellow.
That was the colour of the wall behind the sofa where Raghav and his family sat when they came to see me.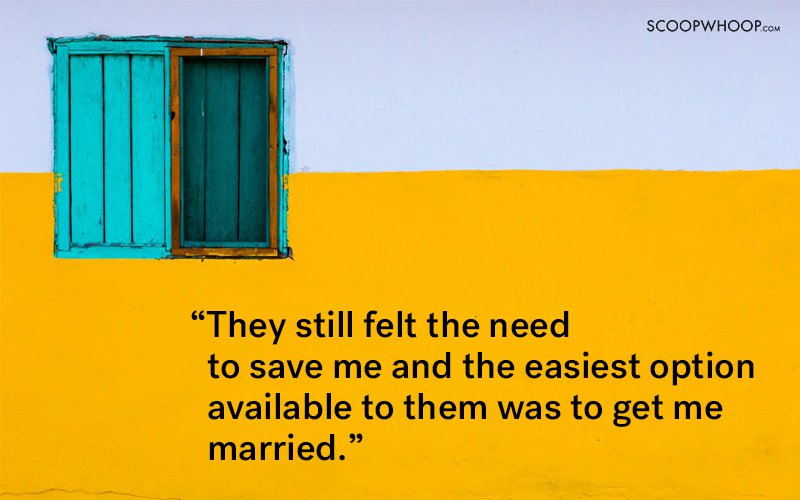 I am 27-years-old and I fell in love with photography when I was 12. The first photograph that I ever took was of that mustard yellow wall and the window beside it. My Maa and Daa got me a camera but they always believed in calling it a hobby. They wanted me to become a doctor, to an extent that they made me believe that I wanted to do that, too. And so I did.
2 years after practicing, I left everything to pursue photography again. My Maa and Daa were really broken at my decision. It broke a part of me inside but I couldn't have let it destroy me everyday, thinking that I wasn't doing what I wanted to. They accepted my decision eventually but they still felt the need to save me and the easiest option available to them was to get me married.
"So you're going to, obviously, go back to practicing medicine after marriage, right? Photography doesn't suit women. Haha." — Raghav's dad jokingly said. Everyone chimed in. I felt sick. I wanted to puke out the yellow inside of me.
White.
My Maa wore a milky white saree with intricate floral patterns. I really liked the saree but that day, it just didn't seem to fancy my mood.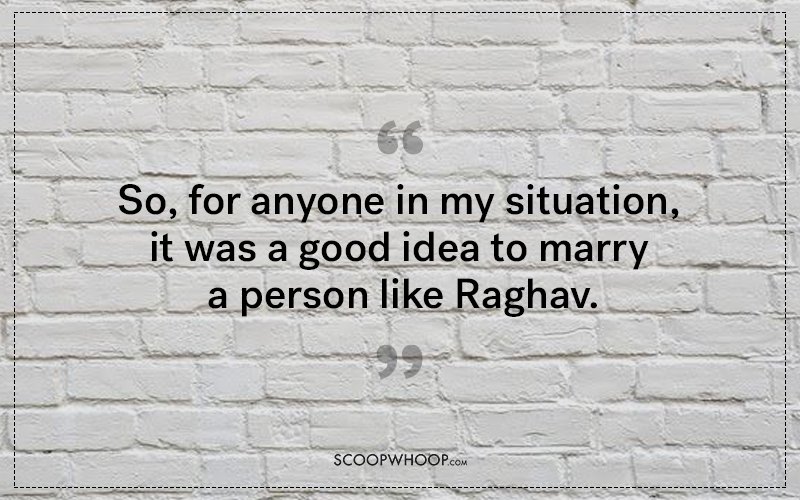 Everyone had decided that I was going to marry Raghav. The date was just 3 months away. I was going to be a wife of a person I hardly knew. Surprisingly, I was okay with it. I had let my family down once and I didn't want to repeat that mistake.
"I love white." — Raghav told me, at our 4th meeting. He was liberal in most of his ideas. He largely accepted me for the person I was. He was nice to me and respected me. He wasn't the best looking guy but he was nicer than most guys I had met. I had known him for 2 months now. He was okay with my profession as a photographer. So, for anyone in my situation, it was a good idea to have a person like Raghav to get married to and spend the rest of my life with, right?
The white walls of my office made me feel really unsettled but I decided to not address why I was feeling that way.
Brown.
I stared at the brown design on my hands as this woman kept drawing with that marvelously crafted cone, on and on. It was the mehendi ceremony.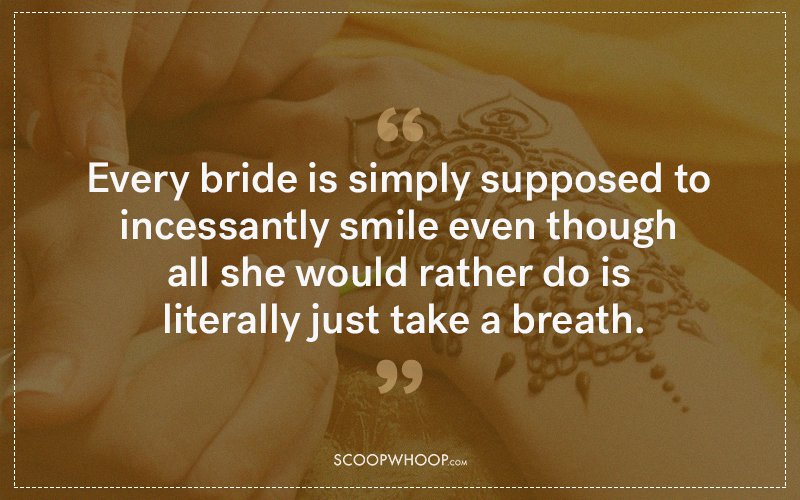 People were so fucking happy. I hadn't witnessed so much happiness ever before. EVER BEFORE. It was crazy. People, known and unknown, came up to congratulate me and I had to smile. The constant smiling was killing me. My jaws hurt. I told Maa and she asked me to just do it for a little while more.
To be honest, I felt like shit. The shit which is smelly and brown. That was my exact feeling and I made myself believe that that is probably how each and every bride-to-be feels.
Under those heavy lehengas, kilos of jewellery and numerous layers of make-up, every bride is simply supposed to incessantly smile even though all she would rather do is literally just take a deep breath and ask everyone to shut the fuck up with their overtly-dramatised performances. Perhaps, it was just me who felt that way. But to think of it that way, Indian weddings are always more about people attending the wedding and the two families rather than the two people whose lives are going to change the moment all these people leave.
I couldn't stop staring at my mehendi which had an 'R'.
That 'R', to my absolute shock, freaked the shit out of me.
Red.
My lehenga was the brightest red I had seen. But what was even brighter was my Daa's face when I called off my wedding just a few hours before the pheras. "I am not ready, Daa. I can't marry this man." — I told him with all the guts I could muster.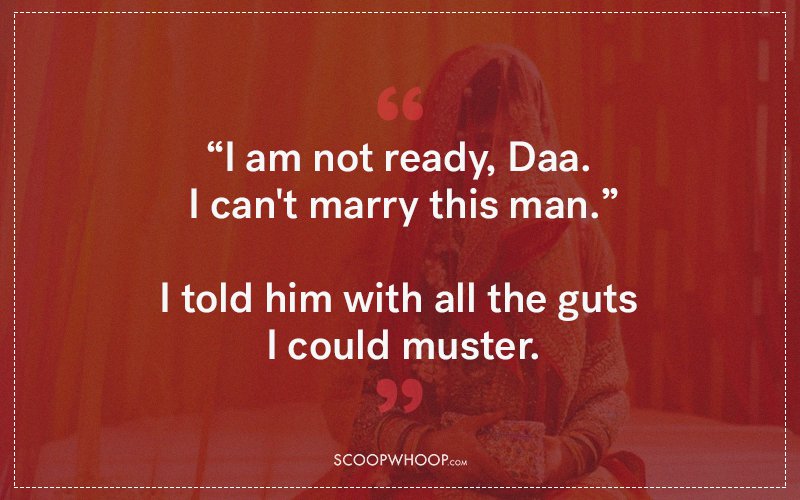 I shut myself inside this lavish hotel room and didn't open the door for the next several hours. I knew I didn't want to spend the rest of my life with Raghav. I couldn't visualise my future with him. My gut kept dropping hints at me but sometimes, it's not the most comfortable thing to follow your gut, you know.
I love my parents. They are my everything but I just don't agree with their beliefs most of the time. I know I can't change them but in order to keep them happy, I felt like I was sacrificing absolutely everything that I have grown into. I was letting a society so fake direct my life and my choices.
I was becoming someone I didn't want to be. I was giving in. I was giving up.
Black.
It was dark. I was scared and lonely. My family was mortified, to say the least.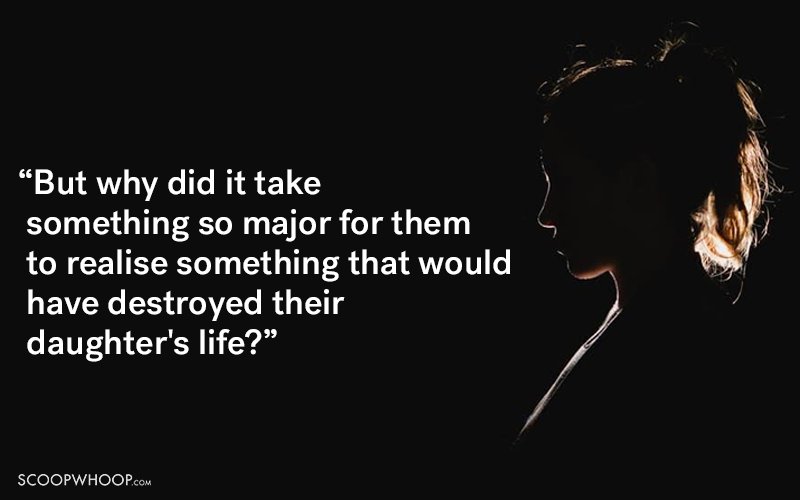 When the news was broken to the 706 guests at my wedding, they suddenly had so much to talk about or so I have heard from my Maa who basically talks about nothing but that. 
"You have spoiled our name in the society." — my Daa had said to me in utter grief and anger while he banged my door in his last attempt to get me out to marry Raghav.
Raghav and his family, I heard, created a ruckus after the wedding was cancelled. They abused my parents and left the show. This incident, to some extent, made them realise that Raghav was definitely not the guy for me. But why did it take something so major for them to realise something that would have destroyed their daughters life? I don't blame them. 
How is anyone supposed to know what people are behind closed doors?
Pink.
Pink is my favourite colour. I recently created a series of pink tinted photographs of myself.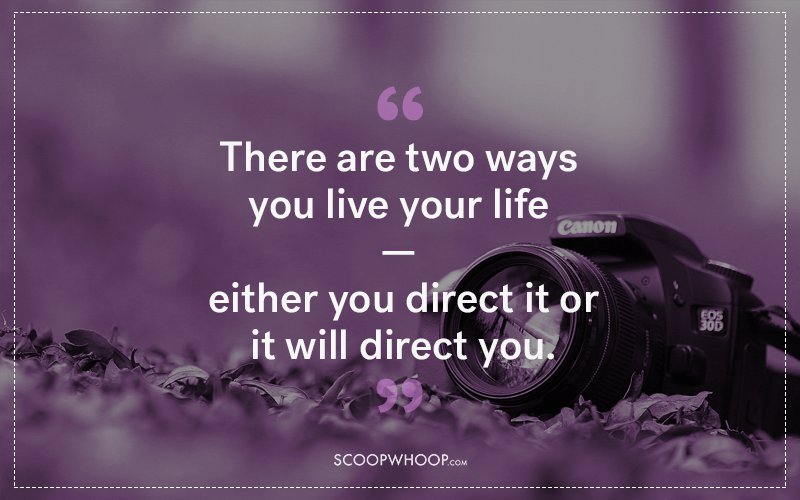 Over the years, I have made so many mistakes. Each of those taught me something or the other. I wouldn't have been the person that I am without those mistakes. I admire myself so much more now that I was brave enough to stand up — alone — for something that I firmly believed in.
I don't regret it one bit.
There are two ways you live your life — either you direct it or it will direct you. You have the choice.
I strongly believe that we are the authors of our own stories and this was my story.