Just when you think that you have accomplished some of your career goals, and you look forward to the next decade in anticipation, a hell lot of dreaded questions are put to you. 
"When are you settling down?"
"Isn't it the right age to get married?" 
Wait, does it really matter whether you are in your 20s or 30s? These women on Quora share their experiences of being in their 30s and unmarried in India.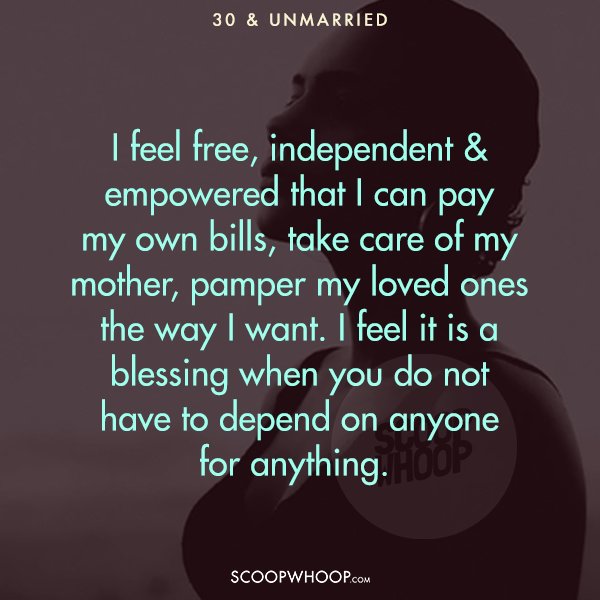 I do not have to marry a rich guy to have my abroad trips. I am blessed that I have few like minded people with me who appreciate my thought process, supports my idea supporting him and make my life exciting everyday.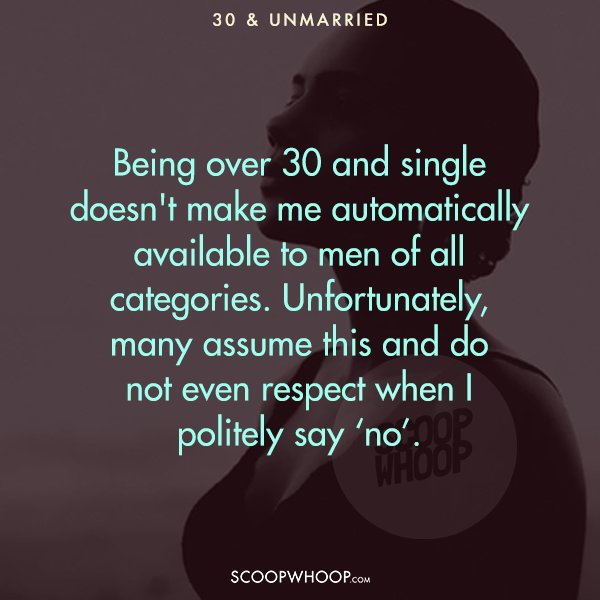 Being over 30 and single doesn't make me automatically available to men of all categories – married, married-with-kids, in-a-relationship, single-but-just-looking-for hookups, single-but-just-looking-for-one-night-stands, just-turned-18-and-looking-for-sex-education, just-turned-21-and-looking-for-sex-experimentation, just-turned-grandpa-and-looking-for-sexting and just-turned-whatever-and-looking-for-anything-sex.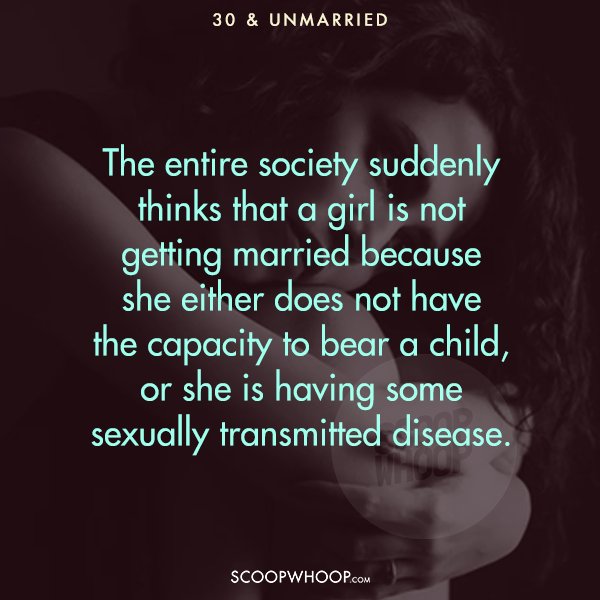 The relatives are the deadliest people for you when you are of this age and unmarried! They have their eyes on you better than a CCTV camera itself! They always keep asking your parents about you and why aren't you getting married and that get's your parents frustrated and angry with you for no reason.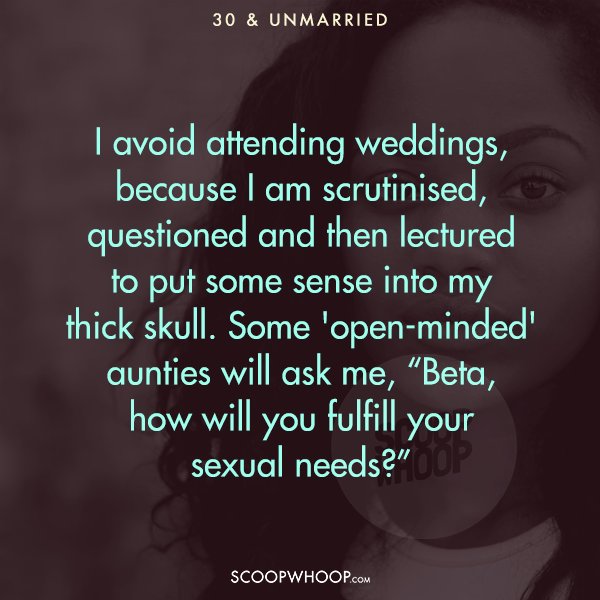 When I am hunting for a rented apartment, I am questioned, half of the time outright rejected for being a 'bachelor'. There are random repairs all over the house, that I do myself. I drive a car. I also ride a bike. I clean them. I get them serviced. I get my groceries. I pay my bills. Usually, for a married woman, these are a husband's job.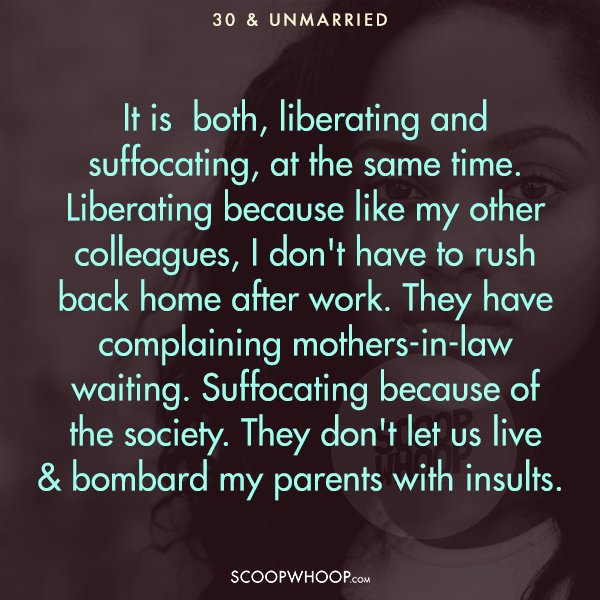 I can sneak out to a movie or a snack treat by myself. I can sit in the office and read. I get to teach post grads after college timings. I love doing that. I pay my house bills. Nobody to question that. My mother waits for me to return. She has her stories to tell. She doesn't have to stand on stools to reach a higher placed canister. She can ask me for help. My father looks upto me for internet payments. I help him.
– Smiti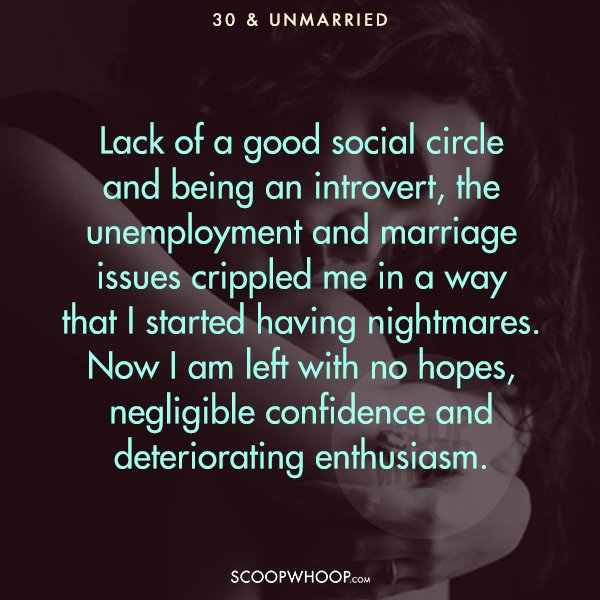 Well, after going through the many answers on this thread, one thing is common, it's STRESSFUL. Many girls have the courage to pick themselves up and concentrate on other things. But at times it's not that easy.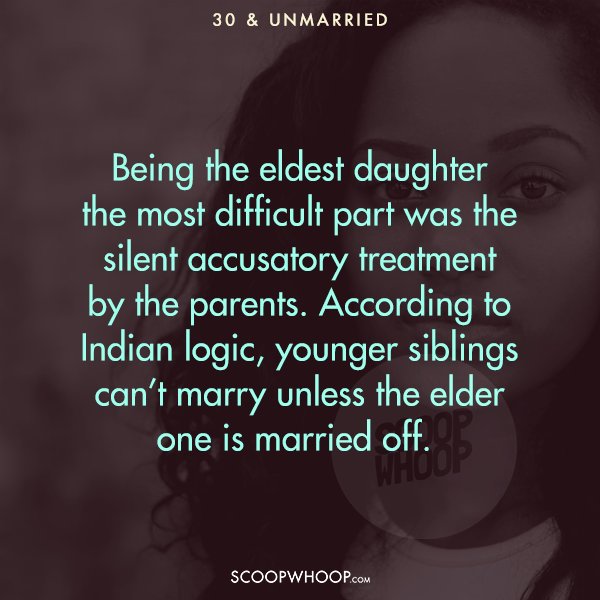 It's pretty frustrating. I am a 31-year-old, single girl living in a mega city with a good govt. job and a house that I have bought myself with a housing loan. I get some proposals from pitying relatives out of sympathy and asked to compromise. My parents discuss them in hushed tones.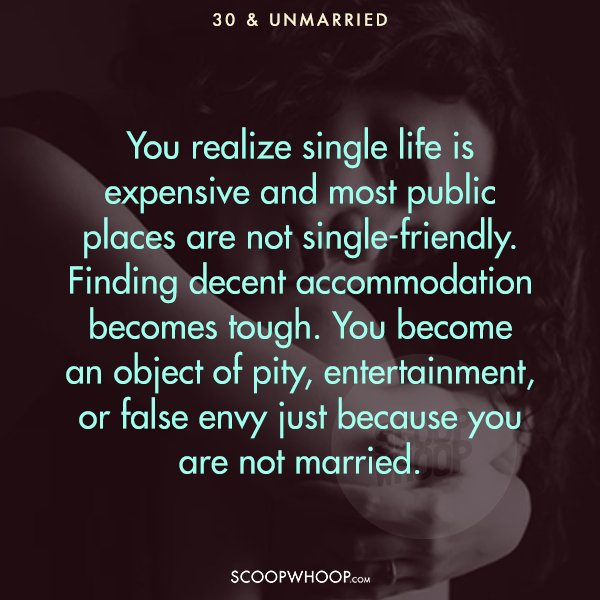 When you are 30 years old and unmarried, life of isolation begins. You might be forced to share accommodation with people or pay a unjust premium or live in pathetic rat holes. Your own cozy peaceful private place doesn't exist. Expectations of extra hours of work because your single and have nothing else to do. You become an object of pity, entertainment, or an false envy just because you are not married.
– Azam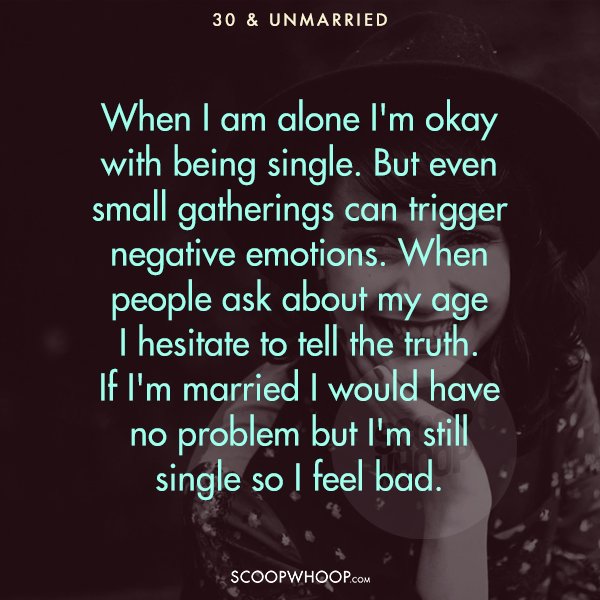 I am 31 years old. I earn modest income of 35,000 per month. Some people tell me to get married with just any guy. I am still unmarried because I want to share my life with good man. Some people think that I'm desperate for marriage even with married man. I have seen few women being cautious and wary of my presence in front of their spouse.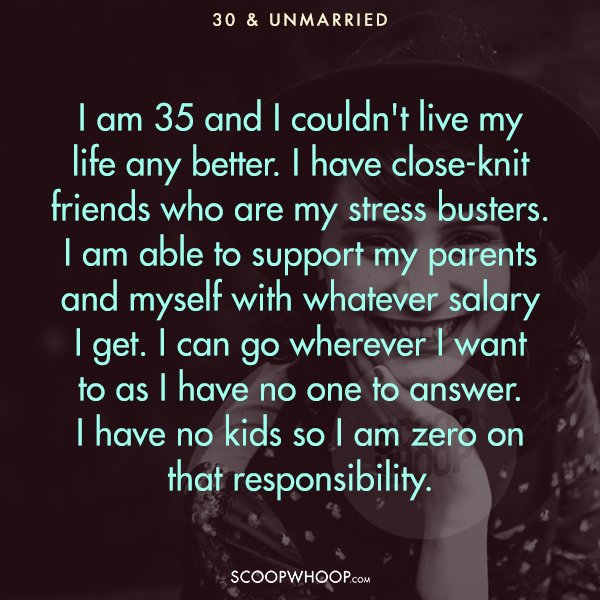 I am working with one of the best MNCs in India. My team is small and awesome. I have close knitted friends who are my stress busters. I am able to support my parents and myself with whatever salary I get. I can go wherever I want to as I have none to answer. I have no kids so I am zero on that responsibility.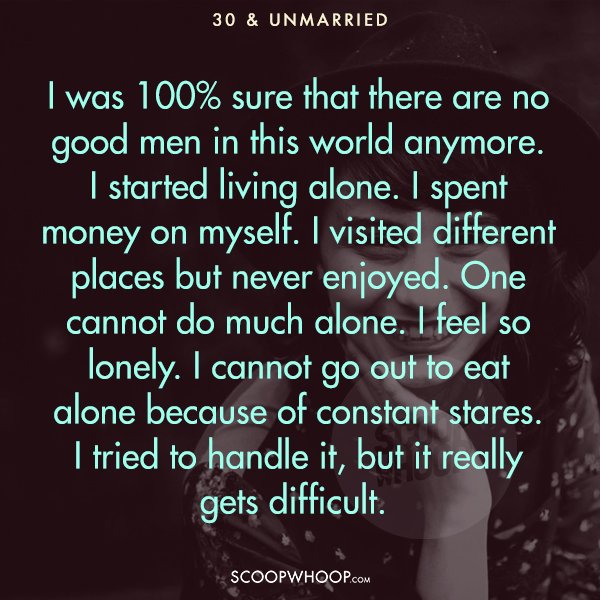 Why do people get married? Why do people want someone? Life can be lead alone easily. There are so many things one can do to pass his/ her time. Why do people take tension? Why one wants to handle responsibilities? Society got nothing figured out.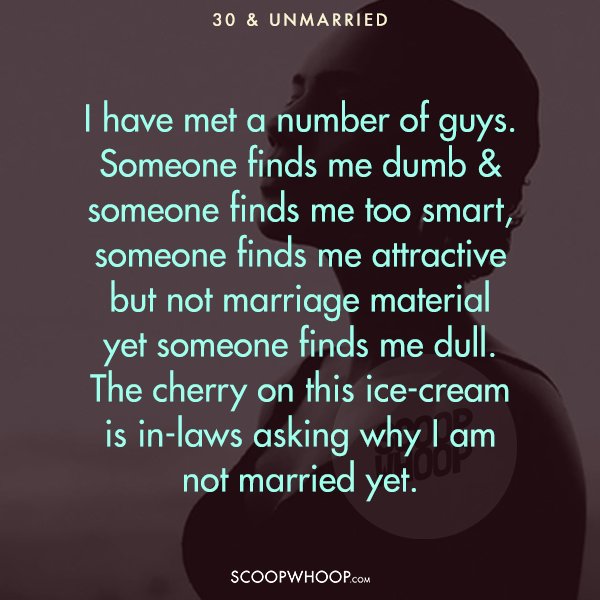 Being 30 and unmarried in India means you have to be prepared for questions to be answered every now and then.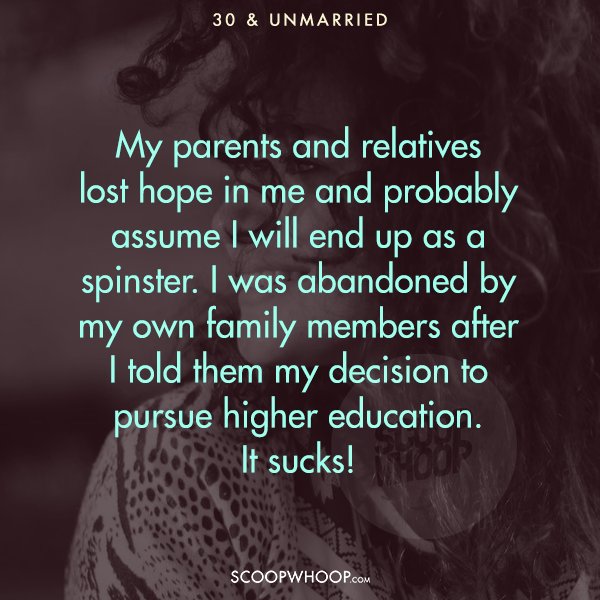 I am in the same phase of life as all of you; the only difference being I am enjoying my life thoroughly. Yes, I have been rejected by over 300 Indian men on popular Indian matrimonial sites in the past 2–3 years after I started my school. I have been to dozens of dates to meet Indian men who were disappointing or lost their curiosity for life as they aged. I am quite successful in my graduate school. I travelled to 15–20 cities in the last 2–3 years. Have met amazing people from all over the world who literally helped me to move forward in my career and personal life.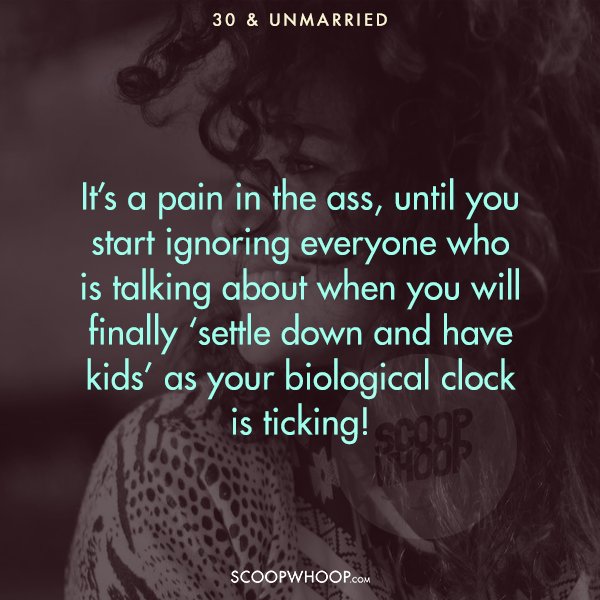 I've been getting proposals since I graduated. My father wanted me to study and earn before I get married. 
– Ra Zia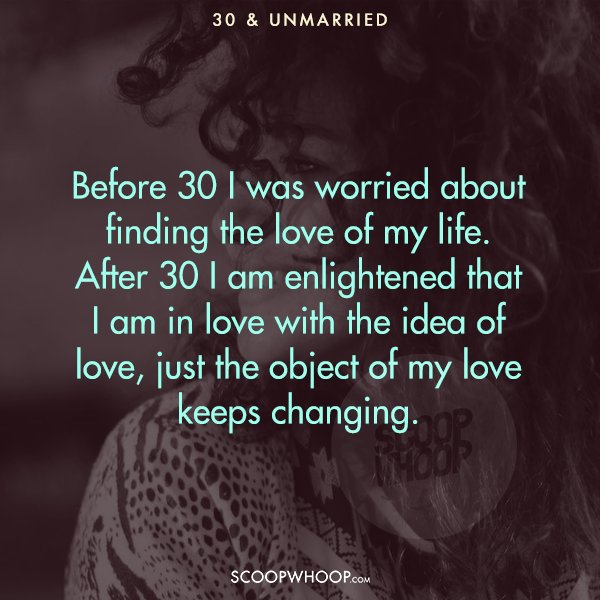 At 30+6 it's wonderful
Design Credits: Kumar Sonu