We reported on 10th October about a Kolkata pervert who decided to send an explicit rape threat to a woman he barely knew, on Facebook. 

This is what he had written,
Warning: Explicit content.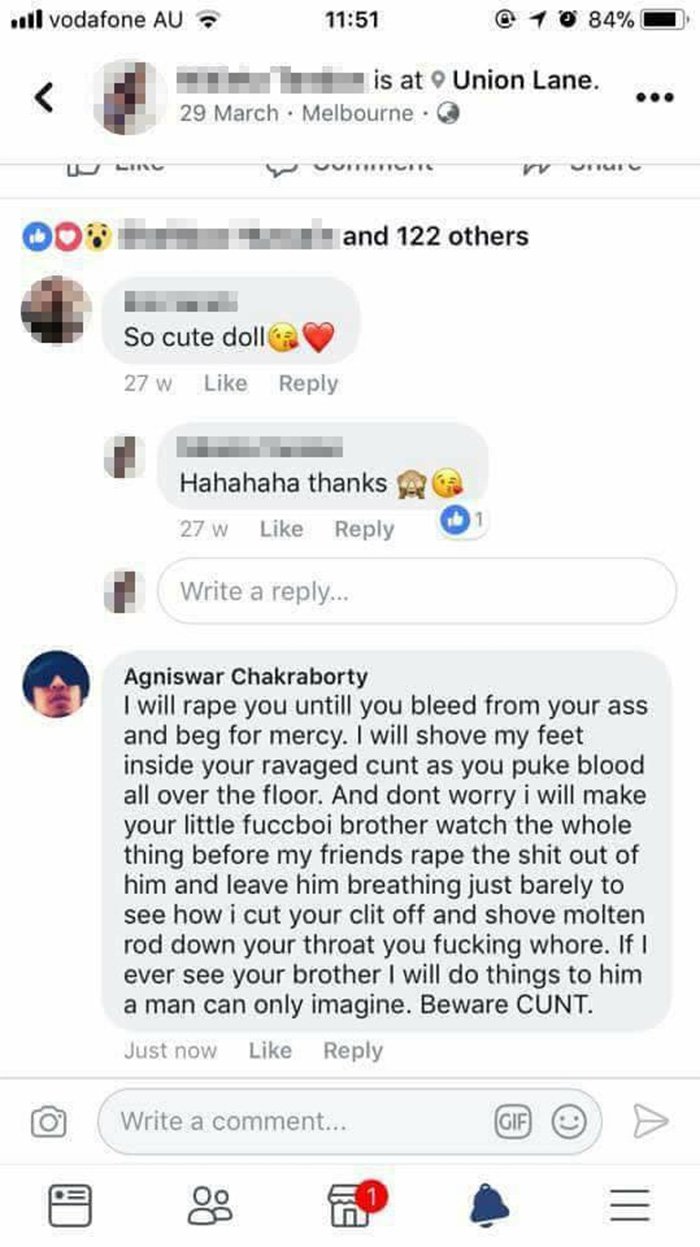 Agniswar Chakraborty, we are happy to report has been arrested and criminal proceedings have been initiated. This is what the police tweeted,
Accused Agniswar has been identified, arrested & criminal proceedings have been initiated. He has admitted his guilt, His mobile is seized.

— Jt CP Crime, Kolkata (@KPDetectiveDept) October 10, 2017
People on social media are applauding Kolkata police's swift action and are hoping it sets the right precedent that no one can get away with such a heinous act.
Great job… Hope they realise social media is not a mask to unleash their perversion without penalty…

— DKCS (@DKCS99) October 10, 2017
Bloody awesome! Yay! Yay! Yay! Step 1 complete!

— Swami Keya (@SwamiKeya) October 10, 2017
Brilliant!! Thank you so much for making him & others realise that they can't get away with it. I hope he is adequately punished!

— Eina Ahluwalia (@einaahluwalia) October 11, 2017
This is vile. He has since been arrested by Kolkata police. Reminder that these criminal acts must not go unreported. (EXPLICIT CONTENT) https://t.co/o0ACSpNK5E

— Adil Ray OBE (@adilray) October 11, 2017
The incident understandably caused widespread outrage as soon as the vile rape threat was reported. Clearly, there is no place for such perverts and they must be brought to justice. 
What the hell could ever prompt such words??

— Sorabh Pant (@hankypanty) October 9, 2017
After many people reported his profile, it was suspended. 
Pranaadhika Sinha Devburman, the founder of a Facebook page called 'Shontu – United against Online Harassment', said she got to know about the threat from a friend and she was helping the victim draft a FIR. In an earlier conversation with ScoopWhoop, she had said,
The guy is liable to jail time after the FIR is lodged. Among other charges, we are also going to charge him under POCSO (Protection of Children from Sexual Offences) Act because he threatened her 14-year old brother with rape and abuse. We will ensure everything that the guy doesn't go scot free as he is not a one-time offender.
Their page is also urging people to sign an online petition against such mindless perverts who post rape threats online. The message is clear, rape threats will not and should not be tolerated.