This is Varshita Thatavarthi's story. 25-year-old Sabyasachi model, who was rejected for being dusky and curvy for five years, but ended up one-upping the notorious beauty standards of the industry by becoming a Sabyasachi model.
The gross body discrimination hailed by the industry is not news to us. In a conversation with ScoopWhoop, she talked about her struggles in making a name for herself in such an industry.
It takes an enormous amount of patience and strength to cope in an industry that has been conditioned to believe that anything above size 2 is an aberration. I've been rejected for five years because I had a fuller body and dusky skin. I've been to corridors of hell when no agency in India wanted to represent me because I didn't fit their conventional body type requirement.
Varshita questions the notorious bias of the industry against women with fuller bodies. She calls out the use of the term, 'plus-size', as though any woman beyond size 2, is an addition to the otherwise normative sizes.
Born in Visakhapatnam, Andhra Pradesh, and raised in Delhi, the Sabyasachi model says,
I, in fact, find it repulsive when people address me as a 'plus-size' model, because it goes to show that people like to categorise women who have fuller bodies while thin models are referred to as models… It hasn't been easy for me or anyone else I know who is my size in an industry that notoriously promotes body discrimination.
There were moments when Varshita internalised these standards and tried to fit into an 'acceptable' body type.
Growing up in my generation (90's kid) wasn't easy. There was no internet or awareness about celebrating yourself and embracing your physical traits…  Everyone around me was applying 'Fair and Lovely and Ponds Powder' so I thought maybe the girls at school were right and I must do things to tweak my appearance. I was doomed to believe that I was ugly unless I changed.
Varshita tried to get a role in a South Indian film, but every director or producer she met asked her to 'come back to them fairer and thinner'.
I've been trying for films for five years in South India. Almost every director or producer I met wanted me to come back to them fairer and thinner…  I was shattered… All this was beyond my understanding but I continued to try films because I kept believing that somewhere, someone might accept me as it is and give me the confidence to be who I am. Then five years later, Sabya happened.
Varshita is the same model whose International Women's Day photoshoot with Sabysachi went viral. However, the picture was called out for the caption that followed it, 
This International Women's Day, celebrate confidence. Varshita Thatavarthi in Sabyasachi.
People questioned it for the implied acceptance of beauty norms in it. One of the users, commented, 'Skinniness and confidence are not mutually inclusive. Curviness and confidence are not mutually exclusive.'
Now, Varshita is celebrated by the netizens as she continues to become an icon of body positivity in the mainstream media.
 She tells us that her inbox is flooded with messages of appreciation from women across the world.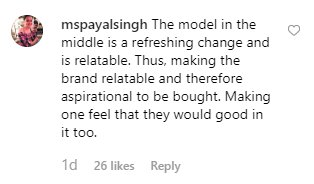 Varshita's story stands as an inspiration for every woman out there who feels under-represented and is conditioned to feel 'insecure' about her body type or skin colour.