They show in movies that women who sport black clothing, wacky hairdo, tattoos and pull off crazy stunts are badass, but do they know that a woman dressed in a simple cotton dhoti can be a total badass in real life? Mother Teresa was one of those women. And Padma Shri Sudha Murthy is yet another name that goes on that list.
Ms. Murthy is all women in one. She is a determined doer, a globetrotter, a resilient social worker, a brilliant engineer, a homemaker, an author and she keeps adding more roles to her persona. She faced difficult choices when it was a man-only tech world, she was daring enough to flaunt a bob haircut in the late 60s, which was in itself a scandal back then, and later on became a significant part and the backbone of Infosys. 
In the 1960s, Sudha was the first woman to enroll in engineering when it was considered a male domain.
It was such a 'men' thing then that there did not even exist a women's toilet in the campus. Being the only female in 150 students, spilled ink on her chair and paper airplanes being thrown her way were how her days were like. Everyone knew her marks before the exam results were announced and her scores were the first thing up on the wall. But Sudha was unfazed because she had a bigger goal in place.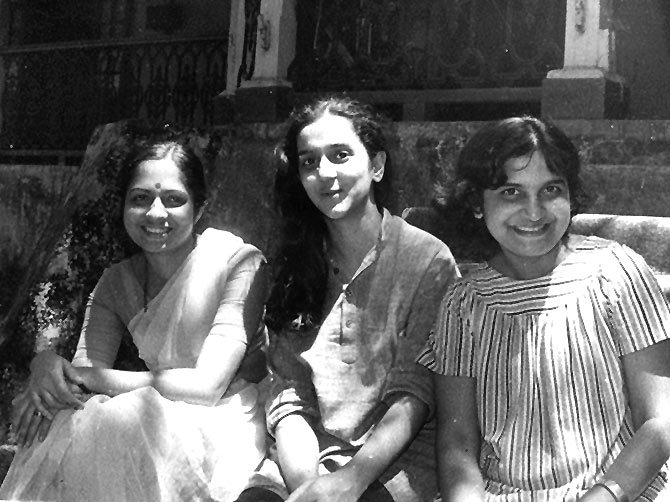 Narayana always owed her money during their pre-Infosys days.
During the time Narayana and Sudha courted each other, they explored all the cinema and restaurants they could in Pune. Narayana was always broke and would ask Sudha to pay his share which he would return later. Sudha kept a record of his debt for three years which came up to about Rs 4000, which he never returned and she tore up the book after their wedding.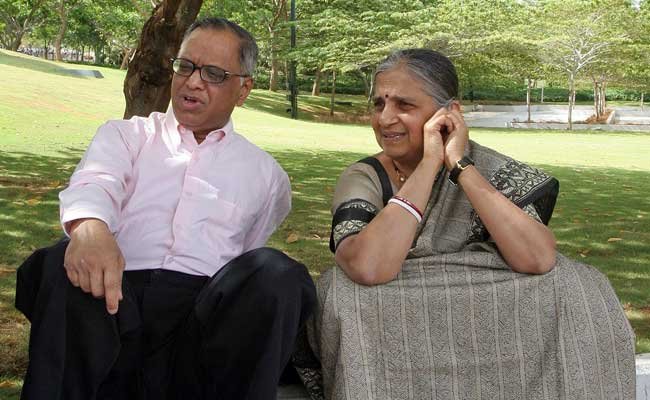 A 29-year-old Sudha went on a solo trip in the US when she had moved there after marriage.
While some of us are still skeptical about travelling solo, Sudha explored the country after encouragement from Narayana, for three months on a backpack and has some noteworthy moments from her trip. There was one time when she was taken into custody by the New York Police because they thought she was an Italian trafficking drug mafia or the time when she spent a night at the bottom of the Grand Canyon with an old couple. While most of us watch such incidences in movies, Sudha was on an adventure long before most of us were born.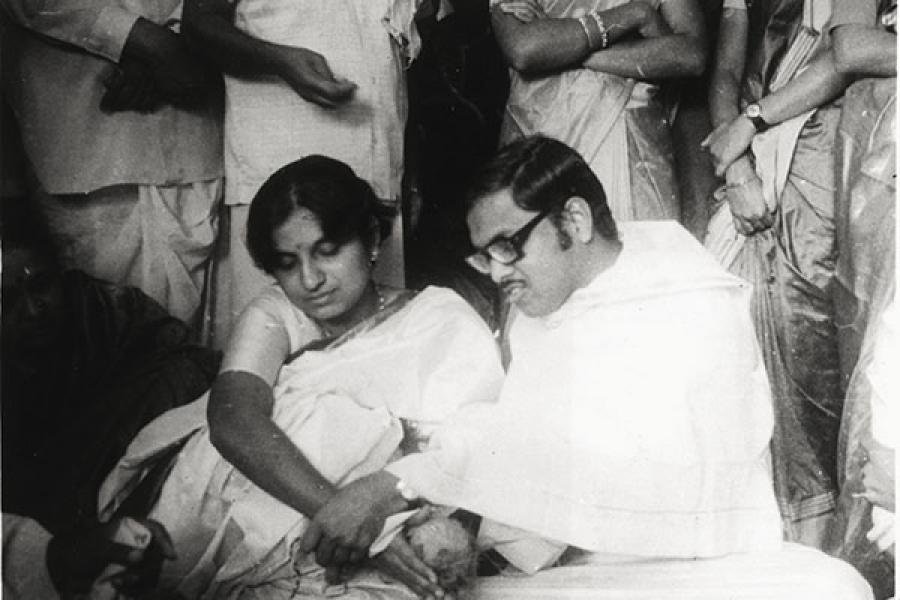 She was the first female engineer in TELCO (probably in India as well).
While applying for the position at TELCO, she found a footnote that said 'female candidates need not apply', that she did not appreciate and wrote to JRD Tata raising the issue of "men only" gender bias at TELCO, asking him how a prime and innovative house like the Tatas, "which always thought ahead of time, could put such a restriction." To her surprise, she was granted a special interview with a paid round trip and was hired on spot. She then joined India's largest auto manufacturer TATA as a Development Engineer and worked in various locations like Mumbai, Pune, and Jamshedpur.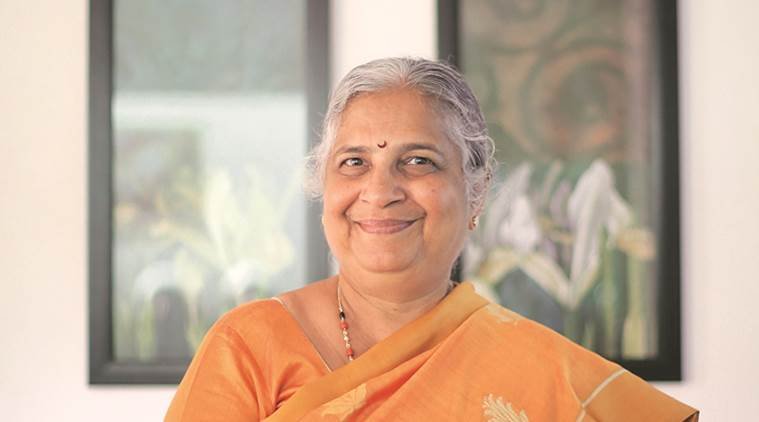 She gave her husband her infallible support and some funds to start Infosys.
Later on, she moved to Mumbai and when Narayana came to her with the idea (that later became Infosys) and no money, she gave him Rs 10,000 she had saved and told him that she was giving him a three-year sabbatical in which she will take care of the house expenses and he should go chase his dream. But only for three years.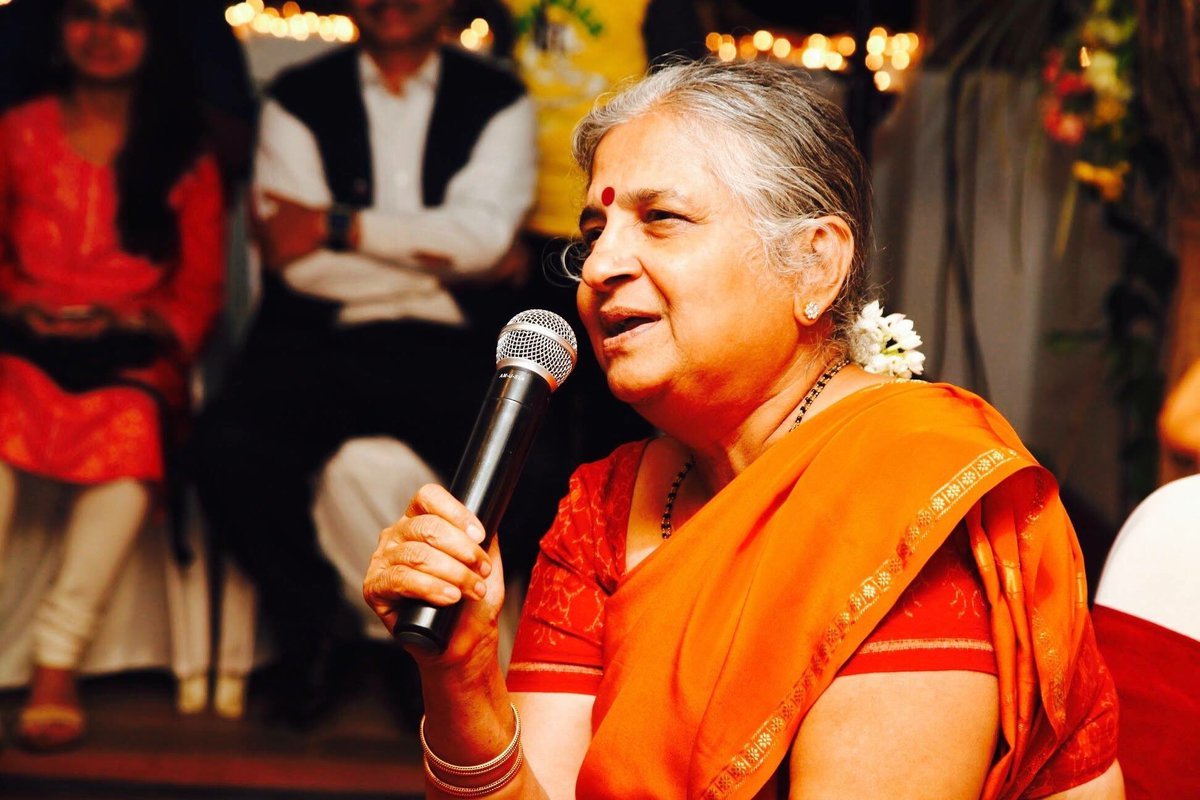 She became the pillar of her family as well as Infosys.
When Narayana converted their home as Infosys's office and worked with his colleagues, she took up a job as Senior Systems Analyst with Walchand group of Industries to keep financially strong and also worked as a cook, a clerk, and a programmer for Infosys when it was taking shape.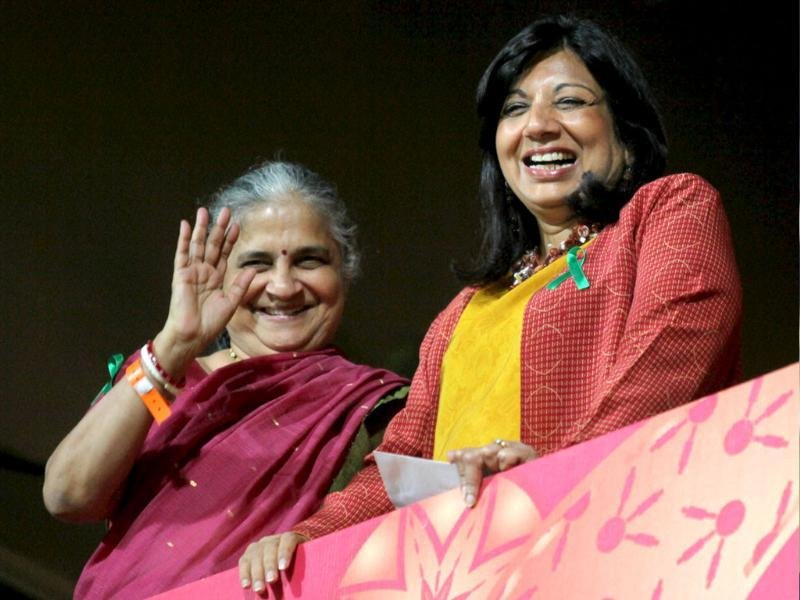 From writing travelogues to children's books, Sudha Murthy is now a writer to reckon with.
Sudha is a bestselling writer and has sold over 1.5 million books which include an intriguing mix of children's books, short stories, technical books, travelogues, 24 novels, and many nonfiction books. This comes as a surprise after her grueling schedule that keeps her on road, traveling in rural India for 20 days a month for her Infosys Foundation relief work.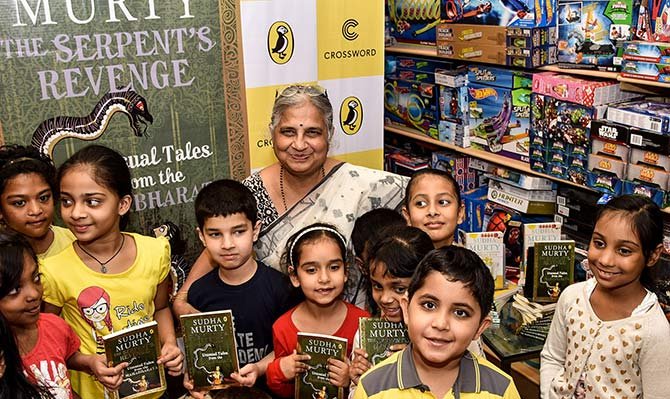 JRD Tata's words inspired her to be a philanthropist that she is now.
Sudha met JRD out of the blue when she was leaving TELCO, and he was surprised that she was giving up a job she fought so hard for. When she mentioned that she was going to join her husband to build Infosys, the words he then said to her have been with her since:
"If you make lots of money you must give it back to society as you have received so much love from it."
These words later came to be the source of inspiration behind Infosys Foundation that she is currently running in Karnataka, Andhra Pradesh, Orissa and Tamil Nadu.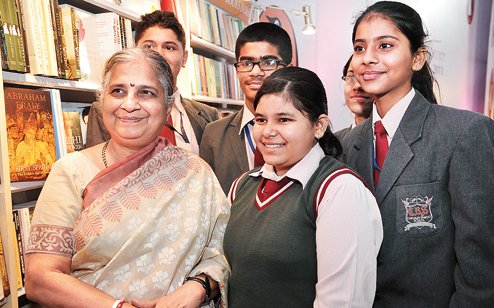 She went on to become one of the trustees of the Infosys Foundation in 1997 to help strengthen the less-privileged sections of society and helped build hospitals, rehabilitation centers, school buildings, orphanages, over 3500 libraries and 10,000 toilets, and 2300 houses in the flood-ravaged areas.
Sudha is always on the move and the travel takes her to over 800 villages. She has also handled tsunami relief work in Tamil Nadu and Andamans, the earthquake-stricken areas in Gujarat, floods in Andhra Pradesh and Orissa and drought in Maharashtra and Karnataka. Her work also covers women empowerment, public hygiene, art and culture, education, and healthcare. Sudha firmly believes that Indian corporates should "do much more for the society," particularly in education and health.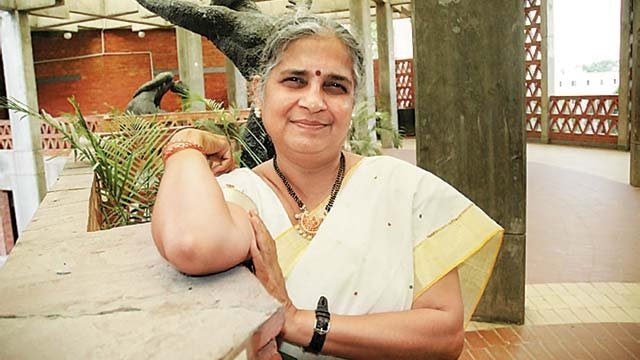 Her love for cinema encouraged her to watch 265 movies in a year.
Her academic excellence and social work have always been known but little did anyone know that she is a huge fan of movies and even admits that she could have become a film journalist. In an interview with Filmfare magazine, Sudha says, 
I have 500 DVDs that I watch in my home theatre. I see a film in totality – its direction, editing… all aspects. People know me as a social worker, as an author… but no one knows me as a movie buff. That's why I am glad to do this interview with Filmfare. I could have actually become a film journalist. I never get bored of movies!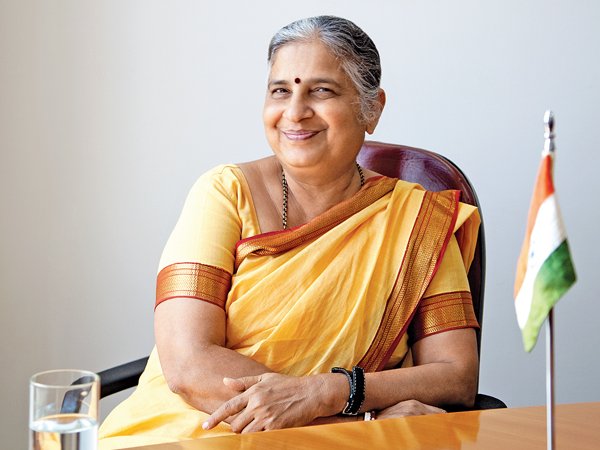 From gender discrimination to when she was called 'cattle class' in London, Ms Murthy has time and again stood up for what she believed in and has always spoken her mind.
It came as a shock to everyone when Sudha was called a "cattle class" and asked to stand in the economy queue by some Gucci lady because she was dressed in salwar kameez. Later on, the same lady attended the event Sudha was in, dressed in a khadi saree and was flabbergasted to see Sudha give a talk about Infosys Foundation. From this experience, Sudha went on to write her recent book 'Three Thousand Stitches' that talks about some of the prevailing biases that are still so strong in society.
 In most metro cities, many college-going girls become part of high-level prostitution because they want to earn quick money to buy designer clothes. This is because of the pressure created by the external force, So when I experienced the same myself at the airport I was more upset than angry. 
Despite being one of the richest women in India, Sudha is unaffected by wealth and works from her spartan office at the Infosys Foundation, where she plans her weeks in advance in her battered diary. 
Money can give you certain comforts but money has limited use. And once you realise that, money becomes a burden to you. You donate it. Money is a heavy bag on your back and you should lead a simple lightweight life," says Sudha firmly.
Every day, she gets hundreds of talk invitations from all over the world and takes up only a handful. She filters out the genuine donation requests to help the ones who face critical issues and not let the funds go to fraudulent establishments. 
Recently, she has taken up a new hobby which is learning an ancient form of Kannada and the place's history, both of which she makes use of on her road-trips in the rural parts of Karnataka. She is always learning and serves as an inspiration for people around the globe.