All of us love showbiz and celebrities, don't we? Be it India's own Bollywood celebs or their western counterparts in Hollywood. We love learning about their past, their scandals and their secrets. But sometimes we indulge in innocent findings. Just like these unseen photos of our favourite Hollywood celebs. We bet you won't recognize most of them. Take a look:
1. He came up with the name of his basketball team; the Cherokee Rejects. A baby-faced Brad Pitt.
2. Here's the guy who would be driving the Bat-mobile: Christian Bale.
3. This clown feelin' down is an Academy Award Winner and goes by the name of Morgan Freeman.
4. A Die Hard fan of style: Mr Bruce Willis.
5. Can you smell what he's cooking? A 15-year-old Dwayne "The Rock" Johnson.
6. More hair than Ross in all 10 seasons combined. David Schwimmer in high school. 
7. Try to keep up! That's Kim Kardashian and Nicole Richie.
8. That smile never fades away, does it? The comedian Jim Carrey.
9. When he had a suit and some hair. Mr Fast & Furious himself: Vin Diesel.
10. Never looks normal, does he? A young Johnny Depp with his high school band.
11. Well… We sort of you knew this about Jennifer Lawrence, didn't we?
12. The Black Widow in purple. Scarlett Johansson at her graduation.
13. This little guy grew up to be Iron Man. Yes, that is Robert Downey Jr.
14. While this guy grew up to know nothing. Game of Thrones star, Kit Harington.
15. He can certainly see you! The Champ, John Cena.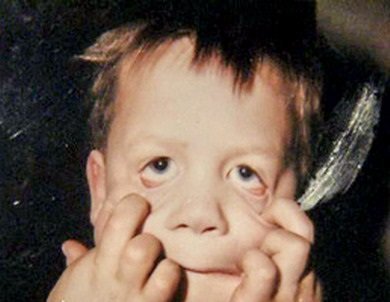 16. The name is Craig, Daniel Craig!
17. Deadpool with all his innocence. A young Ryan Reynolds.
18. The effortlessly beautiful, Kristen Stewart.
19. Recognize him if you can! That's cute little Leonardo Di Caprio.
20. The lady when she was just a girl. A very young Lady Gaga.
21. He had an 'Uptown Funk' even as a kid. Bruno Mars singing.
22. All right, all right, all right! Matthew McConaughey as a toddler.
23. He looks like a star already, doesn't he? This is young Tom Hanks.
24. A pic from the yearbook of the Fresh Prince, Will Smith!
25. The Mother of Dragons in her yesteryears. A young Emilia Clarke.
Some of us grow up to be stars, the rest of us just read about them in articles like these.