Everyone knows Google is the best place to work. With the perks they give their employees, a job there is all the more tempting. So much so that even kids as young as seven want one!
Chloe Bridgewater, a 7-year-old girl from UK, sent a handwritten letter to the 'Google Boss', expressing her desire to work with the tech giants. Like any other serious applicant, she mentioned her computer skills and how she's hands on with a tablet she plays games on.
And while you and I may not struggle to get a single reply from a potential employer, this little girl's letter caught the attention of Google CEO Sundar Pichai. And the man even sent her a heart-warming response!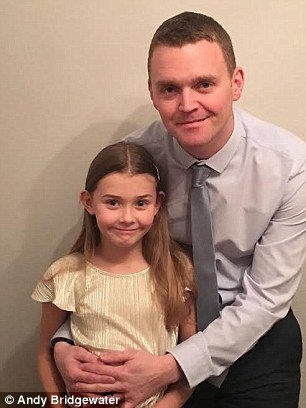 Chloe was inspired to write to Pichai after she saw photographs of the Google office that has go-karting, slides and bean bags. No surprises there!
In her letter, she wrote that she plays a game on the tablet that her dad bought her and how she likes computers a lot. The little girl also states her desire to become an Olympic swimmer and work in a chocolate factory when she grows up. 
Here's her full letter: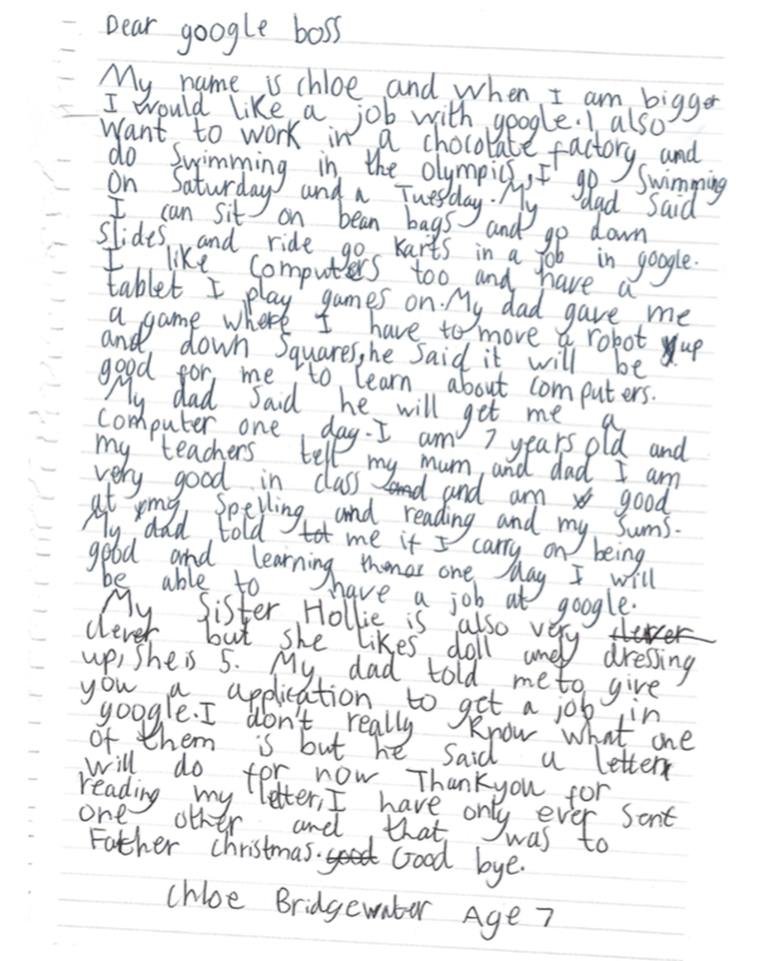 Being the nice guy that he is, Pichai didn't let the little girl down and penned a sweet letter for her. Here's what he wrote:
Dear Chloe,
Thank you so much for your letter. I'm glad that you like computer and robots,and hope you will continue to learn about technology. I think if you keep working hard and following your dreams, you can accomplish everything you set your mind to — from working at Google to swimming in the Olympics. I look forward to receiving your job application when you are finished with school!

All the best to you and your family.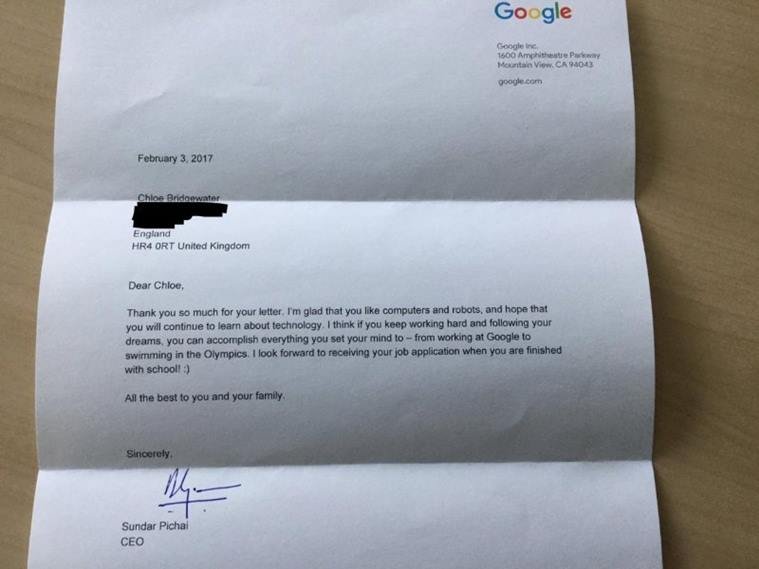 Chloe's father Andy shared the letter on his LinkedIn page, thanking the Google CEO for taking time out to respond to her daughter. He also mentioned how the letter from Pichai has sparked new excitement in Chloe's life. 
As reported by the Daily Mail, he said:
"She lost a great deal of confidence after being knocked down by a car a couple of years ago. However, to say she is delighted after receiving this letter signed by Sundar Pichai himself is an understatement."
"Can't thank such a busy person enough to take time out to make a little girl's dream become one step closer, although not sure she's fully aware that it'll take more than riding go karts and sleeping in pods to make it with Google."
This girl's gonna have an amazing story to tell when she grows up!