There was a time humans used to hunt wild animals, sometimes for food, sometimes for pelt. But enough about the stone age. Let's talk about current times. It's 2016 and hunting for sport is still legal in some places. Again, sometimes, say when they're hunting deer, they do it mainly for food, and that's okay I guess. But when they do it just for the sake of killing the animal, you can't help question the sanity of the hunters.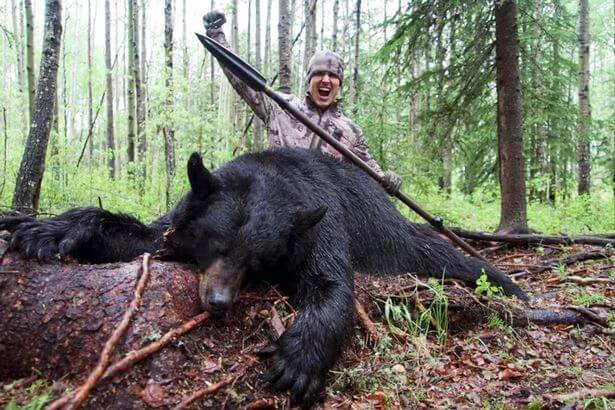 This is why it's not surprising that the city of Edmonton in Alberta, Canada is outraged over the recent hunting of a black bear at the hands of Josh Bowmar, a professional bodybuilder and once college javelin champion.
Bowmar attached a GoPro to a handmade spear and waited at the edge of the woods somewhere in Alberta with an unknown number of friends, including the camera person. In the video he uploaded in June (and has since deleted), he can be seen lying in wait while a bear searching for food approaches the bait Bowmar has set up. As he's about to strike, the bear escapes. But two hours later, it returns only to be speared by Bowmar.
You can watch the video, which was uploaded by another person on YouTube, here – 
Following the virality of the video, many people expressed their anger at Bowmar's act, with some even calling it inhumane. Their reasoning was pretty clear – a spear shot results in the animal suffering in agony for hours before dying, which is something the hunting community vehemently discourages. Unlike most other hunters, Bowmar allegedly did not kill the animal immediately, but waited while it suffered.
Here are some reactions posted as comments on the YouTube video –




While talking to Mirror.co.uk, Bowmar lashed out at his critics by saying – 
You all should be ashamed of yourselves for trying to kill a heritage that has existed for over a million years. Literally, since the dawn of man, the spear has been a vital role in survival.
As news of the incident spread, we've heard reports that spear hunting of wild animal will be banned in Alberta, Canada. 
What do you think? Let us know in the comments section.