They've faced each other 37 times. The scale tips 23-14 in Rafa's favour. But title-wise, Fed leaves the Spaniard behind 91-71. 
There was a time when all this mattered. A time when their rivalry was all about victories, trophies and statistics. Because back then, that's how we saw them. As rivals. It was 2004, when they first met. And almost immediately, it was apparent. We were going to witness magic. It's been well over a decade and there is no debating that claim. There was never a doubt. That's how inevitable it was. 
Two titans in their prime, putting on a show that no other pair has ever produced in the history of tennis. I feel bad for the generations to come. For not being able to witness Federer vs Nadal. Good players will come and go. But seldom do you find two phenomenal athletes such as these two in the same era.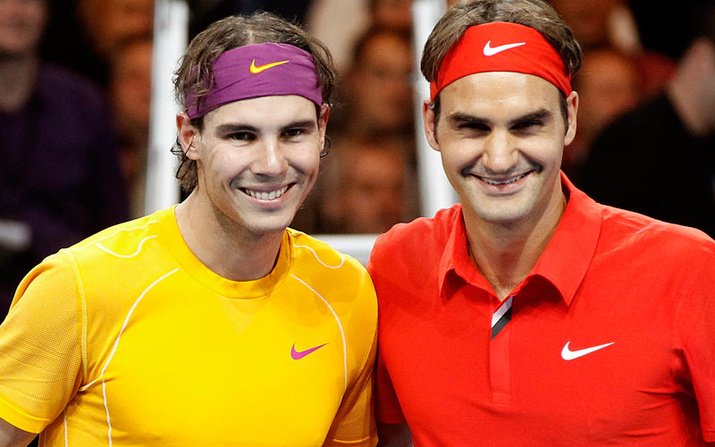 Roger is a right-handed maestro, who looks like he was born to play tennis. He is poetry in motion. As fresh as a butterfly when he steps onto the court, and just as fresh when he comes off it. 
It comes naturally to him. Or maybe, he makes it look easy.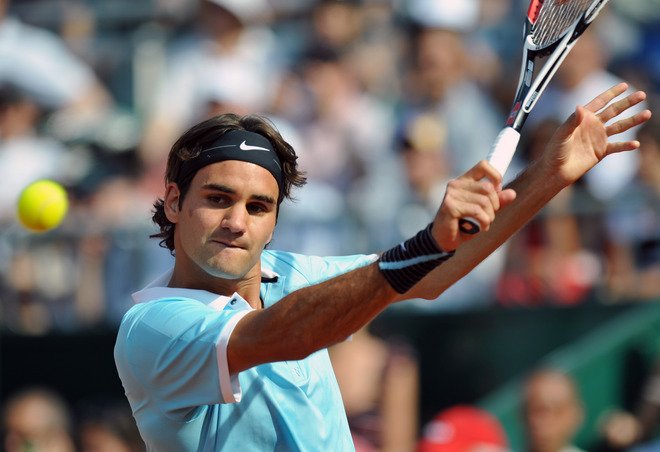 Rafa, on the other hand, is a left-handed force of nature who strains every inch of his body, every muscle. He's not afraid of getting scrapes. Poetic is not the word for him. It's pure hard work, grit, resilience and some beautiful beastly destruction.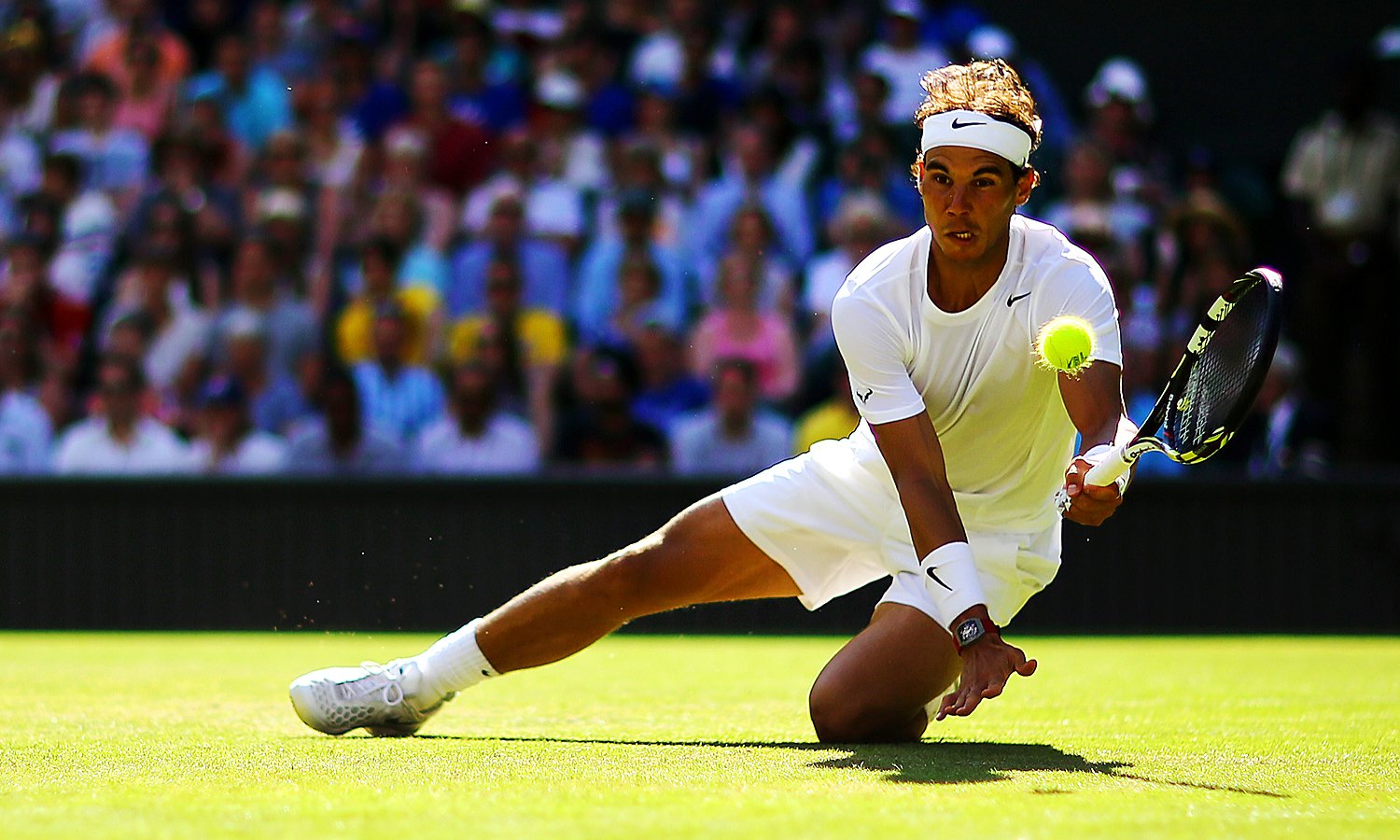 They have very different styles of play. But one thing they both have had in common from the moment they faced each other was mutual respect. Respect makes you humble. It makes you appreciate what you are up against. For them, rivalry always came second. We made them rivals to be honest, all they cared about was giving it their best. Something that Fed realised very early during their meetings.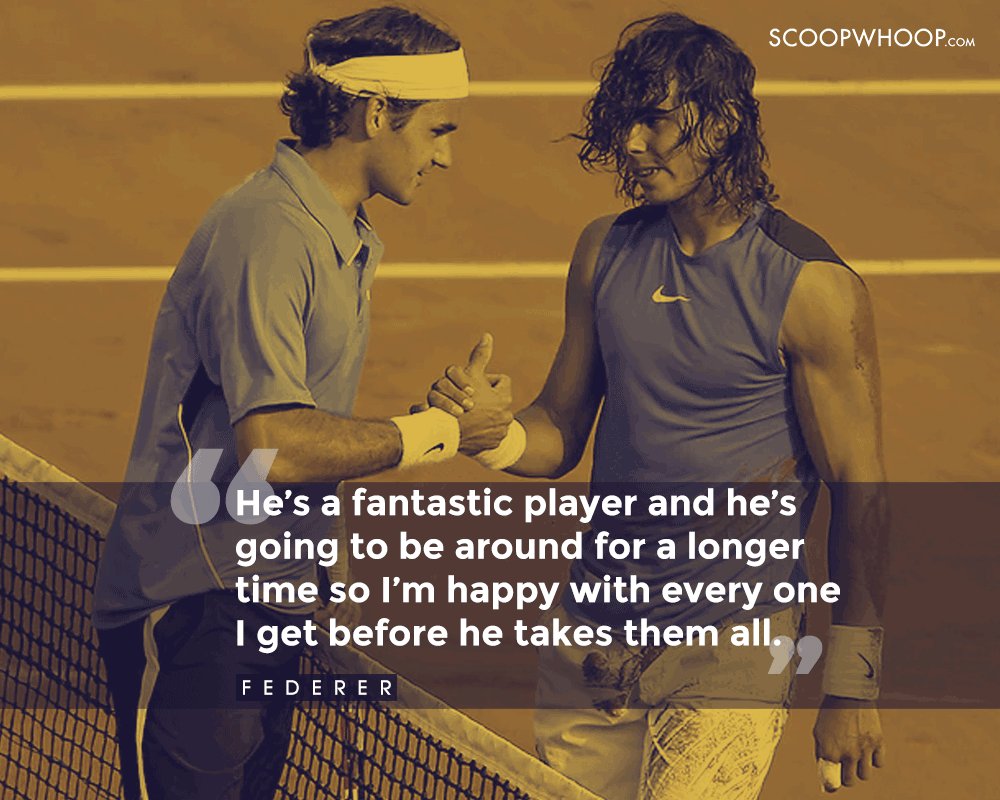 The thing about Nadal is that he only looks like a brute force. He knows how great Federer has always been and is humble enough to admit it. He has won more head-to-heads with the Swiss, but he has always claimed that the Swiss maestro is the toughest opponent he has ever faced. Because if Fed is in god-mode, then the almighty himself can't help you. Nadal knew that all too well.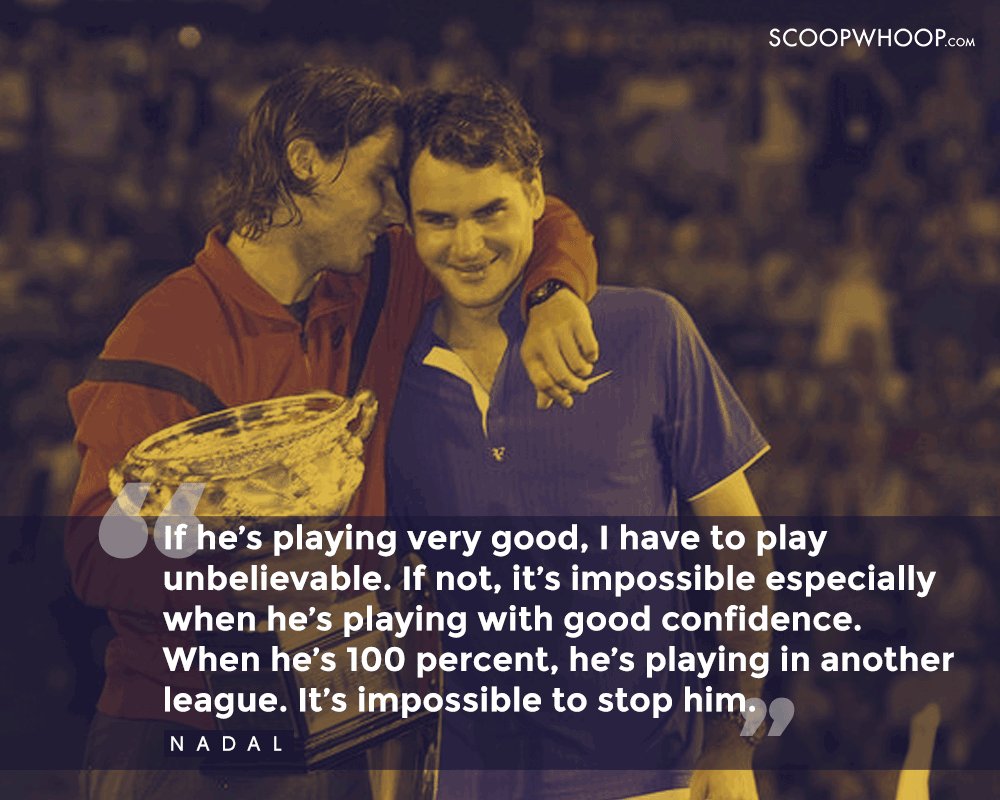 Loyalties have always been divided whenever these two have stepped in to battle each other. There's no use in debating over who is more popular. We shouldn't really bother. Especially when they know it is each other's respect they crave more. And Federer has made sure time and time again that he tells Rafa that.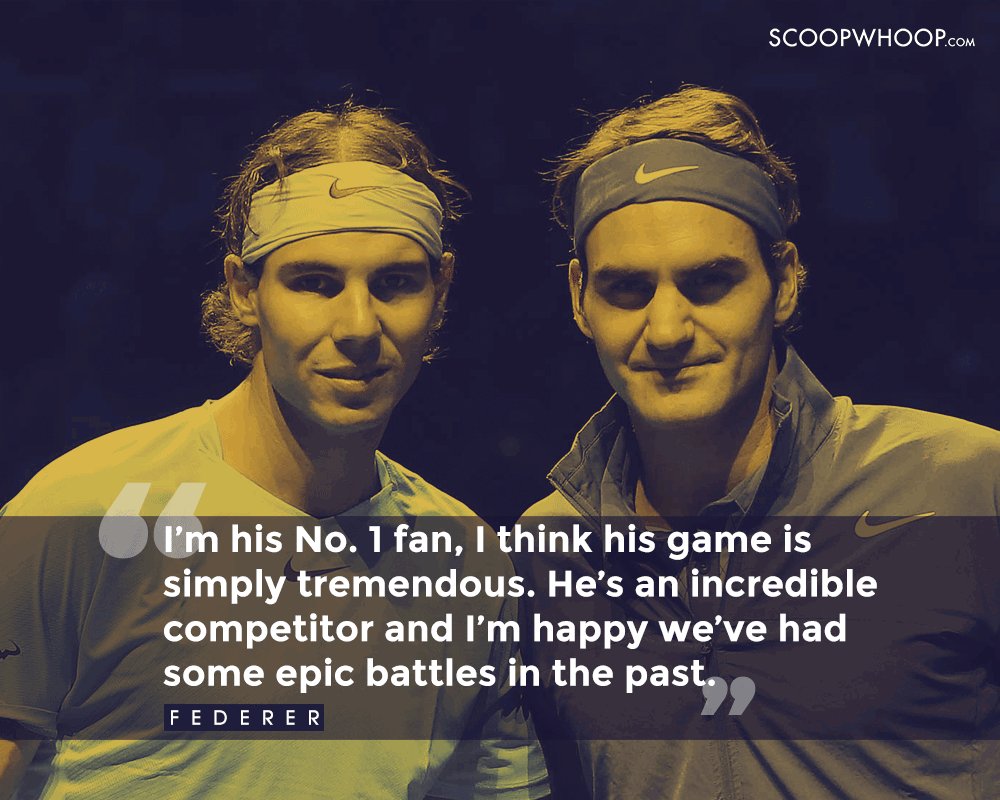 It isn't just about respecting each other. It has also been about caring for each other. They have lost their share of matches. They know what it is like to be gutted. Rafa has always reassured Roger of how great he is. I believe his faith in Roger made Roger a better player. Especially even after triumphing on the night, during his moment of glory, he said stuff like this…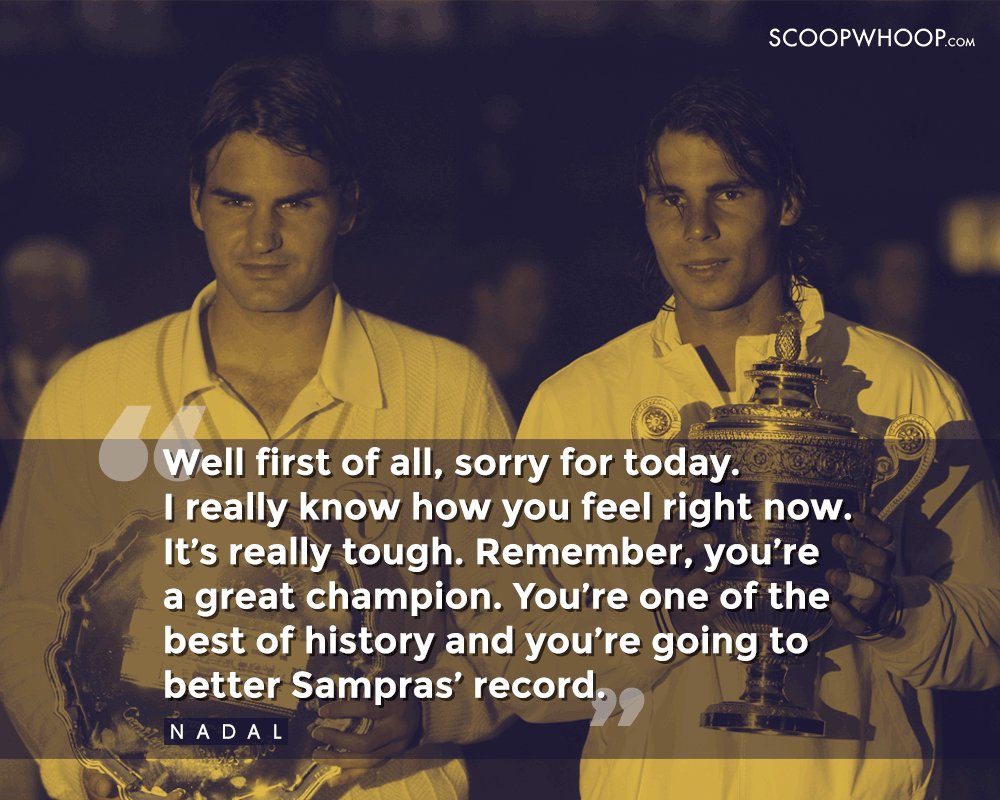 Title-wise, Roger has enjoyed more silverware. But again, respect takes priority. Before their Australian Open final in 2017, where they had defied age and younger talent, Federer was clear about one thing. He spoke about how this was not about the title, it was about their comeback. 
The world had ruled out the possibility of seeing them in a Grand Slam final again. But they made it. Roger may have won the final, but tennis triumphed that night. It was an amazing spectacle and no one deserved to lose. Federer made sure the world knew that, he made sure his friend knew that too.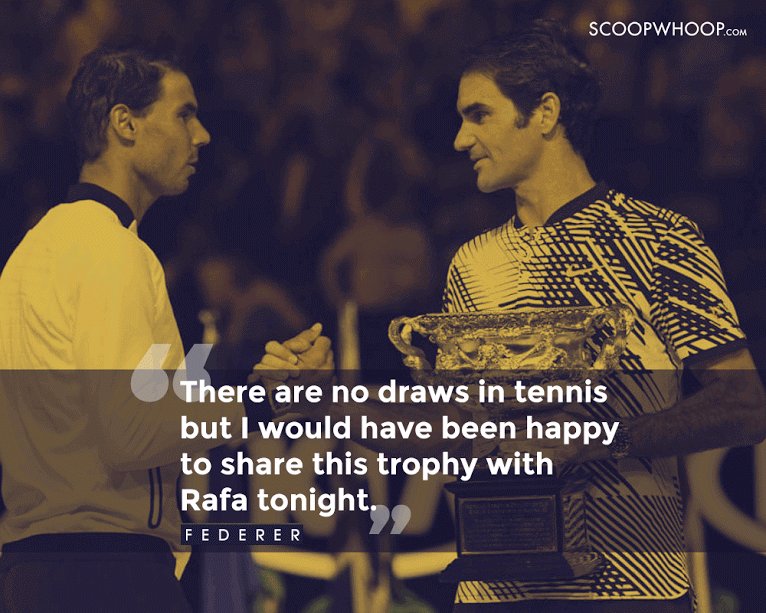 They are both very humble but given their stature, it is even more surprising. Roger Federer is said to be the greatest ever. Critics, legends, fans, they have all claimed it. He might just be bored of hearing it. But I'm sure nothing compares to Nadal, his greatest opponent and wonderful friend, confirming to the world that Roger is the epitome of greatness in tennis.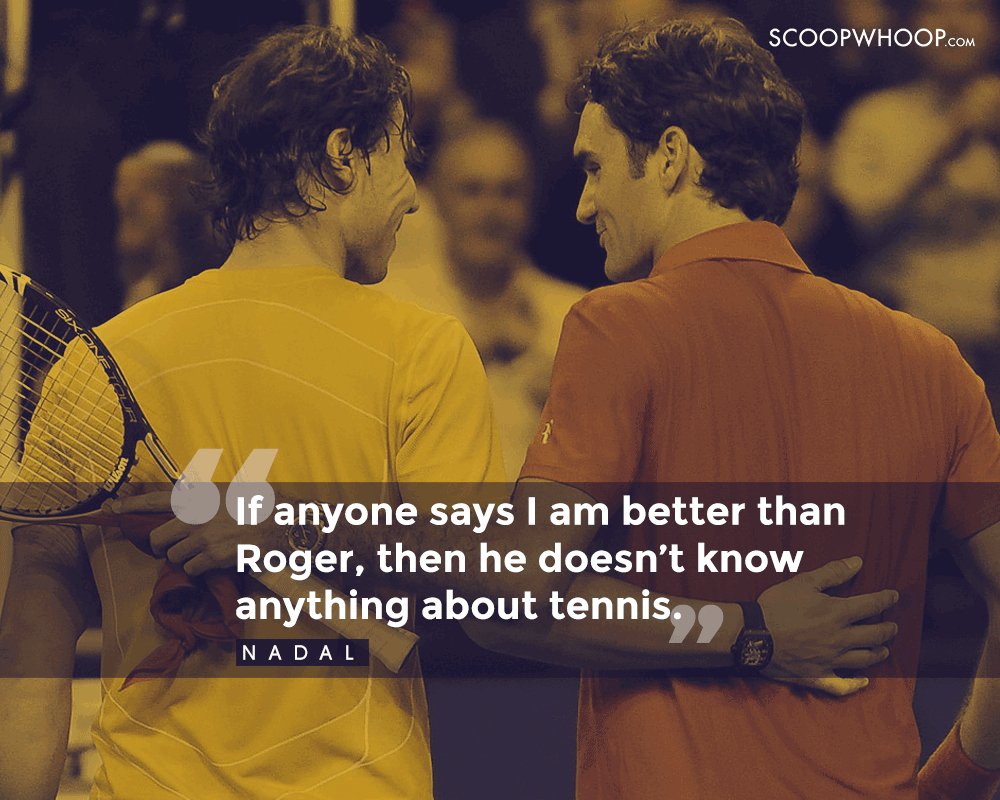 Now it's not about trophies, it's not about victories and it's certainly not about numbers. After all they have achieved, after all the unbelievable targets they have set for posterity, they have also set an example of friendship and respect.
You can almost see it. An old Roger and an old Rafa, grey haired, perhaps balding, reminiscing over the time when they were kings of the court. Future generations will hear stories of two of the greatest to ever play the sport, but we have been lucky enough to witness it. A rivalry that turned into friendship and a friendship that became a legacy.
It was the 28th of March, 2004, when Roger met Rafael for the first time on a tennis court and the sport would never be the same again.